Store more with Fixstars 6TB SSD
Almost all PCs provide a normal storage upto 1TB nowadays. But it seems to be insufficient when you want to store more. Today everyone wants to store everything in digital form. This may include photos that were taken during the most important moments of one's life, videos of parties with friends as well as with family, collection of videos and films and the lists go on. In the end you may end up finding that your storage space in your PC may be insufficient to store all these. Then you will definitely need an enhanced storage facility.
SSDs with much more capacity may come in handy in those occasions. But what the problem, these days most available SSDs are having a nominal capacity size of 2-3TB. Very recently in 2014 April SanDisk has come out with a SSD supporting 4TB. But now Fixstar has gone too advanced by providing it with a capacity of 6TB. The company claims it has the highest storage capacity released till now. The product was launched on May 7th this year. The orders are now taken by Fixstars, which the company said to have fulfilled by July last week.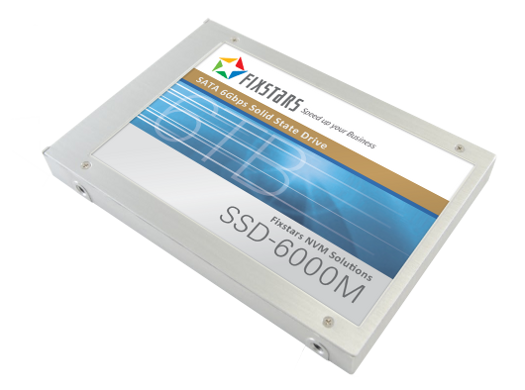 Features of SSD-6000M
It's sizes upto 2.5 inches with a thickness of 9.5mm which is obviously less than 0.4 inches. It weighs as light as 97 grams. The drive is provided with MLC Flash Memory of 15nm. Added to the above this one has a reading speed of 540MB/s and a writing speed upto 520MB/s. I must say this is not a great performance when compared to others already in the market, but it is enough when this huge capacity is concerned. As you know 2.5 inch sized disk drives are commonly used in Notebooks. But interestingly this one is targeted at enterprise customers.
Usually SSDs are more costly than hard drives. If the capacity is more than 1TB then the cost difference may be too high. But unfortunately cost of the new product is unavailable. Fixstars also offers SSDs with various capacities such as 1TB, 2TB and 3TB. Each of these measures 2.5 inches and suits notebooks and PCs. If you like to have the 6TB SSD, then you will have to directly contact the company and order for bulk quantity inorder to get it at right price.
Anyway now you can see PCs and notebooks with a storage capacity of nearly 6TB soon, since the size of the device suits them most.  If these drives are provided at low cost then it will benefit a large number of customers who are paying extra bucks for buying external storage devices.