Top 10 Gaming Keyboards – Wired and Wireless
Elegant, durable and long-lasting, gaming keyboards are popular these days, and not just with enthusiast gamers. Indeed, their virtues and excellent reputation have won the hearts of every type of consumers. Thanks to its increased reactivity, the precision of the keys, its connectivity and the anti-ghosting effect, a gaming keyboard can take your gaming performance to the next level, or, slaughter your gaming skills.
Unfortunately, the excellent reputation of gaming keyboards has the disadvantage of attracting low-end products that are trying to take advantage of the "fashion effect". It is therefore very hard to find the one that will be perfect for you.
Well, in this article, we break down the top 10 gaming keyboards on the market this year, based on price, performance, and the situations they'll be used in.
1

Corsair K70 RGB TKL
The best TKL, multi-color, silent and gaming keyboard with backlight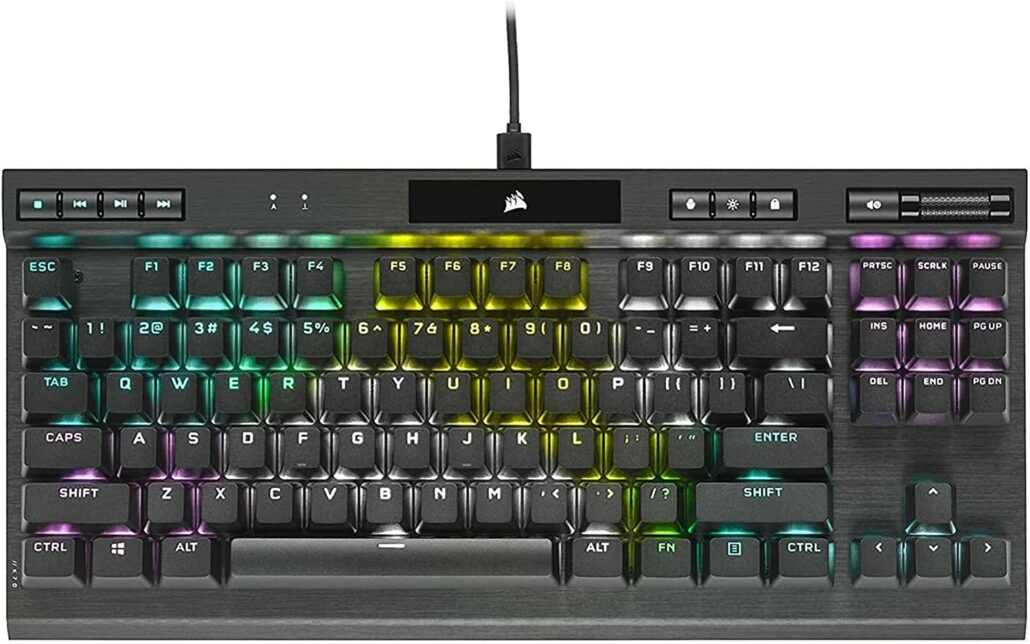 Pros
Comfort worthy of a full keyboard.
Complete and intuitive software.
Detachable braided cable and Soft iCUE.
Convenient cover for intensive games.
Cons
If you want a silent gamer keyboard to move without noise like a sniper, we recommend that you take a look at this beautiful keyboard for gamers from CORSAIR. Indeed, with 105 keys and a silent touch, the Corsair K70 RGB TKL combines precision and quality.
Indeed, each key is designed to retain as much noise as possible, for a game in total immersion without disturbance. But the quality doesn't stop with the key noise absorbers. The chassis is also of remarkable quality, it is made of brushed and anodized aluminum.
The whole thing is therefore lighter and more robust than conventional mechanical keyboards, and will last an eternity. It is therefore the ideal gamer keyboard to accompany any gamer during his many hours of gaming!
In addition to its many qualities, the design and backlighting are also well done. Indeed, there is a multicolored RGB backlight for each key, offering dynamic and intense effects that you can customizable at will. Moreover, this keyboard for gamers is equipped with a quick volume control and an additional USB port that you can use to connect a mouse, a headset, and more USB devices.
Finally, a soft and well-designed wrist rest can be put in place or removed, depending on what's most comfortable for you.
2

Logitech G915 Lightspeed
The best low-profile gaming keyboard

Pros
Remarkable finish in every respect.
Efficient GL switches, three versions available and very low noise.
Efficient lighting.
Wired, Lightspeed and Bluetooth wireless operation and outstanding battery life.
Comprehensive and easy-to-use software
Cons
Logitech G915 Lightspeed is one of the best budgets friendly wireless mechanical keyboards, which inspires luxury and robustness thanks to its fantastic design and awesome features. It features an elegant aluminum finish plate, its flat mechanical keys are a delight for the fingers, whether for playing or writing, its ergonomics are simply perfect.
switches are available for this keyboard: GL Clicky, GL Tactile and GL Linear. We love these switches and we think they are a fantastic feature that will delight many gamers. Indeed, once you start using this sexy gaming keyboard, you can't help but be satisfied with its efficiency and comfort.
The wireless side of the keyboard is also a great advantage, as it can be connected with Lightspeed technology via a USB dongle or Bluetooth, and It is also possible to use the keyboard via a micro-USB cable. The battery also follows very well. it can easily last up to 30 hours when the backlight is on and up to 135 days when the backlight is off.
Additionally, the keyword's RGB is very appreciable, and you can fully customize the colors via the Logitech G Hub companion software. With the companion software, will be able to configure several modes on your keyboard depending on the game or program you choose.
Moreover, due to its thin design, it is not necessary for the players to resort to the wrist rest. Also note that it has the additional keys as well as all the usual multimedia keys. You will also appreciate the fact that this Logitech's keyboard offers a fast Bluetooth connectivity that you can use to pair several devices simultaneously. To do this, it has dedicated keys to quickly switch between all devices without much difficulty.
3

Razer Huntsman V2 Analog
The best gaming keyboard overall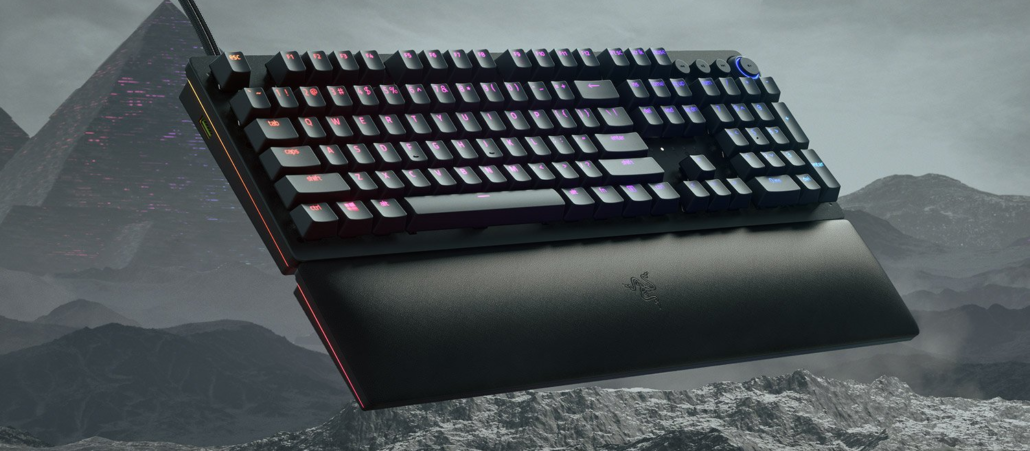 Pros
Elegance, level of finish and Double injection PBT keys.
Double switch activation and USB pass-through port.
Comfortable wrist rests and perfect typing distance.
Comprehensive Synapse companion software.
Cons
Razer Huntsman V2 Analog Keyboard is equipped with an analog optical trigger switch for increased responsiveness in all situations and extensive customization options. With its aluminum finish, palm rest, dedicated media keys, and adjustable Chroma backlighting, it will be your best ally in tracking down your opponents!
With this model, the Razer brand has focused on the essentials. Thus, it was able to offer a device without any superficial decoration with some very appreciated additions such as: a layer of soundproofing. It is often found on custom keyboards and greatly reduces noise pollution. The Huntsman V2 keyboard has been designed with a simplistic and rather discreet chassis.
There is also a comfortable wrist rest despite the fact that it is not magnetic. As for the PBT keys, they are accompanied by the brand's high-performance optical switches that are usually available in various variants to suit more players. Apart from this performance, the Huntsman V2 keyboard comes with RGB lighting.
However, the brand Razer has removed the banding that was found on the V1. You can buy the TKL version for 170 dollars. So, If you are looking for an efficient wired keyboard, with a better design, and all you need for your gaming needs, this is the model for you.
4

Corsair K100 RGB
The best multipurpose high-end gaming keyboard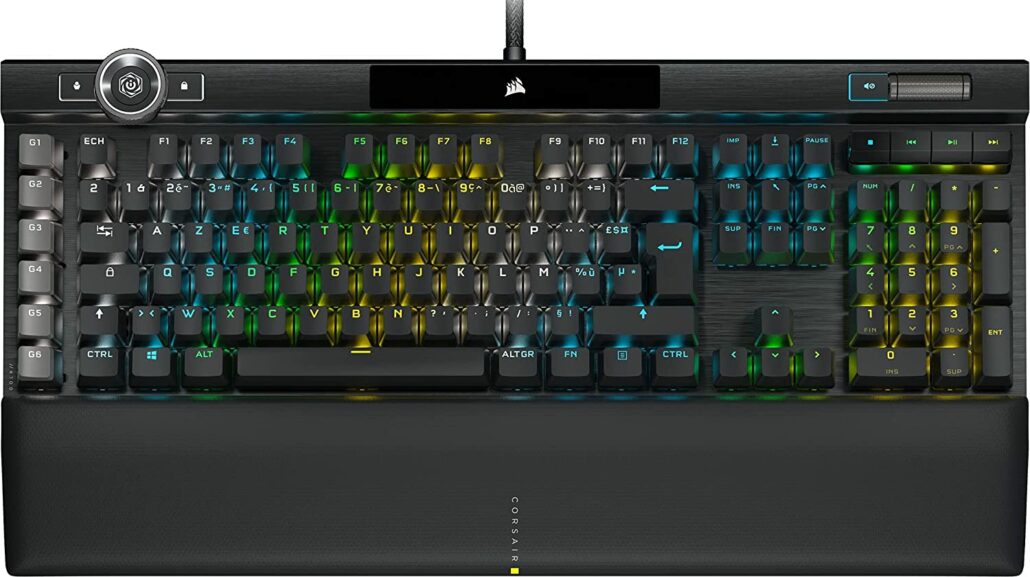 Pros
Elegant keyboard with always vivid RGB effect and intense colors.
Impeccable build quality and responsive switches.
Nice brushed aluminum chassis with sturdy PBT plastic keys
Responsive AXON technology and convenient USB pass-through port.
Complete and easy to use companion software.
Cons
Significant noise pollution (resonance)
Corsair K100 RGB model is undoubtedly the most complete keyboard available. Indeed, no compromise was made by the brand for its design. It is therefore equipped with all the components available: PBT keys, ultra-complete RGB lighting, macro keys, USB passthrough and a customizable thumbwheel.
The K-100 RGB keyboard is equipped with an OPX optical switch. In practice, we are talking about linear switches that are quite responsive. With the help of their activation point located at 1 millimeter, several hours of use is required before you can get used to them and avoid unintentional hits.
As it is always the case with Corsair, you'll have to get used to the very large braided USB cable that comes with this model once you get it.
You should also know that this keyboard features two USB A ports and the keyboard has an additional USB port. This port can be used to connect your mouse gaming and other USB devices. Keep in mind that the Corsair K100 RGB keyboard is quite expensive because it is quite complete.
Speaking of configuration, everything is done via the Corsair iCUE companion software, which is very complete and modern. In addition to its excellent design, it also features a magnetic wrist rest made with foam for added comfort.
5

Razer Blackwidow V3
The best wireless gaming keyboard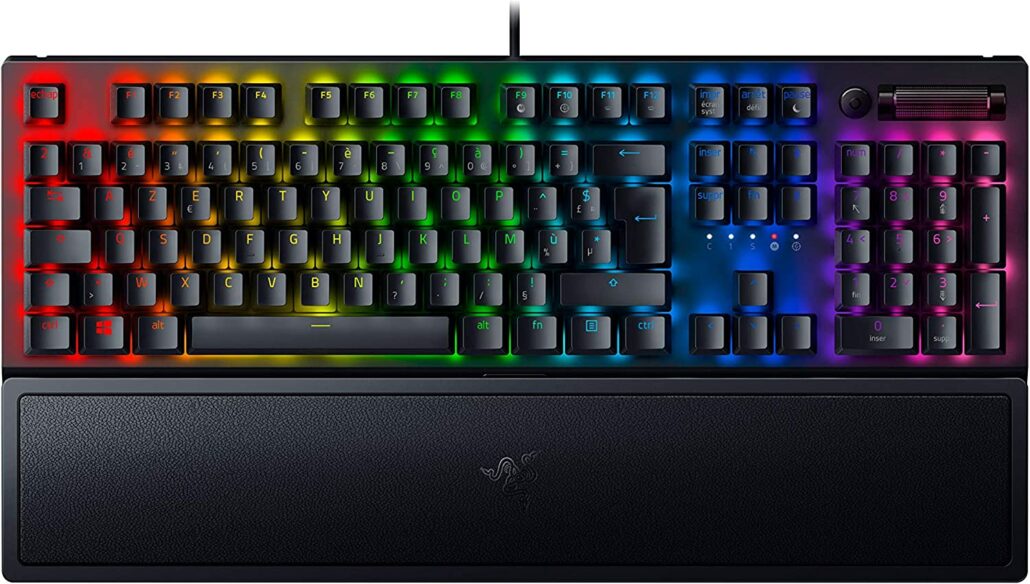 Pros
Comfortable palm rest and a Very complete Synapse software.
Backlighting of very good quality, and easily adjustable.
Multimedia keys pleasant to use.
Cons
Noisy and slightly high price.
Razer BlackWidow V3 Pro switches are extremely responsive and have been optimized to improve your gaming performance. And with a lifespan of over 80 million keystrokes, 50g pressure, and 1.9-millimeter activation, it will take more than a few hardcore gaming sessions to get through this fantastic keyboard!
We like the fact that The BlackWidow V3 Pro also comes with a rollover that accepts a simultaneous pressure on 10 keys that pro gamers will love. When it comes to connectivity, the Keyboard's HyperSpeed wireless technology will give you flawless responsiveness and accuracy with an ultra-fast radio frequency to provide the lowest latency possible.
You will also appreciate the fact that this keyboard does not neglect your comfort! Indeed, thanks to its premium aluminum finish and memory gel magnetic wrist rest, you'll be able to play or work for hours without any pain! I am sure You'll love the 4 customizable media keys in the upper right corner of the keyboard. Use them to Pause, skip to the next song, increase the brightness or the volume, in short, the choice is yours!
Last but not least, you love its compatibility with the Razer Chroma companion software to get up to 16.8 million colors and multiple custom effects! You can use it to create a full custom gaming setup!
6

Asus ROG Strix Flare II Animate
The best RGB gaming keyboard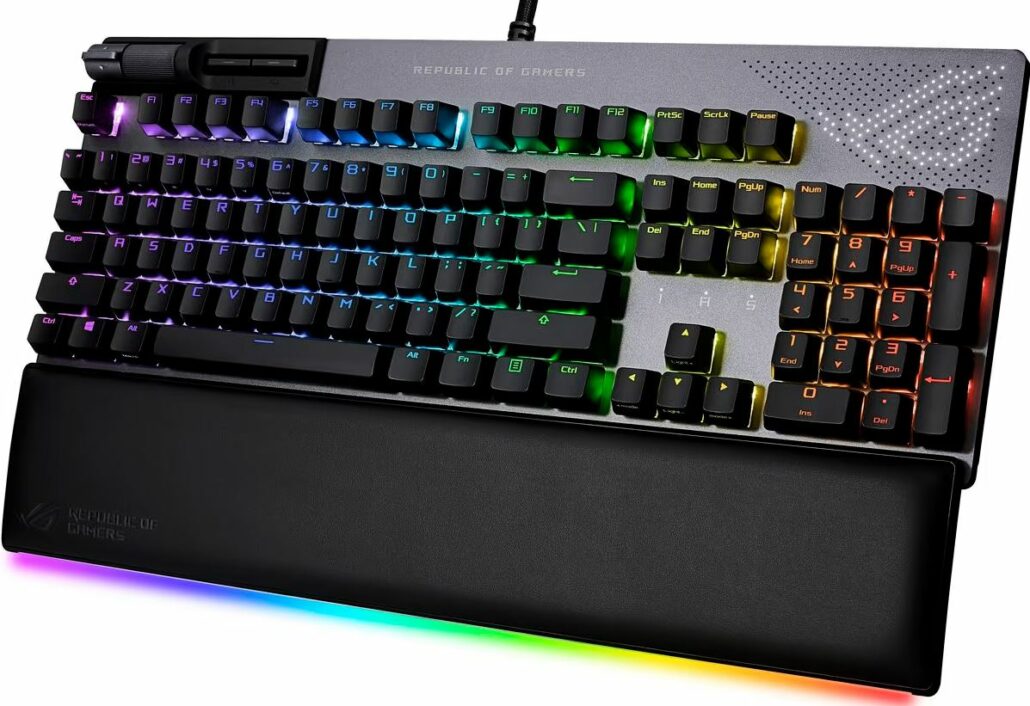 Pros
Well-designed multimedia keys.
Interchangeable switches and a comfortable wrist rest.
Lots of features including a fun AniMe Matrix Display.
Cons
Lack of stability of the keys.
When it comes to gaming keyboards, you can't miss the Asus ROG Strix Flare II Animate: it's brighter than the Statue of Liberty at Christmas, and the RGB is fully customizable.
With its many features, the Asus ROG Strix Flare II Animate is designed to bring you responsiveness and speed, so you're always one step ahead of your opponents! The "Animate" part comes from a brand-new addition on to the keyboard, a dot matrix display in the corner that you can customize with text, images, and animations of your choice. It's not exactly an aesthetically pleasing thing, but it's easier to customize than the original ROG Strix Flare's acrylic display. Other upgrades include a thinner, more modern-looking chassis, a wrist rest with a cushion, and interchangeable mechanical switches.
The ROG Strix Flare II Animate also has foam, which avoids some of the sounds of mechanical keyboards when a key is pressed all the way down. Other useful features are present, such as media controls, USB 2.0 pass-through, on-the-fly macro recording, and long list of features to deliver a very complete keyboard. You will love them. Moreover, you can customize the RGB sync settings via the ROG Armoury Crate companion software, although this is an area that still needs a bit of work; it's not very easy to navigate.
7

HyperX Alloy Elite 2 RGB
The best gaming keyboard for most people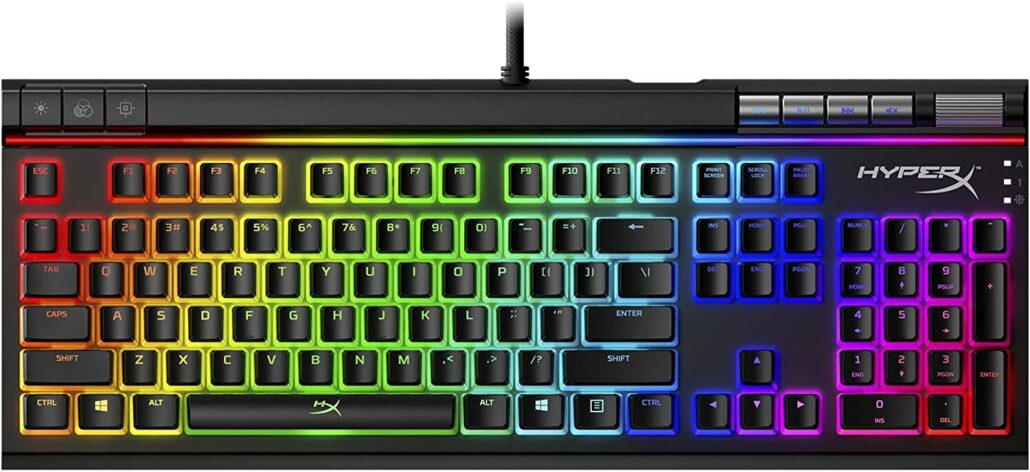 Pros
Metal frame, robust construction.
High quality linear contactors.
USB pass-through port and Practical multimedia keys.
Excellent RGB lighting and a complete and intuitive companion software.
Cons
Important noise pollution
HyperX Alloy Elite 2 RGB mechanical keyboard features the HyperX Red switch for linear feedback for comfort and responsiveness in everyday use. Designed for FPS with its metal chassis and useful accessories, with this keyword, you will have the power to take your gaming performance to the next level!
With the Alloy Elite II keyboard, HyperX introduces its own in-house developed mechanical switches: sexy HyperX Red! With a total travel of 3.8 millimeters, an actuation point of 1.8 millimeters and a force requirement of 45grams, they guarantee a linear feedback for a smooth and precise typing sensation. When you use it, the typing is precise, and the noise is softer than the Corsair K100 above. A USB port is also present, which can be used to charge your smartphone or plug in your mouse, among other things.
The Alloy Elite II also features an RGB backlighting system with 16.8 million colors, 6 different modes and 4 intensity levels. Finally, its metal chassis offers an unparalleled robustness as well as a design that is more than pleasing to the eye and the keyboard is managed via the HyperX companion app.
8

SteelSeries Apex Pro Wireless
The best TKL Optical Keyboard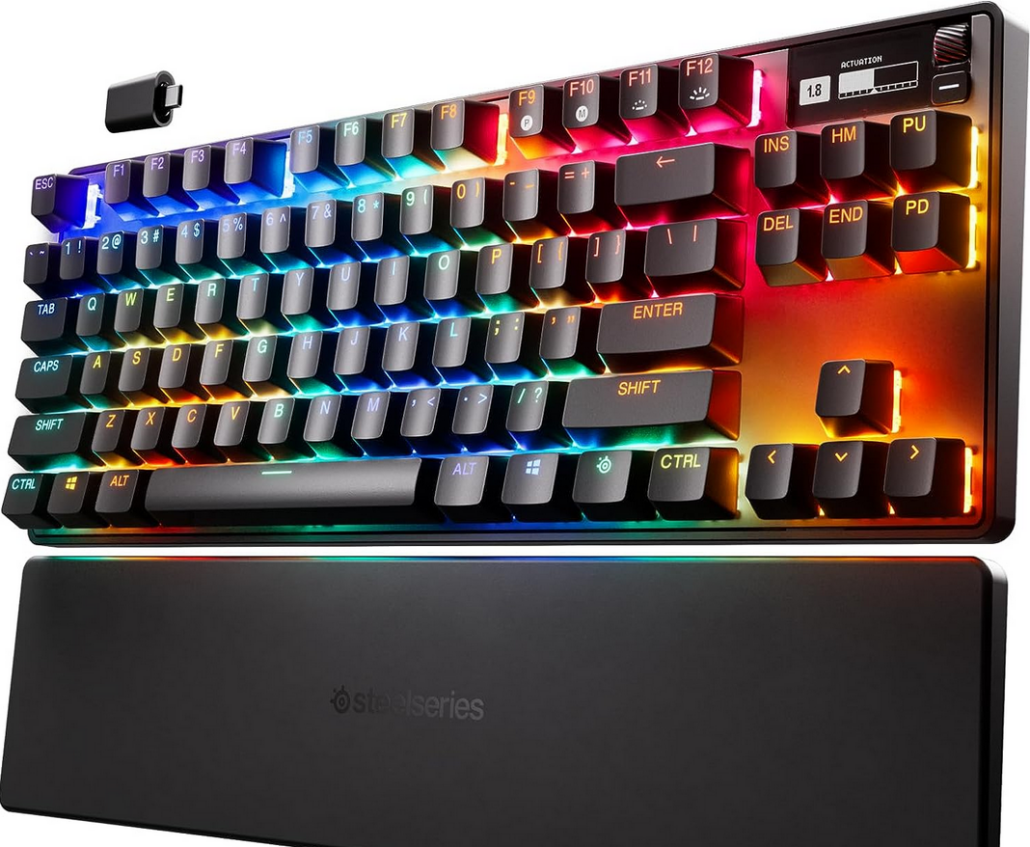 This sleek gaming keyboard features the first-ever per-key actuation function, which means you can adjust the sensitivity of each key separately to suit your particular needs.
SteelSeries Apex Pro Wireless comes with alternative RGB settings for the keys, which means you can adjust the color of each key separately. With the built-in display and the use of a generally empty space around other gaming keyboards we see, the Apex Pro TKL has managed to remove the first row of keys and move the functions elsewhere. the keyboard is therefore more compact than its competitors. It weighs only 2.1 pounds, which is considerably lighter than other gamer keyboards in this list.
It also has a handy USB port on the back, cleverly placed behind the space between the Escape key and the number 1 key, so you won't have to move the keyboard to find it. At the bottom, it also has a specially sculpted space to store your cable and shrink it to the length you want.
You'll also find the magnetic wrist rest, which is a nice improvement over the old plastic wrist rests. All of these unique features certainly contribute to making your gaming experience the best it can be. Moreover, SteelSeries Apex Pro Wireless also feature a small OLED screen that you can connect to your PC.
9

Asus ROG Strix Scope TKL
The mechanical keyboard with real-time macro keys ideal for FPS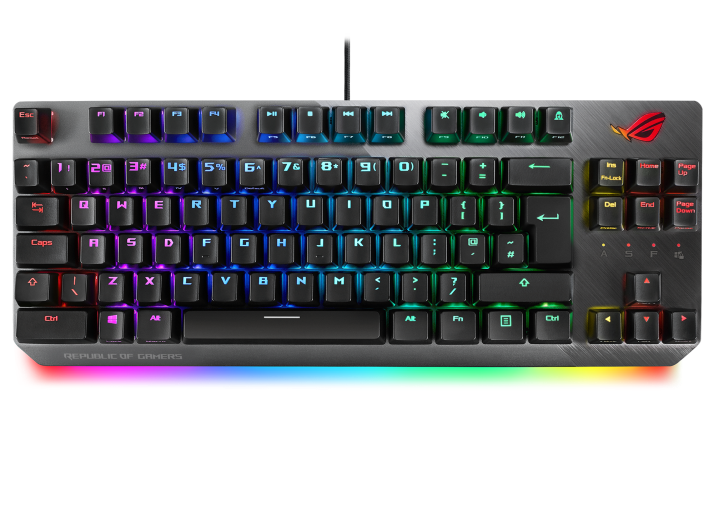 Among the best and most innovative gaming keyboards is the Asus ROG Strix Scope TKL. It is equipped with Cherry MX RGB switches, ideal for FPS games because they allow fast actions, backed by N-Key technology that ensures no ghosting effect.
With its Asus' Armoury II companion software, each individual key can be programmed with a macro for complex commands execution with a single click. and Key macros can also be programmed in real time.
Additionally, the keyboard has built-in memory that can save 5 personal profiles, in addition to the pre-installed default profile, so you can take your configurations with you and use them easily on other gaming PCs.
Moreover, thanks to its Aura Sync feature, you can choose from 10 different lighting effects and 16 million colors to match the keyboard to your gaming environment. The keys are individually backlit for an even higher level of customization.
This model doesn't have a numeric keypad, so it can fit on even the smallest of desktops. It's perfect for FPS games where you may need a lot of room to maneuver the mouse.
10

Roccat Vulcan 122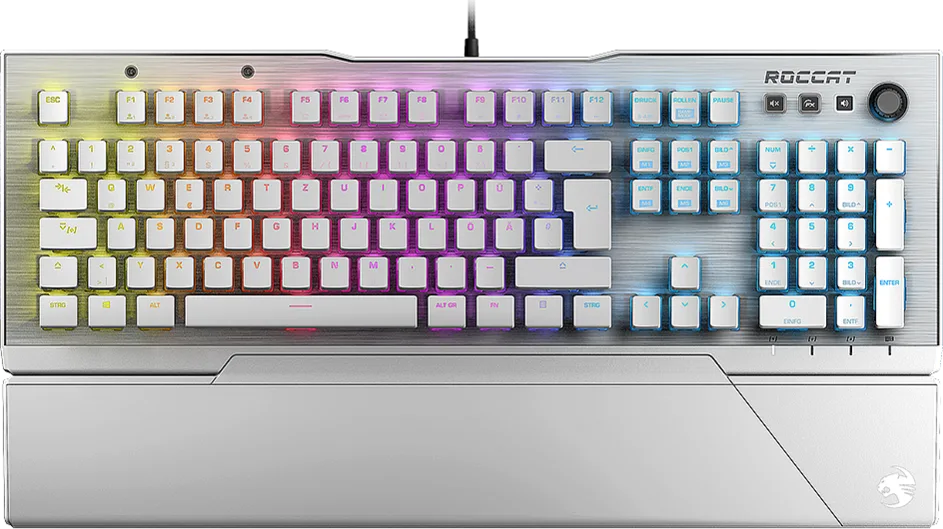 With its ultra-thin profile and original touches, the Roccat Vulcan 122 is in my opinion the winner in terms of design. It is also available in black, but the white color gives it a singular look, ideal for gamers who want to have a distinguished style.
It is equipped with Roccat Titan touch switches, the "brown" type, which offer a fast and accurate typing. This type of touch siwtch may not be as appropriate for gaming as linear switches, but it puts this product on the quiet side of mechanical keyboards.
The Vulcan 122 is a great keyboard and probably one of my favorites. One weak point is that it doesn't have an extra USB port, like other keyboards of the same price. It's also worth mentioning that some users have had problems with degradation a few months after purchasing it. Specifically, the paint on the keys visibly chipped off, an unacceptable problem for a high-end gamer keyboard. In my opinion, it seems to be a manufacturing issue and there is no reason for you to have the same problem. Just make sure you buy it from a site like Amazon, with a service department that guarantees a refund just in case.