Setting Up Smart Folders over Mac
On hearing 'Smart Folders' many of us doubt it to be real Folder. But For your information, they are not folders. Actually they are saved search in the new Finder Tab on your Mac. Thus Smart Folders are nothing but saved search. So they are known as 'Virtual Folders', those folders are not visible except you proceed with saved search. Simply Smart Folders are those that look for those specific files that you specify, accumulate them in single place for convenient viewing. This option comes in handy when the files that you seek for are scattered all over your PC and they cannot be moved to one single location.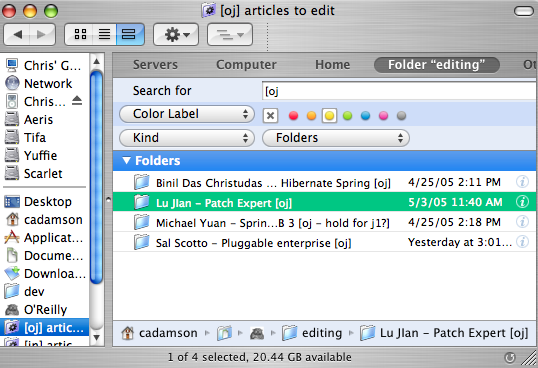 Unfortunately Smart Folders are the most rarely used features of Mac OS X, but the most useful feature as well. It can save a lot of time of the user if they are used wisely. Initially it would take time to set up the Smart Folder, but in future course it would come in handy for you. If you are able to use this feature well, then you can definitely renovate the way in which you use your Mac. So let us see how to set up a Smart Folder and how it works?
How to set up a Smart Folder?
Inorder to set up a Smart Folder you have to click on 'File' and from there you have to select 'New Smart Folder'. If you don't want to wait until then, you may use the short cut key 'command+alt+n'. This will ultimately open up a new window in Finder, which is being the first step in setting up a Smart Folder. In that window, just click on 'This Mac' to search down the entire hard drive. Then you have to click on '+', 'Plus' sign that is seen on the right side of the screen.
On clicking you will be able to see two options – Kind and Any.
If you select Kind, you may be able to see a pop down showing certain search constraints. This may the type of file that you are searching for or the type of file format or last opened date or last modified date or name or content and so on.
The second one Any, is based on the context of those folders relying upon what you select for the initial option that is, Kind. Along with Kind, it provides a catalogue of various types of files such as Documents, Images, Movies and so on, that you want to categorize for your folder. If you want to have to sort out photos or images, you have to select 'Image'. Then you will be able to see all the image files in your computer. You may be able to see one more option to the right of Any; that is JPEG (which specifies the type of image file that has been displayed). You can either choose PNG files or GIF files or something else according to your need. If you want to select more items with more parameters then you have to select the Plus – '+', on the right hand side and continue the above process.
You have to keep one thing in your mind that every property that you select, will finally make your results more accurate. Finally, when you are satisfied with what you want, you can save the results over your Smart Folder and finally click on the 'Save' button, which you may find on the right side of the screen. On Clicking Save Button, you will be asked to name the Smart Folder. After naming the folder, the next option available is 'whether you want to add the folder to Sidebar'. If tick the checkbox, then the folder will be added to the Sidebar, otherwise it won't.
Where you can find Saved Searches and Edit it?
If you want to find the saved searches then you may have to go to Library and then to Saved Searches. Inorder to have instant access to the searches you have to pull that box and add it to the sidebar of Finder. If you want to edit the Saved Search, then you have to select the search that you would like to edit. Then tap the gears icon which you find on the top of the screen. From there select Show Search Criteria to filter the data again.
This property is not limited only to text files or image files or media files. It also has certain other filters with the help of which Smart Folders can be effectively used. The Kind Menu has another option named 'Other', which can be found at the bottom of the dialogue box. It has a variety number of filter options available. These include filters selecting music files, image editing, encryption techniques, emails, calendars and much more. Just check those boxes which you want to have in your filters and uncheck those you don't want to incorporate.
Smart Folders can be used in innumerous ways, the ways which you can't even imagine. The already saved searches are automatically updated when you add or delete files to the drive. Actually this makes the smart folders really smart. Here I would like to list down certain Smart Folders which you must set up inorder to make your Mac unique.
Locate all the Huge Files
For this you have to provide 'File Size' in Kind option and 'is greater than' in Any option. To the right of these options you may find options showing size of the files which may be 500 MB or 1GB or more, which the user can select according to his preference. This will load up all the files greater than the specified size to one single Smart Folder.
Find and Delete .DMG Installers
Since they may create lags in the operation of your PC, they have to be deleted periodically. So by creating a Smart Folder, saving the searches, will come in handy to locate all the .DMG Installers scattered all over the drives into one location. Then they can be trashed easily.
Locate the Apps that you haven't Used in a While
This option has got a variety of time periods such as within last, exactly, before, after and so on. You can select the time period accordingly. This may ultimately help you to identify those applications that you haven't used for long.
See all .MOV Files but not .MP4 Files
The first part can be done easily by setting up a Smart Folder by following the above steps. Inorder to select the second part, you have to select the Option Key along with the '+' key. Then the '+' appears to be 3 little dots. On clicking the 3 dots you may see 'None of the following are true' on the second dialogue box, then 'File Extension' on the third dialogue option which you have to select 'MP4'. This can be used for any type of files irrespective of media file or text file.
Filter by Multiple Tags
When you right click on file, and select 'Get Info', you will be allowed to tag those files with certain keywords. For instance, if you would like to screen a Smart Folder with certain tags only then create a particular filter to do so.
Fine Tune Your Recently Created Documents List
This Smart Folder may be helpful if you use your Mac to work a lot. This may allow you to filter the recent work done by you in a separate folder. You can mention a custom period and make it more accurate according to your needs by thrusting on certain type of files and ignoring the others. By this you can select those files which you are frequently using ignore all others.
Generate iTunes Playlist by Genre
Smart Folders can be effectively used also in iTunes by creating Smart Playlists. For this you have to first select File, where you may find the option New. From New, you can select Smart Playlist. On clicking it, you may find a dialogue box, where you can filter certain songs by the name of artist, album, genre and by certain other options.
Find your iPhone Photos in OS X Photos
Just like iTunes, Smart Folders can be wisely employed in OS X new Photos app. This works as the same as iTunes, only difference is that you should create certain custom queries to figure out certain properties. It may help you to filter the images taken by either iPhone or by using any other device, simply by giving certain queries. Also you can filter out images by the period in which they have taken. In short this help you to categorize the images according to the need of the user.
Written By

Nivin JS

Category Technology
Updated on Jun 16, 2015