NVIDIA GeForce Announced GTX 1080 Built on Pascal Architecture
NVIDIA is a NASDAQ listed company focused in GPU-centered computing. They target users like gamers, scientists, designers, various high-end research organizations who perform highly sophisticated functions on their system. Inorder to make their system to function properly, these users require the service of high-end GPUs. NVIDIA excites these users with products, softwares and services that deliver the functions that they expect and prefer. Now they have come up with their new GeForce GTX 1080 which promises to be 2 times faster than GTX TITAN X. Let's have a look onto the features of NVIDIA GeForce GTX 1080 in detail.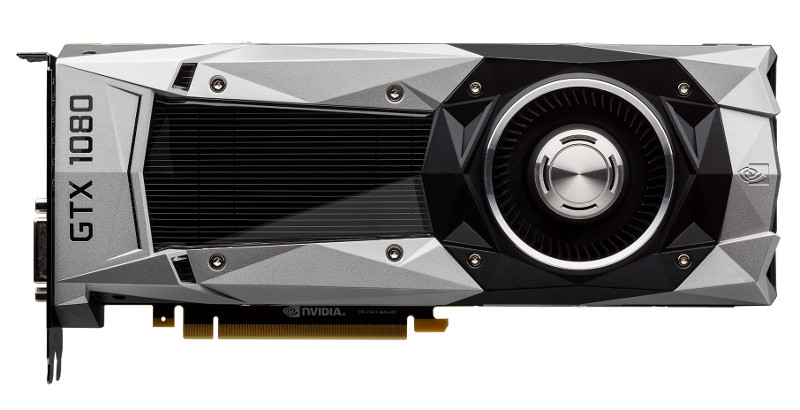 Unlike GTX 980, GTX 1080 is made on Pascal Architecture instead of Maxwell. GTX 1080 has a Frame Buffer of 8GB GDDR5X instead of 4GB GDDR5 of GTX 980. GTX 1080 has a memory speed of 10Gbps and clocks at 1733 MHz. The memory bandwidth is measured to be 320GB per sec. GTX 1080 is built of TSMC 16nm FinFET process in place of TSMC 28nm of GTX 980.
Uniqueness of NVIDIA GeForce GTX 1080
Latest Computing Platform
NVIDIA GeForce GTX 1080 is the company's first ever gaming GPU which was made on latest Pascal Architecture. Pascal is focused to function on performance per watt. Another highlight is that GTX 1080 has almost delivers 3 times performance accuracy than Maxwell Arcitecture.
NVIDIA GeForce GTX 1080 also holds another specialty that it is the first GPU which was made for 16nm FinFET process. It utilizes tiny but swifter transistors which can be crammed altogether. It consists of nearly 7.2 billion transistors. With the help of this, it can bring a great change and dynamic increase to performance as well as competence.
NVIDIA GeForce GTX 1080 also holds the tag of first among Pascal based GPU to deliver a performance power of 8GB of Micron GDDR5X memory. This is 256-bit memory facilitator functions at 10GB per second. This will help in providing nearly 1.7 times more effective memory bandwidth than provided by usual GDDR5.
As I mentioned earlier, NVIDIA GeForce GTX 1080 has been introduced with increase in bandwidth and better power handling. This makes GTX 1080 to deliver a speed of 1700 MHz but power consumption is as low as 180 watts power. This will ultimately increase the functioning capability and also enhances gaming experience. Along with this GPU Boost 3 technology in GTX 1080 supports latest overclocking functionality.
2x VR Graphics Performance
NVIDIA GeForce GTX 1080 is packed with higher level NVIDIA VRWorks Software development kit, that delivers a better VR experience for the users. This syncs whatever users witness, hear and touch with the existing nature of environment inorder to confirm them the virtual reality that they are experiencing is real. Also the multi-projection feature provides modern special dimensions of VR displays in the place of old 2D monitors.
Combining Audio, Touch and Physics
In NVIDIA GeForce GTX 1080, VRWorks Audio uses NVIDIA OptiX Ray Tracing Engine to get the sounds in the environment which helps in recreating the exact experience for the users. Also NVIDIA PhysX helps in providing a precise physical visual for the users. It also recreates the physical behavior of the virtual world, so that the user also feels like he is in real world while experiencing Virtual Reality. NVIDIA also combines these into latest VR experience which they calls as VR Funhouse.
Ansel is a dominant game capture mechanism that NVIDIA has introduced. It permits the gamers to see, capture and distribute the most modern gaming experiences like never before. Ansel helps them to make gameplay shots by focusing snapper to any direction. Screenshots can be picked with a resolution upto 32x. Users are also allowed to edit these images by adding photo filters.
Pricing and Availability
The Founders Edition of NVIDIA GeForce GTX 1080 will be available for a price of $699. It will be on shelves in US markets by 27th of this May.NVIDIA GeForce GTX 1080 will be available form ASUS, Zotac, Colorful, PNY, EVGA, NVIDIA Palit, Gainward, MSI, Galaxy, Innovidion and Gigabyte. Custom boards will be available to buy from $599 onwards. Along with this NVIDIA also launched GTX 1070. But more information on GTX 1070 is not available for the time being. But it is known that they will be launching with a tag of $379 for custom boards and $449 for Founders Edition. This will make its way towards market by June 10th onwards.
By

Sajin M S

In Technology
— 9 May, 2016