Log-in to Facebook Messenger without Facebook Account
A lot of people around the world are now subscribers of Facebook. Most of them use Facebook Messenger to get connected with their loved ones. With an intention to add more people to the Messenger, now Facebook has introduced an update. With this update, Messenger login without Facebook Account is possible for users. Presently the option is made available to those users who are residing in US, Canada, Peru and Venezuela. The users of these regions are allowed to sign into Messenger without Facebook Account.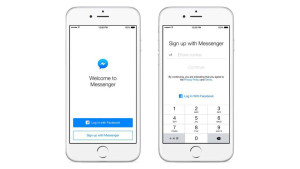 How to achieve  messenger login without Facebook Account?
With the help of this update, many more can enjoy all the available advantages of Messenger. These include voice as well as video calling, group chatting, photos, videos, stickers and lot more. In order to sign in, you require only the Phone Number. When open Messenger on your browser, you will see a welcome screen having a new option, 'Not on Facebook?' On clicking on it, you may find dialogue boxes asking your name, phone number and your photo. Fill in all the details and upload your photo. Now you can avail all the features of Facebook Messenger.
When you are done, the app can automatically create an ad hoc list of your friends based on your contacts. Even though after doing all these, still the social network may insist you to register with one of its account. This is inorder to stay in touch with your friends. You cannot do so unless you sign-up with one of its account. If you get signed-up then the social media network could serve you better by getting you connected with your friends and relatives without much hassles.
Strategy of Facebook
With this move Messenger is trying to introduce something which is much similar to WhatsApp. WhatsApp has been acquired by Facebook by paying nearly $19 billion. Messenger is expected to have nearly 700 million users while WhatsApp is having nearly 800 million users. Most interesting part is that most of the active WhatsApp users are not register with Facebook. This is because WhatsApp has its own strong customer base in emerging economies like China and India. By introducing a similar platform for Messenger in the above mentioned countries, is another strategic move by Facebook.
They just wanted to control the entire share of world's online chatting with Facebook Messenger and WhatsApp before Google could introduce something which overcomes their dominance in future. That's why Facebook made updates to Messenger in such a way that it could function as a platform for chatting even by non-Facebook users. The update is made available from last day onwards. The updates are made available for both iOS and Android users.
By

Steven Joseph

In Technology
— 29 Jun, 2015