Gaming Console Xbox Transformed Into XBOOK ONE S Gaming Laptop
Xbox is a gaming console which appears like a box. When attached with a screen you can enjoy playing high end games. The device is designed to be portable. But is it really portable, still remains a question. Not anymore. Ed Zarick, who is a famous engineer cum designer has modified the new Xbox and gave it a laptop look. The new device will be launched with the name Xbook One S. Xbook One S will be encased in a laptop, making it truly portable.
Design
Xbook One S reminds me of the old laptops which looked like suitcases. But this design makes it easily portable. The gaming console has now sliced off 40% of its actual size. This makes it a gaming laptop than gaming console.
Audio
Xbook One S is having dual speakers to its front. This would give you the real entertainment while playing high end games. Above the left speaker you will find a tiny black joystick. This is the actual TV control and this will allow you to switch on and off LCD, helps you to adjust volume along with other Menu Controls. This console also includes one Remote for TV controls.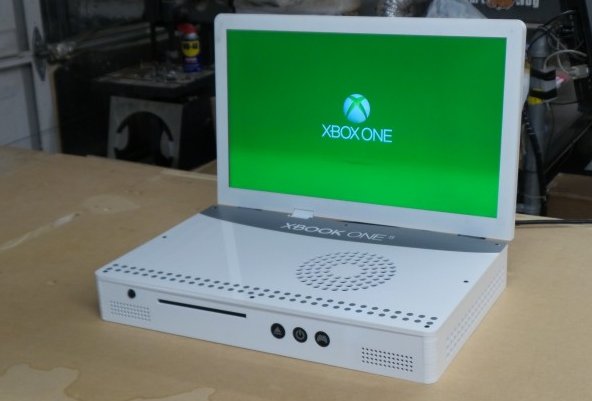 Display
Xbook One S supports 4K video with its high resolution display screen. Instead of the previous 22 inches screen, Xbook One S is having 19 inches screen. Ed Zarick decided to make the screen smaller due to continuous requests from users. The screen comes from Samsung. The resolution comes to be just 720 pixels and if you still prefer a wider screen with high resolution, you can conveniently connect it to bigger screens at home and enjoy gaming.
Connectivity
Xbook One S is having a well-defined XBOX Bluray drive capable of playing 4K videos. The connectivity ports are placed to the left of the console. There you can find HDMI IN port, two USB ports, Optical Audio Out, Ethernet Port, HDMI Out 4K Port, IR Blaster and finally Power Plug-in.
Battery
Unfortunately Xbook One S is not having battery back-up. This console can be directly connected to power source and use. This is so because, the components inside the box needs huge amount of power to function properly. So inorder to provide such power, you need to place a huge battery which will make the console heavy to carry. So Ed Zarick avoided battery to the console.
Pricing
Xbook One S with 500GB will cost you $1495. The 1TB system will cost you nearly $1545. If you want to convert your Xbox One into Xbook One S, all you to do is to send it to Ed Zarick with $1195. He will modify Xbox One into Xbook One S. All the above prices are exclusive of shipping charge which comes to be nearly $150.
By

Jinnia Gupta Roy

In Technology
— 16 Aug, 2016