Transformer Book T101 from Asus is a Convertible 2-in-1 Tablet
Asus transformer book has been in limelight by launching a number of devices this year. They have always tried to keep their name in top list by launching extensive devices for the people. With a wide range of portable devices it still inspires people. When talking about convertible devices from Asus, the name Transformer Book stands apart. Transformer series is an extensive economy class of 2-in-1 devices from Asus.
By adding a new member to the Transformer series, Asus made it clear that they wish to continue with this series. Now they have unveiled Transformer Book T101. The device was launched at Medpi 2016, an Information Technology and Telecommunications Fair at Monaco. When compared to its predecessor Transformer Book T100HA, T101 is less powerful. Now let us a ride through the key specifics of Transformer Book T101.
Display
Transformer Book T101 is having a display screen that expands upto 10 inches edge to edge. It is having a resolution of 1280*800 pixels with HD quality. Asus made it clear that the IPS display will be brighter than the previous model featuring 400 nits as against 300 nits.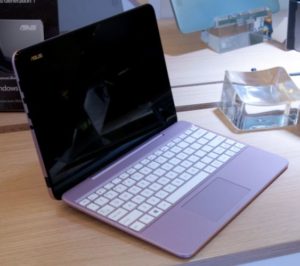 Processor
Transformer Book T101 runs on Intel Atom x5-Z8350 Cherry Trail Processor with a RAM of 2GB. It has got a processing speed of 1.44GHz. Along with the support of Intel HD graphics featuring 12 rotating EU from 200 to 500 MHz guarantees that the device can handle extensive media, gaming and other functions with any lag. This convertible device has got a storage capacity of either 64GB or 128GB based on variants available.
Keyboard
The display panel can be connected with the keyboard using Magnetic Connector. Another interesting fact is that these hinges can be turned all around in 3600, thus making it similar to a tablet. Having Magnetic Hooks, instead of Mechanical Hooks help us to easily detach the keyboard and use the touch display panel alone. This QWERTY keyboard has been designed in such a way to hold all the keys together.  The touch pad on the keyboard is wide enough giving us the ease in handling it.
Ports
Transformer Book T101 has a MicroUSB jack which is quite conventional to all tablets. It also holds another Type-C USB port of v3.1 inorder to have faster date transfers. In addition to this it holds one HDMI port. It also gives you an opportunity to insert memory card in its microSD card slot.
Connectivity
Transformer Book T101 supports WiFi ac connectivity. The device also supports Bluetooth connectivity with v4.1.
Availability
Transformer Book T101 can be purchased with a sum of €299 for the basic variant. Asus also made it clear that Transformer Book T101 will be available for purchase from August of this year. Also the officials declared that the device will be available in Blue, Gray and Pink colours.