Microsoft launches Surface 3 – A Hybrid Lap cum Tab
Surface 3
Microsoft unveiled one more gadget to the line of Surface. With Surface 3, Microsoft introduces a better hybrid model of laptop cum tablet for the users across the tech world. Users can easily distinguish between a laptop and tablet with the physical appearance of the device. But when it comes to Surface series of Gadgets this distinguishing becomes difficult. This Surface 3 is actually the fourth attempt from the Microsoft.
What happened to the earlier models?
The earlier versions of Surface line of gadgets proved to be total flop in the market except for the case of Surface Pro 3. The first among the series was Surface RT. The model proved to be utter flop in the electronic market. The second one was Surface 2 featured glossier designs and improved performance when compared to Surface RT. But it still lacked full version of Windows OS due to which it doesn't satisfied lap customers. With the absence of touch friendly apps, this model was rejected by tab users also.
The third one among the series was Surface Pro 3, which was comparatively bigger in size. Also this one lacked certain features that a lap and tab must have. Learning from all these mistakes and solving al the associated issues, Microsoft has designed Surface 3 to please all its customers. Solving almost all the problems associated with earlier versions of Surface, Microsoft introduced Surface 3 with full version of Windows OS.
Designing makes Surface 3 Elegant
The all new Surface 3 resembles Surface Pro 3 in its physical design. On the first look you may find no difference between Surface 3 and Surface 2. But on looking in deep you will find that the new version is smaller in size than the previous version. Also the magnesium alloy with metallic finish gives a classic appearance to Surface 3. It is also slimmer and weighs less than its predecessors. Its thickness comes to around 8.7 mm and weighs to 1.37 pounds. But this version is still thicker and heavier than iPad Air 2.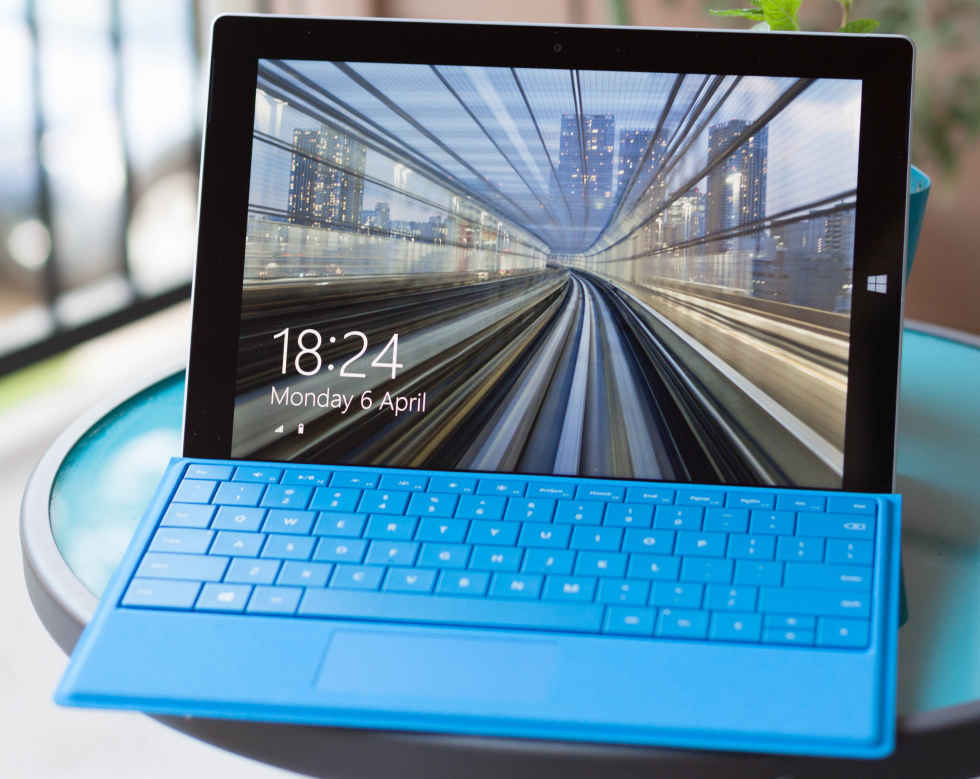 Display Features
The screen sizes to just 10.8 inches much smaller Pro version which had a screen size of 12 inches edge to edge. Adding to it the screen resolution measures to 1920*1280 pixels with 3:2 ratio. Along with this Microsoft promises HD quality display for its new device. The shape of the gadget is adjusted in such a way that it provides a better view of Web contents in landscape mode as well as a comfortable view in portrait mode. The screen responds to touch and also supports Surface Pen. The pen is coupled with a digitizer supporting writing and drawing on your device. The color reproduction in Surface 3 is better as compared to its pro version. Adding to it the display is clear and brighter than Pro 3.
Physical Designing
Surface 3 has a single USB port of version 3.0 which ensures faster transfer of data in and out. The gadget also has a DisplayPort along with a headset jack and Memory card slot. Charging of the tab is possible with all new magnetic charging mechanism which in fact allows you to charge the device using an ordinary handset charger.
Hardware and Software features of Surface 3
Unlike previous versions the new tab is powered by Intel Atom x7 Processor. Along with this processor Microsoft also offers full licensed version of Windows 8.1. This can be easily and freely upgraded to Windows 10 by this year. Microsoft also promises 12 month free usage of Office 365 personal which comprises of applications like Word, Excel, PowerPoint, OneNote and Outlook. Certain add on applications contained in the system includes PDF, Drawboard, Flipboard, New York Times Crossword and Fresh Paint. Another highlight that is provided by Microsoft is the year full warranty cover for the gadget.
In addition to these applications, the tab also includes certain tab specific built in sensors. List of such sensors include light sensors, accelerometer, magnetometer, gyroscope and a proximity sensor.
Using Surface 3 as Laptop
The earlier versions Surface RT and Surface 2 were difficult to place on your lap comfortably. But the case is different when it comes to Surface 3. With the help of kickstands, you can set up your Surface 3 in 3 different angles. But unfortunately you may not find as comfortable as ordinary laptops. On talking about the angles, the first one is completely uncomfortable as far as a lap is concerned. The second is just little better than the first one but not perfect. You may find the third angle somewhat comfortable for your use, but is not so ideal also.
But you can set the device to a comfortable position when it is placed on a flat surface. So to use it comfortably you have to place it on a table or desk or on some flat surface. But this may not sometimes suit you when the angles of the device are not matched with those surfaces.
'Type Cover'
The tablet can be easily used as laptop with the help of 'Type Cover.' Unfortunately the type cover comes out of box. You have to pay an extra sum of money of $129.99 to get a type cover. The type cover has magnets in it to which the bottom and screen can be attached making it more comfortable for the user to use it. The type cover also has a keyboard with backlit facility. This eases typing even in dim lights.
Another improvement comes in the area of 'Trackpad', but it is not perfected. The trackpad of almost all PCs are so small that users often find it difficult to use it. The same is the problem with Surface 3 trackpad. Even though it has improved but still some problems persist. For example if you accidently click on anything it will start dragging those files in File Explorer, which you may find annoying.
Storage
The storage of the most advanced unit measures upto 128GB SSD while the base model which costs just $499 supports only 64GB. In addition to this Microsoft also equips the device with 1TB OneDrive Cloud storage which can be used upto a period of 1 year for free of cost. But if you want to use it continuously then you have to pay an annual subscription amount.
Configuration and Connectivity Features
The base model which costs nearly $499 comes with 2GB RAM and 64GB internal capacity. Another model is also available for $599 with 4GB RAM and 128GB storage capacity. Both this models supports WiFi connectivity provided with dual band 802.11ac. These two models also support Bluetooth connectivity. Microsoft also plans to release two more variants with LTE data connectivity. One variant with 2GB RAM and 64GB storage.  Another with 4GB RAM and 128GB storage. But details about the pricing of these two additional variants are unavailable.
Camera Specifications
Like any other tablets the Surface 3 also has inbuilt sophisticated camera specifications. The front cam is 3.5 megapixel. The rear cam comes out with 8 megapixel making it perfect for image capturing and video recording. The front is designed in such a way that it supports applications like Skype, Video Calling Google Hangouts. The rear camera on the other hand provides clarity images with better quality adjusting the light and other associated factors.
Performance Parameters
As mentioned earlier the tab is powered by Intel Atom processor. This is a very low powered chipset which helps in keeping the device cool as compared to other mainframe systems. The low powered chipset actually promotes the battery life. With all these advantages, Atom processors are still remains beneath i3 or i5 processors from Intel. In PCMark 8 Work Conventional which measures the performance of gadgets awarded Surface 3 a score of 1610 points which is far less than i5 powered Surface Pro which measured 2704 points.
The tablet also concluded the Photoshop CS6 test in 12 minutes 16 secs which is actually better than E-Fun NetBook 10.1 which took 25 minutes. But when comparing to thr Surface Pro 3 this is too bad. The tablet also performed far better than other Atom based systems but still low as compared to its competitors. Since the tablet is meant not to support games, these performance results neither matters the users.
Battery Life
Most of the tablets in the market now lack battery life. On the contrary Surface 3 had a battery life of 9 hours 52 minutes when tested. Certain others are of the opinion that the battery lasted for only 7 hours and 7 minutes when tested. But on an average it is expected to remain live for atleast 7 hours. The latest model couples with the advantage of better power management. It is said to drain nearly 3% of battery for remaining power on for 12 hours without switching it into hibernation mode. Another added advantage that discovered while testing the tab is tab the device remained cool on playing videos, playing games and performing various other tasks.
Accessories that comes in handy
The advertisement of Surface Tab shows a Keyboard cover and Pen along with it. These two extra accessories are essential to attain full-fledged functionality of tab. The tab loses its drawing and handwriting capability without its pen. Also the tab loses the property of Laptop without its Keyboard cover. But the most disadvantageous fact is that these two accessories doesn't come along with the pack. These accessories costs extra making the entire gadget costs upto $778.99 instead of the base price of $499.
Another accessory that comes out of box is Docking Station. This one allows you to get connected with the external display and external network facility. The cost of Docking Station comes to nearly $199.99.
Summing Up
| | |
| --- | --- |
| Screen Size | 10.8 inches |
| Processor | Intel Atom x7-Z8700 |
| Speed | 1.6GHz(booted upto 2.4GHz) |
| RAM | 2GB or 4GB |
| Storage Capacity | 64GB or 128GB |
| Camera Specification | 8 MP Rear Cam with Autofocus3.5 MP Front Cam |
| Operating System | Windows 8.1Can be Upgraded to Windows 10 |
| Bluetooth | Bluetooth 4.0 |
| Wifi | 802.11a/b/g/n/ac |
| Sensors | Light sensor, Proximity Sensor, Accelerometer, Gyroscope, Magnetometer |
| Dimensions | 267mm*187mm*8.7mm with 1.37 pounds weight |
Pros of the Tab
Complete Licensed version of Windows 8.1 – which can be upgraded to Windows 10.
Colorful and Bright Display.
Can be used as Laptop with help of Accessories.
Very cheap compared to similar devices.
Lightweight and Comparatively Slim
Better Battery Life.
Free usage of Office 365 and OneDrive Cloud Facility for 1 year.
Cons of the Tab
Comparatively low powered Intel Atom Processors.
Type cover and Surface Pen are sold separately.
Bulky and loose Power Connector.
Limited Adjustability of Stand.
High cost of accessories, which is essential to use it as Laptop.
Conclusion
Even though the base model is cheap comparing to other models, it cannot provide full-fledged use to its customers without its add on accessories. But these add on accessories are available only by paying extra amount. The tab can be alternatively used as a Laptop which means you are able to carry a laptop cum tab if you purchase Surface 3. The low cost is the major fact that attracts many customers towards the gadget. Along with this it also offers certain other features like better camera options, storage facility etc making it to hold its position over other gadgets in the market.
By

Vineesh Nair

In Tablets
— 20 Apr, 2015