Best tablets to buy – Detailed review and comparison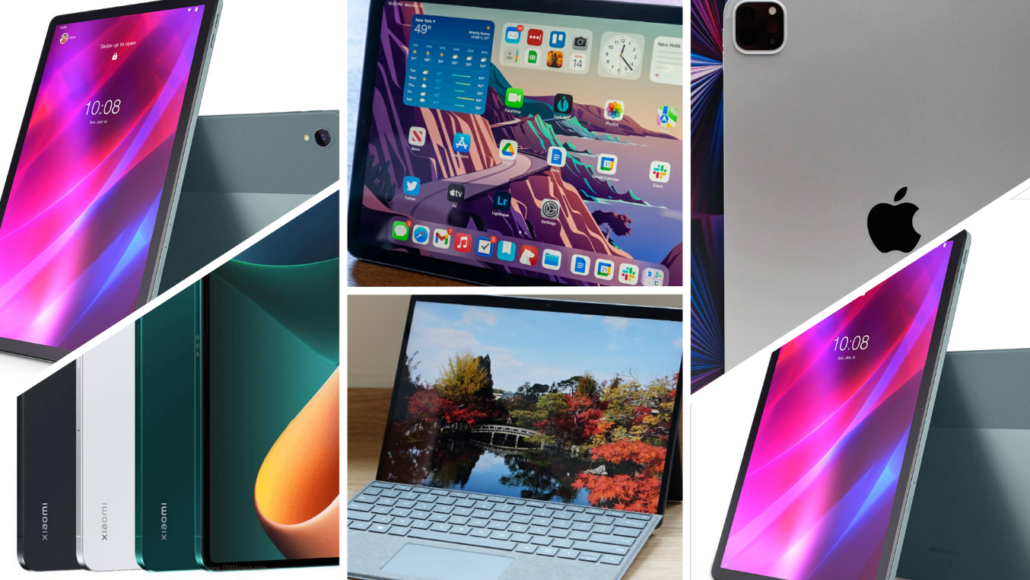 Situated halfway between a laptop and a smartphone, the tablet is appealing to more and more people. Whether is to play video games, watch amazon prime and Netflix series, browse the internet, or videos intuitively, this device can do almost anything. That being said, buying your new tablet won't be so easy. Screen size, graphics performance, storage space and operating system, are some of the points that should not be overlooked; And with so many tablets that coming of the market each year, it will difficult to know which one will meet your needs.
To simplify your life and help you find the ultimate tablet for your needs, the experts of SmartnTechs have tested hundreds of tablets, and bellow, you will find our selection of the best tablets.
Apple iPad Pro M1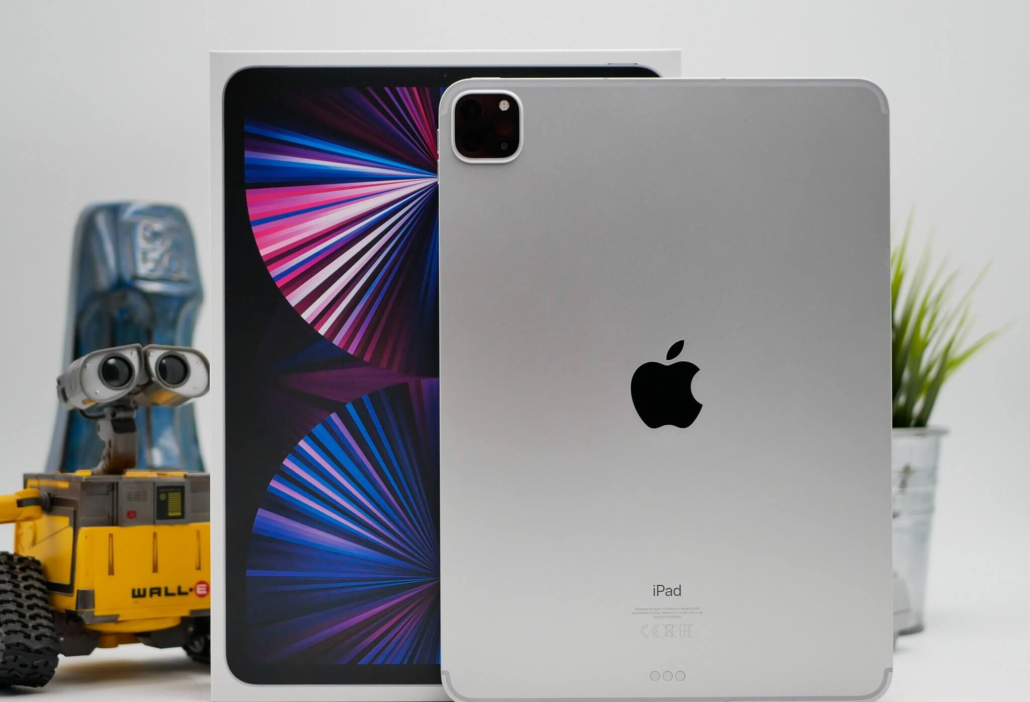 The iPad Pro M1 has all the innovations you need to stand taller than its competitors, with his modern and neat design. As for the iPad Pro of the previous generation, two versions are available: 11 and 12.9-inch screen, and They are all compatible with the Apple Pencil.
The resolution of the 12.9-inch screen is higher: 2,732 x 2,048, or 5.6 million pixels versus, 3.98 million pixels for the 11-inch model, and they are all equipped with an anti-reflective coating, allowing it to be used in all conditions, all with 120 Hz refresh rate, and deep blacks. A point that will please many professionals.
Moreover, the performance is at its best, thanks to their M1 chip that needs no introduction. You'll be able to edit videos intuitively, create the most realistic 3D Objects, and have fun while doing it. On top of that, the iPad Pros have a camera with the specifications of the iPhone 12, complemented by, a LiDAR sensor that performs volumetric object, and room scans. Depending on the version you choose, you get an 8 or 16 Gb Ram, and the storage capacity of 128 GB or 2 TB. They are also compatible with many useful accessories, including a cover that includes a touchpad and the keyboard. Enough to make it a real computer.
Pros
An exceptional screen;
Super-powerful M1 processor;
iPadOS 14 and keyboard/mouse support;
Wi-Fi 6 and 5G connectivity;
Battery can last a hole day.
Improved front and rear camera.
Cons
Multi-tasking still too limited.
Price.
Samsung Galaxy Tab S8 Ultra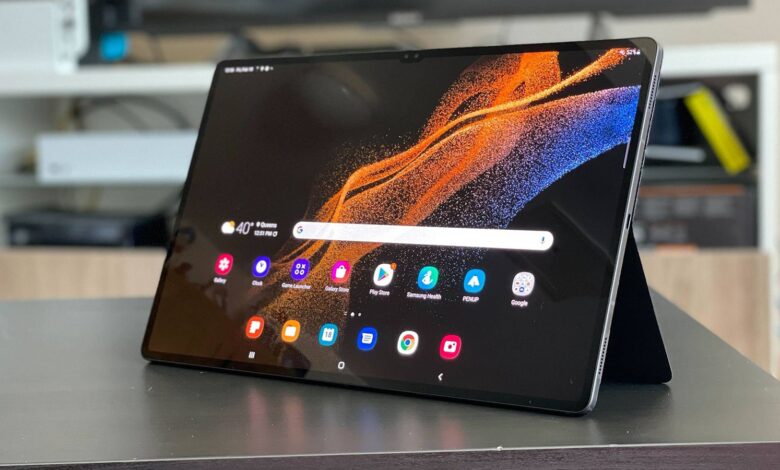 In the touchscreen tablet sector, Samsung is the only brand that manages to disrupt Apple's hegemony. With this new Galaxy Tab S8 Ultra, the Korean manufacturer tries to push the limits of its power. Of course, the result is not enough to reach the heights of the iPad Pro M1, but Android users will find it to their advantage.
First of all, the tablet is huge. It has a beautiful 14.6-inch screen whose harmony is only broken by the notch on top. As always with Samsung, the touch interface is of great quality. You are entitled to a refreshment of 120 Hz, but also an excellent contrast. To get the best possible performance, stay on the Vivid mode.
The Samsung Galaxy Tab S8 Ultra also benefits from solid internal power. This is because the tablet is equipped with a Snapdragon 8 Gen 1 processor, and in Android, this is one of the best pieces of hardware available as it allows you to run any software to its fullest capabilities. The Snapdragon processor is only surpassed by the Apple M1 chip. Finally, a battery life of one day is allowed on the tablet.
Pros
Amazing Amoled screen;
Very high-quality finish;
Excellent performance without overheating;
S Pen included;
Powerful stereo sound;
Thin and light tablet, considering its large screen.
Fast charging.
Cons
No charger included.
High price.
Surface Pro 8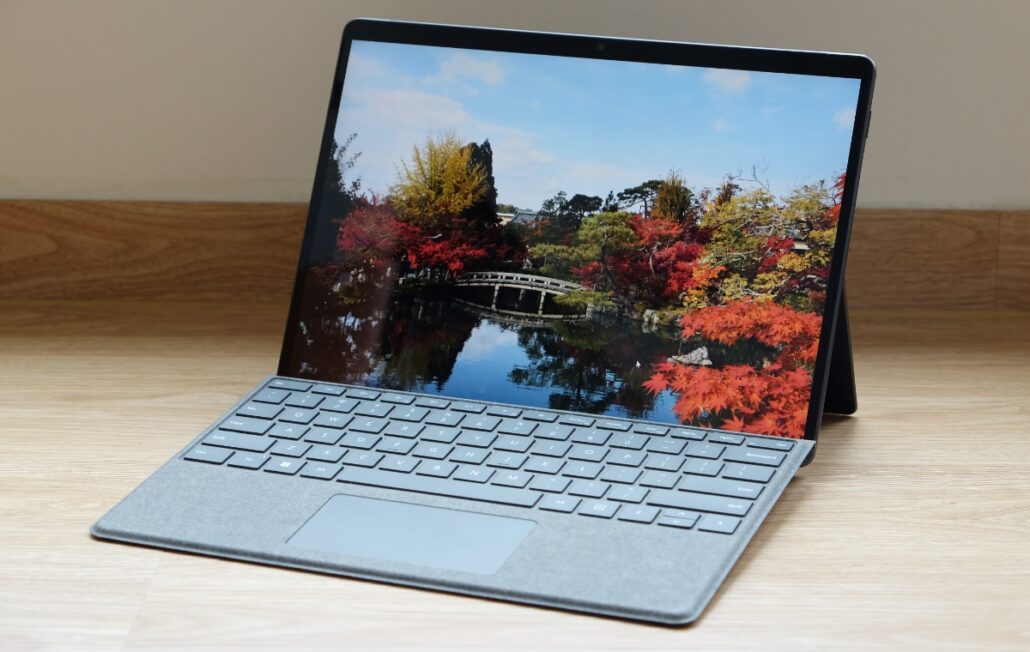 This tablet is one of the most powerful ever launched by the Microsoft, thanks to his 11th generation Intel Core processors – whose amazing performance is enhanced by an active cooling system. Its long-lasting battery lasts up to 16 hours on a single charge. It's also, one of the few tablets, to offer two high-speed Thunderbolt 4 ports, all in an ultra-portable, and ergonomic design. In fact, the Microsoft Surface Pro 8 is basically a Windows 11 computer in a tablet format.
The Windows Surface Pro 8 combines the mobility of a tablet with the performance of a laptop. It has a 13-inch display and a 2K+ resolution of 2,880 x 1,920 pixels. With its PixelSense™ flow touchscreen and a frame rate of 120 hertz, it offers fast response times. With its powerful 8Gb of Ram, and a 128GB SSd hard drive (which is the minimum of this series), this Windows tablet provides the best conditions for games or demanding programs.
The Surface Pro 8 runs Windows 11 Home, and its 4,300 milliampere-hour battery can last up to 16 hours during typical device use. Moreover, the surface pro 8 is available with a keyboard, or a digitizer that you can purchase separately. Its weight is 891 grams, the rear camera is 10 megapixels and the front camera is only 5 megapixels.
Pros
Very good level of performance;
Nice IPS and perfectly calibrated screen;
"New" chassis, more elegant and modern;
Perfect quality of the finishings.
Cons
Keyboard still sold separately, still too expensive;
Recycled Surface Pro X design.
Apple iPad Air (2022)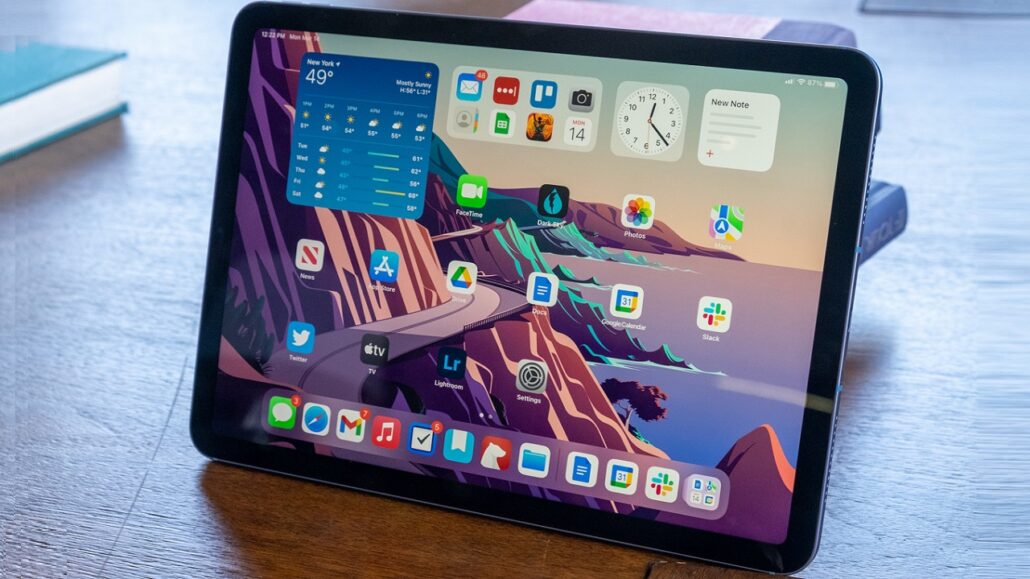 A year after the iPad Pro, the iPad Air 2022 evolves by integrating the M1 chip. This offers improved performance and better energy efficiency. The tablet thus makes a great leap forward in almost all areas. Its M1 SoC, which is backed by 8GB of RAM, offers a 60% increase in computing speed and a GPU that is twice as fast as the previous generation.
The iPad Air 5 also retains the same design as the 4th generation model with a 10.9-inch screen. It is inside that everything changes. Note that it welcomes 5G connectivity and WiFi 6. For the photo part, the iPad Air 5(2022) embeds a wide-angle sensor of 12 MP, which can shoot 4K videos at 30 fps. For selfies, there is an ultra-wide angle 12 MP module that offers a new feature called centered frame. It allows to automatically adjust the subject filmed in the center of the lens when it moves.
Pros
Competitive price compared to the iPad Pro
Excellent battery life
Excellent performance
Cons
Samsung Galaxy Tab S8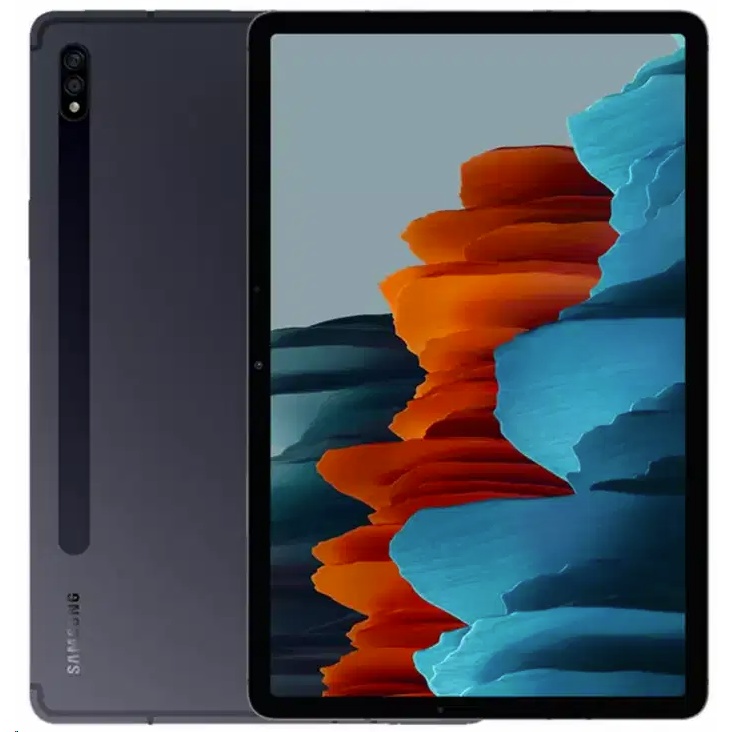 One of Samsung's top-of-the-line models, the Galaxy Tab S8, differs from the Tab S8+ by its smaller screen: 11 inches versus 12.4 inches. The panel is also LCD technology and not AMOLED. However, it offers an excellent display quality that we know from Samsung screens, with a refresh rate of 120 Hz.
The main novelty compared to the previous generation is the integration of a Snapdragon 8 Gen 1 chip, more powerful. It ensures comfortable performance in all cases. In addition, the Galaxy Tab S8 has 8 GB of RAM (128 GB or 256 GB of storage) or 12 GB of RAM (256 GB of storage).
Its 8,000 mAh battery supports a 45W fast charge allowing for a full charge in about 1 hour and 20 minutes. The Galaxy Tab S8's battery provides a comfortable battery life of more than a day with normal use.
Pros
Excellent workmanship.
Improved performance for gaming.
Great autonomy.
Very good wide angle.
Excellent 120Hz IPS display
stunning performance of the Snapdragon 8 Gen 1
excellent camera performance
Cons
XIAOMI PAD 5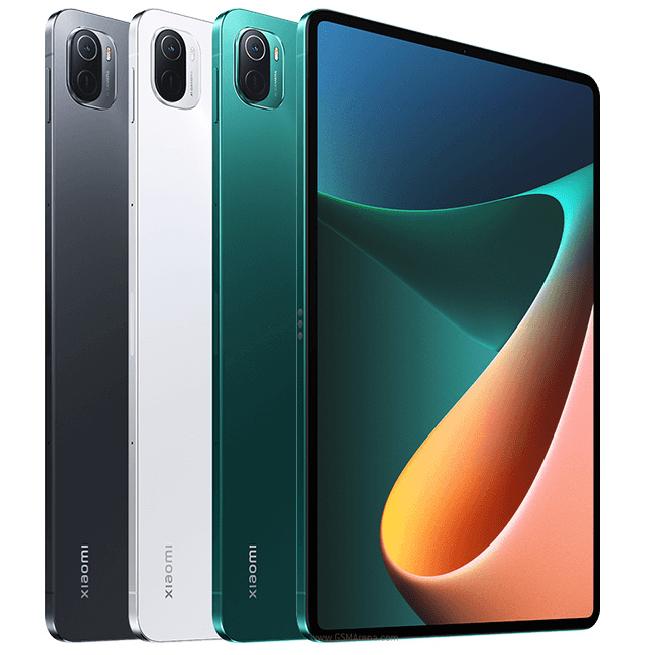 Xiaomi is very present on the smartphone market, but for now, it has been very discreet on the tablet market. However, the situation is changing with this Pad 5, which comes to attack the Apple iPad 9 head-on.
Adopting a 16:10 format, it offers a neat design and a rather successful aluminum construction. The screen itself measures 11 inches and offers an overall pleasant image. We really love its 120 Hz compatibility, because, it is very rare at this price level. The use of a Snapdragon 860 is also a good surprise, the chip is powerful and is particularly suitable for games.
As always with Xiaomi, the software is provided by MIUI, deployed here in version 12.5. The user experience is therefore generally good, even if the interface alone cannot overcome the application handicap of Android as far as tablets are concerned.
The most creative will appreciate the compatibility of the tablet, with a pen called Smart Pen, which is sold separately and cost around 100 dollars. This tablet also has a very good 8,720 mAh battery, that supports 33W fast charging, and 1h47 is enough to go from 3% to 97% of battery.
Pros
Simple and efficient design;
A powerful tablet;
120 Hz screen;
A high-performance processor for most tasks;
Great photo quality;
Autonomy of nearly 3 days in versatile use;
Good fluidity in everyday life;
Compatible with a Xiaomi Smart Pen.
Cons
No fingerprint reader
Slow charging
Surface Pro X
Next up, Surface Pro X. Unlike every other tablet on this list, the Surface Pro X isn't powered by an Intel processor, but an ARM, offering a premium experience and solid overall performance. Instead, it's powered by Microsoft's SQ1 and SQ2 chipsets, which are slightly upgraded versions of the Qualcomm Snapdragon 8cx and 8cx Gen 2, respectively. These ARM processors have 8 cores, four high-performance cores for more demanding and active tasks, and four more power-saving cores that handle background tasks to save battery life. This configuration allows the batteries to last longer than you'd get from an Intel-based PC, or in this case, they make way for an extremely thin design, which we'll get to in a moment.
You can get the Surface Pro X with up to 16GB of RAM and 512GB of SSD storage as well. The Surface Pro X's screen and the overall design is very similar to the Surface Pro 8's. It's a 13-inch panel with a 3:2 aspect ratio, and the resolution is 2880 x 1920. All of this is exactly the same as the Surface Pro 8, except that the Surface Pro X has a 60 Hz refresh rate, so it's not as impressive in that regard. The cameras are also virtually identical, with a 5MP/1080p webcam with Windows Hello above the screen, and a 10MP/4K camera on the back.
Pros
Thin and light design
4G connectivity via nano-SIM and eSIM;
Quality screen with thin edges
Keyboard and stylus included
Long lasting battery
Cons
Price too high
Accessories sold separately
Acer Switch 5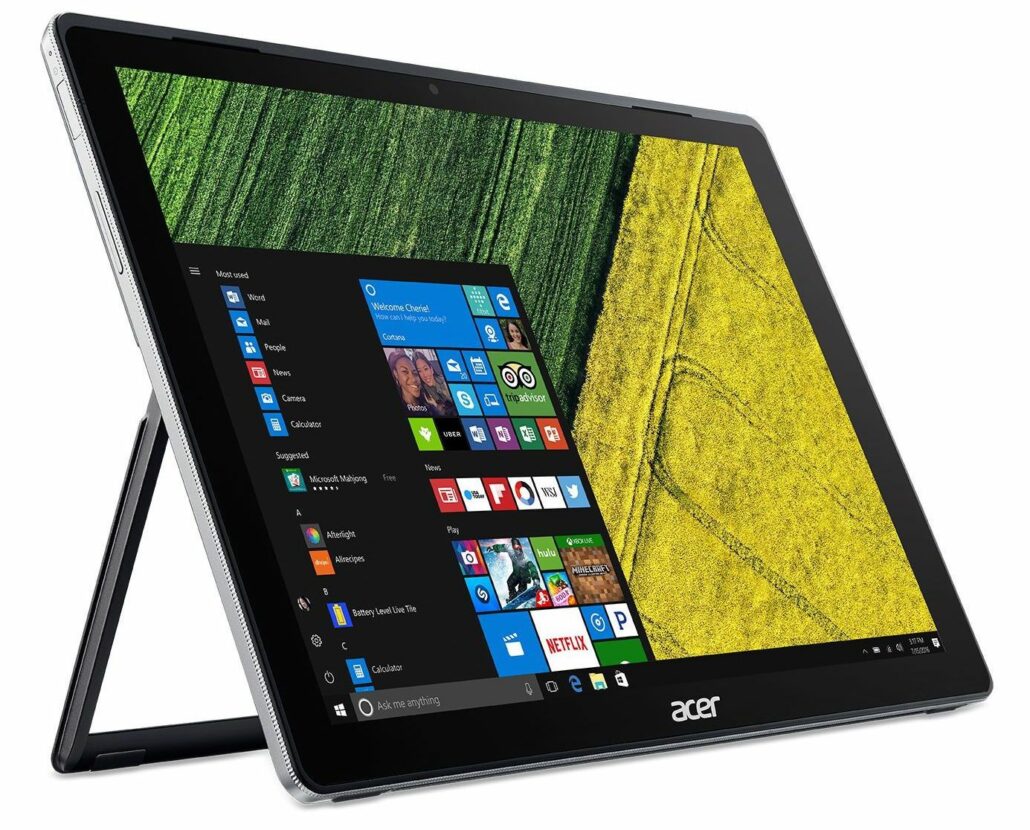 There are many alternatives to Microsoft's tablets that still run Windows. The Acer Switch 5 uses an Intel Core i5-7200U processor, has 8GB of RAM and offers 256GB of SSD storage. The unit incorporates a 12-inch touchscreen that works with the Acer Active Pen. The device can be connected with 802.11ac Wi-Fi and Bluetooth.
The Acer Switch 5 handles everyday office tasks with ease, and offers good battery life while doing so. One shortcoming of this device is that it only has one USB connection. Users will need a USB port to use an external keyboard, mouse or any other additional device if they are not wirelessly connected to the device via Bluetooth.
Pros
Extremely light PC.
Very nice screen.
Nice keyboard.
Good performance.
It was very light.
Cons
Lenovo Tab 11 Plus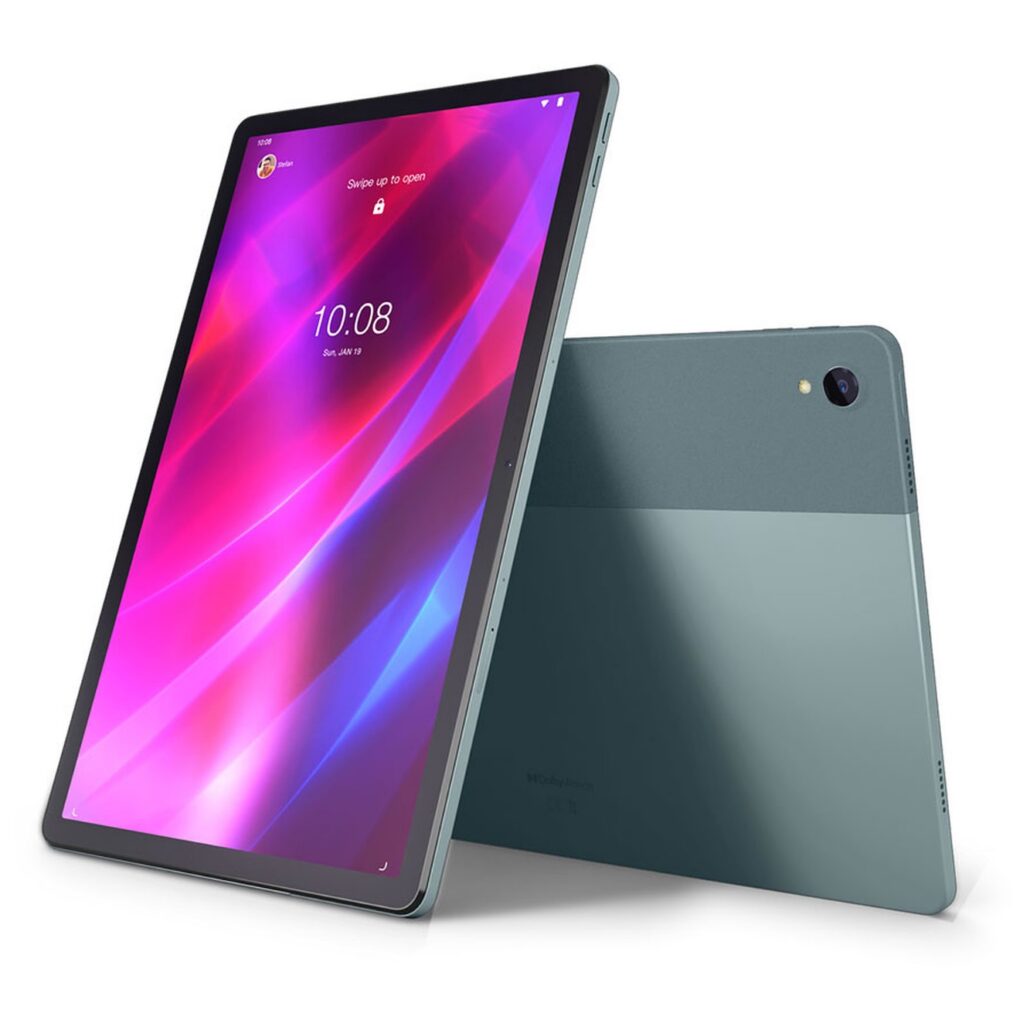 If you are looking for the best classic tablet from Lenovo, then the Tab 11 Plus is surely the best possible choice. It is available in several versions, in 64 GB or 128 GB, with or without charging doc, and there is also a pro version that comes with pen and keyboard. The tablet itself runs on 4 GB of RAM and a latest generation Helio G90T processor, which offer very good performance.
Most games run well, even if you have to lower the graphics slightly on the most demanding titles. For browsing, streaming, or for all classic applications, it runs perfectly. Everything opens quickly, multitasking does not slow down, the screen is beautiful, the touch is very fluid, there are really not many complaints to make. Again, the photo sensor is not great, it is the only real weak point of this Lenovo Tab 11.
Pros
Excellent workmanship.
Beautiful LCD screen.
Good performance for mid-range.
Great autonomy.
Compatibility with a keyboard + stylus.
Cons
Single photo module not great.
Amazon Fire 7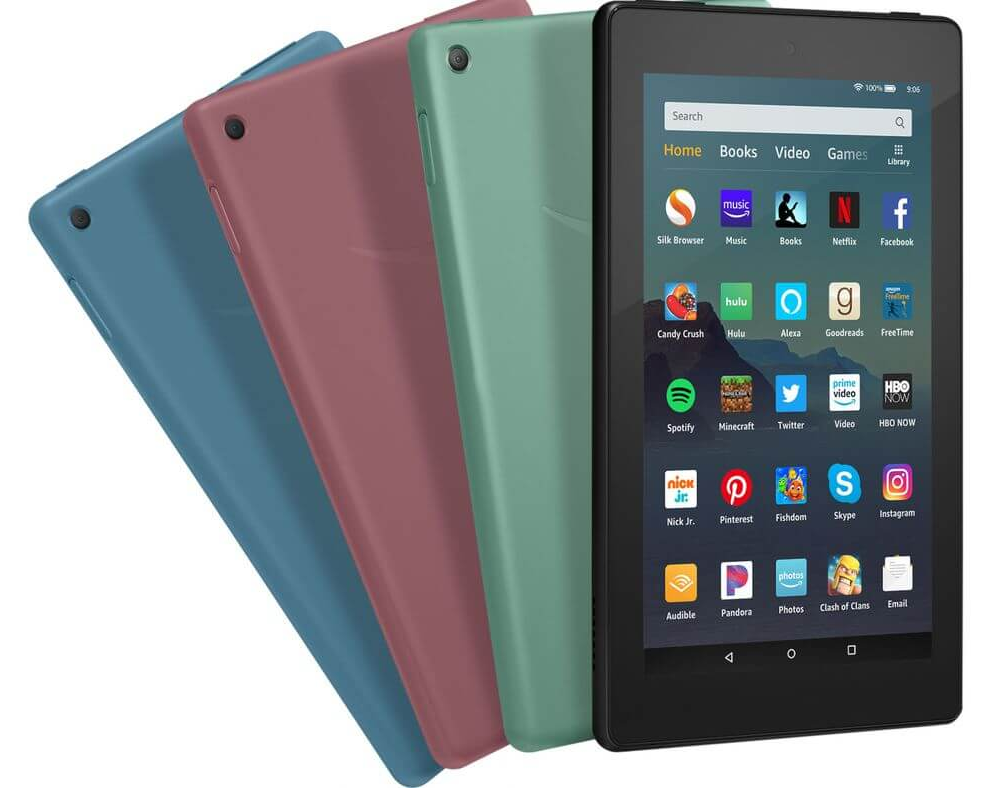 This sublime 16G tablet, was developed by Amazon, the online sales giant. Like the other products of the online giant, the Amazon Fire 7 was designed to make your life easier, while limiting your expenses. And the formula works well. The Fire 7 is one of the most affordable tablets on the market in terms of price. Yet the device gives you easy access to Amazon Prime video or Netflix.
You can also install applications, and games to keep you entertained during your break time and on your days off. Note, however, that the Google Play Store application is not supported by this cheap tablet. But you can use this cheap tablet to connect to social networks, and interact with other members around the world. No more unpleasant battery failures, the device offers up to 7 hours of battery life.