Apple M1 Vs M2 Vs Intel – Detailed comparison of Performance, Speed, Architecture
In June 2020, Tim Cook announced the intention for Apple to integrate their own ARM processors on their Macs and abandon Intel processors to produce Macs that are much more powerful and less power hungry. And we can say that they have reached their goal! For example, did you know that MacBook air based on M1 chips have a performance that can go up to 3.5 times the performance of their Intel counterparts, not to mention the fact that their autonomy can go up to 20 hours, compared to 10 hours for MacBook air with Intel chips.
In this article, we will compare Apple's M1 and M2 (pro, Max and Ultra) chips with Intel's chips. We will examine the differences between their performance and speed, their differences in architecture to understand why Apple's Silicon chips (M1 and M2) offers a much better energy, performance and price ratio than those from Intel. If you have a Mac with an Intel chip, we will give you the reasons to migrate to M1 or M2 Macs or if you should keep it. And to top it all off, we'll do a performance comparison of Intel-based MacBook Pros and Airs versus those with M1 or M2 chips, more (Intel's chips capable of beating Apple's M chips in terms of performance).
A brief overview of the apple silicon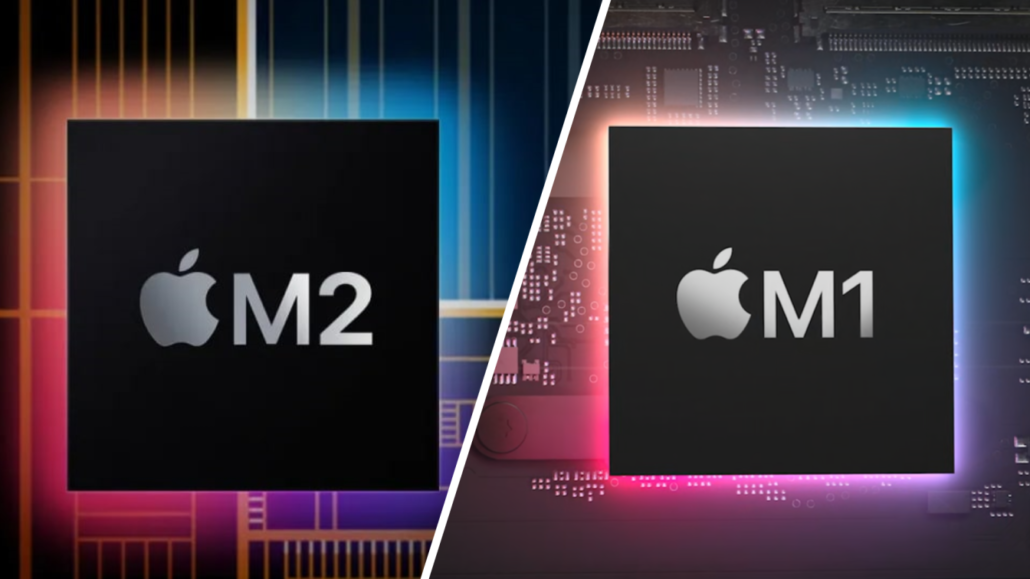 The Apple Silicon M series represent Apple's desire to move away from the old x86 architecture used on their Macs and move towards the ARM chips used in their iPhone and iPad lines. Apple announced that they will make this transition in two years, meaning that after two years (start from June 2020), all their Macs will be equipped with M chips.
The Birth of The M1 Chip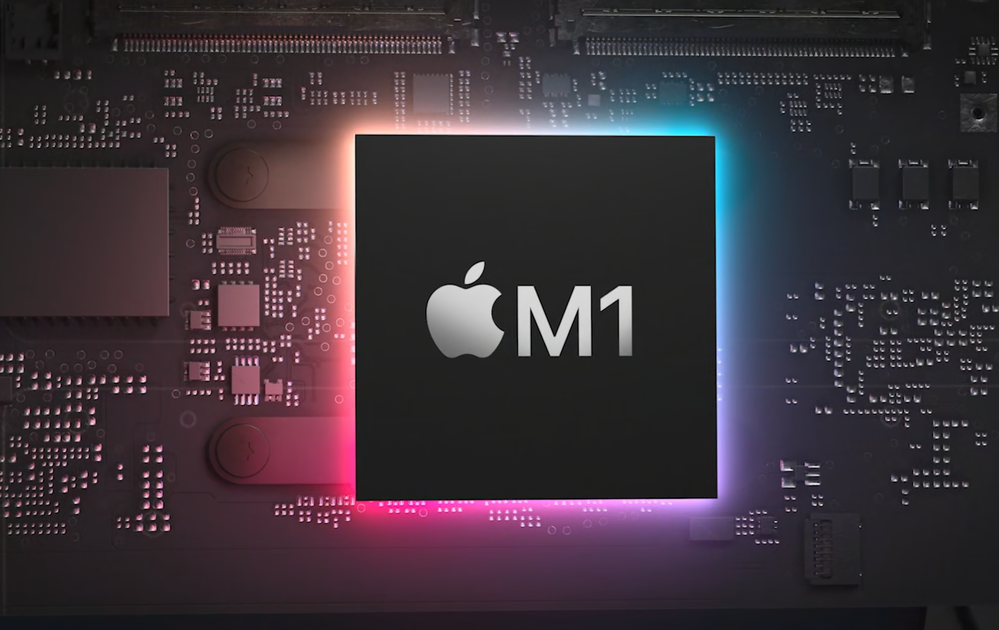 The Apple M1 was Apple's first Apple Silicon chip. It combines both CPU and GPU cores to deliver a faster performance compared to the previous generation of Macs with Intel chips. The M1 chip also includes neural engine cores for machine learning, media encoding and decoding engines and last but now least, a Thunderbolt 4 controller.
It is In November 2020 that Apple started using the M1 chip in the MacBook Air, Mac Mini, iPad Pro and iPad Pro. The M1 Ultra chip, which combines two M1 Max chips into one super-powerful chip was introduced in the Mac Studio a few months later. Even though the M1 has been replaced by the M2, Macs that use the M1 still represent a huge upgrade for most Intel-based Macs. They offer excellent performance per watt, and they can run some iPhone and iPad applications. Hence our next topic, Apple's M2 chips.
The Birth Of The M2 Chip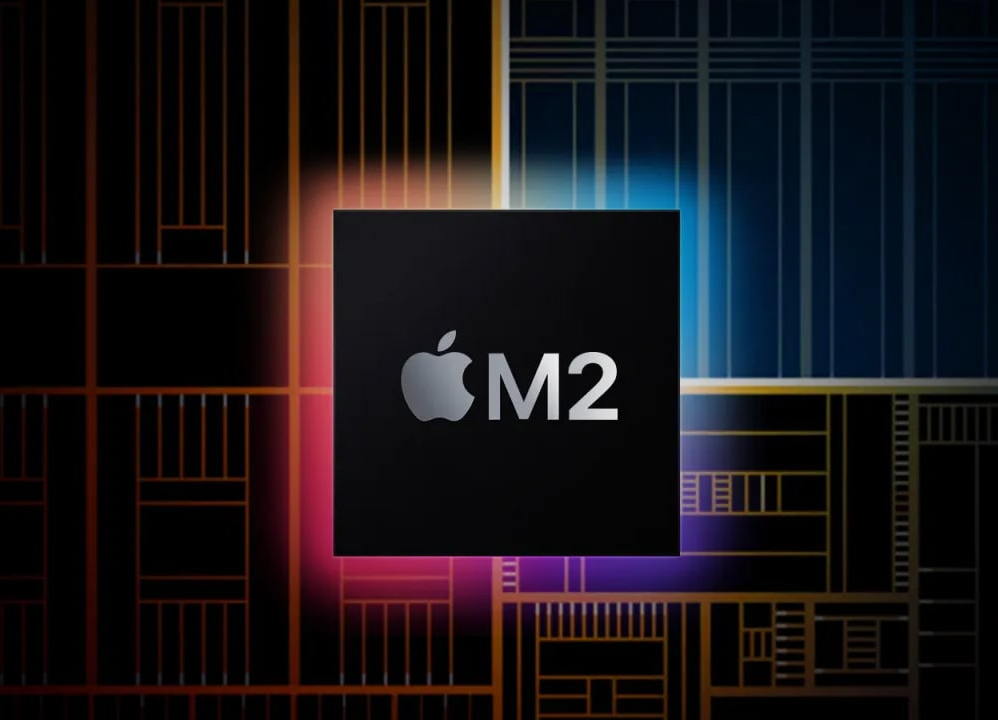 In June 2022, Apple introduced the M2 chip which is considered as the upgrade to the M1 chip in the low- and mid-range category, while keeping the M1 Pro, M1 Max and M1 Ultra for professional users. Like the M1, it combines the CPU and GPU on a single chip with shared memory for much faster performance than systems that separate the CPU and GPU into separate chips. This chip also incorporates ProRes media encoding, which will speed up workflows of creative professionals. But it is only in July 2022 that Macs with this chip were released: the MacBook Air (M2) and the MacBook Pro 13. Compared to more powerful Apple Silicon chips like the M1 Pro, Max and Ultra, the M2 chip hits a sweet spot in computing power while keeping a low power consumption, which is ideal for smaller machines like the MacBook Pro and the MacBook Air.
Now that you are familiar with the Apple Silicon M1 and M2 chips, we'll compare their performance, speed, and architecture to intel chips to see why Macs with the M chip are much better.
Architecture: Intel Vs M1 vs M2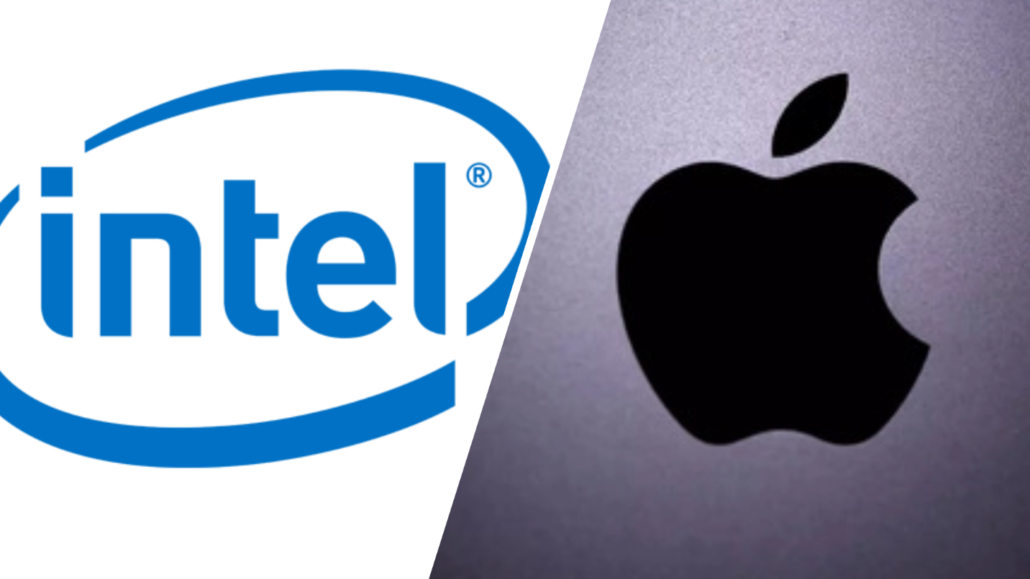 We all know that Intel have been dominating the computer market since the early 70s. They base their processor design on an architecture called x86 also known as CISC. For all these years, Intel's main focus was to improve the performance and the computing speed of their chips without really worrying about energy consumption. It's understandable when you know that desktops don't really on a battery and thanks to the ventilation systems, the heat is controlled.
At the same time, a new market stared emerging: the smartphones and tablets market, and there, the needs are completely different: People want powerful devices with batteries that can last days. And to address this issue, a new actor managed to impose himself by focusing his technologies around energy consumption, and this actor is ARM with his RISC architecture.
What is the difference with these architectures (RISC vs CISC)?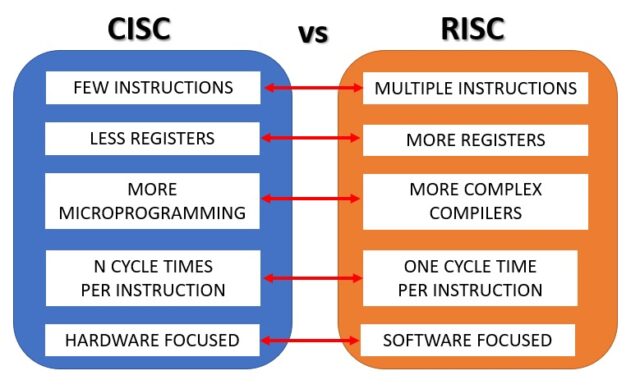 The difference is that in Intel's CISC architecture, we are dealing with complex processors with a lot of instructions to play with. The instructions are the requests that the machine is going to make to the processor perform precise task, and some instructions in the CISC can be cut and re-cut in micro-instruction.
In contrast to the CISC architecture, the ARM architecture requires less complex instruction, and the programs and the software which are entered into the processor have the same size (approximatively). Therefore, the instructions are not cut, and are not micro-cut either to save a lot of time and computing resources. Moreover, the ARM architecture is based on a system called SOCs in which you can integrate a whole miniature system into a single chip. On these types of chips, you will find the CPU, which is its central unit, the GPU which is the graphics processor, the RAM, and last but not least, a Neural Engine like the A16 bionic which manages all the artificial intelligence and machine learning for Siri or Face ID for example.
You will certainly ask yourself why we used to use CISC, and why we are moving away from it today. The reason is simple: in the 70's, there were memory constraints, memory was expensive, we used to put less memory in computers because it had to be lighter, and we left most of the work to the processor. But today, Apple prefers ARMs because memory is cheaper, and so we can make software or applications that are heavier in terms of memory to improve their execution speed, hence, reduce the resources needed.
Performance Difference
One of the other advantages of the new Macs equipped with the M1 and M2 chips is that they have the same performance on battery as when plugged into the socket, whereas with intel chips, as soon as the laptop is on battery, the performance drops significantly. Of course, this might not bother you if you're doing word processing and office work, but for gaming or video editing, the difference can be felt quite severely.
Indeed, performance is also one of the factors that prompted Apple to switch their mac to ARM. This is because Intel has been struggling to reduce the engraving of their processors for a few years now. In case you didn't know, the finer the engraving, the less heat the processor emits, which allows it to increase its computing speed and subsequently its performance without fear of overheating.
Of course, there are other criteria to consider when measuring the power of a processor. Indeed, we know that ARM designs their chips for more mobile use, and Intel bases their processor design on speed and performance. unfortunately for intel, what matters the most for Apple performance-power ratio. Now, the M1 chip has a performance ratio at least three times higher than their Intel counterparts. And in addition to that, Apple has integrated no less than 16 cores to improve machine learning in their M chips.
Thanks to the M chips and their ai features, applications like Pixelmator pro can increase the resolution of your photos while limiting the loss of quality, Final Cut pro can learn your habits and speed up your editing process, and what is even crazier is to know that this M1 and M2 chips is only intended for entry-level Macs, imagine what you can get with the higher-end models.
The advantage of the M1 and M2 series chips also comes from the fact that since 2012, Apple has been making its own chips like A16 bionic we have today, and since that time, Apple became familiar with these chips and with the ARM architecture.
And to give you an example, thanks to the M1 chips, the MacBook air, MacBook pro 13 inches show a tenfold performance compared to the previous generation, up to 3.5 times higher on the processor side, five times higher for the graphics part, and an autonomy of up to 20 hours. Honestly, we've never seen anything like it during the Intel era. Basically, and to make thinks simple, a $1000 MacBook air is now as powerful as a 16-inch MacBook pro equipped with an i9 core that costs more than $3000, and that's where the revolution lies, because in addition to this transition, Apple is bringing the power of a very high-end Mac to everyone.
If we add to this the fact that the M2 chip has an 18% faster CPU, a 35% faster GPU, 50% more memory bandwidth and a 40% faster neural engine than the M1 chip, then imagine the freedom you will get.
Autonomy and energy consumption.
Macs running on Intel use an old architecture, so they need much more energy to work than Macs with their m1 and M2 chips, and therefore, more energy consumption means less autonomy with the same battery.
Indeed, the problem with Intel's CISC architecture is that, when several programs or software programs are successively entered into the processor, they will through the decoding, cutting and execution phase. In the meantime, another one will be entered and go through the same process. Therefore, each time we bring a new program into the processor, it will consume energy in the decoding, cutting, execution, in short, we will need energy in the five stages. Moreover, the components are more solicited, they heat up, so they require more electricity from the computer and more ventilation to keep the temperature low.
On the other hand, the RISC architectures requires fewer operations to perform the same tasks, it therefore consumes about half the energy.
And, to give you an idea, we are really talking about going from about 8 hours to 20 hours of autonomy. So, the difference is huge, and if autonomy is something important to you, the choice is quickly made. So, one more point for Apple, but be careful, because this point is only valid for the last generations of Macs equipped with the famous M1 and M2 chips. Because Macs equipped with Intel processors have a battery life close to that of Windows PCs.
As a disclaimer, I didn't say that Intel chips are not the most efficient, they are even super-efficient, but they heat up a lot, and you won't be able to argue with me. So, it requires a lot of resources, in terms of ventilation and energy.
Availability of the processors between intel, M1 and M2
The other difference between the M and intel chips comes from their market availability. Intel designs, manufactures, and sells their processors to all computer manufacturers, who will adapt their design to them, while ARM will only design the different components of the socket, and sell their model under license to their partners who will assemble them as they wish.
Among the partners of ARM, we will find Samsung and their SOCs exynos used for their smartphone, Qualcomm and their soc snapdragon, we will find the Socs ARM at Sony, at the Oppo, but also on the Microsoft surface pro x, with a window 10 on ARM, and of course, we will name Apple who equip their iPhone socs since the very first model.
Now that the basics are set, we'll compare the performance of the Intel-based MacBook Pro and Air their M1 and M1 chips counter parts, and we will present the Intel 12-generation chip that has a performance that beats the M1 Max chips.
MacBook Air: M1 Vs. Intel Vs. M2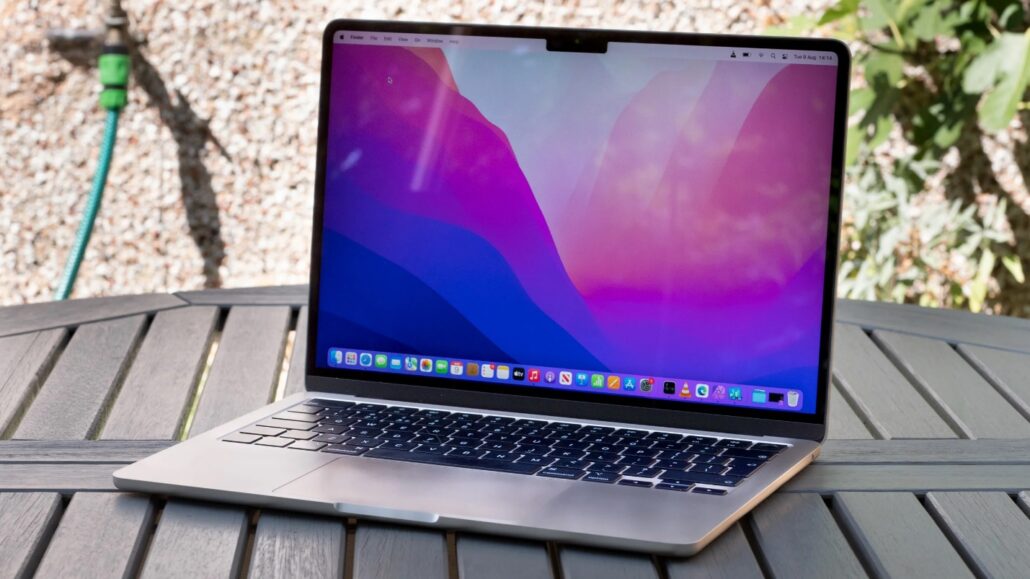 These mac's design are very similar, despite minor changes here and there. But the main difference clearly comes from the processors, and memory limits.
With an Intel MacBook Air, you can choose between different Intel processors – from the dual-core Core i3 processor with a base clock speed of 1.1 GHz to the quad-core Core i7 processor with 1.2 GHz – base clock speed and turbo that can reach 3.8 GHz. These chips are based on the Intel processor series with Ice Lake architecture and are manufactured using a 10-nanometer process. The graphics calculations are carried out by the Intel Iris Plus Graphics.
The Apple M1 is also known as an SoC, consisting of an 8-core Processor, a GPU with up to 8 cores (7 cores in the cheaper model), a Neural Engine for AI applications with 16 cores and other elements such as buffer and audio processor. The processor cores are divided into 4 performance cores and 4 efficiency cores. Unlike Intel processors, Apple's M1 has a 5-nanometer engraving, which means higher energy efficiency.
The M2 chip on the other hand has an 8-core GPU. In reality, the processor is 18% faster, the graphics processor 35% more powerful and the Neural Engine, 40% more powerful than the M2 chip. The RAM is 8 GB on both models in the standard version. The M2 version can be upgraded to 24 GB and its memory bandwidth is boosted to 100 GB/s.
According to GeekBench benchmarks, the MacBook Air with M1 scored 1687 points in the single-core test and 7433 points in the multicore test. The MacBook Air with Core i7 got 1140 points in single-core and 3080 in multi-core. The MacBook Air with M2 chip shows a 12% increase in the single-core test and an 18% increase in the multi-core test compared to those with M1 chip.
Regarding Power Consumption, and although both MacBook Air models have the same battery size, the M1 version has a longer battery life. In fact, the 2020 MacBook Air with an Intel processor uses a lithium polymer battery with a capacity of 49.9 watt-hours (Wh). According to Apple, this is enough for up to 11 hours of wireless browsing or up to 12 hours of watching movies. The battery can be charged with a 30-watt USB-C charger.
The MacBook Air M1 and M2 have the same charger and the same 49.9 watt-hour (Wh) battery. However, they can use energy far more efficiently thanks to the M chip. According to Apple, the Mac with an M1 and M2 chip can last up to 15 hours for wireless surfing and up to 18 hours for playing movies.
Clearly M2 is better, but the M1 offers incredible value. The MacBook Air M1 was already a capable machine for everyday computing, productivity and even video editing. For those who already have an M1 Air, you probably don't need to upgrade, unless you really want the MagSafe connector.
Those who don't already own a MacBook and want to buy one should probably opt for the M2 model over the M1 if you can afford the extra cost. You'll have more CPU/GPU/memory options and benefit from increased performance. That said, the MacBook Air M1 is still very fast for most people, so we recommend it to college students who need mobility and have a limited, but still substantial budget.
MacBook Pro: M1 vs Intel Vs M2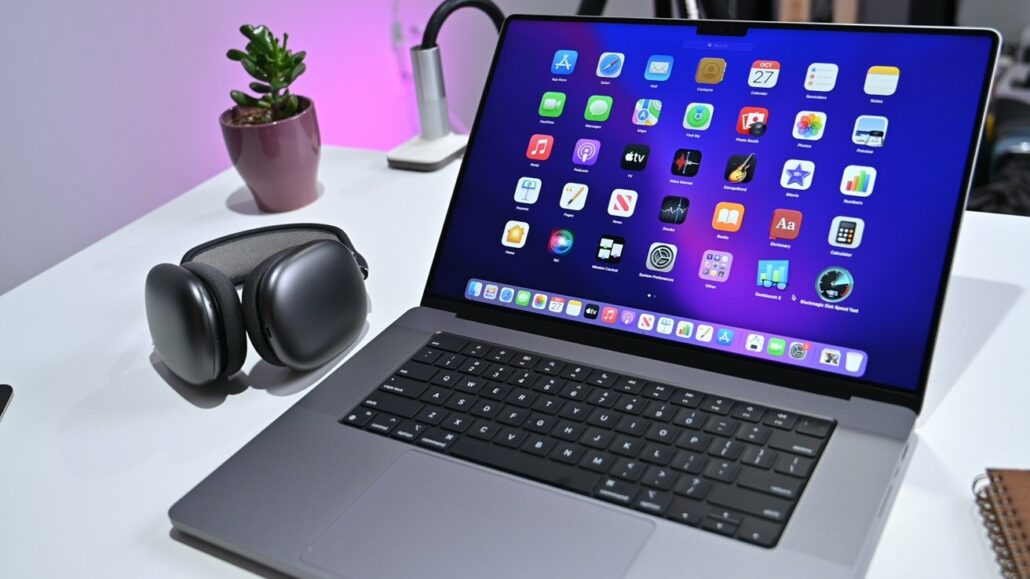 These Apple machines share much of the same chassis' design. But, here, we prefer to focus on performance.
In term of Hardware and Performance, the high-end 13-inch MacBook Pro models continue to use 10th generation Intel Core chips. They all have a 2.0 GHz quad-core processor, which can be easily be customized to a 2.3 GHz quad-core Core i7 processor. Both Intel models feature Intel Iris Plus graphics.
Meanwhile, the 13-inch MacBook Pro M1 is one of the first Macs to be updated with an Apple-designed Arm-based chip rather than an Intel chip like previous MacBook Pro models. This chipset has an 8-core processor and an 8-core integrated graphics processor. The processor has 4 high efficiency cores and 4 high performance cores.
On the other hand, the high-end Macbook pro M2 has an 8-core processor and a 10-core GPU. While the number of processor cores remains unchanged, the GPU gets two additional cores over the M1 Macbook pro, which should help things move a little faster in graphics-intensive applications. In addition to an improved GPU core count, the M2 has a dedicated media engine with hardware-accelerated playback for H.264, ProRes and ProRes RAW. The chip also includes video decoding and encoding engines, as well as a dedicated ProRes encoding and decoding engine for professionals shooting in that format. This is a big step forward for anyone who uses their MacBook for video editing.
The MacBook Pro M2 is an improved version of the M1, announced by Apple as being 1.4 times more powerful. Also, in terms of memory, the MacBook Pro M1 is limited to 16GB of RAM, with an 8GB option for those on a tight budget. The MacBook Pro M2, on the other hand, goes up to 24 GB, also keeping the first two choices. The Intel-based MacBook Pro comes with either 16GB or 32GB of RAM.
We would like to add that recent Geekbench benchmarks show that the M1 has a frequency of 3.2 GHz and scores over 1700 points in single-core, and 7500 points in multi-core. That makes it faster than the top-of-the-line 2019 MacBook Pro models, which come with 10th-generation Intel Core i7 or i9 chips.
As for Battery Life, according to Apple, the MacBook pro with an Intel chip offers up to 10 hours of web browsing or up to 10 hours of movie playback, while the Apple machine with M1 and M2 chip offers up to 17 hours for web browsing and up to 20 hours of movie playback. Thanks to the phenomenal computing efficiency of the M chips, Apple has managed to squeeze twice as much usage out of a single charge from what is basically the same 58 watt-hour lithium-polymer battery.
Intel Core i9-12900HK vs. the M1 Max chip.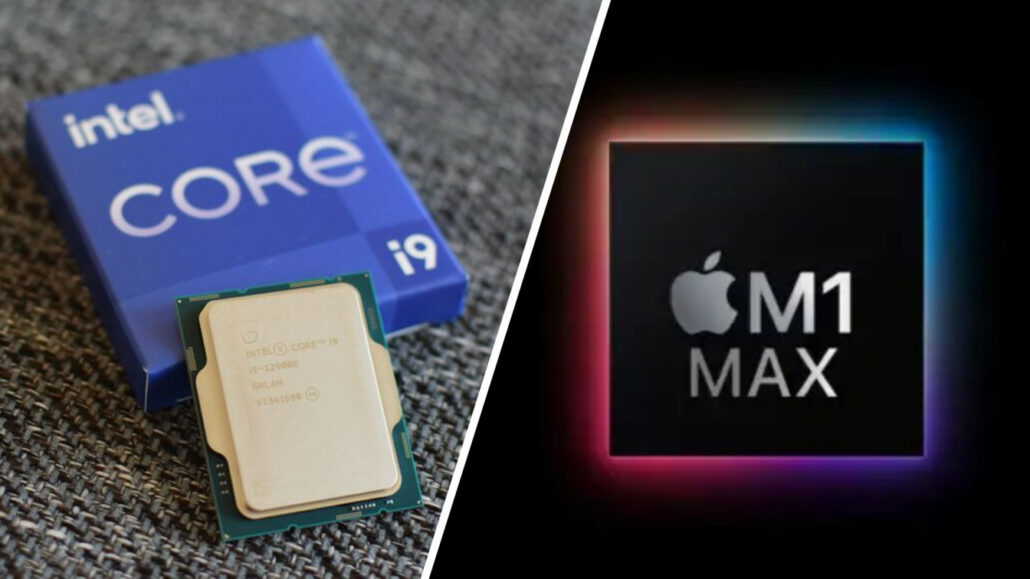 Since Apple abandoned Intel's processors in its Macs in favor of its own in-house chips, Intel has been attacking its former partner in every way imaginable. The latest idea is to compare the speed of the M1 Max chip against the Core i9-12900HK which intel presented as the fastest mobile chip ever created. It features 14 cores which are divided into 8 efficiency cores and 6 performance cores and a maximum Turbo Boost frequency of 5.0 Gigahertz. These characteristics effectively outperform Apple's M1 Max chip, which offers only 10 cores divided into 8 performance cores and 2 efficiency cores. To prove the superiority of its latest Core i9 processor, Intel also stated that its chip has a maximum Turbo Boost frequency of 5.0 GHz. If the Core i9-12900HK is a more powerful processor, the company has not managed to do better on energy efficiency. Indeed, the chip consumes up to 115W, against between 60 and 90W for the M1 Max chip.
For example, the MSI with this chip requires an average of 100 watts, with peaks up to 140 watts. The MacBook Pro is around 40 W Apple remains the undisputed master of the performance/watt ratio. The autonomy is also to be put in perspective. When running on battery, the MSI laptop lasts 6 hours in video playback, compared to 17 hours for the MacBook Pro. The PC is also a beautiful baby with its 17.3-inch screen for 2.9 kg, against the 16-inch MacBook Pro, which weighs 2.1 kg (M1 Pro).
At the end of the day, Intel is right: this top-of-the-line 12th generation Core i9 is indeed faster. But the M1 Max chip remains the best compromise between performance and battery life. Moreover, the M1 Max chip is exclusive to Macs, which allows Apple to optimize its machines to consume even less energy, and to make greedy applications like video editing applications run smoothly.