The Motorola who marked the entry of android to flagships has been out for a while until the launch of its iconic moto series smartphones Moto X, Moto G and Moto E last year. The launch one year back marked their comeback and now just in time they released the updated version of the phones. Moto X being the high end offering has done it again. The customization has been the key to its success along with stock android version and up to date OTA updates makes the handset more desirable.

HARDWARE
The new moto X is built well compared to its predecessor and it feels well to hold as well.
The phone is curvier and thinner than ever which will make you hold this phone with ease. The huge 5.2 inch AMOLED display upfront will be the first thing you notice.
The design kind of tapers from top down from the headphone jack 10 mm to 3.8 mm. You can see the edges got replaced with an aluminum band, also works as an antenna, which gives it a premium look though it won't make it any heavier. The Corning gorilla glass 3 used to protect the screen also mend with the curves, no more chipped edges!
The port and buttons hasn't changed their places. The phone is said to give 8 hours of backup with 15 minutes of charging thanks to its Qualcomm Quick charge 2.0 and Turbo charger (expecting its release).
There is no Moto X without customization and you will find at least one finish that really speaks to you, if not more.
Under the hood it is a real winner as well. With 2.5 GHz processor from Qualcomm, 2 GB of RAM, Adreno 330 GPU all tucked in the Qualcomm Snapdragon 801 Chipset. There are 2 storage variants to choose from,16 GB and 32 GB, it's disappointing once again not to see a micro SD card slot in this one. The non-removable battery has 2300 mAh capacity which is enough to last all day.
DISPLAY AND SOUND
Well this was the major improvement we notice from the previous model. The 720p display has been replaced with a 5.2 inch 1080p AMOLED display which is quite a winner and great to look at. The color spectrum seems so rich and vivid in this one. No disappointments when used outdoors either.
The speakers in any smartphone doesn't meet your expectation what so ever may be the price point but comparing to what we get from those models the speaker n moto X placed below the screen delivers decent performance and Motorola has refined it for better. But we expected the dual speakers in this too which we saw in new moto G.
SOFTWARE
The phone runs on Stock Android 4.4.4 Kitkat, no surprises there. It misses any OEM customization which is enjoyed by most of us.
But the stock moto apps are nothing but useful rather than any other frustrating customization by any other OEMs. Moto display is one which lets you see your notifications at a glance and hot swap to related app. This feature got more efficient with the addition of AMOLED display as it won't compromise your battery life like before.
Moto Actions is another which uses the IR sensors to silence a call, tell time by waving over the phone screen.
Not to mention the good old Voice commands which can be initiated anytime you wish. This time you can change the keyword from 'Ok Google' to phrase of your choice.
CAMERA
Nope nope nope. This is one area which Moto goes below par. The 13 MP sensor with dual LED flash support is there but the performance is not impressive yet. There is manual focusing and exposure settings to override the frustration brings by its autofocus.
But the video recording seems pretty nice with 4K capability. And the interface is minimalistic and taking picture is easier with just a tap anywhere in the screen. There is HDR, flash, Quick Capture, slow-motion video and panorama settings to tweak with. Simply tap and hold the screen to take burst shot and it continues to take snap until you let go.
The front camera is no star either.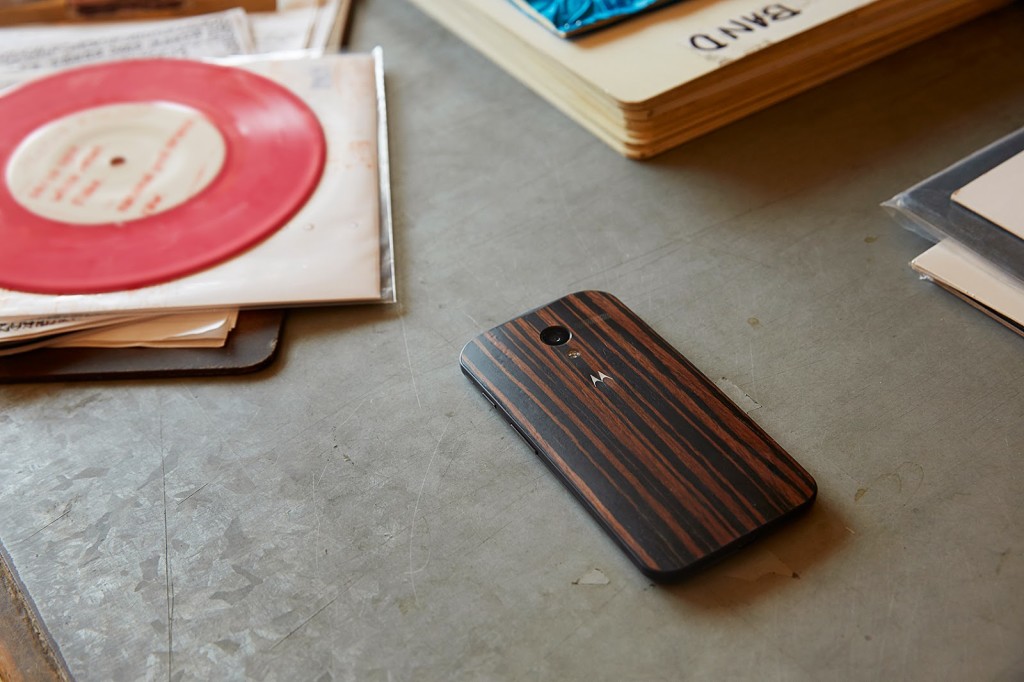 PERFORMANCE AND BATTERY LIFE
On sheet it may seem out shadowed by the other flagships but the real-time performance it doesn't showed lag at any time, in fact the benchmarks showed it competing neck to neck with the others. And the moto X shares the same chipset with Galaxy S5 and One M8
Apps like Asphalt 8 runs smoothly and there are no lags using any other apps either. Coming to performance moto X won't disappoint you. While doing benchmark tests with various platforms it did just fine.
What use it brings if the battery won't last long. But the moto is a winner in this too with an average 10 Hours backup. Good for a device in this range only to get beaten by Galaxy S5 by few more minutes.
Motorola is moving faster towards a great android phone with this device the near stock android along with moto exclusive features, great design, and room for customization make the device stand tall but the camera seems a real issue in this one too which we hope they will rectify in their next attempt. Enough said this model is a real deal from Motorola to compete with the others and is a great buy.