Lenovo's Yoga 710 Appears to be Powerful with Core i7 Processor Bundled with 8GB RAM
Lenovo added another laptop to one of the most successful Ultrabook series. The new 14 inched Yoga 710 is having 360 degree spinnable hinge along with Yoga Mouse. Yoga is Lenovo's most known Ultrabook series for the time being. Inorder to make it live among the users, the most suitable way is to have new launches and Lenovo is doing rightfully.
Featherweight and Thin
With a weight of just 3.52 lbs, Yoga 710 is easily carriable. The thickness comes to be 0.58 inches. The whole device is encased in Aluminium chassis making the device much more candid. Unlike other ultrabooks, this design gives an elegant look to Yoga 710.
Display
Yoga 710 is having a screen that extends upto 14 inches edge to edge. The Full HD display is enabled with IPS touch and 300 nits brightness, which ensures crystal clear views even at edges. The resolution comes to be 1920*1080 pixels. 10 Point Multi-Touch promises exceptionally greater touch experience.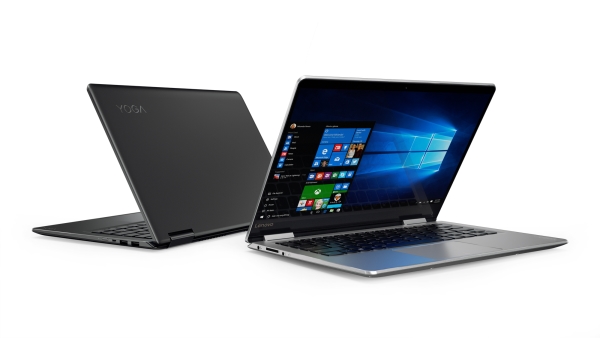 Processor
Yoga 710 is having the latest 6th Generation Intel Core i7 Processor which can deliver a processing speed of 2.52GHz. Accompanied with a RAM of 8GB, the device seems to be much more powerful. Yoga 710 has an onboard storage of 128GB on NGFF SSD. For gamers, Lenovo also provides an optional graphics support in the form of 2GB Nvidia GeForce 940M graphics card. The device appears to be more powerful with Windows 10 as its OS.
Powerful Hinge
The hinge is the most powerful armor of Yoga series. The 360 degree spinnable hinge allows you to use Yoga 710 in four different ways – Laptop, Stand, Tent and Tablet. The hinge is too powerful and robust that it allows you to easily turn around the device and use it in whatever mode you prefer.
Unique Antenna
Frequently disconnecting WiFi connections are the prime problem faced by most PCs. Lenovo integrated the antenna into Yoga Hinge which will allow it to cover a greater area. This makes the signal stronger by even 20% and constant which will ultimately prevent frequent signal loss.
Battery
Lenovo Yoga 710 is well backed by 4 celled 53WH battery. This battery promises to deliver a power backup of 8 hours from single charging. Lenovo promised that this has been tested under real life conditions and seems to be reliable also.
Connectivity
On connectivity front, Yoga 710 is featured by 2 USB ports of v3.0 which will ensure faster data transfer. The device also has one Micro HDMI port. The card reader supports namely SD, MMC, SDXC and SDHC cards. Yoga 710 is WiFi enabled with WiFi 2*2ac and also enabled with Bluetooth of v4.1.
Camera
Yoga 710 is having a camera of 1MP Fixed Focus CMOS camera with 720 pixel clarity. Lenovo Photo Master v2.0 merges photo library with navigation and editing tools which will allow you to access your images much more easily.
Availability
Yoga 710 has already made its way to Europe. It started to sell in American markets also. Lenovo priced Yoga 710 at $799 for its base model. Based on the configurations this price may change.
By

Jinnia Gupta Roy

In Laptops
— 9 Aug, 2016