Acer Launched Chromebook 14 Featuring HD Display and Aluminium Body
Acer has launched its new laptop running on Chrome OS. Everyone expected that Chromebook 14 will be an entry level laptop, but when checked, it turned out to be a middle range laptop. With middle range specifics, Chromebook 14 is all set to compete premium models of Windows and Apple devices.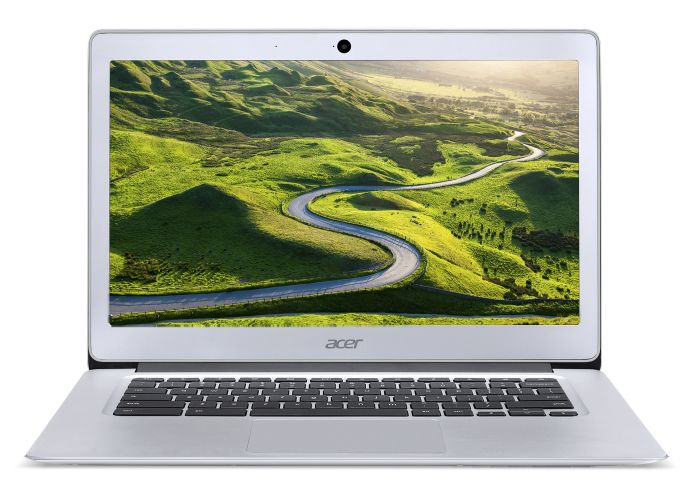 Design
The new Chromebook 14 from Acer comes with a metallic case made of Aluminium. The rounded corners and brush finish gives Chromebook 14 a classic look. With a thickness of just 0.67 inches, it is thinner than MacBook Air by 0.01 inches. With a weight of 3.42 pounds Chromebook 14 is bit heavier than Acer 11 inched models by 6 ounces.Unlike previous Chromebooks, Chromebook 14 is having dual USB 3.1 ports.
Display
Just like the name suggests Chromebook 14 is a 14-inched screen featuring IPS LCD display.Display is either loaded with Full HD featuring 1920*1080 pixels or HD featuring 1366*768 pixels. The screen provides a 1700 wide viewing angle. This enables the user to view the screen from any angle without changing the position of laptop.
Webcam
Chromebook 14 is having a webcam supporting 720*1280 HD resolution imaging. Users can record HD video along with clarity sound with the help of digital microphone. This will also help the users to conveniently use Chromebook 14 for video conferencing.
Processor
Chromebook 14 is powered by either Dual Core or Quad Core Celeron Braswell processor from Intel. The normal model grants 4GB RAM along with 32GB eMMC storage. Acer also launches an entry level model of Chromebook 14 featuring 2GB RAM and 16GB storage. This entry level model will feature a display of 1366*768 pixels resolution. If you feel that the storage is too low for a mid-range laptop, then you can make use of 100GB free Google Drive storage facility.
Battery
No specific information regarding the battery is available. But the officials made it clear that the battery of Chromebook 14 is capable of keeping it live upto 14 hours in case of HD model and upto 12 hours in case of full HD model.
Pricing
The normal version of Chromebook 14 will be available for $300. But the price of entry level versions of Chromebook 14 is not available for the time being. The officials also declared that Chromebook 14 will start shipping from April onwards. You will be happy to know that Chromebook 14 is available for pre-order from Amazon.
By

Sajin M S

In Laptops
— 1 Apr, 2016