Methods to Tailor Windows 10 Lock Screen Feature
The Lock Screen Feature was introduced by Microsoft in Windows 8. It was then characterized as one of the most cheered features that Microsoft has launched recently. The specialty about Lock Screen feature is that it can show widgets as well as important notifications and also tailor made wallpapers. These specialties are possible with the help of most modern applications such as Weather, Email, Time and so on. Here in this article I would like to show how you can alter Windows 10 Lock Screen without any complications.
Access Lock Screen Settings
Inorder to make alterations in Lock Screen, first of all you have to access its settings. This is quite easy in Windows 10. You have to tap on Notifications Icon, and then you have to click on All Settings Button. Now a settings panel will be opened up and from there you have to open up Personalization. Now click and select the option of Lock Screen, from personalization. Another method to open Lock Screen easily is to click on the search tool in Start Menu and hit the enter key.
Arranging the Lock Screen
Arrangement of Lock Screen is quite simple. The first and foremost thing to arrange in the lock screen is the Wallpaper section. In Windows 8, there used to be only one option for the wallpaper. But in Windows 10 it has nearly three methods toset the wallpaper.The first one available is found beneath the Background which can be found under the option of Windows Spotlight. When this option is checked on, Spotlight collects the most attractive wallpapers from Bing and displays them as your Lock Screen. These gets altered everyday periodically, so you don't get bored of seeing the same wallpaper everyday. This feature can be activated simply by tapping on Windows Spotlight.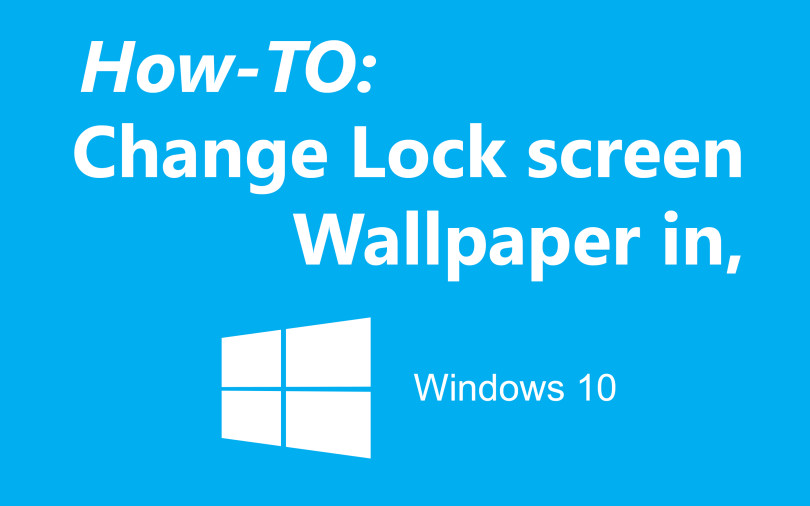 One of the greatest advantages of this option is that you can express your liking and disliking for the particular wallpaper. For instance, if you dislike a wallpaper which was displayed, you can simply select the option No, which you can find on top right edge of the screen. Unfortunately Spotlight feature limited to certain premium versions of Windows 10.The next option is to pick and select an image as your Lock Screen. This option allows you to set your most favored picture as your Lock Screen Wallpaper. Either you can select the pre-set Windows Wallpaper from the option Choose your Picture or you can choose the pic by tapping on Browse Button. When you run Picture Mode, Windows displays certain fun facts, tips and tricks on the Lock Screen. If you don't want the option, just disable it.The last option is to set the Background to run a Slideshow. This can be done by selecting Slideshow Option from the drop-down menu. Automatically Pic Folder will be selected and this will result in showing any such picture as slide show in Lock Screen. You can customize it by selecting any other folder by tapping on Add a Folder Option. With the help of this you are allowed to include as many as folders as you like. After selecting a particular folder, of you want to remove any, this can be done by tapping Remove Button.
Other Settings
By selecting Advanced Slideshow Settings, you can customize certain other settings associated with Lock Screen. Here you alter options like Screen Off Time, Camera Roll settings in Slideshow and so on. When it comes to widgets available on Lock Screen, you are allowed to set widgets of various applications upto the maximum of seven, which are able to deliver the notifications in time efficient manner. Inorder to add an app, you have to tap on Add Button and select the preferred app from the list. If you have installed more number of latest applications then you are able to set these new apps to the Lock Screen from the list.
Disable Lock Screen
There is also the option for to disable the Lock Screen in Windows 10, if you don't like it. This also can be simply done. All you have to do is to uncheck the option of Lock Screen from Notifications >> All Settings Button >> Personalization.
Written By

Arun S

Category OS
Updated on Oct 4, 2015