Wave The Verge Smart watch: Alcatel One Touch guarantees smart prices
Alcatel One Touch is releasing a new series of elegant smart watches at smart prices. The company will display its first wearable product, Wave The Verge Smart watch, at the Consumer Electronics Show 2015, which will be conducted from January 6th.Though the prices of Wave smart watches are not revealed, Alcatel promises it to be affordable and less expensive compared to the other Smart watches in the forefront. While it have not  much drifted from the looks of traditional watches with its  round 1.2-inch 240 x 204 display, Alcatel's  Wave Smart watch have a stylish design. The handsome wave has a brilliant, clear screen and comes with a choice of four different beautiful straps.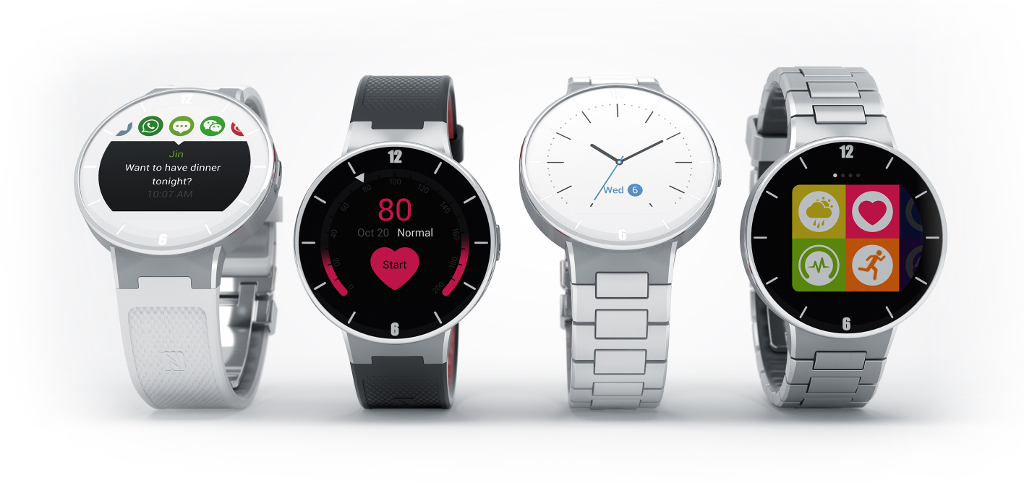 The watch will run on Alcatel's own operating system and will allow the user to receive and check notifications, control music playback, trigger phone camera to capture photo, make calls and send messages. It can be used to track fitness and health with the help of optical heart rate monitor together with other sensors such as a pedometer and altimeter placed on the underside of the Wave watch. The tracked data will get fed to a linked device which enables the user to monitor the stats over time. With the use of Bluetooth 4.0, it will be able to link to the smart phones with Android 4.3 and later.
The watch supports NFC used to trigger the connection to a companion device. Alcatel claims a battery life of at least 4 days on a single charge. Its onboard 210-mAh battery can be charged via the USB port which seems hidden unless it is flip opened at the end of the strap The device is  IP67 dust and water resistant. It is expected that the Wave will cost much less than high-priced similar devices since the company is popular for offering competitively priced electronics.  Alcatel's wave is getting ready to compete with Apple's Watch priced $349, the $250 Motorola Moto 360, the $200 LG G Watch and other Android Wear devices. It would be stirring if it cost less than the $199 ASUS ZenWatch.
Even though Alcatel offers Wave Smart watches at much lower prices, its future in the competitive market will highly depend on the potential of the operating system which runs the watch. Let's wait to know detailed specifications and how low Alcatel's "smart price" really is.
By

Nivin JS

In Technology
— 3 Jan, 2015