Top 12 Monitors: Gaming, Video Editing, and Work – Our Recommendations and In-Depth Analysis
Finding the best monitor for you can be a pain, there are so many options on the market right now, so it is hard to tell which one will be best for your needs.
We break down the top 12 monitors on the market this year based on price, performance, and the situations they'll be used in.
So, if you are you're looking for a flat or curved monitor, with a high refresh rate, a stunning resolution and an excellent response time for gaming, video editing, 3D modelling and more, we'll have the perfect option for you. Now, let's get insights.
1

Samsung Odyssey G7 LC32G75T
Our pick for the best Monitor Overall for gaming, video editing and 3d modeling.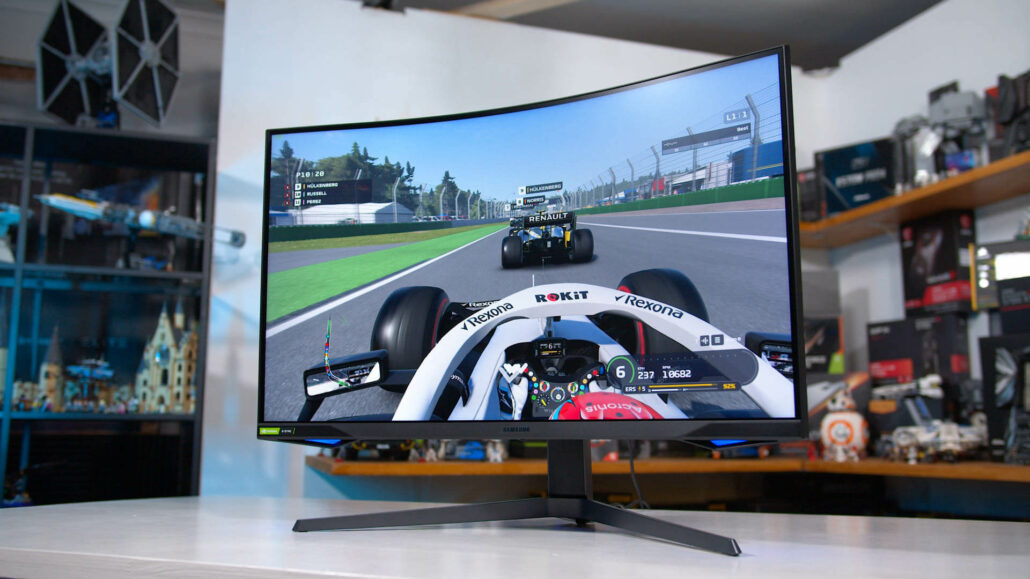 Pros
Quad HD 240 Hz VA panel.
Curvature that immerses the player
Image well calibrated by default.
Neat ergonomics.
FreeSync and G-Sync compatibility.
Cons
High power consumption.
Requires a very powerful graphics card to operate properly.
Samsung Odyssey G7 LC32G75T is the best 240Hz gaming monitor we've tested so far. With a 1000R curvature, 27- and 32-inch screen, and a resolution of 2K, it's ideal as a gaming monitor and for those looking for an exceptional experience.
The larger variant offers more space for better immersion, but keep in mind that both models are 1440p resolution, so images are less sharp on the larger one due to lower pixel density.
The 240 hertz refresh rate ensures smooth and crisp scenes, while the 1 millisecond response time and 2 milliseconds input lags make every movement and action in the game instant and realistic, without lag or ghost effect.
In terms of screen quality, its QLED technology and HDR600 deliver vivid colors, excellent contrast, and crisp detail, even in the darkest scenes. Since this is a VA panel, it's a great solution for those who want to play competitively. Thanks to the Adaptive Sync feature, the Samsung display is compatible with both FreeSync and G-Sync.
The Samsung Odyssey G7 is also an excellent curved monitor for work, thanks to its eye protection with Flickerless and Eye Saver Mode systems. It provides adequate blue light protection so that your eyes don't get tired, even after many hours in front of the screen.
2

Alienware 34 AW3423DW
Our pick for the best 34-inch Oled gaming monitor for the PC.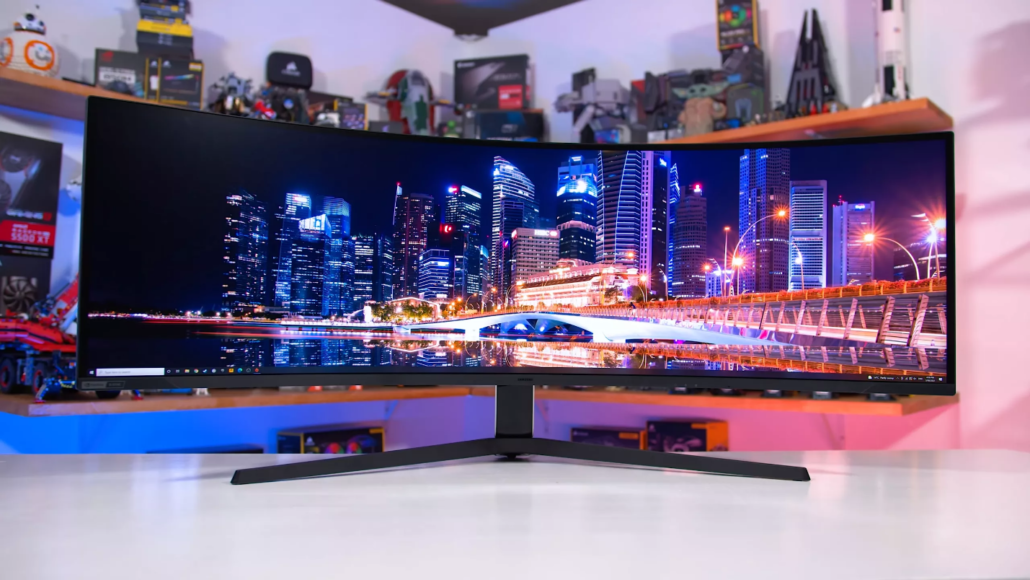 Pros
The infinite contrasts of the Oled;
Excellent calibration by default;
The best HDR on PC;
Very low latency;
Simple installation;
3 years anti burn-in warranty.
Cons
What this OLED panel can offer in either of its HDR modes, HDR 400 True Black or HDR Peak 1000, is simply outstanding. The image it produces is crisp and vibrant. In terms of gaming, this beast is capable of delivering 175 Hertz refresh rate and its response time is incredibly fast at 0.1 Millisecond.
Even games that are typically disappointing in terms of graphics like Call of Duty Warzone look great, thanks to the quantum dot enhanced saturation and fast response.
In addition to its OLED technology, the Alienware 34 AW3423DW also features Samsung's new QD-LED technology, which combines the ideal RGB sub-pixel structure with the Quantum Dot technology to produce both excellent color saturation and an even brighter panel.
On top of that, Alienware boasts both an impressive 99.3 percent coverage of the demanding DCI-P3 color space, and a brightness of 1,000 nits. However, there is no HDMI 2.1 on this panel. So, it's probably not the best solution for console gaming. It's ideal for PC Gamer, and if you're going to connect your PC to a high-end gaming monitor, we highly recommend the Alienware 34.
3

HP OMEN X Emperium 65
Our pick for the top monitor for the Living Room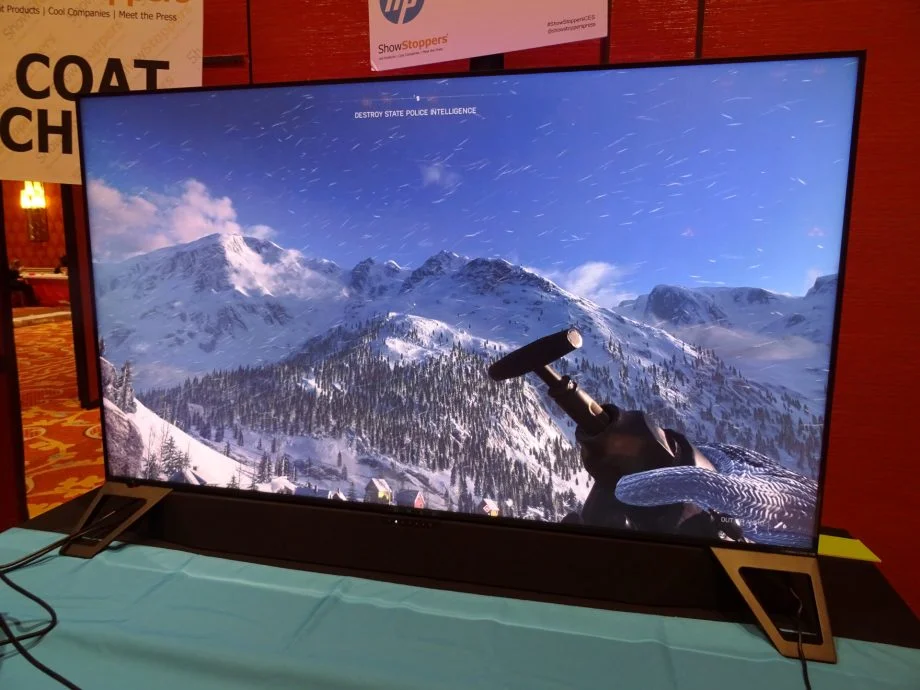 Pros
Gorgeous, smooth gameplay;
Simple and sleek design;
Excellent SDR and HDR image contrast;
Built-in sound bar – excellent audio quality;
144Hz G-SYNC with HDR10.
Cons
Not a good value for money.
Many monitors deserve to be at the top of the mountain, but by a small margin, it is the HP OMEN X Emperium 65 that takes the number 1 spot. The 65 in its name, it did not steal it, since it corresponds to the size of its screen, being 65 inches. Without a doubt, we can say that its purpose is clearly to replace your traditional TV.
Its MVA display offers a very good color rendering, not to mention HDR, with its luminance of up to 750 cd per sq meter. One of the big strengths of this monitor is all the NVIDIA technologies that the screen embeds, such as a high-quality G-Sync, but above all, the NVIDIA Shield TV 4K that is directly included in the device. The only flaws that can be found in such a high-end are a slightly high response time of 14 Millisecond, which is not so good for gaming.
4

Dell S3221QS
Our pick for the best value for money 32-inch and 4k monitor.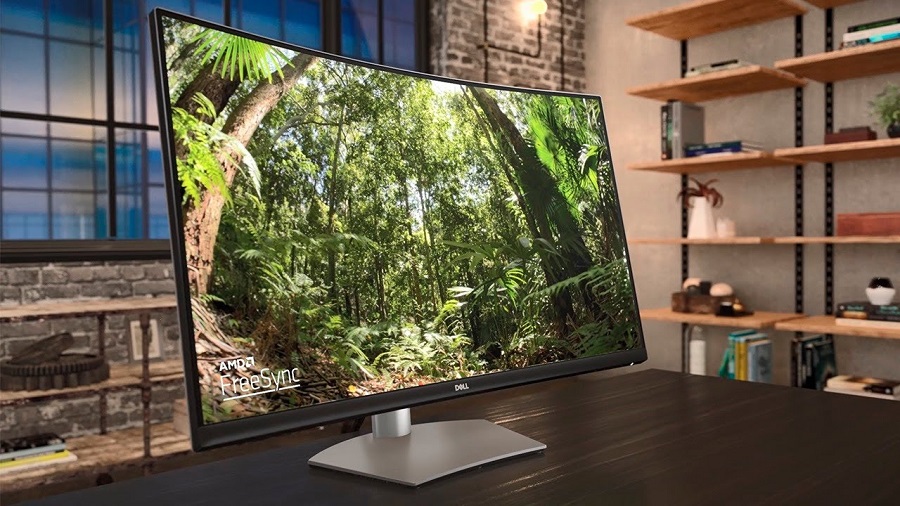 Pros
Decent default accuracy and range coverage;
Sleek and minimalist design;
Works with both FreeSync and G-Sync;
Plenty of connectivity options;
Powerful speakers;
Unparalleled color contrast;
Curved design.
Cons
Not ideal for advanced gaming.
The Dell S3221QS is a great monitor for watching movies and TV series, working, or playing casual video games. This monitor is slightly curved and wraps around the viewer's eyes, in order to immerse them even more in the displayed scenes.
The 4K panel of this PC monitor is a VA panel with excellent contrast. The colors are very vivid and watching movies or games on this screen is a real feast for the eyes. Graphic designers who are looking for maximum color accuracy will notice, however, that the saturation here is a bit high.
Speaking of gaming, while this is not a monitor specifically designed for that purpose, it is FreeSync compatible for a smooth and enjoyable experience when playing PC games. Although it's not a true HDR display, the Dell S3221QS does support this type of content, and by turning on the Gaming mode, you'll still see improvements in image rendering.
The ergonomics of the Dell S3221QS are also more than good, with a solid base that supports both lifting and tilting of the display to better suit each user's preferences. As far as connections go, there are three HDMI 2.0 ports on the back, a 1.2 DisplayPort, three USB ports, an audio jack and a pair of speakers.
5

Gigabyte G27Q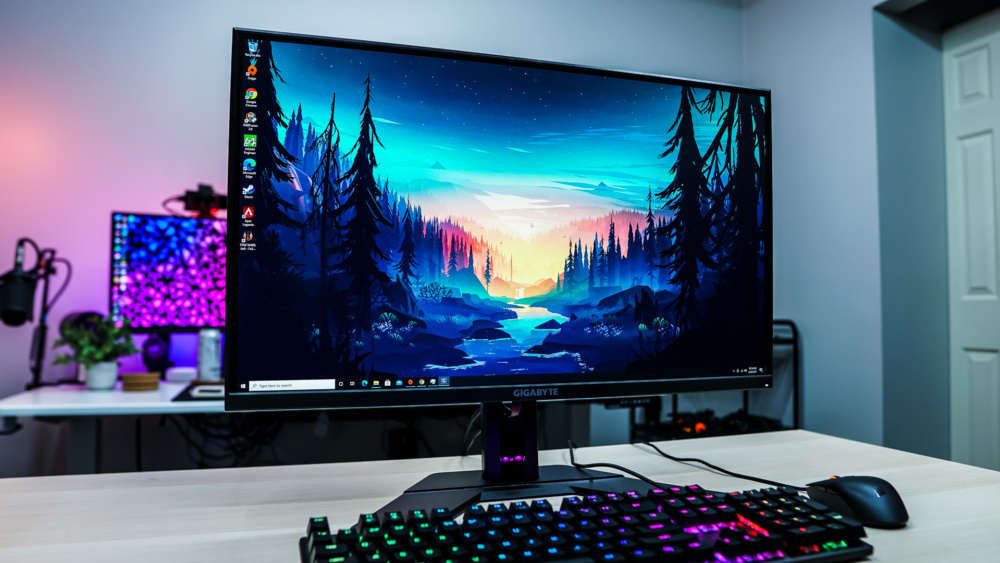 Pros
Fast response time;
Many great features, including FreeSync and MBR up to 144Hz;
Height adjustable stand, and USB hub.
Cons
Design lacks swivel and pivot settings.
The Gigabyte G27Q is one of the best 27-inch gaming monitors in the mid-range. It is an excellent choice for gamers who want a device that offers a smooth and immersive gaming experience.
This 27-inch gaming monitor has a very low response time (only 1ms) and a high refresh rate of 144Hz, making it ideal for those who prefer fast-paced games and seek high performance whenever they want. HDR support (HDR-400) and FreeSync (which will benefit owners of AMD video cards) are also present.
The screen of the Gigabyte G27Q is IPS, the colors are extremely vivid, the viewing angles excellent. The resolution is 2560 x 1440 pixels (QHD), with a 16:9 format. In terms of ergonomics, the adjustment options are good, height up to 13 cm and -5° and 20° inclination. The connectivity options are also good. There is a DisplayPort 1.2, 2 one HDMI 2.0, 2 USB 3.0 ports, and 3.5 millimeters audio jack. In addition, this monitor features a pair of 2W speakers with standard performance.
6

Dell UltraSharp U2720Q
Our pick for the best 27-inch monitors for image quality.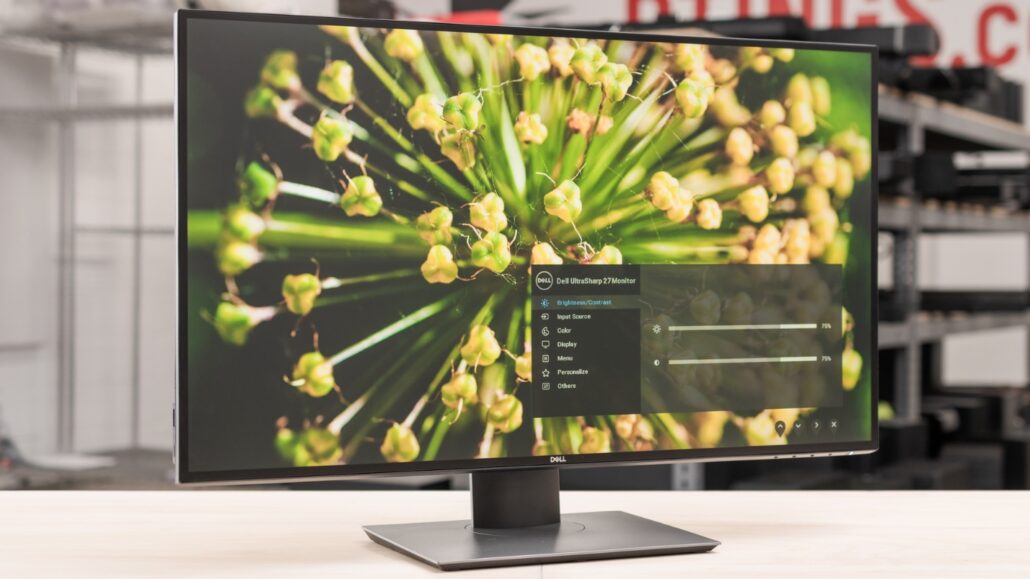 Pros
Great coverage of the color range;
Solid port selection;
tilt, rotate;
Native 4K UHD resolution;
VESA support.
Cons
Technical specifications of Dell UltraSharp U2720Q makes it particularly suitable for graphic designers, photo and video editors, those who deal with content creation at a professional level. The 27-inch IPS display features accurate, bright and realistic colors. we talking about 99% sRGB at factory settings. The 4K UHD resolution ensures an extremely high level of detail, which you can enjoy when watching movies and other high-definition content, or during a gaming session.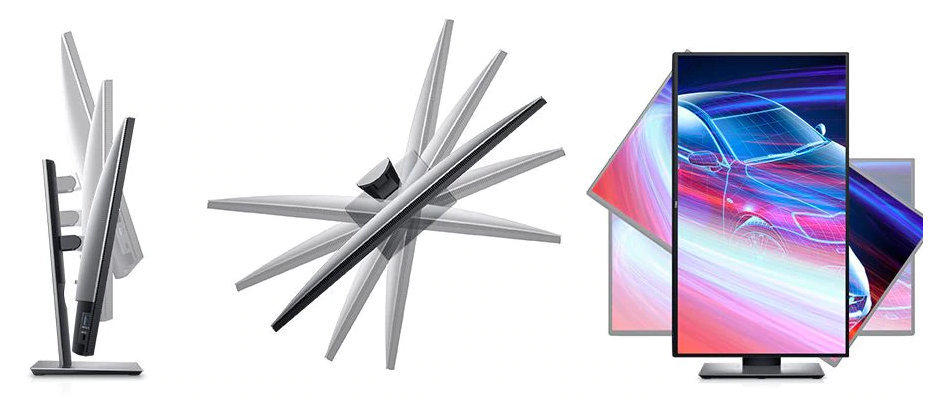 With HDR support and 9 milliseconds low response, even the most demanding gamers will enjoy the immersive gaming experience this monitor offers. The screen also offers plenty of adjustment options: you can adjust the height, tilt, as well as rotate the screen up to 90 degrees, for those who need to work vertically.
There is also a VESA support for those who wish to use another type of support. Even more, Between the side and base of the screen there are 2 USB-C ports with Power Delivery functionality to power a laptop or other devices, 3 USB-A 3.0, an HDMI port, DisplayPort and a 3.5 millimeters audio jack.
7

Lenovo Thinkvision M14
Our pick for the best Portable Monitor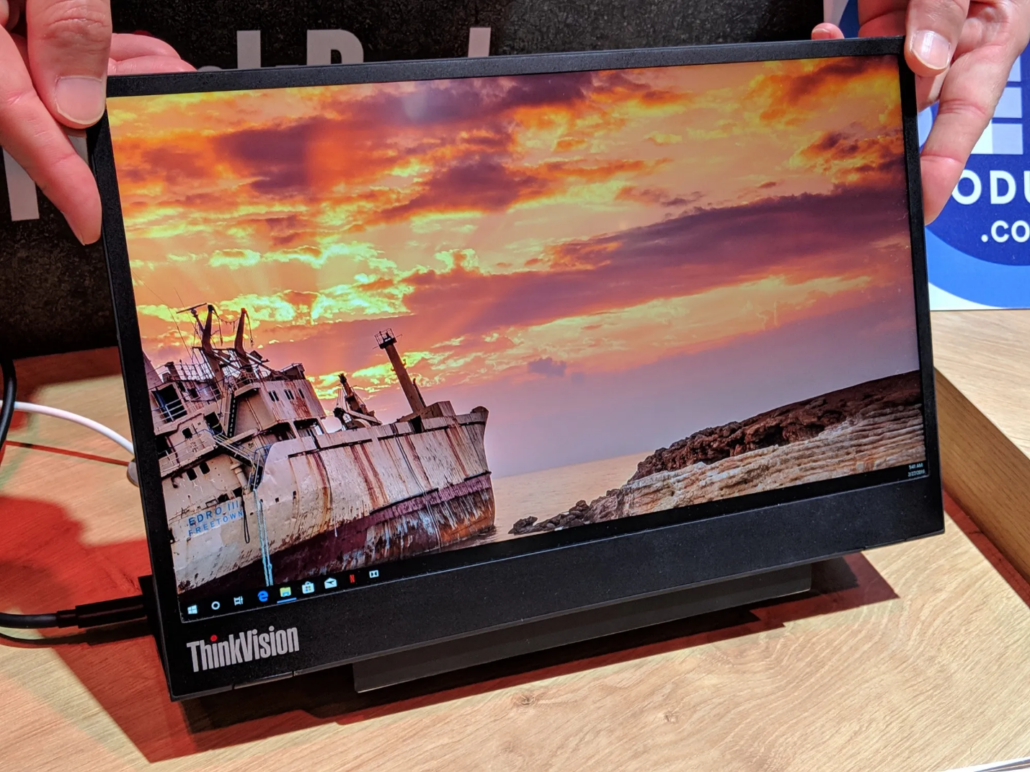 Pros
Strong points;
only weighs 570 grams
Practical and stable stand;
Very light and thin;
Quality of design.
Cons
No touchscreen;
No battery.
With a 14-inch screen and a maximum resolution of Full HD, the Lenovo Thinkvision M14 is the best portable external monitor in terms of value for money. Its biggest advantage is its portability, thanks to its plastic design, which makes it ultra-light and very thin and it only weighs 570 grams.
Given its response time of 6 milliseconds, this portable monitor is more suitable for professional use and video editing, rather than for gaming.
The other strength of this portable monitor is the built-in adjustable stand that serves as a tripod. With it, you can customize the monitor with an angle from -5 to 90 degrees and the stand is retractable, which makes it possible to use it in a vertical position.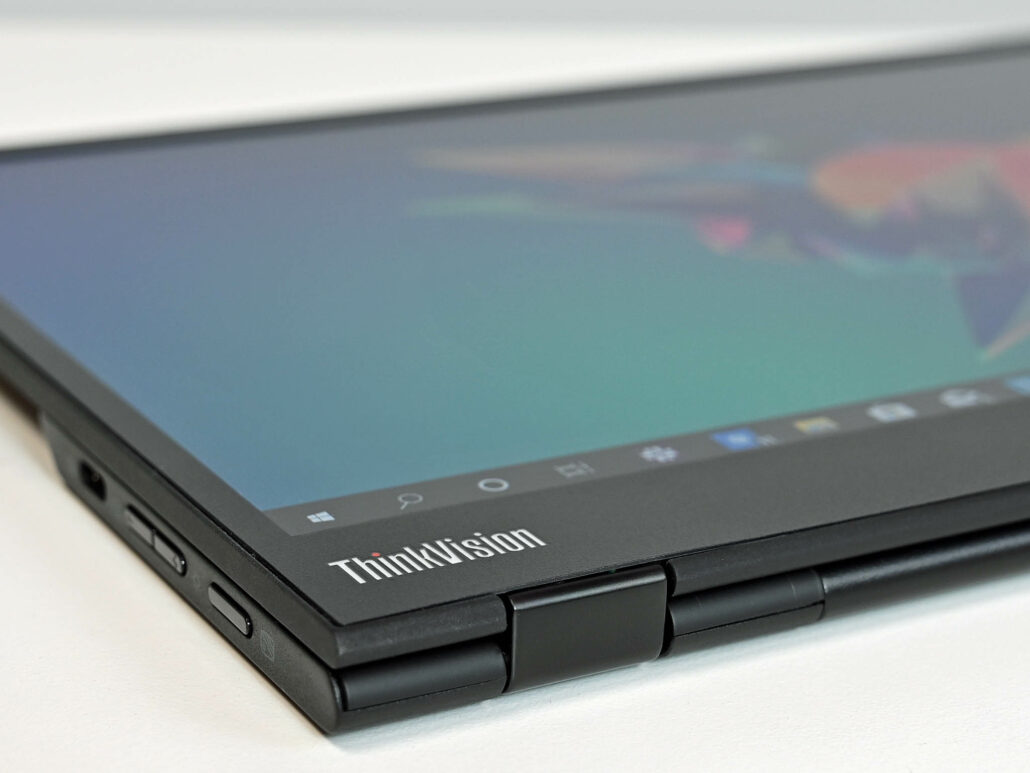 The only shortcoming is the limited display customization settings; However, it is this very fact that makes it very intuitive and beautiful in terms of design.
On the other hand, if we take a look at the sides of the monitor, we can find two Type C ports, which allow us to use it without the need for an external power supply, and a Kensington lock slot, which is ideal for security.
8

LG 49WL95C
Our pick for the best 49-inch Curved Monitor.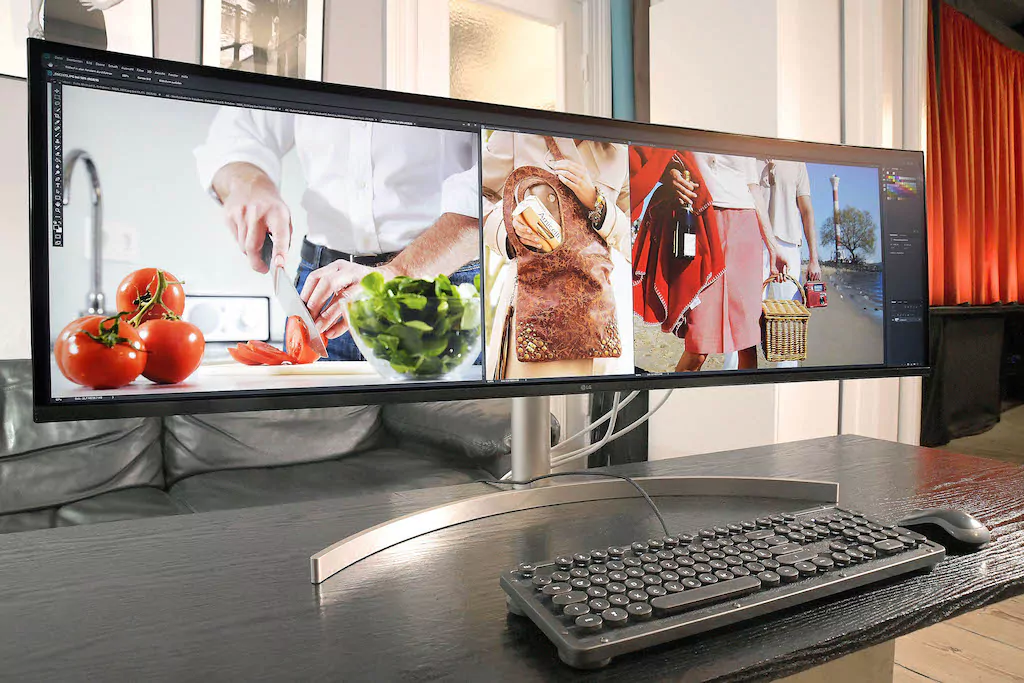 Pros
UltraWide Dual QHD 5120 x 1400 display at 60 Hz;
1800R curved screen;
2 deep bass speakers of 10 watts;
HDMI, DisplayPort and USB-C connection;
Ajustable stand (height / tilt / rotation).
Cons
Not a great contrast and blacks.
The LG 49WL95C monitor is a marvel of technology with a 1800R curved screen. Its size is exceptional and perfect as a monitor for work, gaming, video and graphics editing with a fully immersive feeling. If you use multiple software programs at the same time, or you are already forced to work on two monitors, this LG monitor will be a perfect solution to your lack of space and a great help to your productivity.
Thanks to its dual Quad-HD display with a billion colors, a resolution of 5120 by 1440, and a response time of 5 milliseconds, you will enjoy crisp and realistic photo and video.
Its ambient light sensor adjusts the brightness based on the intensity of the natural or artificial light in the environment. Audio is provided by 2 speakers of 10 watts each and deep bass for faithful reproduction.
If you need to work on documents and text files, the multitasking screen is also suitable for simple reading, thanks to the reader mode with reduced blue light in order not to strain your eyes and disturb your sleep.
It is largely compatible with most devices, including the Mac and Ipad Pro, thanks to its USB-C output. However, if you have a Mac with Thunderbolt 3, you won't be able to enjoy the full resolution when the USB-C output is engaged.
9

ViewSonic Elite XG270QG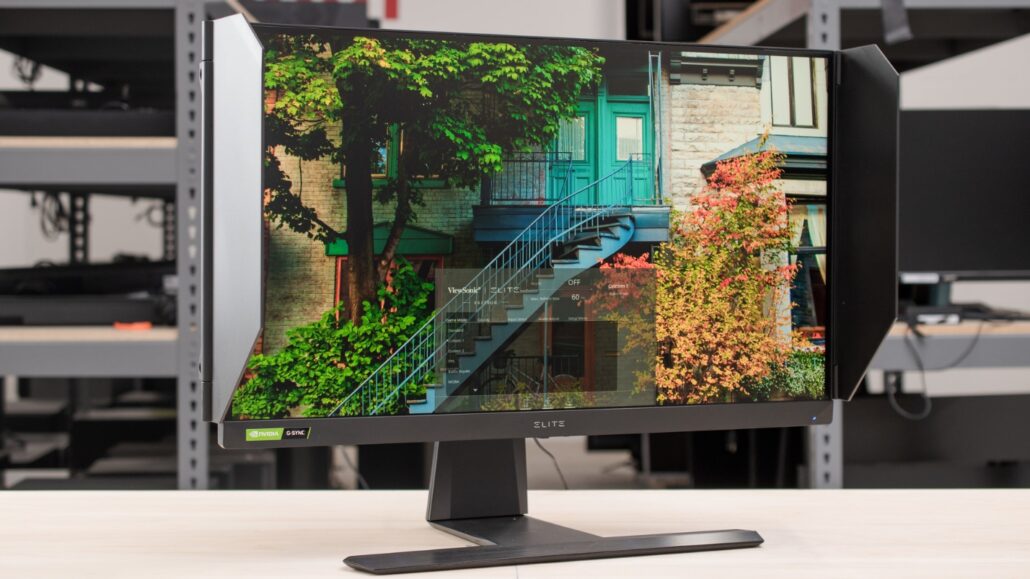 Pros
Amazing IPS panel.
Awesome image quality and speed.
Perfect balance between detail and performance.
Cons
Fairly expensive;
No HDR support.
The ViewSonic Elite XG270QG is the best 144Hz monitor with G-Sync. It is a 27-inch 1440p and 2k monitor, which is suitable for professional gamers who want a smooth gaming experience.
It has IPS display with wide viewing angles, the refresh rate can be overclocked up to 165 Hz, the response time and input lag are exceptionally low and it supports VRR technology to match the screen images to the video card.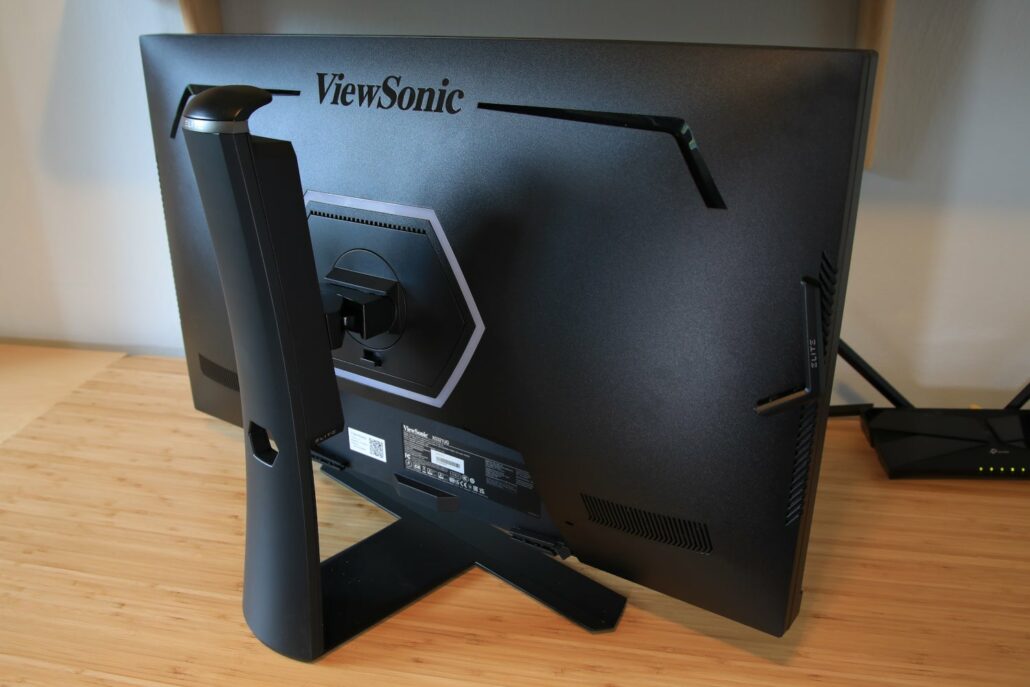 The monitor is capable of displaying vivid colors with good saturation and accuracy, but for optimal use, we recommend calibrating the screen when you purchase it, as the colors are not exceptionally accurate when you receive it. On the back of the screen, there is an RGB lighting system that can be customized via the screen's menu. The monitor has built-in speakers, 3 USB ports, a blue light filter to protect your eyes from fatigue, and a good level of ergonomic adjustments to adapt the viewing angle to your preferred position.
10

Asus TUF Gaming VG28UQL1A
Our pick of the best high-end gamer PC monitor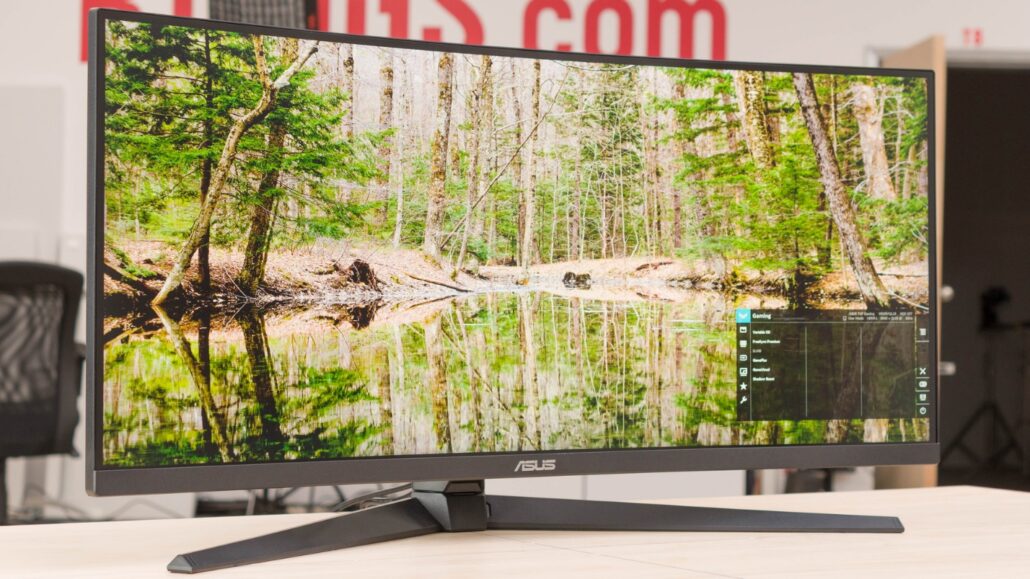 Pros
Image well calibrated by default.
Compatibility with HDMI 2.1 (4K/120 Hz and VRR).
The IPS panel is responsive.
FreeSync and G-Sync compatible.
Ergonomics ( Height, tilt and rotation adjustable stand).
Ultra HD native definition which is interesting for consoles.
Cons
OSD and controls not very practical;
Power consumption.
There are quite few monitors on the market at the moment that offer 4K definition with HDMI 2.1 support, and all of them are priced relatively high. Asus TUF Gaming VG28UQL1A is an excellent compromise that will guarantee them a powerful, fluid and responsive display on every gaming platform!
Beyond these considerations, we should acknowledge that the TUF VG28 is a solid 4K UHD gaming monitor. Indeed, thanks to Asus' technologies like ELMB Sync score well, the calibration is interesting and better than many other monitors we've seen so far, and also the pixel density with the slightly wider diagonal makes this TUF VG28 very enjoyable to use on a daily basis.
Finally, the support of HDMI 2.1 makes it ready for the years to come, but it is currently difficult to recommend such a display to console gamers. Why is that? The number of games that can be run in 4K at 120 fps on consoles is quite low, the lack of VRR on the PS5 at the moment, and perhaps the price as well, even if the comparison is delicate, when you know that it is possible to acquire an OLED TV with 4K at 120 Hz for a slightly higher price.
11

Samsung Odyssey Neo G9
Our pick for the best 49-inch and 4K UHD monitor for gaming.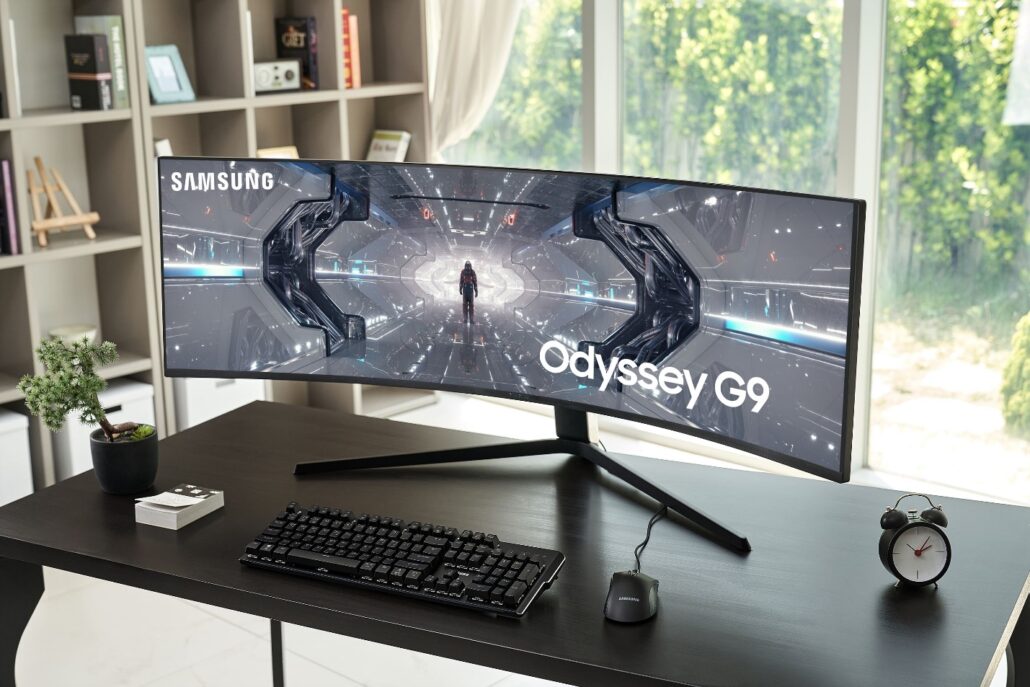 Pros
Many connectivity options including HDMI 2.1;
The bluffing mini-LED;
Two REAL screens in one;
Superb color and contrast;
FreeSync Premium Pro and G-SYNC compatible.
Cons
The Samsung Odyssey Neo G9 is an updated version of the company's massive curved gaming monitor: The odyssey Neo G7. With a brightness of up to 2,000 nits, a refresh rate of 240 hertz and a response time of 1 millisecond, it's simply excellent for gaming and video editing.
The screen has an extremely aggressive 1000R curve, which offers a much more immersive gaming experience, but it may take some time to get used to it. Its 5120 by 1440 resolution and 32 over 9 aspect ratio is equivalent to placing two 27-inch, 1440p monitors next to each other, giving you enough space for multitasking or playing atmospheric games. It supports FreeSync natively and is certified by NVIDIA as G-SYNC compliant, ensuring a nearly tear-free gaming experience from almost any source.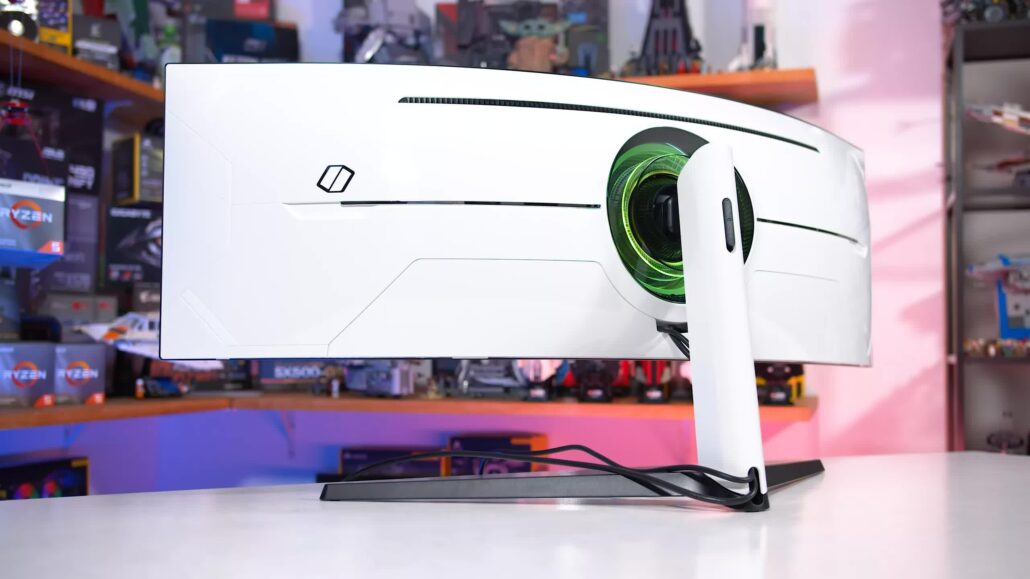 The input lag is incredibly low and it has a fast response time of 1 millisecond, which translates into very clear motion, but there are noticeable reverse ghosting images behind fast moving objects.
Even more, Its VA panel has an excellent native contrast ratio, and the good local dimming functionality deepens the blacks further, better than most monitors we tested, and it is absolutely of the best gaming monitors on the market today.
12

Samsung Odyssey Ark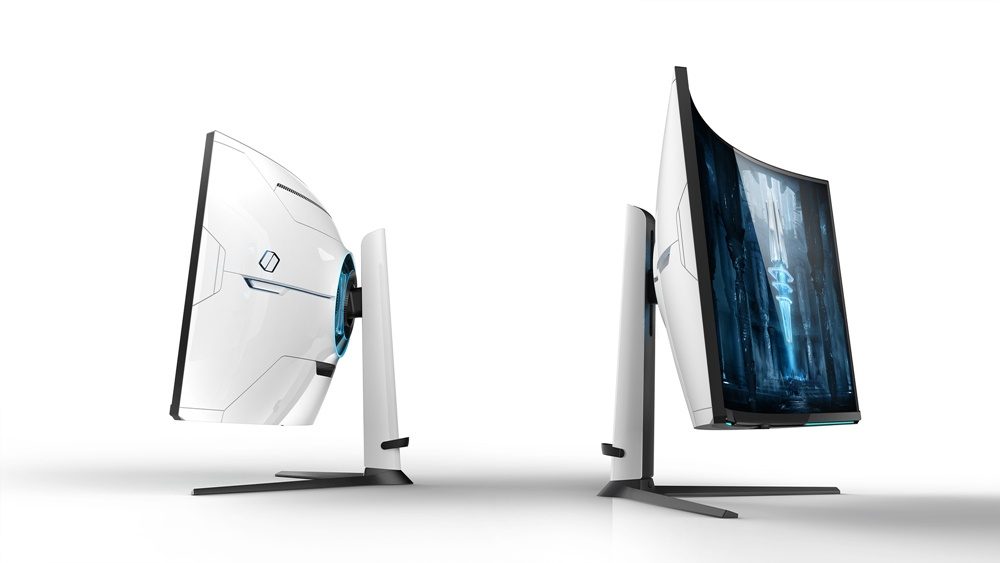 Pros
Equipped with a Neural Quantum Processor;
image refresh rate of 165 hz;
equipped with a "cockpit" mode;
AMD FreeSync compatible;
striking visuals.
Cons
The Samsung Odyssey Ark was designed for gamers who are looking for the best on the market at the moment.
All the technologies embedded in this 55-inch screen are at the service of the image quality for an outstanding rendering. Equipped with a Neural Quantum Processor Ultra chip, an image refresh rate of 165 hz and a response time of only 1 millisecond, games like Counter-Strike or Valorant will be sublimated.
It also features the HDR 10+ technology which adapts automatically and in real time to games, to reveal a maximum amount of detail.
It is also equipped with a "cockpit" mode, which consists of switching the screen into portrait mode. Thanks to it, the screen becomes curved so as to fully encompass your peripheral vision to give you the impression of being in the game.
The Samsung Quantum Matrix technology on board provides a rarely seen precision control of the leds, offering striking visuals in both bright and dark scenes. This bundle of technology coupled with gaming add-ons like AMD FreeSync and Samsung's Gaming Hub make this display a true masterpiece