Unveiling the Ultimate Workstations: Your Top 10 Choices for Maximum Productivity
Are you looking for the best workstation that will meet your personal and professional needs?
Whether you are a graphics designer, engineer, or a video editor, having the right workstation with ample processing power and storage is essential for an efficient workflow.
Unfortunately, finding the right workstation can be challenging and often intimidating. Not only do you need something that looks good and works well, but you also want cutting-edge technology, ergonomic styling, the best price, and more.
To make sure that your workstation offers you all the power and features you need, in this guide we share with you our list of the top 10 workstations that you can buy this year.
MSI WS76
our pick for the best portable workstation overall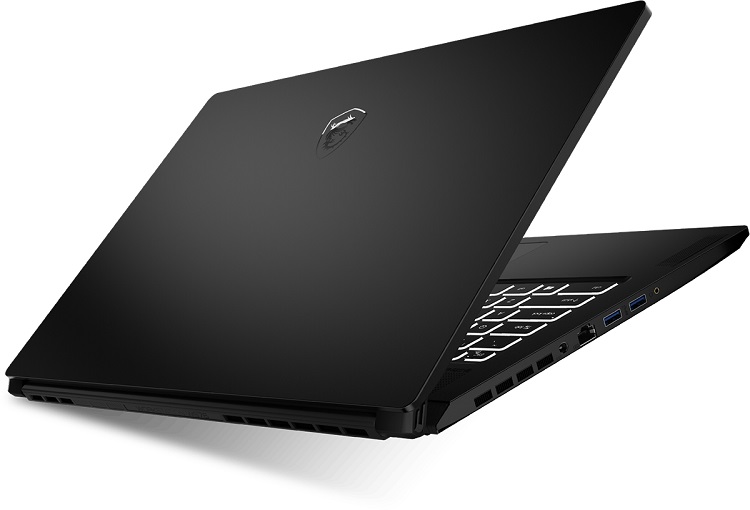 Pros
Comfortable, spacious backlight keyboard.
100% Adobe RGB coverage.
No performance loss under load and a wide range of ports
Fast M.2 PCIe 4.0 SSD drive
NVIDIA Quadro RTX professional graphics
Cons
The MSI WS76 workstation is the perfect ally for graphic designer and professionals who are looking for power and mobility in order to carry out your professional projects perfectly wherever you are.
The MSI WS76 has a slick and robust design, 2 cm thick and weighs 2.45 kg, and thanks to its 17-inch Ultra HD screen which covers 100% of the Adobe RGB color space, you will enjoy a fine and precise workspace. The refresh rate of the screen is 120 Hz for smooth images in all circumstances, and thanks to its backlit gaming keyboard, you will enjoy great nighttime creative sessions!
To satisfy your performance needs, the MSI WS76 is equipped with powerful components. For starters, it comes with the 8-core Intel Core i9-11900H Tiger Lake processor with a frequency that can reach 4.90 GHz in turbo mode, DDR4 RAM of 64 GB, and a 2Tb M.2 PCIe 4.0 SSD drive. This high-performance combination is particularly suitable for multitasking and your installed software will be hyper-reactive.
On the graphics side, this beast is equipped with the NVIDIA Quadro RTX A5000 professional graphics with 16GG GDDR6 memory to deliver an extremely powerful graphics solution at all times. On the connectivity side, you get the full package: USB type A and C ports, HDMI and Thunderbolt 4 port, a dual-band 6 AX Wi-Fi controller, wired RJ45 connection, and a Bluetooth 5.2 controller. The WS76 is therefore stuffed with high-performance components to carry out all your projects!
ASUS ROG Zephyrus G15 GA503RW-030W
our pick for the best gaming workstation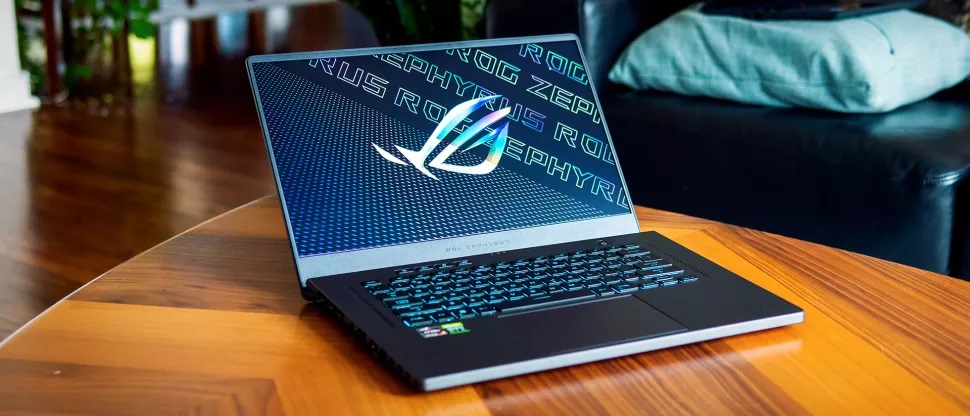 Pros:
Elegant and well finished body
Good configuration/price ratio
Good autonomy
Excellent QHD + 165 Hz screen
The speakers are amazing
Complete connectivity
Cons:
No webcam
Only one slot to increase the RAM
With this ROG Zephyrus G15, Asus introduces a machine that meets a double objective: deliver a powerful configuration while maintaining extreme mobility. And to achieve its objectives, this new ROG Zephyrus G15 is equipped with a compact chassis, a powerful Ryzen 9 processor of Rembrandt generation, 16 GB of DDR4 RAM, a 1000 GB SSD drive and an NVIDIA RTX 3070 Ti graphics card… With such characteristics, you're gaming and work sessions will quickly become intense!
Its 15.6-inch IPS QHD screen has an incredible 240 Hz refresh rate without tearing to deliver exceptional fluidity during all your gaming and work sessions. And With the Ampere architecture of its NVIDIA RTX 3070 Ti graphics card, this workstation not only offers a significant performance gain over the previous generation, but also its computing units dedicated respectively to ray tracing and 3D graphics assistance via the Deep Learning super Sample (DLSS). The results? More fluidity and a reduction in the impact of ray-tracing on frame rates.
This beast is powered by an 8-core AMD Ryzen 9 6900HS processor Clocked at 3.30 GHz. It can reach 4.90 GHz in turbo mode and benefits from the new Rembrandt architecture develop by AMD to deliver a more responsiveness laptop. No matter what task you give it, this ROG Zephyrus G15 will handle it with ease.
HP Z8 G4 our pick for the best desktop workstation based on Windows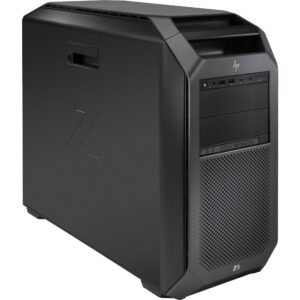 Pros
Radeon Pro WX9100 power
Complete connectivity
Edit 8K videos in real time on multiple monitors.
10 Gb Ethernet connectivity.
modularity and Easy access to internal components
cons
It must be recognized that this machine is at the very top of the range for intensive calculations, simulation, 3D and virtual reality. Indeed, it supports up to 3 Terabytes of memory, 48 Terabytes of storage and 56 cores and its Radeon Pro WX9100 alone offers 6 DisplayPort ports! It means the power to edit 8K videos in real time on multiple monitors.
In terms of design and connectivity, the Z8 G4 impresses by its size and its sober look without any fantasy. On the front, we have an optical drive, the start button, 4 USB 3.1 (type A and type C), an SD card reader. On the back, we have 6 USB 3, PS/2 ports, 2 Ethernet 1 Gb, audio ports, 1 serial port. Note that as an option, it is possible to opt for 10 Gb Ethernet connectivity. On the memory side, there are 24 DDR4 ECC slots. Each CPU has 12 memory slots. In use, the Z8 is very pleasant. Particularly responsive, it can handle processing peaks without any problem. As far as operating noise is concerned, its noise level is higher than other machines, but because of the power it delivers, it is acceptable. The ventilation modulates very well and adapts to the use of the machine. We think, the HP Z8 G4 is simply the best workstation available to meet your most demanding professional projects.
Apple iMac M1 of 24", our pick for the best all in one Apple workstation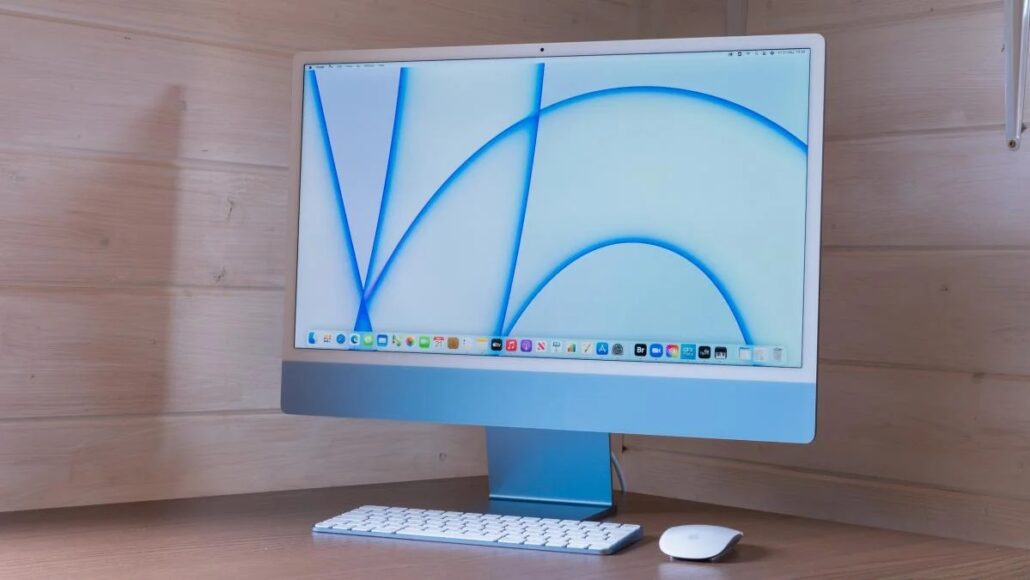 Pros
Elegant and versatile design
The M1's performance
Touch ID integration in the wireless keyboard
A thin and quiet PC with a perfectly calibrated IPS display
Excellent office performance
What we don't like
Limited connectivity
The fan is quiet but can be heard at times
The new iMac 2021 has a large 24-inch Retina 4.5K display with 11.3 million pixels and 500 nits of brightness. Its images are more realistic and more vivid. The secret of its performance compared to previous versions is its Apple Silicon M1 chip. This chip has a powerful 8-core CPU, an 8-core GPU and a 16-core Neural Engine from Apple. This breathtaking combination delivers up to 3.5 times faster processing performance than the previous generations of Apple iMacs and up to 6 times faster graphics performance. Your tasks will run smoothly and faster, and you will launch your apps in a flash.
In terms of design, the iMac features a 1080p FaceTime HD camera to deliver superior video quality and excellent low-light performance. This camera also takes advantage of the M1 chip's image signal processor and Neural Engine to improve the camera's image quality. You also get 3 studio-quality microphones to complement the camera for cleaner sound during calls and voice recordings. Moreover, the Two pairs of force-canceling woofers placed side by side deliver impressive bass while limiting unwanted vibrations. They're meticulously tuned with a high-performance tweeter. The result is a six-speaker audio system capable of producing intense sound, with intelligible low bass and remarkably clean mids and highs. Finally, this iMac M1 is available in green, yellow, orange, pink, purple, blue, and silver, and with its high energy efficiency, up to 2TB of SSD storage, and 8GB of unified memory that can be expanded to 16GB, this iMac performs much better than the intel-based iMac models.
ASUS Pro Duo 15 UX582LR-H2013R
our pick for the best mobile workstation for creative people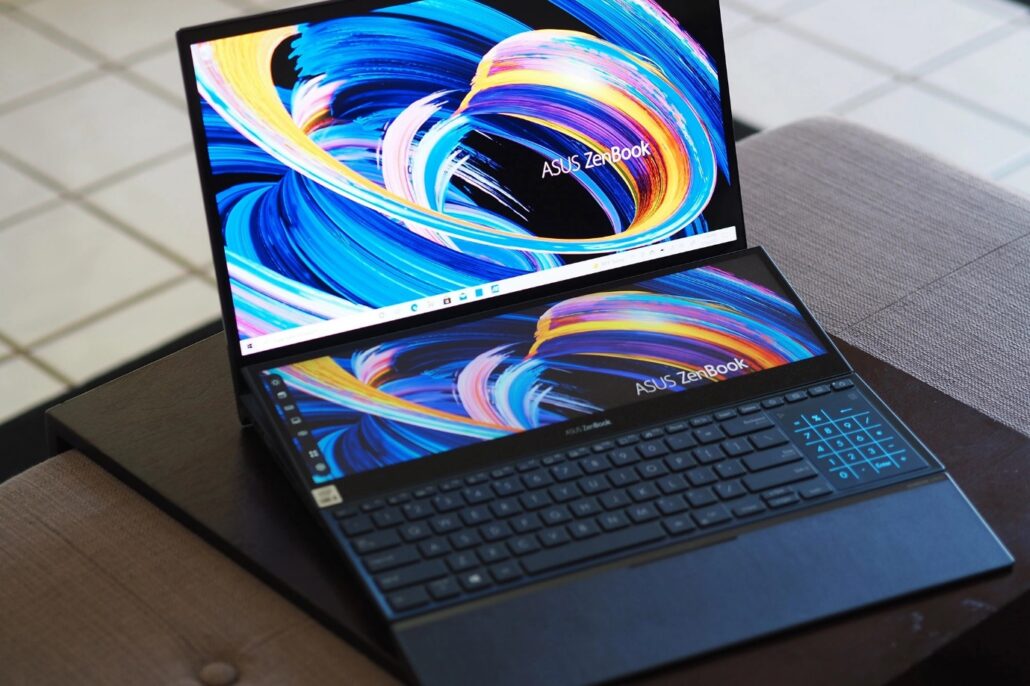 Pros
The ScreenPad Plus is a truly innovative screen.
An impressive and pleasant Oled screen
A well-designed body
Great hardware configuration
Cons
This ASUS ZenBook Duo 15 combines innovation, high-end craftsmanship and power. The first weapon of seduction of this masterpiece is of course its tactile 15.6-inch 4K OLED panel that covers 100% of DCI-P3 colors and its second Ultra HD touch-sensitive ScreenPad Plus of 14-inch. So, whether you're a graphic designer, streamer or gamer, this combination of premium screens will boost your productivity. Moreover, these screens are certified for blue light protection to reduce the strain on your eyes.
In terms of performance, this ZenBook Duo 15 features the powerful 8-core Intel Core i7-10870H Comet Lake generation processor running at 2.20 GHz and up to 5.00 GHz in turbo mode. This processor is accompanied by 16 GB of DDR4 RAM for fluidity and responsiveness at all times and a 1000 GB M.2 PCIe SSD to ensure excellent responsiveness of the operating system, a launch of software at lightning speed, and a large storage space.
On the graphics side, this new Asus Zenbook Pro Duo 15 integrates one of the latest innovations from the chameleon brand with the RTX 3070 DDR6 with 8 GB dedicated to videos to guarantee more fluidity. With this card, you will get the benefits offered by high end gaming laptops like the ASUS ROG Zephyrus G15 we mentioned earlier.
SonicMaster and Smart Amplifier technologies are also present to give you powerful high-quality sound. And thanks to its Wifi 6 AX connectivity you will get more speed and throughput, a better coverage, a longer battery life, and the ability to have more devices connected simultaneously!
Surface Studio 2+, Our pick for the best all in workstation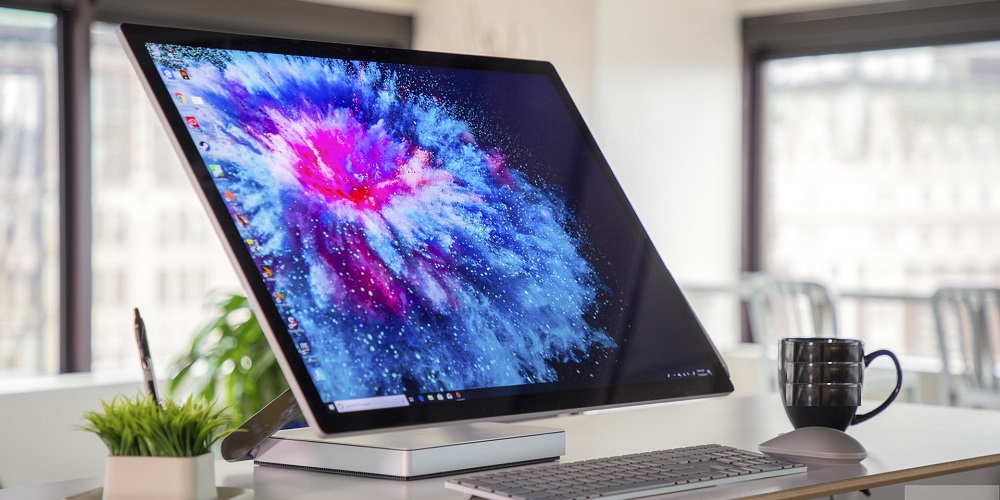 Pros:
Amazing touch screen
Dolby Vision certification
Many connectivity options
powerful Intel Core i7-11370H processor
Good GPU and CPU performance
Three USB-C Thunderbolt 4 ports
Cons:
CPU can be upgraded
No SD card reader
According to Microsoft, the Surface Studio 2+ is 50% more powerful than the Surface Studio 2 it replaces, and its graphics capabilities are multiplied by 2, thanks to its latest generation GPU. What immediately catches the eye on this computer is obviously its screen. A 28 inches touch screen with a 3 over 2 ratios. This screen features a 4,500 by 3,000 pixels definition, color profiles sRGB and Vivid, DCI-P3, a contrast of 1200/2 and a Dolby Vision certification. On top of that, the screen can be tilted as desired with a "zero gravity hinge" as Microsoft calls it. This amazing screen will delight graphic designer and creative professionals, as the box comes with the Surface Pen which allows you to draw on the screen.
Microsoft does not squander on connectivity, to connect to the Internet, there's also Wi-Fi 6. Even more, the Surface Studio 2+ is also equipped with a 1080p webcam and two microphones for video meetings as well as 2.1 Dolby Atmos stereo speakers.
Under the wood of the beast, Microsoft has integrated a powerful Intel Core i7-11370H processor, 32 GB of DDR4 RAM, 1 TB of SSD and a dedicated NVIDIA GeForce RTX 3060 graphics card. According to the tech Giant, the Surface Studio 2+ is 50% more powerful than the Surface Studio 2 it replaces, and its graphics capabilities are multiplied by 2, thanks to the presence of the RTX 3060. The stylus, keyboard and mouse are provided with the Surface Studio 2+, which runs on Windows 11 Pro.
Apple Mac Studio M1 Ultra
Our pick for the best apple workstation.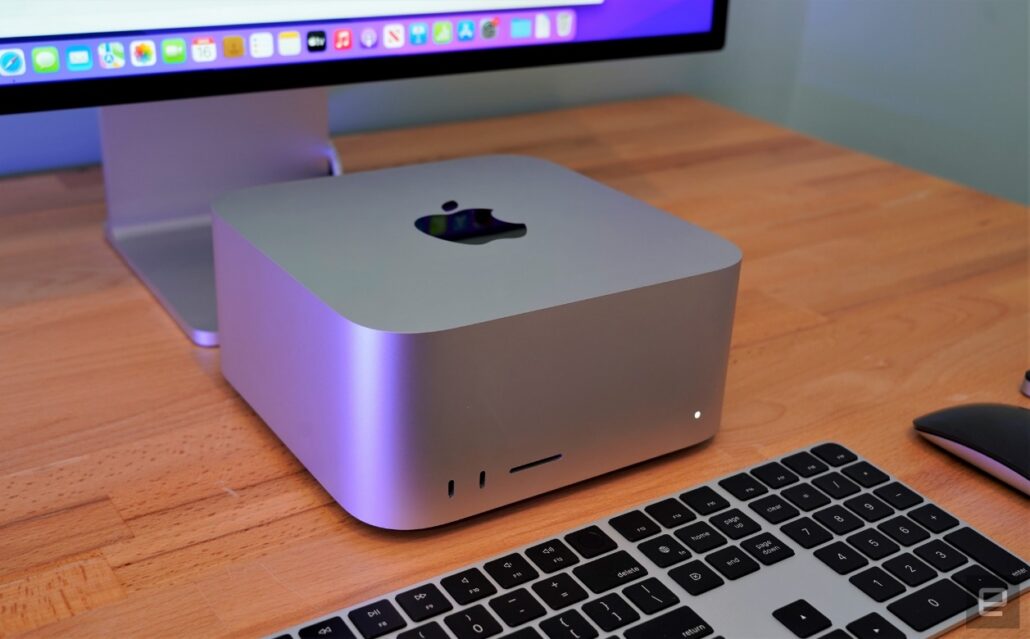 Pros:
Outstanding workmanship.
Good performance in all respects.
Very compact casing.
Ultra-quiet and low power consumption.
Rich connectivity with an excellent quality headphone output.
Cons:
Keyboard and mouse not included in the box
not upgradeable.
Alongside the Mac Pro and Mac Mini, Apple's desktop line has been expanded with the Mac Studio M1 Ultra. This new product is aimed at very demanding users, for whom a Mac Pro is not enough.
It's a workstation that delivers incredible speed, amazing display and a connectivity performance that has never been seen before on a desktop in a 3.6kg package. As a matter of fact, the performance of the Mac Studio with the M1 ultra chip is up to 3.8x faster for CPU performance, up to 4.5x faster for GPU performance, and up to 3x faster for machine learning. You also get 18 ProRes 8K video playback streams, up to 22 trillion operations per second, and up to 8TB ProRes SSD encoding and decoding with playback speeds up to 7.4GB/s. That's simply unheard of for a desktop computer.
Inside its 19.7 cm square case, the Mac Studio houses a pioneering thermal system designed to let the M1 Ultra chip do the most complex tasks in a flash. And it's whisper-quiet. Since macOS Monterey was designed to evolve with Apple's chips, this Workstation's system automatically benefits from the graphics enhancements, huge memory and powerful machine learning that the M1 Ultra chip provides. Indeed, with over 10,000 optimized apps and modules, not to mention great new macOS features like Universal Command, Shortcuts, and Focus, you have everything you need to work, play, and create like you never imagined.
Corsair One i300 CS-9020032-PE
our pick for the best prebuilt Gaming workstation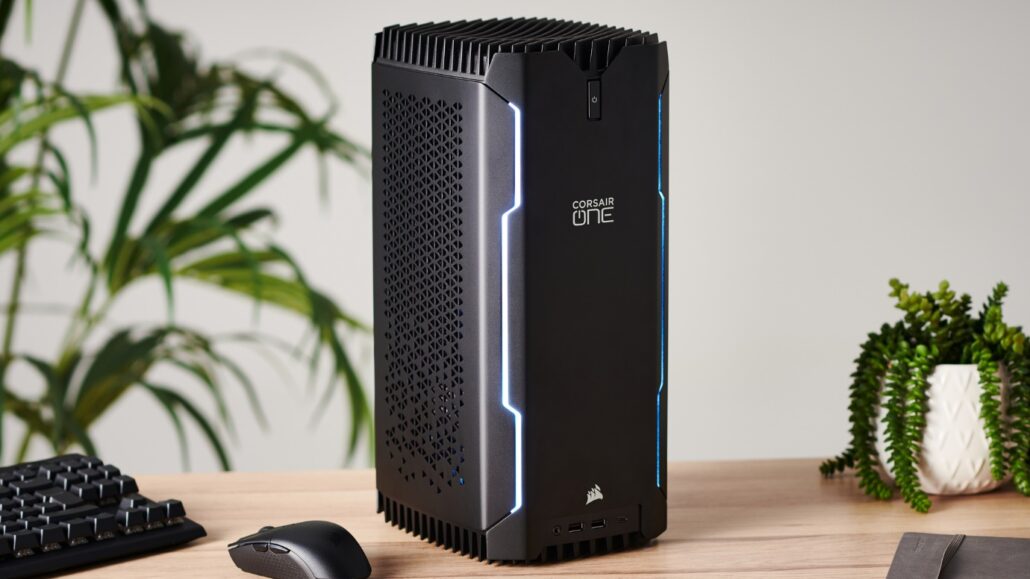 Pros:
Striking, compact design and Quiet operation
Rich number of ports
Great CPU and GPU performance
Good warranty
Cons
Quite expensive
Hard to upgrades
Capable of meeting the needs of the most demanding gamers and professionals, this Corsair One i300 is an ultra-powerful desktop computer that packs top-of-the-line components: 12th generation Intel Core i9-12900K processor, NVIDIA GeForce RTX 3080 graphics cards, 32GB of DDR5 RAM, and more.
With this pc, you get the best in gaming components in this compact case. Let's start with the processor, a 12th generation Intel Core i9-12900K clocked at 3.2 GHz and 5.4 GHz in Turbo mode is one of the most powerful and latest on the market. The Geforce RTX 3080 Ti graphics card is a match for the CPU, and it is simply the best Nvidia has in stock as a consumer GPU. This graphics card is so powerful that it supports 4K virtual reality display. But all of this is nothing without a worthy motherboard, and Corsair didn't do things by halves by choosing the Mini-ITX Z690i, a pure marvel! To add more flavor to the mix, the Corsair One i300 is also equipped with a 64GB of DDR5 RAM at 4800MHz, a 2TB SSD storage and a liquid cooling system for improved performance, low temperatures and reduced ambient noise.
As for connectivity, this offers Bluetooth 5.0 and Wi-Fi 6E to connect your devices wirelessly, you'll get an Ethernet port capable of transferring data at up to 2.5 Gbps. For the rest of the connectivity, Corsair spoils us with 4 USB 2.0 ports, 3 USB 3.0 ports, 2 Wi-Fi antenna connectors, 2 Thunderbolt 4, as well as audio inputs and outputs. This Workstation can meet any need, no matter how demanding they are. Moreover, the RGB LEDs can be customized with the Corsair iCUE companion software.
HP Z2 MINI G9
Our pick for The Best mini-Workstation based on Windows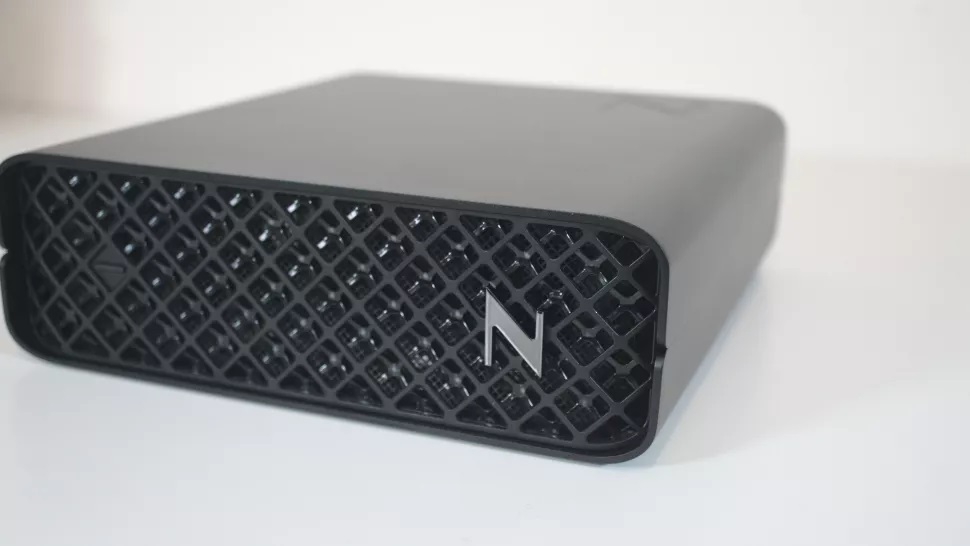 Pros:
Compact VESA-compatible design and impressive performance
Easily serviceable and Ample connectivity
12th Gen Intel Core i9-12900K and easily serviced and upgraded.
CONS:
Limited graphic card support
Can get a little bit louder than expected
The HP Z2 Mini G9 is a powerful compact workstation designed to meet a wide range of professional needs and it will easily fit on your desk or behind your monitor so you can tackle your 3D projects without wasting valuable desktop space.
Under the wood, you'll find a 12 Gen Intel Core i9-12900K processors combined with 64GB of DDR5 RAM and two PCIe 4 M.2 slots that can accommodate SSDs for storage. The graphics part is entrusted to an Nvidia RTX A2000. This card offers a similar performance to the consumer GeForce RTX 3050 Ti Laptop GPU. The power supply can reach 280 watts, it opens the way too many integration possibilities. Indeed, the important point of this mini-PC is that all the components are accessible and can be upgraded.
This MiniPC can be positioned in a classic upright or flat position, but it can also be hung in a classic VESA or a custom solution behind a screen designed to accommodate it. Finally, the HP Z2 Mini G9 can also be rack-mounted for various uses.
Apple MacBook Pro M1 Max
Our pick for the best portable workstation from Apple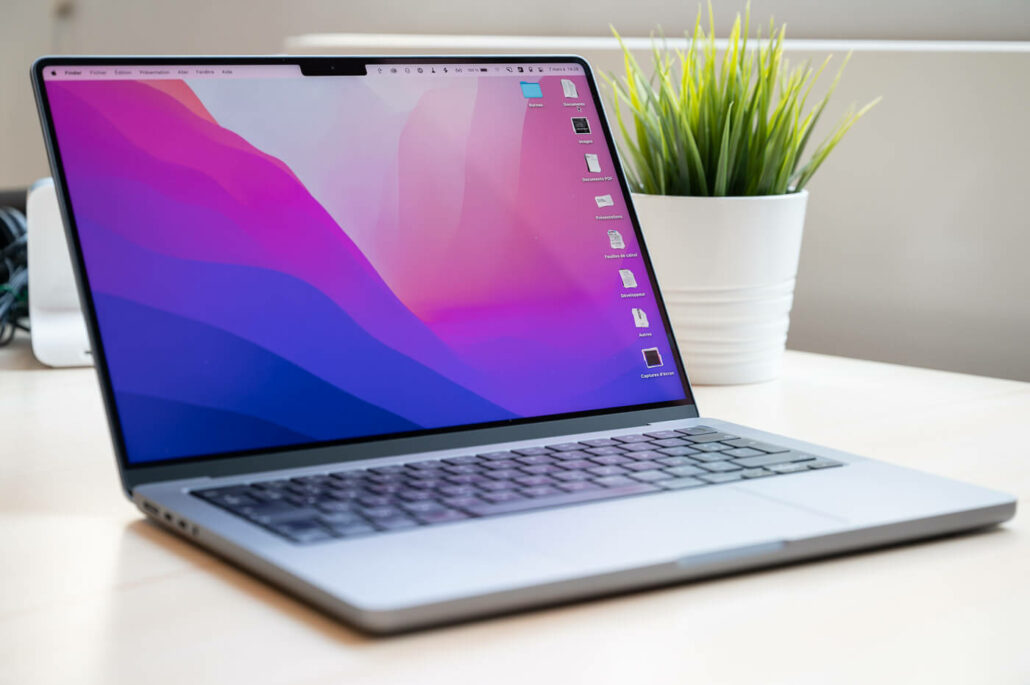 Pros
Outstanding performance and very quiet operation.
The power of the M1 Max and the whole configuration
Flawless XDR Retina display
21 hours of autonomy
Cons:
In addition to its new Apple Silicon chip, this new 16-inch MacBook Pro features a stunning 15/10 Retina XDR display with slimmed down edges, 10 CPU cores, up to 32 GPU cores and a 1TB SSD. So, if you're looking for performance, battery life, and mobility, The MacBook Pro M1 Max puts any laptop to shame!
One of the secrets of the performance of this beast comes from its M1 Max chip which is capable of boosting the CPU, GPU and the machine learning performance. Indeed, with 10 CPU cores, up to 32 GPU cores and a 16-core Neural Engine, the M1 Max is one of the most powerful chip ever created for a pro laptop. It delivers twice the GPU processing speed and up to two times the memory bandwidth of the M1 Pro. It also features a dedicated media engine for decoding, two for encoding, and two ProRes accelerator to deliver even higher multi-stream performance.
The design of this laptop is also top-notch, with sleek lines, attractive colors and a slim profile. It also features the same Magic Keyboard as other models in the MacBook pro line, with excellent keys and a large Touch ID sensor in the power button. Additionally, it offers an impressive battery life of up to 21 hours on a single charge and weighs just 4.7 pounds. Because keeping in touch is more important than ever, the new MacBook Pro's camera offers twice the resolution. It is a 1080p and delivers twice the performance in low light. So, if you need a powerful machine that won't let you down when it comes to creative tasks, then the 16-inch MacBook Pro is definitely worth considering.