Top 10 graphics cards for various use cases – Pros and Cons
Finding the best GPU for your needs can be a pain, there are so many graphics cards on the market right now, which makes it hard to find the one that will be best for you. Well In this article, we break down the top 10 best graphics cards available on the market this year.
I've made this list based on performance, price, ease of use, and more. I've included options for every type of consumer, so if you're looking for something gaming, streaming, mining, scientific research or heavy video editing, the best of the Best or anything in between, we'll have the perfect GPU for you.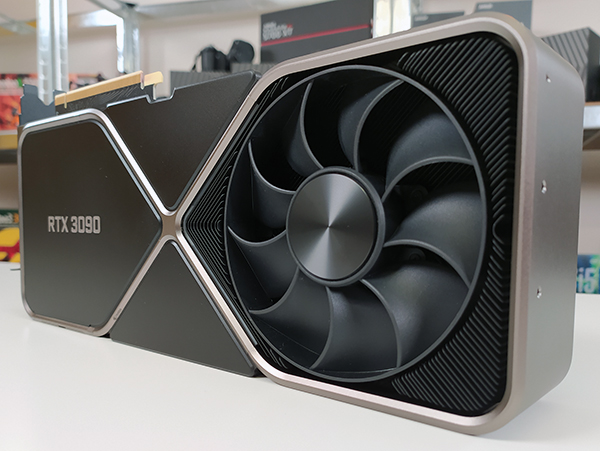 If you're looking for the finest graphics card of this year, then the Nvidia GeForce RTX 3090 is the most powerful GPU available. This amazing GPU is the most powerful example of the second-generation Nvidia's RTX Ampere architecture. It breaks records in RT and Tensor core count and embeds new stream multiprocessors to double its AI and Ray Tracing performance.
It features 24GB of GDDR6X VRAM memory, more than double the amount found on the RTX 2080 Ti, which offers 11GB. In terms of performance and raw power, it delivers no less than 69 TFLOPS for the RT Cores, 36 TFLPOPS for the Shader Cores, 69 TFLOPS for the RT Cores and 385 TFLOPS for the Tensor Cores. You also get no less than 10,496 CUDA cores, with a base frequency of 1.40 GHz and Boost of 1.70 GHz.
The RTX 3090 is compatible with DirectX 12 Ultimate and offers all the latest graphics technologies from Nvidia including DLSS, PCIe Gen 4, Resizable BAR, GeForce Experience, Highlights, G-Sync, GPU Boost and more.
Thanks to its "Deep Learning Super Scaling" technology also known as DLSS, this card has the power to scale up images and produce perfect 4K or even 8K HDR renderings without straining the GPU. It also means that gamer can play their favorite games with all the settings maxed out, without making the FPS meter flinch.
Pros
4K performance.
Decent raytracing performance.
Efficient cooling system.
HDMI 2.1 video output.
Nvidia software ecosystem.
Excellent design.
Ventilation when the card is idle.
Cons
Requires a very well-ventilated case.
The best AMD graphic card for this year.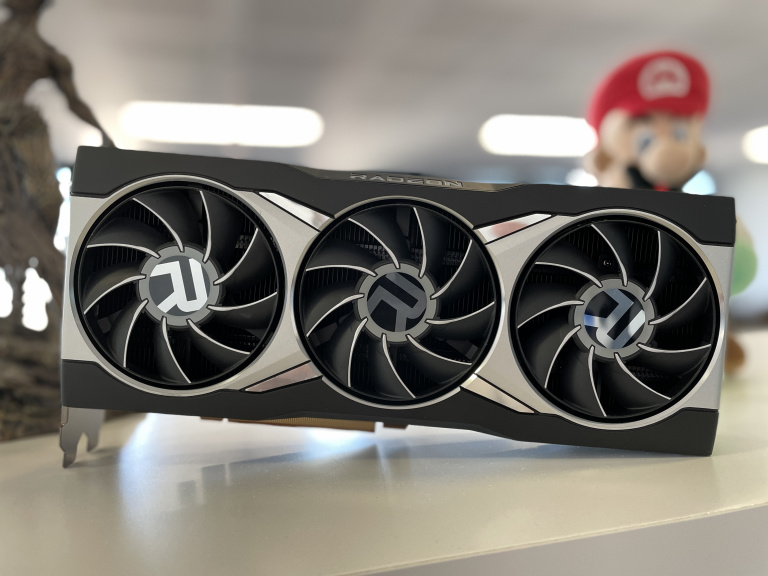 If you are looking for the best GPU but you are unable to get your hands on an Nvidia GeForce RTX 3090 because if its high price, The Radeon RX 6900 XT is our pick as the best AMD graphics card for this year. Designed for 4K, it's the rival of Nvidia's RTX 3080 that you'll see later in the video but at a lower price. These cards run on an all-new RDNA2 architecture, and are breaking new records in core count and various key components.
An interesting feature of the RX 6900 XT is the use of Smart Access Memory (SAM) technology. This technology allows you to increase the performance in game if your RX 6000 is coupled with a Ryzen processor of the latest generation.
The performances of the RX 6900 XT are impressive and they are quite similar to that of the RX 6800 XT. However, we have 80 compute units, 128 MB of "Infinity" cache and 16 gigabytes of GDDR 6 memory. Also Note that the card offers a base frequency of 2015 MHz and a boost frequency of 2250 MHz. Its power is 300 Watts, but AMD recommends a PC's power supply of 850 Watts in order to take advantages of this State art GPU.
To give you an idea of its performance, AMD explains that in 4K with ultra-high settings, the card delivers a solid 70 FPS in Assassin's Creed Valhalla. With the same settings in Dirt 5, you end up with 76 FPS. If we go down to 1440p, you will easily get 204 FPS in Fortune. Even more, In Overwatch with Epic settings in 1440p you can even reach 326 FPS.
Pros
Excellent 4K performance.
Extremely low power consumption.
The really silent ventilation even under load.
Good performance/consumption ratio.
Cons
The ray tracing power is not that great.
Requires 3 PCI-E 8 pin connectors.
The best premium Nvidia graphics card for 4K gaming.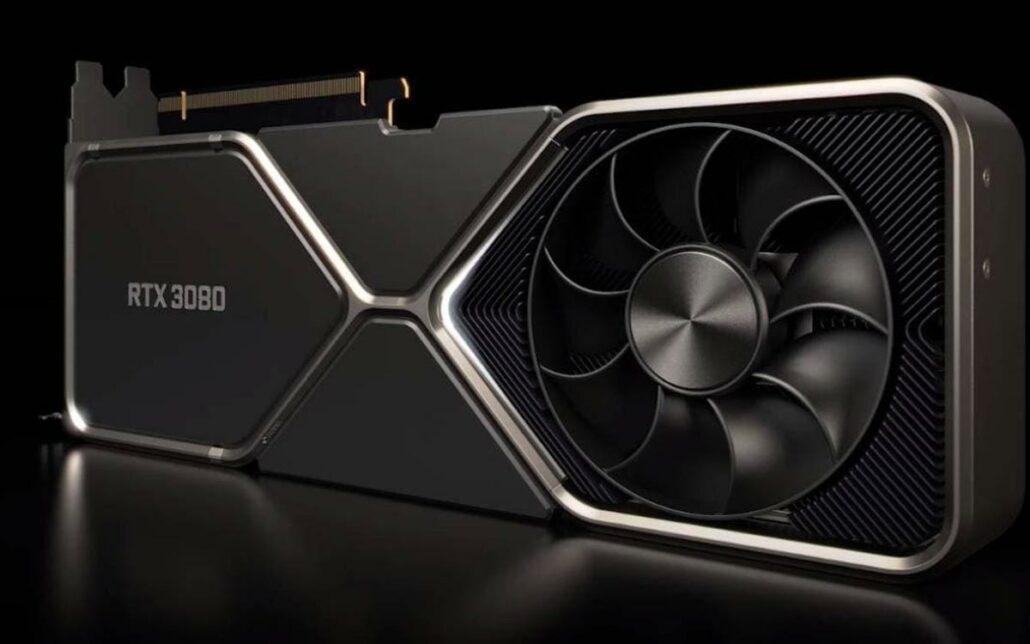 Slightly less powerful than the RTX 3090, the GeForce RTX 3080 and its Ti version are nonetheless one of the best options for gamers, video editors, streamers and more. Like the 3090, these cards benefit from all the latest technologies that gamers love, such as DLSS which allows the card to do some pretty impressive tricks.
It is equipped with a minimum of 10 Gigabyte of GDDR6X RAM and offers a powerful raw 30 TFLOPS for Shader Cores, 58 TFLOPS for RT Cores and 238 TFLOPS for Tensor Cores. This is definitely the best graphics card for people who want to play 4K games at 60 FPS without a glitch, all with ray tracing enabled.
The release of the powerful Ti version improved the performance of this Series. The Ti version has 10240 CUDA cores (versus 8,704 for the 3080) and logically offers higher graphics performance. It has more tensor and RT cores to better manage DLSS and ray tracing. But Nvidia recommends a minimum power supply of 750W for these two graphics cards.
In addition to gaming, this graphics card can be suitable for editing heavy video content, up to 8K. It also improves livestreams by allowing the use of better compression algorithms.
Pros
Very high performance in 4K 60fps with Raytracing.
A very interesting release price.
An efficient and fairly quiet design.
All NVIDIA features (DLSS, Reflex, and more).
Cons
A large case is recommended.
Very little availability.
the best high-end AMD graphics card to choose for 4K gaming.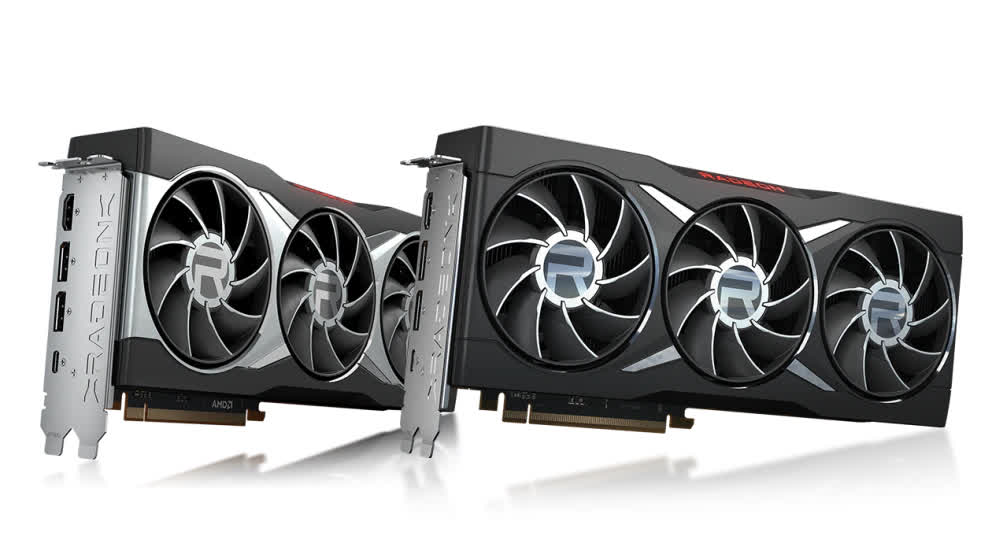 In the upper range of AMD, we find the Radeon RX 6800 / 6800 XT. Launched in November 2020, they have the challenge of bringing ray-tracing and gaming in 4K/60 FPS for less than the competition. On the price side, the RX 6800, is theoretically a little above the RTX 3070. The RX 6800 XT, the improved version of the card, is a competitor to the RTX 3080 in terms of power.
The Radeon 6800 is one of the best graphics card on the market against Nvidia's RTX 3080 from AMD. We are entitled to a last generation RDNA 2 architecture, 60 improved computing units, 128 MB of "Infinity cache" and up to 16 GB of VRAM GDDR6 to sublimate your video games to up to 4K.
With this definition, AMD explains that you can expect to get around 60 FPS in games like Assassin's Creed Odyssey or Dirt 5 at Ultra High settings. And if you take the definition down by one notch, for example to 1440p, the frame rate count flies.
With Epic settings, you get in Fortnite up to 156 FPS. In Overwatch, the number goes up to 266 FPS. Like Nvidia, AMD offers a series of technologies like FidelityFX – the equivalent of DLSS – or AMD FreeSync (equivalent to Nvidia's G-SYNC) and more.
Pros
Excellent 4K (2160p) performance.
Effective cooling system.
Very high-performance gain compared to the Radeon 5000.
Good price-performance ratio, and more.
Smart Access Memory
Cons
Disappointing ray tracing performance.
The bulldozer of raw power- PREMIUM GPU.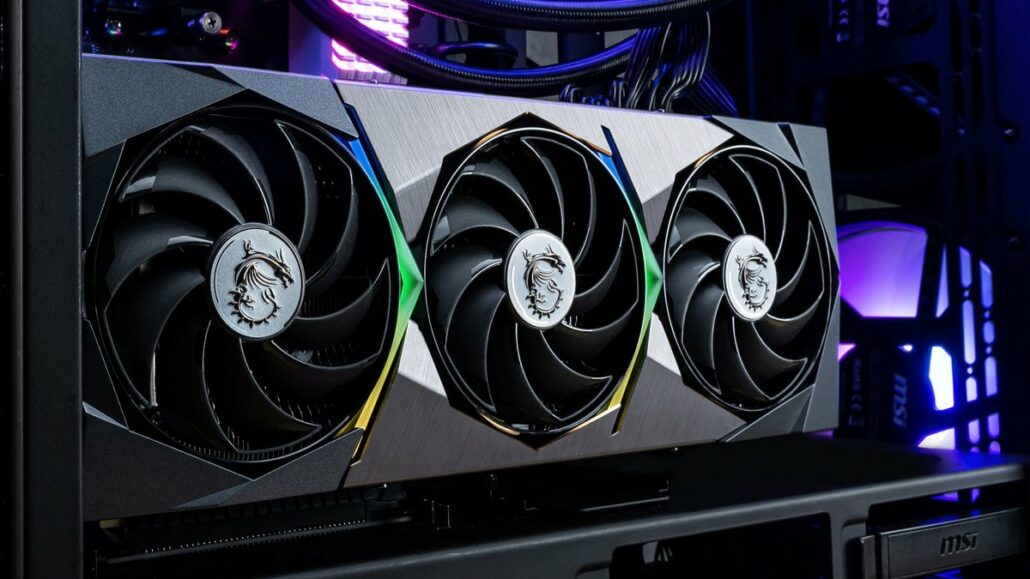 At two kilos, 33 cm long and 14 cm wide, the Msi 3080 TI Suprim X is a monster capable of satisfying your most insane fantasies. This GPU of the extreme is especially impressive in terms of performance. Like its little sister the 3080 Ti FE, the Ti Suprim X is equipped with 12GB of GDDR6x. Of course, this is not as powerful as the 3090, but it's still a very good point that allows you to keep the price much lower than the 3090 FE while offering about the same power.
Take Cyberpunk 2077 in 4K for example, the 3080 Ti Suprim X beats the 3090 FE by a small margin with 57 FPS. At 1080p On Call of duty, we reach a figure of 245 FPS. To achieve this, you must ensure that you have enough space and a consistent power supply, 1000 W is recommended while the minimum requested by the Taiwanese manufacturer is 850 Watts. This is not exaggerated considering the titanic speed of 1845 MHz.
Compared to the RTX 3090, the performance/price ratio of the 3080 Ti Suprim X remains very good. This GPU will delight the most passionate FPS collectors or gamers who want the best graphics at high resolution. If money is not an issue for you, then the Msi 3080 TI Suprim X is the ultimate card for your needs.
Pros
Faster than the RTX 3090 FE.
A dream of a PC gamer.
Rather discreet ventilation.
Dual BIOS (Very silent during gaming Sessions).
Widely adjustable LEDs.
DLSS, Ray tracing, and more.
Cons
Big card.
Out of stock a lot.
the best value for money Nvidia graphics card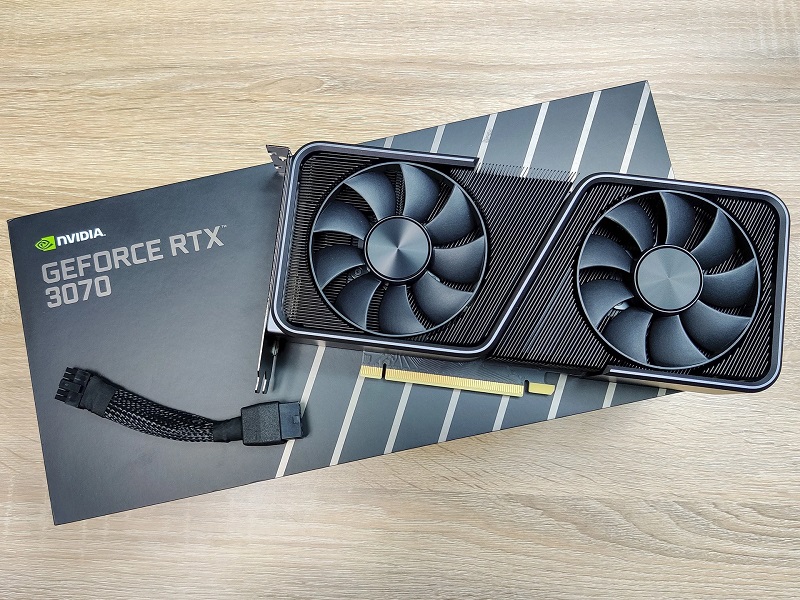 If you want a graphics card with a lot of power, which will last a long time, but you have a limited budget, the RTX 3070 RTX 3070 and the 3070 Ti are our pick as the best value for money Nvidia GPU. They are perfect if you want to perform heavy tasks, but your GPU doesn't need to be a powerhouse either, or if you're more interested in gaming in 1440p.
The Nvidia GeForce RTX 3070 and the 3070 Ti model are without doubt the best graphics card that Nvidia currently offers. We have 8% more performance than the RTX 2080 Ti and 70% more performance than the 2070. This card gives access to 4K gaming, even if in many titles you will have to deal with medium and high settings rather than ultra to get a really pleasant rendering, beyond 60 FPS.
On the technical side, it comes with 8GB of standard GDDR6 memory that delivers raw power of 20 TLOPS for Shader Cores, 40 TFLOPS for RT Cores, 163 TFFLOPS for Tensor Cores, a base frequency of the cart is 1500 MHz and more.
it supports ray tracing, as well as DLSS, and it is equipped with two effectives.
Finally, the commercial guarantee of the graphics card goes up to 3 years, which helps to put confidence.
Pros
As powerful as the RTX 2080 Ti.
But half the price of the RTX 2080 Ti.
1440p performance.
Great in raytracing.
Cons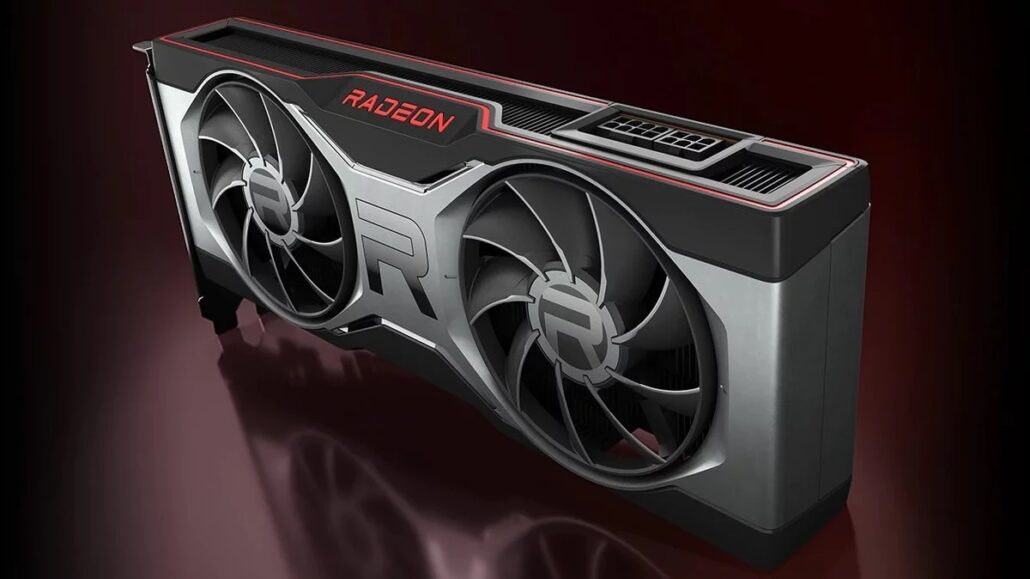 The Best Amd Graphics Card For 1440p Gaming
Positioned just below the RX 6800, AMD offers with its RX 6700 XT a graphics card that is aimed at all gamers with a 1440p screen. It allows you to reach high refresh rates in games with the graphics settings at maximum. In terms of specifications, the Radeon RX 6700 XT is logically more modest than the top cards in the series.
That said, this graphics card is still equipped with 12GB of VRAM, which is more than the amount of video memory allocated on most cards in Nvidia's RTX 3000 family. This means it can run some of the latest video games at 1440p with all graphics settings turned up to the max. The RX 6700 XT uses 40 compute units, which is half as much as the RX 6900 XT. It also has a smaller Infinity cache than its Big Navi predecessors, with 96MB here versus 128MB on the other models.
As for the performance of the RX 6700 XT, it beats Nvidia's RTX 3070 in games such as Dirt 5, Call of Duty Black Ops Cold War or Assassin's Creed Valhalla.
Pros
Very impressive performance in 1440p.
Fans off when the card is idle.
A solidly designed card.
Controlled power consumption.
Support for raytracing.
Cons
The Radeon RX 6600 XT at a Small Price
Direct competitor of the RTX 3060 from Nvidia on paper, the Radeon 6600 XT allows, like the standard version, to play in Full HD, all almost without compromise. We're a long way from 4K and high frame rates with this mid-range graphics card, but it's important to remember that many gamers are also playing in Full HD.
With this GPU, MSI offers a perfect graphics card for 1080p at a low price. A gaming PC configuration equipped with the RX 6600 XT ensures gaming sessions at over 100 FPS in 1080p. Technically, its excellent 1080p performance is due in part to its high clock speeds, no less than 1970 MHz base frequency and 2360 MHz boosted frequency. Its RDNA2 architecture is composed of 2048 Stream Processors and 32 Ray Accelerators, among others.
Its memory specifications are more than honorable with 8GB of VRAM distributed on GDDR6 chips, an effective memory speed of 16 Gbits/s and a 128-bit memory bus for a bandwidth of 256 GB/s. Like all RX 6000 series boards, it benefits from SAM technology when paired with a Ryzen 5000 series CPU or higher, so you can enjoy its full potential.
The MSI RX 6600 XT Gaming X is powerful, quiet, and efficiently cooled, and also features an HDMI 2.1 port and three display ports. It is a must-have for gamers looking for a powerful 1080p GPU without breaking the bank.
Pros
Interesting design, robust and with RGB.
Quite silent.
Efficient cooling system.
Cons
Best GPU for Full Hd Without Compromise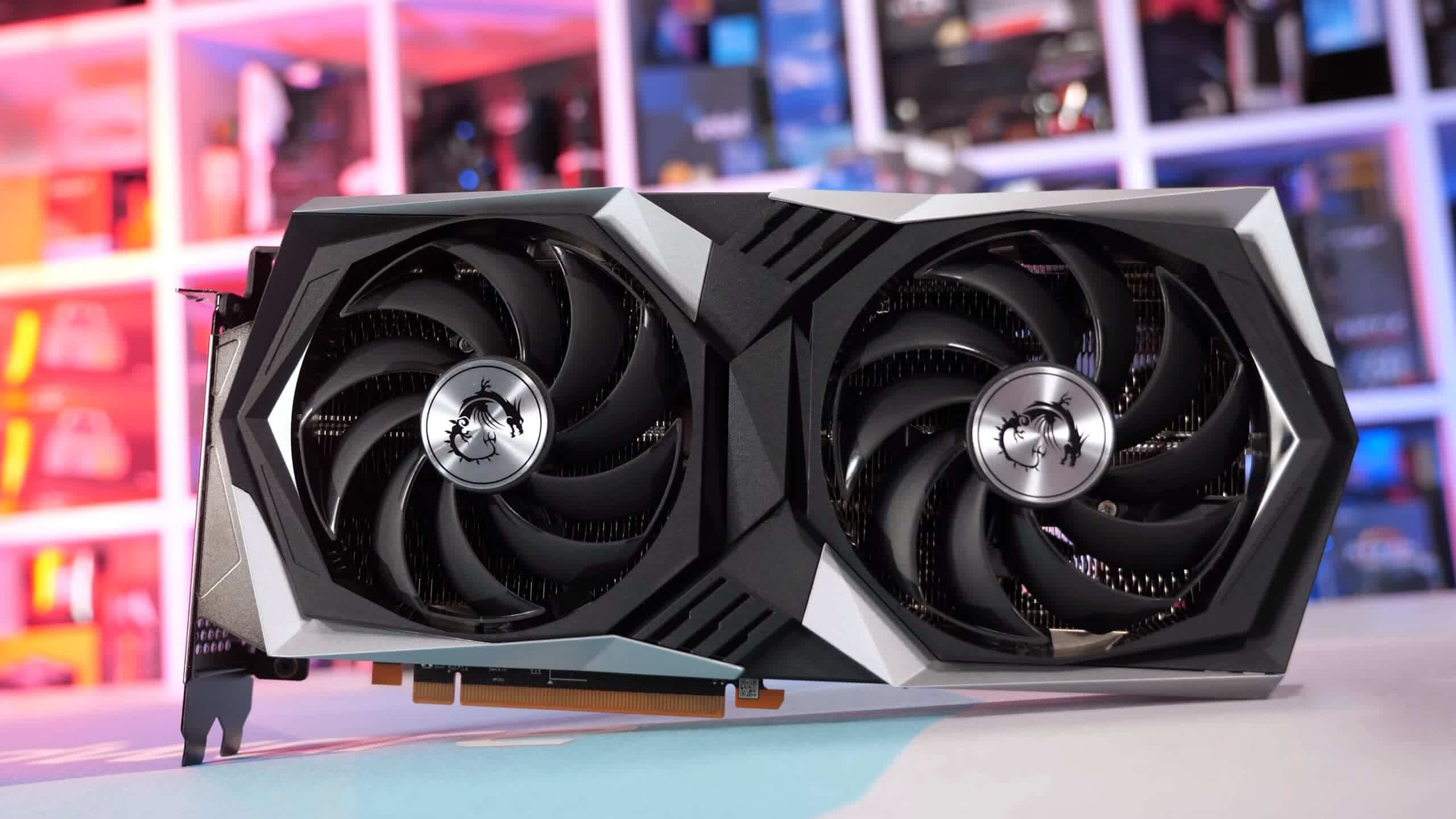 Even at a low price, you should not underestimate the RTX 3060 and 3060 Ti from NVIDIA, which turns out to be a GPU with a lot of power. Excellent at 1440p, perfect at 1080p, this card presents itself as a perfect gaming companion, with its ray tracing and DLSS.
They are designed to play without compromise in Full HD. But these cards hold up well in 1440p with modest performance. The same goes for 4K on games that are not very demanding. If you have a Full HD display and don't want to go any higher, there's no need to pay more for a card.
As for its technical specifications, the RTX 3060 has 3584 CUDA cores, 12 GB of memory on a 192-bit bus. Its base frequency is 1.32 GHz and it can go up to 1.78 GHz in boost. The card has a TDP of only 170W, which is 10W more than the RTX 2060. We recommend that you use a power supply of at least 600W to install it in your PC.
Moreover, this GPu is compatible with RTX, DLSS, Reflex and other interesting NVIDIA proprietary technologies. As far as connectivity is concerned, there are HDMI 2.1 and DisplayPort 1.4a ports. Just like the other models in the range, there is also a Ti variant. The latter has 8 GB of GDDR6 memory but on a 256-bit bus, a base frequency of 1.41 GHz and 1.66 GHz in boost.
Pros
A step ahead of the RTX 2080 S.
Amazing Performance.
Comfortable in 1440p.
Efficient and discreet cooling system.
Cons
The best graphics card for the price/performance ratio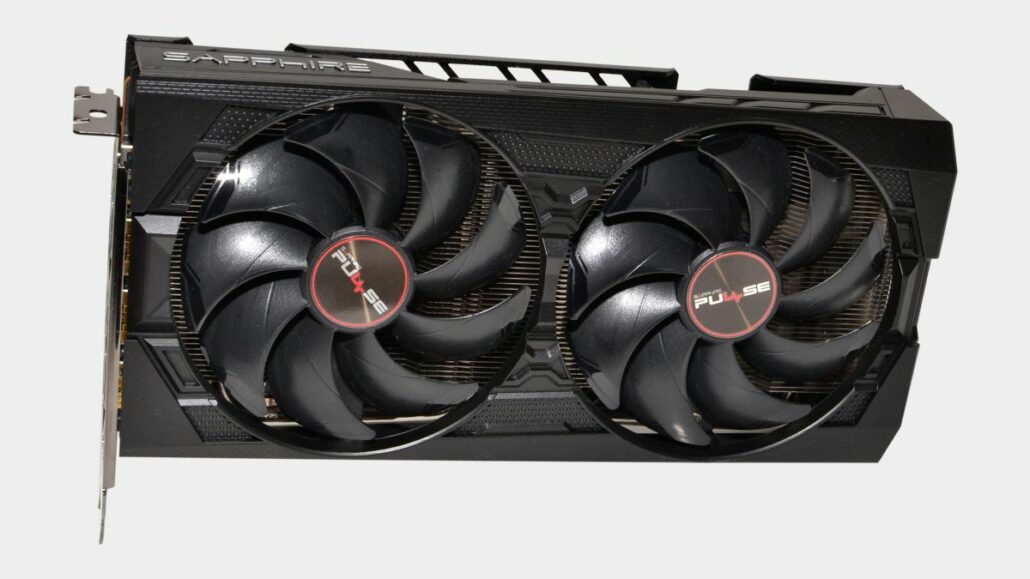 The RX 5000s are part of AMD's newest generation of graphics cards, which feature the RDNA architecture and benefit from a 7nm wafer-thin design and support for the new PCI Express 4.0.
The Radeon RX 5500 XT is one of the best graphics cards for the quality / price / performance ratio. As a matter of fact, it can play quite easily in Full HD thanks to 4 or 8 Gbytes of GDDR6 type RAM.
This special model from Sapphire is efficient for its price. In terms of performance, you get a decent performance in 1080p on Assassin's Creed Odyssey (with an average of 53 fps), The Division 2 (with an average of 57 fps), Grand Theft Auto V (with a fps of 65), Shadow of the Tomb Raider (at 62 fps) and F1 2019 (with 69 fps).
When it comes to noisiness, the two fans are switched off when not in use and are also very quiet when the graphics card is under heavy load: only 39 dBa on a Game like Shadow of the Tomb Raider. It' s one of the best graphics cards available for 1080p in terms of price/performance ratio.
Pros
Low power consumption.
Good performance in Full HD.
Cons