Top 10 DSLR Cameras – Features, Benefits and Disadvantages
Are you a beginner or an experienced photographer looking for an excellent DSLR Camera? With the wide range of DSLR cameras on the market now, choosing one for your specific needs can be daunting.
Indeed, DSLR cameras vary drastically in features and capabilities, so it's important to pick one that meets both your needs and budget. The latest models have amazing image quality, user-friendly menus, and great video functions that make learning photography a breeze. With the right camera, even amateur photographers can produce professional-looking photos and videos.
So, if you're looking for a DSLR camera regardless of your budget here is top 10 DSLR cameras suitable for beginners all the way up to professional photographers creating works of art.
We'll walk through various brands from Canon to Nikon as well as their advantages and disadvantages.
Nikon D500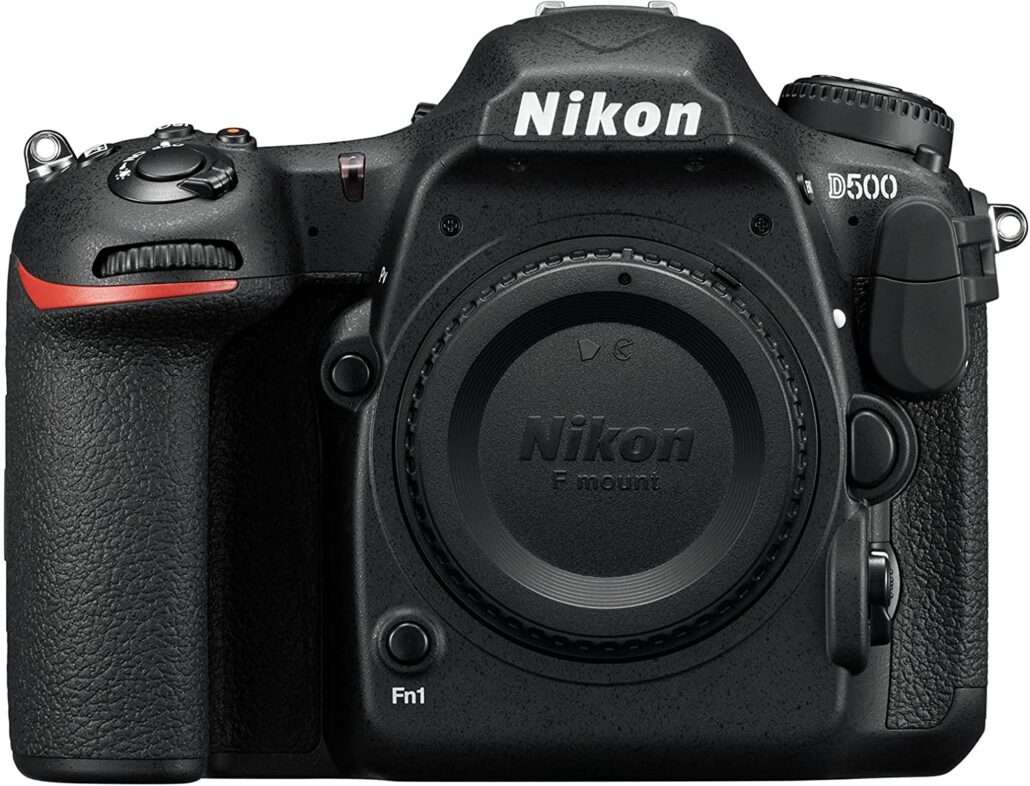 our pick for the best camera for Sports, and DSLR enthusiasts
Advantages:
10 frames/second burst shooting.
Robust and professional build quality.
100% optical viewfinder.
Well-defined screen and single-point touchscreen.
Intuitive ergonomics.
Dual XQD and SD slots.
ISO 1,640,000.
Responsive autofocus.
UHD video definition
NFC, Wi-Fi, GPS.
Disadvantages:
Quite expensive
Limited video mode.
The Nikon D500 is one of Nikon's best APS-C SLR cameras. With 4K video recording, many advanced features, and 10 iPS bursts, Nikon created an outstanding professional SLR camera that Sports and action photographers will love. So, if you want more speed (whether it's AF or burst), the D500 offers it for less than 3 times the price of the popular D5. Indeed, While the D5's 4K shooting capacity is limited to 3 mins, it's possible to shoot 4K UHD video at 30p for up to 29 mins and 59 seconds with the D500.
The biggest surprise of the D500 is its 20.9-megapixel APS-C sensor; which is less than most other DSLRs of the same format but, this sacrifice in resolution is rewarded with a gain in low light performance. The Noise is well controlled throughout the standard range of the ISO100-51,200, and the ISO102,400 results look pretty good. This camera makes the most of every available light source to give you the ability to produce high-quality images in dark environments. The D500 has a very impressive pro specification, which is sure to appeal to sports and action photographers. The EXPEED 5 processing engine offers a maximum burst rate of 10 frames per second for 200 lossless 14-bit compressed raw files, as well as the ability to record 4K UHD video. You even get a shutter for the viewfinder, a feature of Nikon's pro cameras, which is useful for long exposures such as astrophotography. The shutter prevents any incident light from entering the viewfinder, ensuring high image quality.
Moreover, Like the D5, the D500 has a 3.2-inch, 2,359,000-dot touchscreen. Unlike the D5, however, it can be used to set the autofocus collimator. The rich connectivity (remote control, USB 3.0, headset, microphone, Ethernet, HDMI, syncro-flash) confirms the status of a professional camera. Unlike the D5, GPS and Wi-Fi are present in addition to Bluettoth and NFC. Another feature that sets the D500 apart from the D5 is the presence of Nikon's new SnapBridge tech, which allows the camera to stay permanently connected to a smart device via a low-power Bluetooth connection (or via Wi-Fi).
The Canon 5D Mark IV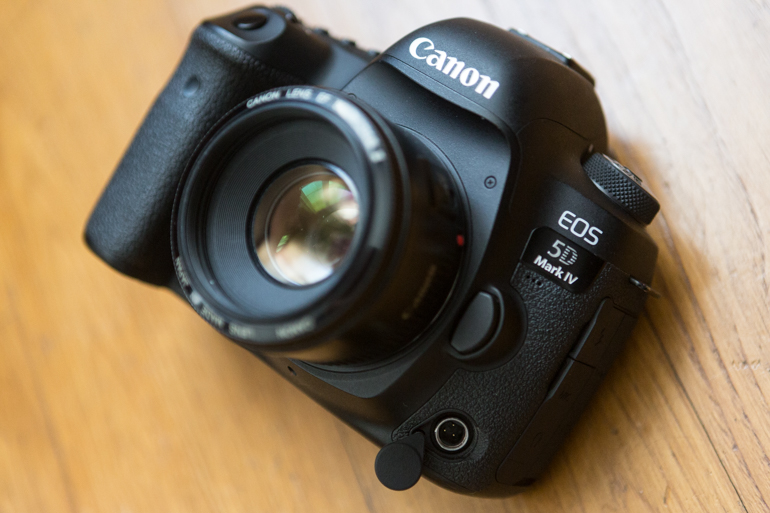 the best DSLR camera overall
Advantages:
GPS, Wi-Fi and great touch screen
Built-in flash transmitter
Good battery life
Great autofocus
Optical viewfinder, large and pleasant
Good ISO management up to ISO 6 400. 12 800 ISO usable.
Possibility to shoot in 4K Up to 30p
Disadvantages:
No completely silent shutter release.
No automatic front correction function.
The Canon EOS 5D Mark IV is universally recognized as one of the most advanced digital cameras. It is a strong rival for the giants like Nikon or the high-end models from Sony. So, what makes the Canon EOS 5D Mark IV so special? Well, there are many reasons. It features a 30.4 megapixels sensor and a nice 61-point autofocus thanks to which the photos will always be sharp and precise. In fact, it's probably one of the best renderings you can get these days because most cameras don't have more than 51 points of autofocus. As for the shooting speed, it can reach up to 7 frames per second.
It also has a full frame APS-C CMOS sensor and as we know, this type of sensor avoids any risk of cropping as it is intended for wide angle photography. In addition, its DIGIC 6+ image processor offers fast focusing and a noise reduction option even at high ISO sensitivities. Note that the ISO range of this Canon camera can be extended from 100-32,000 to 50-102,400. Thus, it adapts to all lighting conditions. Moreover, this model has a 30.4 megapixels sensor to deliver incredibly sharp and precise.
The 5D Mark IV is not only good for taking pictures. The videos produced by this camera deserve your attention as well because it can shoot in 4K. You can go up to 60p in Full and up to 120p in HD. Overall, The Canon EOS 5D Mark IV's wide variety of settings and options is very easy to use for the discerning photographer. It has a clear button panel and additional features such as GPS and Wi-Fi.
The Canon EOS 2000D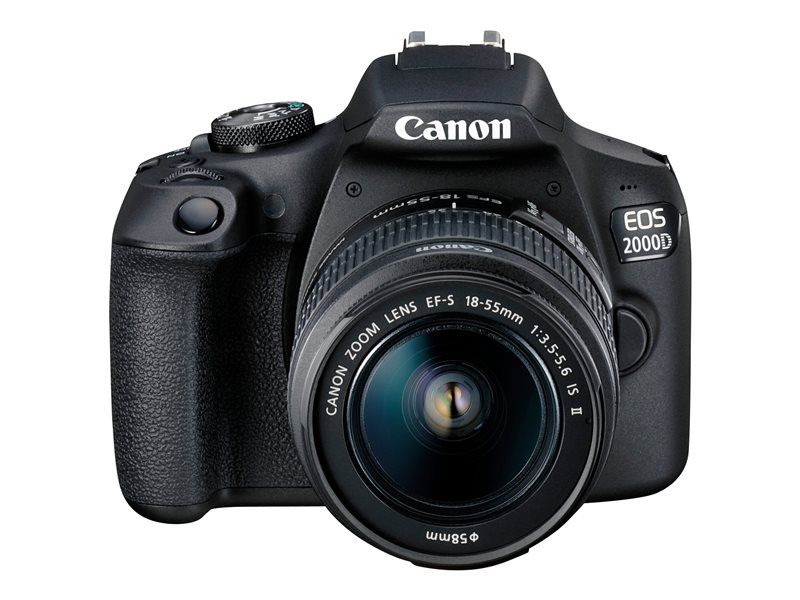 the best DSLR camera for beginners
Advantages:
Easy to use and very affordable price
Very large adapted optics
Good flash
Disadvantages:
Slow Live view and burst mode
If you want to develop your photography skills, then the Canon EOS 2000D will be your perfect camera. This camera allows you to take unique shots with creativity and simplicity thanks to its 18-megapixel APS-C CMOS sensor combined with the DIGIC 4+ processor. It's an easy-to-handle DSLR that delivers images with a high level of detail even in low light conditions. Thanks to its bright optical viewfinder, you can view your images quickly and accurately on its 7.5 cm LCD screen with a resolution increased to 920,000 dots. Birthdays, vacations or travel, with the intelligent scene analysis mode that automatically adapts the exposure according to the scene, photography becomes a child's play with this beauty!
This camera can also record superb Full HD (1080p) videos thanks to its ergonomic controls. It allows you to shoot great creative videos by simply controlling the exposure, focus and sound level. You'll also love Canon's My Photo Coach app that it comes with. This app shows how to get the most out of your DSLR with step-by-step guidance. With the EOS 2000D, you'll also benefit from the responsiveness and precision of the autofocus system to make sure you don't miss a single decisive moment and succeed with your full-resolution shots and a 3fps burst mode. The result is razor-sharp sports and action shots. Finally, you can easily share photos with your devices or smartphone and trigger your shot remotely thanks to its Wi-Fi and NFC features.
Nikon D780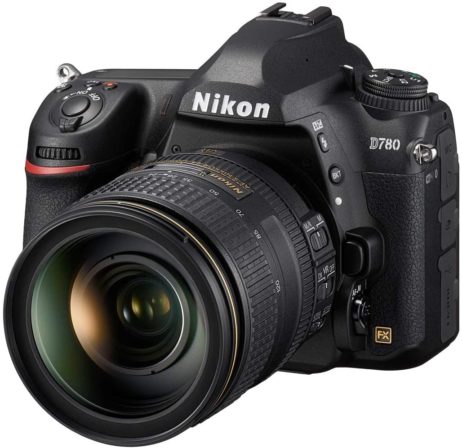 the Best DSLR camera for 4k videos
Advantages:
Excellent Sensitivity and low light management.
Effective Reactivity, Autofocus and tracking in liveview
Nice optical viewfinder and Double storage space.
Headphone and microphone jack.
USB-C charging
Disadvantages:
No swivel for the screen and mechanical stabilization.
The Nikon D780 is among the best full frames DSLRs on the market, it is the successor model to the D750 and brings several improvements and interesting mirrorless influences. If, in addition to photography, your goal is to shoot 4K and Full HD video without sacrificing the quality and speed, then the Nikon D780 is the SLR camera that is able to meet this particular need. This is because of its dual focus system, one is dedicated to shooting in a static position (a tripod for example), and the other, built into the 24.5-megapixel CMOS sensor, dedicated to video.
With this amazing DSLR camera, you can record in 4K UHD at 2160p at 30 fps and Full HD 1080p from anywhere between 25 and 100 fps, but 60 fps is the sweet spot here. However, unlike Canon 5D Mark IV we talked about earlier, it has an extremely fast and accurate 51-point autofocus system, although it sacrifices image stabilization. While this camera is about as sharp and fast as its 5D Mark IV rival, it offers incredible image quality and processing speed at the sacrifice of a few features, like image stabilization and even a flash. But for those looking to save even a few bucks on a camera that's already over $2,000, then The Nikon D780 is an excellent option.
Pentax K-3 Mark III

Our pick for the Best Compact and Robust DSLR camera.
Advantages:
Resistance to humidity, dust and splash.
Stabilization of the sensor.
Shooting while charging and Dual storage slot.
Robust and excellent magnesium body with customization features.
Advanced photo mode and Touch screen.
Complete connectivity option.
10fps continuous shooting and Amazing optical viewfinder.
Disadvantages:
Complex to understand and Limited recovery of highlights.
Very limited video mode.
At the beginning of 2021, Pentax did not unveil a hybrid body, but a new high-end APS-C DSLR camera, also known as the Pentax K-3 Mark III. Resolutely designed for action photography, the Pentax K-3 Mark III is equipped with a 25.7MP backlit sensor without low-pass filter, a Prime V processor coupled with a new generation "accelerator unit". The result is a sensitivity ranging from ISO 100 to 1,600,000.
Its sensor is stabilized on 5 axes, which allows the camera to offer a "Pixel Shift Resolution" function. On the shutter side, the K-3 Mark III goes up to 12 fps, and the mechanism should be able to withstand 300,000 triggers. Moreover, its autofocus is sensitive down to -4IL, and is based on a total of 41 points, including 25 cross-type. Finally, adventurous photographers will like the robustness of the camera. It features a magnesium body which is able to resist extreme temperatures ranging from -10 to 40°C and humidity levels up to 85%! We regret that the video part is limited, but the K-3 Mark III can shoot great videos in 4K at up to 30 fps for 25 minutes. Thus ready, the Pentax K-3 Mark III is available with an 18-135 mm lens, a memory card, a bag and 3 years of warranty.
Nikon D3500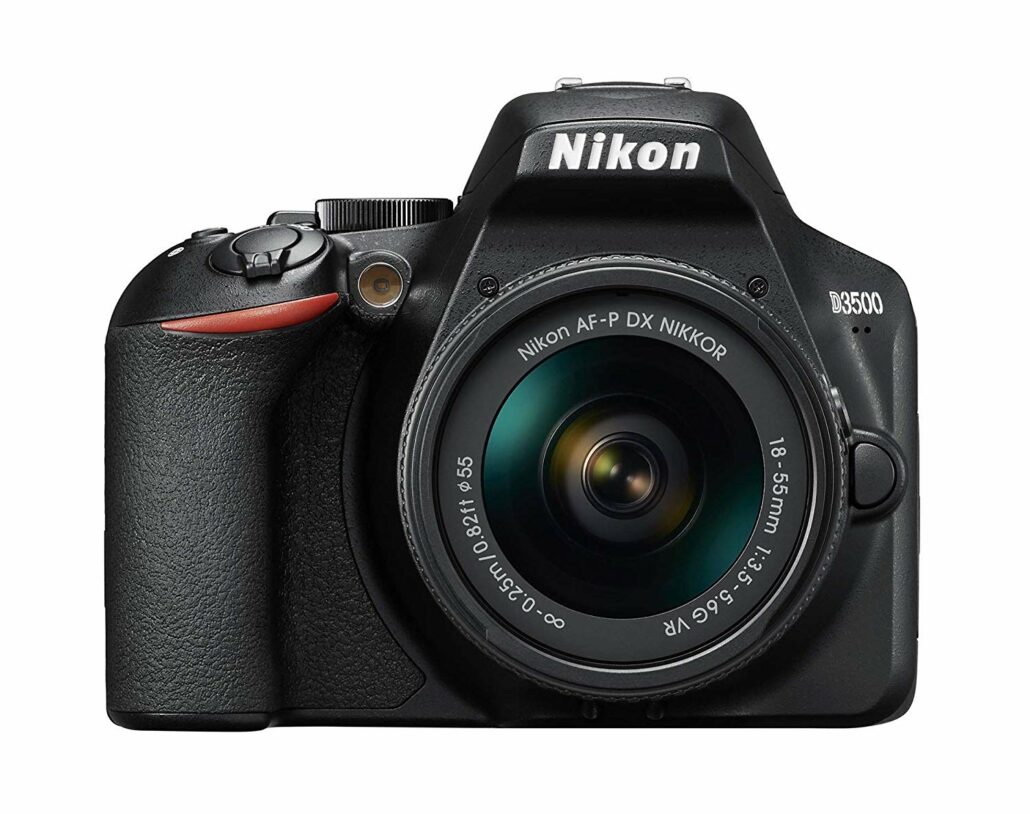 The best value for money DSLR camera
Advantages:
User-friendly for beginners.
Reactive autofocus and Built-in flash.
5 frames/second burst shooting.
Excellent responsiveness.
Guide mode available.
Connection with SnapBridge.
Disadvantages:
Low video quality
No microphone input
The Nikon D3500 has a small body, is easy to use and comes with a step-by-step guide for those who want to learn how to use the DSLR from the beginning. In this DSLR, you'll find a 24.2MP APS-C sensor, and it's usually sold with a basic kit lens as well. The image processor is EXPEED 4, and there's no low-pass filter, indicating that the image quality is above average for its category.
The sensitivity range is 100-25600, continuous shooting at 5 fps, Full HD video recording at 60 fps, 11 AF points, a 3-inch screen and 921,000 dots in fixed position. Bluetooth connectivity allows the camera to be connected to a smartphone wirelessly, and 2MP images are automatically transferred via the SnapBridge app as soon as the photo is taken. The camera body is equipped with a pop-up flash, for situations where there isn't enough light to illuminate the subject.
For those who are coming from smartphone or compact camera photography, who want to start shooting with interchangeable lenses in order to get the best images, the Nikon D3500 is a great starting point, especially for social and landscape photography, and is perfect for those who want to quickly share their shots on Facebook and Instagram on the go.
Nikon D850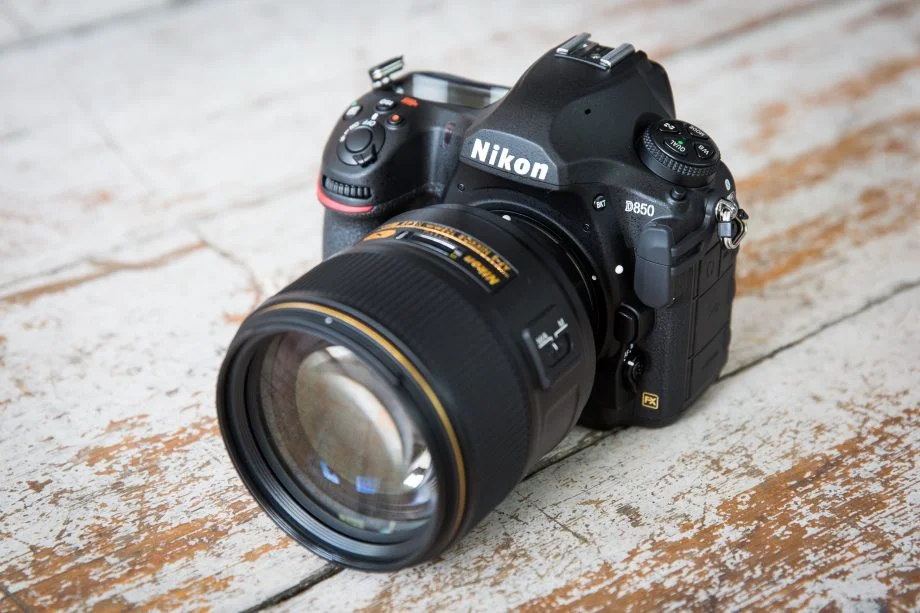 best DSLR camera for Professionals
Advantages:
Excellent image quality with up to ISO 12,800.
Perfect construction with a touch screen and adjustable.
Electronic shutter in liveview.
Dual XQD and SD slot.
Wi-Fi and Bluetooth connectivity
Battery life for up to 2,000 shots.
Good video capabilities and 9 fps burst at 45 MP!
Disadvantages:
WEAKNESSES
No 16:9 framing.
For a long time, professional photographers were faced with a difficult choice. They had to choose between a camera with high resolution, and give up speed, or opt for a high-speed specialist and compromise on resolution. As a gift from the sky, the Nikon D850 removed the barrier between speed and resolution. it raised the bar not only in terms of resolution, but it also offers a continuous shooting speed that competes with dedicated sports cameras.
At the heart of the Nikon D850 is a 45.7-megapixel full-frame back-illuminated CMOS image sensor. It is not equipped with an optical low-pass filter and has a feature that will certainly appeal to sports or press photographers who want to transfer their images as quickly as possible. With it, you to easily switch between the RAW formats of 45.7, 25.6 and 11.4 Mega pixels depending on your needs or workflow. The D850 manages to combine high resolution and speed; but fails to do the same for the ISO range. The D850 has the lowest ISO range of any DSLR or hybrid-ISO 64 camera but features a new 0.75x optical viewfinder with the highest magnification factor ever recorded on a Nikon FX DSLR camera. In terms of video, the D850 can record 4K UHD video in FX format without sensor trimming at up to 30p, allowing you to take full advantage of your lenses' field of view. Lower resolution video modes are also available, including 60p Full HD footage.
The other main feature of the D850 is the continuous shooting speed of 7 frames per second, which can reach an incredible 9 frames per second with the optional MB-D18 grip and the EN-EL18b rechargeable lithium-ion battery. Finally, The D850 takes advantage of Nikon's SnapBridge connectivity for wireless image transfer, which establishes a low-power Bluetooth connection between the camera and your smart device. For fast Wi-Fi transfers, you can use the app to browse and select images of your choice.
Canon EOS Rebel SL3
our pick for the best budget DSLR camera
Advantages:
Very compact and light and with Vari-angle touchscreen.
Great Creative UI assist for beginners.
24.1MP with great 4K video.
Disadvantages:
The plastic casing feels cheap
Only 9 AF points in viewfinder.
Ideally designed for beginner photographers with a small budget, the Canon EOS Rebel SL3 deserves its place among the best-sellers of Canon in the mid-range DSLR cameras. Its 24.1megapixel sensor works wonders in photo and video mode with 4K support. It also has a comfortable grip and an excellent price/performance ratio. While it has a lot of similarities with the Canon EOS 800D, it stands out for its simplicity, practicality and satisfactory performance.
Thanks to its Digic 8 processor and it 24.2MP APS-C sensor, you can easily record 4K in UHD at 60, 50, 30, 25 and 24p, and get perfectly detailed and satisfying images. Additionally, its Dual Pixel CMOS autofocus system provides fast focus and ignition. As for the JPEG processing, it provides a natural rendering. In short, the quality of images and videos is up to expectations and it works between ISO 100 and 25,600.
This DSLR camera is both small, light and it can follow you everywhere. Finally, Because of its swivel touch screen, this model gives you the possibility to take pictures from above or below, and this, in the best comfort.
Nikon D7500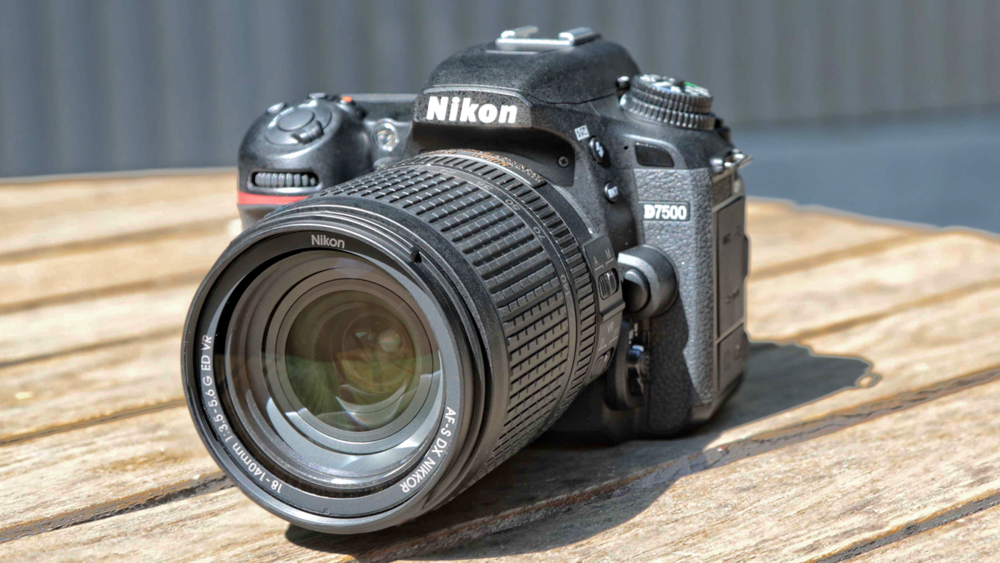 our pick for the budget for DSLR camera for Amateurs
Advantages:
Excellent construction.
Good general reactivity and very effective AF tracking.
High quality image and burst at 7.5 fps.
Touch screen and oriental
Wi-Fi and Bluetooth connection.
Disadvantages:
Only one SD slot.
Slightly limited video functions.
Announced in April 2017, the Nikon D7500 was designed for amateur photographers who are looking for good performance, excellent image quality and improved ergonomics, while remaining affordable. And to meet their need, it incorporates the Expeed 5 processor and a 20.9MP APS-C sensor inherited from the D500, as well as a sensitivity range of ISO 100 to 51,200.
It can make bursts up to 8 fps with a buffer of 50 images in RAW and 100 images in JPG. When it comes to the video part, it delivers images in Full HD with stabilization and in 4K and itis also equipped with an autofocus system of 51 collimators that can hang up to – 3 IL which is useful in low light conditions. The D7500 also integrates Wifi and Bluetooth with SnapBridge connectivity to ease the file transfer. We also love the very good ergonomics of the beauty. If offers a very comfortable grip, a tilting and touch screen which is very useful during video recording, and it weighs only 720 g with memory card and battery.
Canon EOS 90D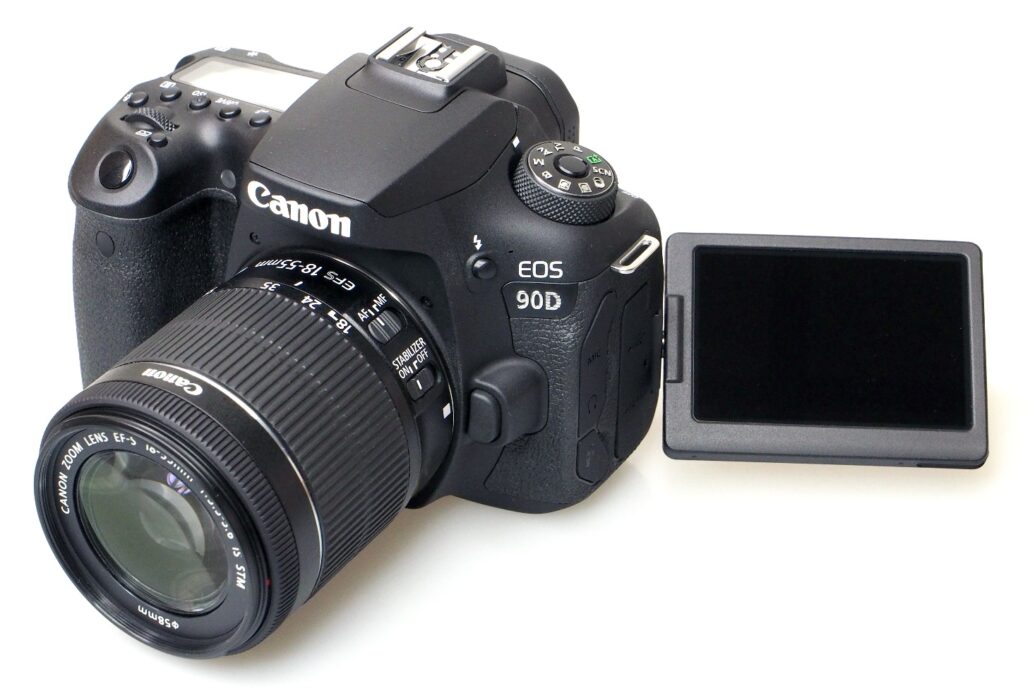 Our pick for the best Premium DSLR camera for most people
Advantages:
32mp sensor that delivers High-image quality
4K / FullHD video
Excellent colour
Battery life of up to 1300 shot
Built in raw editing
Disadvantages:
The design may need some improvements.
Smaller buffer
If you are looking for a premium DSLR camera, the Canon EOS 90D is one of the best on the market. It replaces the EOS 80D and offers an interesting functionality for a wide range of photographers and videographers.
The most attractive basic feature of this SLR camera is the 32.5MP aps-c sensor, which, combined with the high resolution and a burst rate of up to 10 frames per second, makes it ideal option for capturing motion in the DSLR landscape. And Thanks to its DIGIC 8 image processor and ISO sensitivity of up to 25,600, you'll get great results even in low light.
Additionally, the Canon EOS 90D's optical viewfinder gives you the power to enjoy autofocus at 45 cross-type AF points. You can move them with the multi-controller AF system or let the iTR AF system follow the moving subject. In addition, the Dual Pixel CMOS autofocus system is ideal for video and screen shooting.
On the video side, the EOS 90D allows you to shoot 4K UHD movies at 25 to 30p for exceptional image quality. With it, you can also capture moving subjects in Full HD at up to 60 f/s and even 120 frames per second for slow motion effects. Connectivity-wise, you can easily connect it to your smartphone or tablet via Wi-Fi or Bluetooth with the Canon Camera Connect app.