Montblanc's e-Strap: A smart accessory for your traditional watch
Montblanc comes up with yet another lifestyle product for the New Year 2015.The release of montblanc's  e-Strap was notified to its customers via e-mail on January 1st.  The official announcement is expected at a  watchmaker's conference in Geneva at the end of January.This innovative product lets you to go smart without compromising your love for traditional watches. It is designed with an OLED touch screen display to the opposite of the watch face. Thus, a watch with montblanc e-Strap will look like one with two screens, with one screen serving as a traditional watch dial and the other one showing basic smart phone functionalities.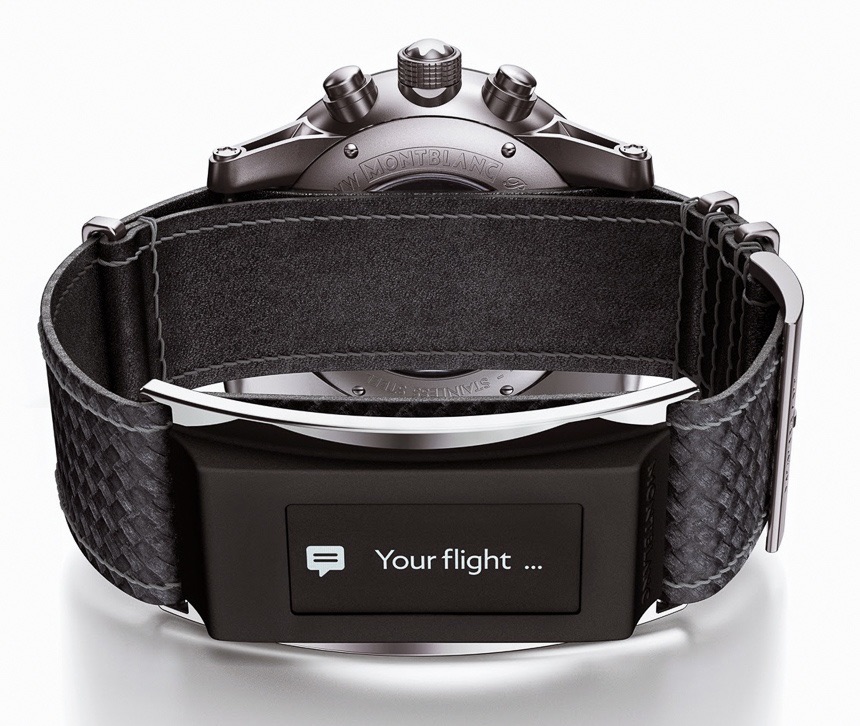 The second screen will feature a black and white  0.9-inch monochromatic OLED touch screen display running at 128×36 pixels resolution. The battery life of  e-Strap will be five days and can be charged up by means of its micro-USB cable. It is shock resistant and splash resistant. It is made from a material called DLC (diamond like carbon) and encased in steel.The company claims e-Strap can be used for fitness tracking  by functioning as an activity monitor to measure steps and calories  with  a pedometer and accelerometer. The measured data  feeds into an included iPhone or Android phone app. It provides notifications for text messages, emails, incoming calls, calendar entries, reminder notifications and social feeds. It allows users to control phone's music player and trigger a camera shutter.
The Montblanc e-Strap made with its own operating system is compatible with both Android smart phones and Apple's iOS devices .It connect to the smartphone by means of Bluetooth 4.0 and will offer vibration alerts.The fairly attractive watch strap with a length of 40mm, width of 14.2mm, and thickness of 9mm. is made from leather, Extreme Montblanc Leather as called by the company is made in Italy. It comes with a carbon fiber like texture
Montblanc will launch e-Strap on a few of the  Montblanc Timewalker Urban Speed watches, but it will be available for purchase separately and can be used with other watch brands. As all Montblanc products the e-Strap too is expensive. The e-Strap  on Montblanc's Timewalker Urban Speed line of watches which start at 2,990 Euros (US $3,592).A separate purchase of  e-Strap will be much more affordable  for 250 Euros. It is costlier than the other popular and complete smart watches like LG G Watch R and the Moto 360.
By

Nivin JS

In Technology
— 3 Jan, 2015