Latest Smart Thermostat Ecobee 3 Unveiled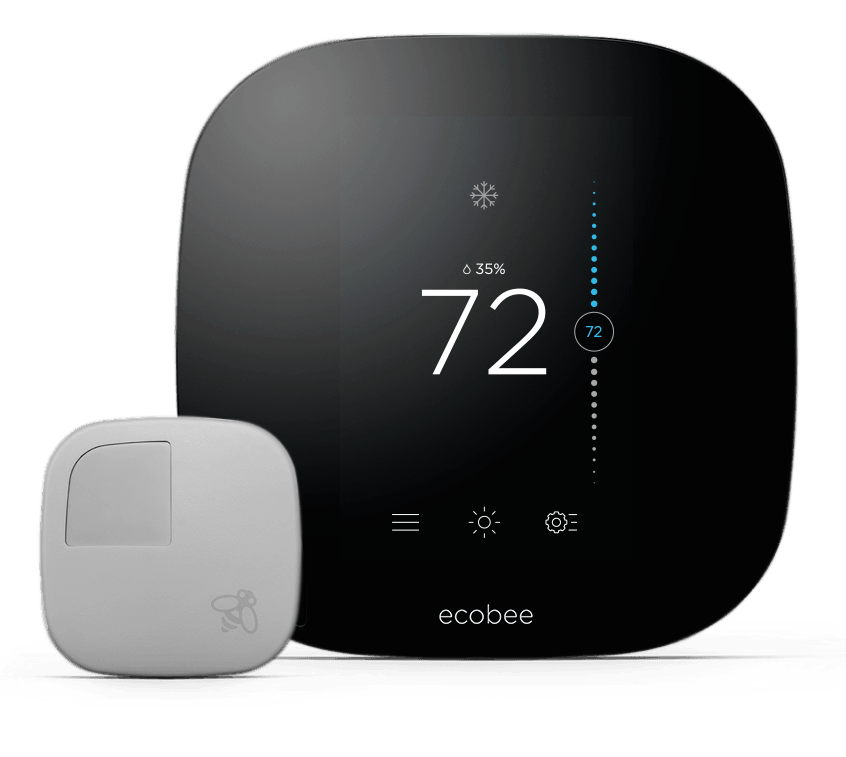 Toronto-based Ecobee, a Canadian company that made the world's first Wi-Fi-connected thermostat announced its new version of smart thermostat, Ecobee3. With its sleek and modern design it proves a rival to its competitor, Nest. The jet black square with rounded edges looks quite different from its predecessor. For some buyers aesthetics are more important than features, especially when it comes to the home. Ecobee in collaboration with Lunar Design, a boutique design group that has designed everything from Apple's first notebook computer to ice cream scoops, has taken all the features from Ecobee's existing model to create a new user interface that looks and functions the same whether it be a on wall-mounted thermostat or on your phone.
It has a capacitive touchscreen with colored pixels. The screen has a black background while Nest has a colored one. Instead of a rotating circular dial Ecobee 3 has a virtual knob that can be maneuvered up and down to track the temperature change. On your screen you can also view the local weather forecast. You can create and adjust programming schedules. The same interface can be seen on your phone or tablet upon connecting to your thermostat.
The newest feature that makes it different from its former Wi-Fi enabled thermostat is the addition of tiny remote sensors that you can put in every room of your house. Each one sensor tracks temperature and occupancy of that particular room in which it is housed, rather than sensing the temperature of just the one central location where the thermostat is installed, most commonly the dining room. This mode of tracking would be fine if people spend most of their time there, but in reality, they do not. Being able to put a sensor into a room that you actually use and your ability to detect whether people are home or not and turn back your temperature accordingly prevents your heating and cooling systems from running unnecessarily thus saving you an average of 23% on heating and cooling energy.  You just need to run an app on your phone to track your sensor and you can then make the necessary adjustments on the Ecobee3 interface on your phone.
 According to the US Environmental Protection Agency 80 percent of programmable thermostats goes unprogrammed. Ecobee 3 comes with a program out of the box. If you do want to customize it is simple to do either directly from your thermostat or from your Smartphone. Based on the data gathered by the occupancy sensors and the local weather forecast the Ecobee 3 program makes the necessary adjustments. The program also gets pricing from local utility companies which will alert people so they can make adjustments and thus save on bills. Ecobee estimates there will be a 23 percent annual savings over typical programmable thermostats.
Ecobee 3 thermostat unit has a sensor which is inbuilt and another in the box powered by batteries which can be placed on any flat surface or can be wall mounted. The system works with up to 32 sensors
Ecobee also has an API available to integrate with previous Ecobee product will automatically work with the ecobee3.
While the previous models required people to rely entirely on professional HVAC installers for their thermostat installation, Ecobee3 users can install it on their own. You just need to take the unit out of the box and set it up and it starts functioning in less than 45 minutes! Additionally, there are two add-ons to help users with installation; first it detects your wiring and automatically configures its software settings accordingly. Secondly, it includes a power extender hardware that can be plugged into the furnace in homes which did not have the ideal wiring setup. For this add-on the company charges an additional $25.
Buying one Ecobee's new thermostat is as good as installing high-investment solar panels on to your rooftop. It saves as much energy as the solar panels; in fact it does a better job at regulating indoor temperature which is not taken care of by the solar panels.
The installation kit Ecobee 3 is priced at $249 which includes the thermostat and a single remote sensor for $249. Additional remote sensors can be purchased in packets of two at a price of $79. It will be available for purchase starting September 29th with a 3-year warranty.
By

Vishakh U N

In Technology
— 19 Sep, 2014