Convert your Smartphone into 3D Printer with Portable OLO Gadget
With the development of technology 3D printing has gained popularity. Nowadays a lot of devices are being launched every day supporting 3D printing. Even though these devices are available at considerable price, common people are not so compassionate to 3D printing technology. Only those hose people who loves 3D printing relies on such devices. Here comes a US company which claims to have created a portable 3D printer which is compatible with smartphones.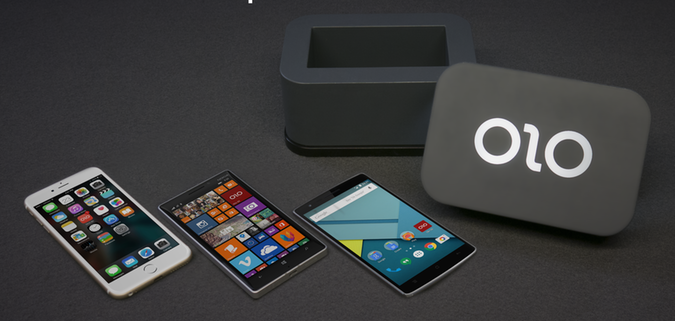 OLO made its entry in New York back in October 2015. At that time it bagged the World Maker Faire Editor's Choice Award. The makers of OLO 3D Printer wanted to accumulate $80,000 through funding. But when the product was introduced, it collected nearly $1.3 million. The new OLO 3D Printer gadget is the cheapest available 3D printer for now.
Design
OLO 3D Printer is a small portable box.It measures 720*1150*1480mm with a weight of 780 grams.OLO 3D Printer consists of 3 plastic pieces – one chip, one motor and four AA batteries for its functioning. The resin chamber is capable of providing a printing volume equivalent to 400cm3.
Working
OLO 3D Printer works with the help of photopolymer which reacts with white light discharged by smartphone. Inorder to make it function, your smartphone must be installed with OLO app. The OLO box must be kept on the screen of your smartphone. Now load the OLO app and choose the file you would like to print. Now pour the photopolymer resin to the OLO box. Now the light discharged from your smartphone will turn the photopolymer resin to the desired shape. When imaging is completing, you have to rinse the object with warm water. You 3D image will be ready.
Compatibility and Other Features
According to the OLO Kickstarter webpage, OLO 3D Printer will be compatible with smartphones that runs on Android, Windows and even iOS. The photopolymer will be made available by the company with a price tag of $15 per bottle. The makers of OLO 3D Printer makes it clear that the quality of 3D printing may vary according to the screen resolution and model of smartphone used.
Printing Time
The OLO Kickstarter webpage says that it would take nearly 2 hours to print an image that extends upto 1 inch with the help of iPhone 6. The page also confirms that it would normally take nearly 46 minutes to print an image of 1cm. The only disadvantage is that you will not be able to use your smartphone during 3D printing is progressing. You should also have to keep your smartphone's display live till the printing ends.
Availability
OLO 3D Printer will be available at a fair price of $99. The photopolymer resin will be available at $15 per bottle. The product has only being introduced. The shipping date of the gadget is not disclosed by the company. It is expected to be shipped by the end of this year.
By

Sajin M S

In Technology
— 30 Mar, 2016