A Fantasized VR Experience with Brand new Google Daydream View Headsets at $79
Dream comes true…A virtual reality is all decked up for the technical world with Google's introduction of Google Daydream View that comes with support for their new Daydream project. Virtual Reality on mobile thus offers a new way of viewing things. The new headset is of lightweight fabric, paired with a controller and designed to be easy and instinctive. It is soft and wearable design inspired out of what people wear. Google Daydream View is of soft nylon material and is available in slate, snow and crimson colours.
It has a shocking similarity with the already launched VR headset from the Chinese firm Xiaomi and it is worth noticeable that Xiaomi is one of the official hardware partners for Google's Daydream project. The facepad rests gently on your face and is lightweight, breathable and hand washable.
The Daydream controller metamorphoses with user's imagination for it is natural and instinctive. It can be docked inside the headset itself when not in use. As per the claims of Mount view giant, smart sensors which a user can "swing it like a bat or wave it like a wand", bestows smooth tracking and movement. It also provides an adjustable volume button. Instead of connecting the headset to any computers or sensors, dock your smartphone into the headset itself. The nylon component also helps in blocking up unnecessary surrounding light.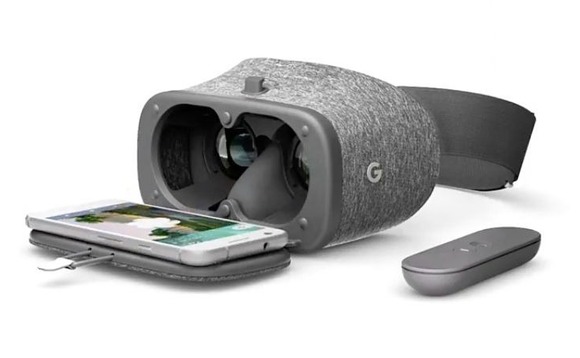 All YouTube content can be viewed via the head set and soon Google paly movies and Google street view and Google photos will be made available in headset. Google is all ready to be in touch with mainstream media houses like New York Times and The Wall Street Journal to usher journalistic stories to VR. Other entrants into the Daydream platform are Netflix, Hulu and HBO. By the end of the year Google claims that there will be around 50 partners who will be closely working to bring forth new apps and games. Headset is not yet planned to be released in India. In US it begins at $79 by this November and in UK at $69.
By

Jinnia Gupta Roy

In Technology
— 7 Oct, 2016