Best Smart Watches for your Fitness – Does this suits your personality?
The pursuit of perfection requires that sports enthusiasts find ways to analyze the evolution of their performance on a daily basis. For this, a Fitness Smartwatches has become indispensable for many people.
It is easy to use, because it is put on the wrist like all the other watches and they are many options available. Indeed, with the number of offers on the market, you will have a hard time finding the model and brand that suits your needs.
That's why we are happy to share with you our list of the top 10 best fitness smart watches we've selected by taking into account the opinions of consumers, our own experience, and the opinions of experts.
Garmin Fenix 7
Best fitness smartwatch for multi-sport competitive athletes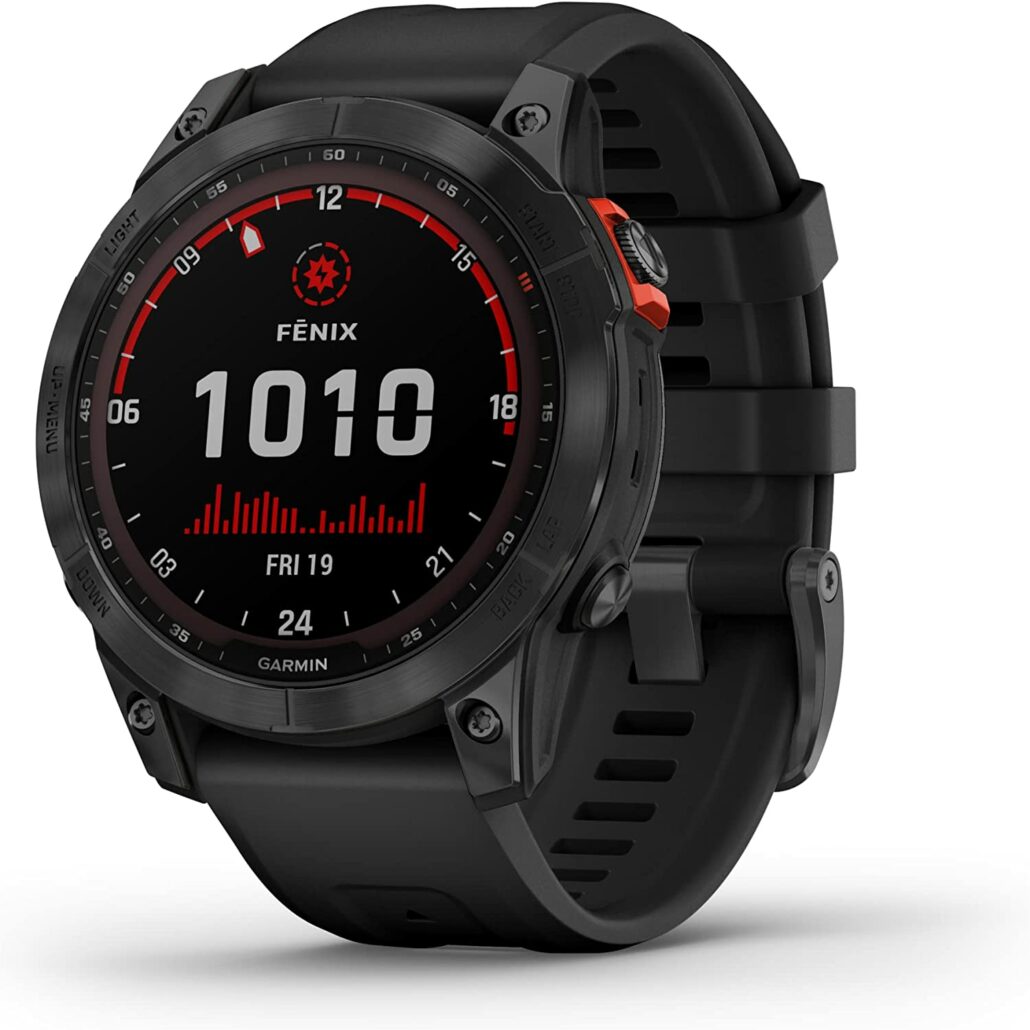 Pros:
Ultra-complete.
Free global mapping.
Touch screen.
Weather functions.
Great battery life.
Assistance and SOS function.
Cons:
In the field of smartwatches, the Garmin Fenix 7 is the benchmark – provided you pay the price. It is available in three versions with different screen sizes and a design that is better suited to your wrist.
The Fenix 7 is a true companion of your daily activity, the watch offers you a detailed report of the last 7 days. As mentioned above, the training section of the watch is completely free and will allow you to follow your performance as closely as possible, whether running, swimming or even skiing. In terms of sensors, it has an integrated barometer, a sensor to measure SpO2 and a heart sensor.
In terms of GPS tracking, the Sapphire Solar version integrates a satellite navigation system (GPS, GLONASS and Galileo). In the report, this allows you to have a track close to reality and reliable measurements. When it comes to heart rate monitoring, the watch offers values close to those of the heart rate monitor you find in our hospitals. Whether it is for split or long- duration effort, the data recorded are close to reality. The autonomy of the watch is also great, because the battery of the standard version can last up to two weeks without any problem. And the Fenix 7 is capable of diving to a depth of 100 meters without difficulty. In short, this watch is the best available for fitness.
Apple Series 8
Best fitness tracker for iPhone users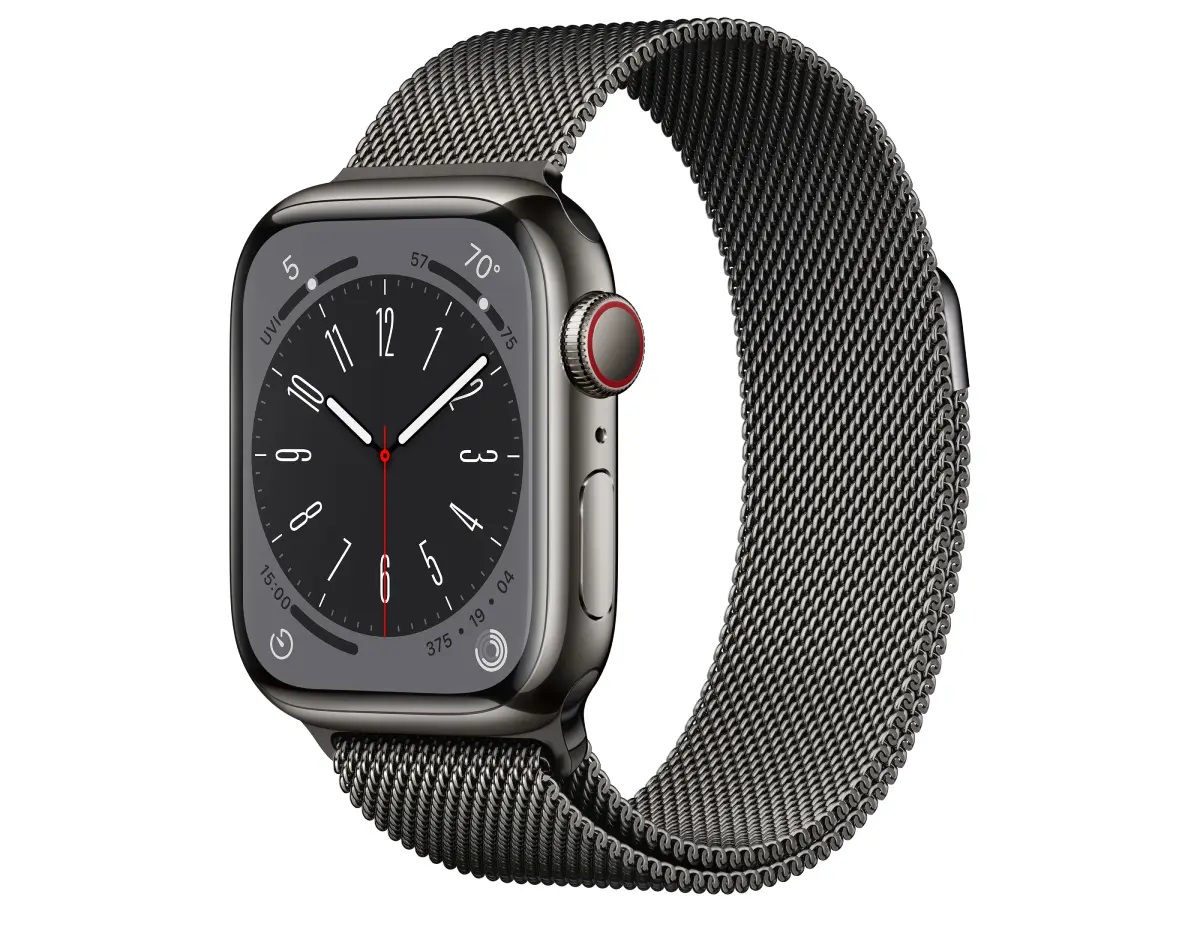 Pros:
Very accurate GPS tracking.
Improved sports tracking.
Fast charging.
Good heart rate tracking.
Cons:
The Apple Watch Series 8 is a real technological jewel that brings its share of novelties to those who do not want to do without Apple. Its OLED screen of 1.69 or 1.9 inches, depending on the version chosen, offers a nice brightness for the content displayed. The straps are easily replaceable if you are looking for more solid materials.
In terms of fitness features, the Series 8 has the same GPS tracking as the previous generation. GPS tracking is GNSS and L1 compatible. The tracking offered during your runs is accurate, allowing you to run with peace of mind. It is especially the watchOS 9 update that brings big improvements in sports tracking. With it, the watch is able to manage intervals, but also to customize exercises with several activities. The tracking of your heart rate is also excellent. You also get the triathlon mode and advanced running metrics like stride length, ground contact time and vertical oscillation.
The only downside of the Apple Watch Series 8 in its sports section is its poor battery life which can barely last Up to 18 hours. But the early morning runners will appreciate that the watch charges quickly – from zero to 80 percent in just 45 minutes. Plus, you can extend the battery life by activating the low power mode to get up to 36 hours.
Fitbit Versa 3
Best Budget-Friendly alternative to the series 8 and the galaxy watch 5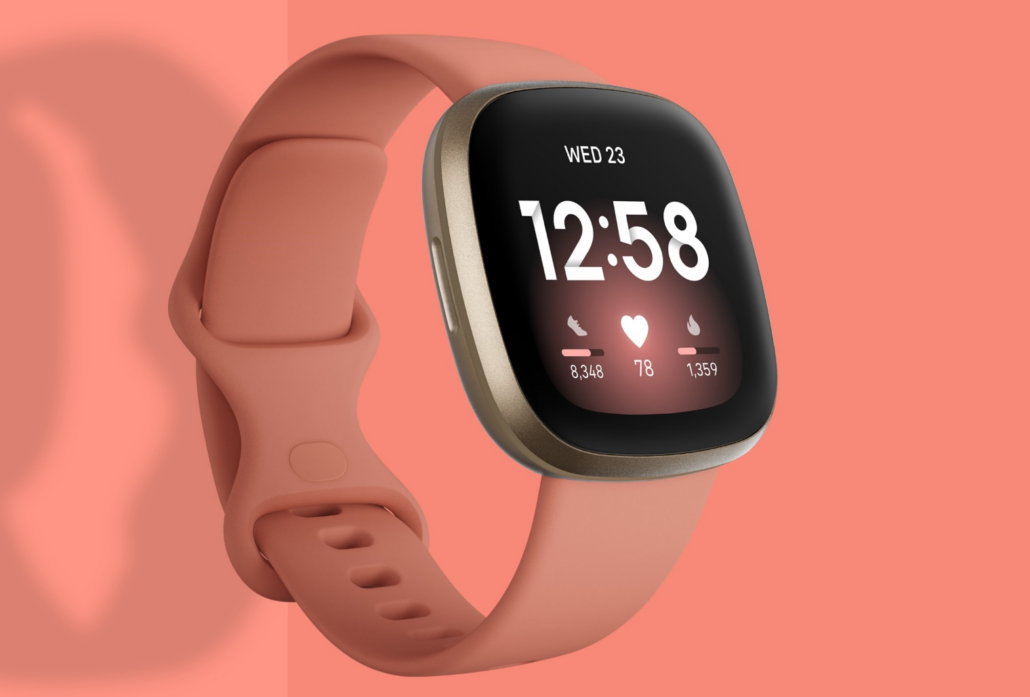 Pros:
Integrated GPS.
Fitness functions.
Sleep monitoring.
Phone calls.
Voice assistants.
Cons:
Buckle-less strap
Limited applications
The Fitbit Versa 3, like the Sense, uses Fitbit's updated PurePulse 2.0 technology in its multipath optical heart rate sensor. Heart rate tracking is at the core of many of Fitbit's fitness features, including cardio fitness levels, active zone minutes, workout intensity map, guided breathing sessions and sleep score. Its hero is the built-in GPS, which was missing from previous Versa models. The most athletic fitness users will appreciate this new feature, as they will no longer need to carry their phone with them to get GPS statistics on pace and distance, as well as maps of their workout routes.
Swipe left to access the Exercise app and choose from 20 exercise modes to get real- time stats during workouts: Running, biking, swimming, weight lifting, walking, and more. All the information about these activities are perfectly displayed on the large, bright screen, and in more detail in the Fitbit mobile app. You will also love the Fitbit's SmartTrack feature, which, after 15 minutes of activity, automatically recognizes and records the exercises you are doing if you haven't set them via the watch. Moreover, the Fitbit is the world champion of sleep tracking. With it, you get detailed statistics not only on how long you sleep, but also the quality and the duration of each sleep stages. finally, the Versa 3 has about 6 days of autonomy on one charge. However, with 2 to 3 sports sessions per week, the battery will last for 4 to 5 days. It is therefore among the best fitness smartwatches in terms of autonomy.
Garmin Forerunner 955
The Best Watch For Triathlon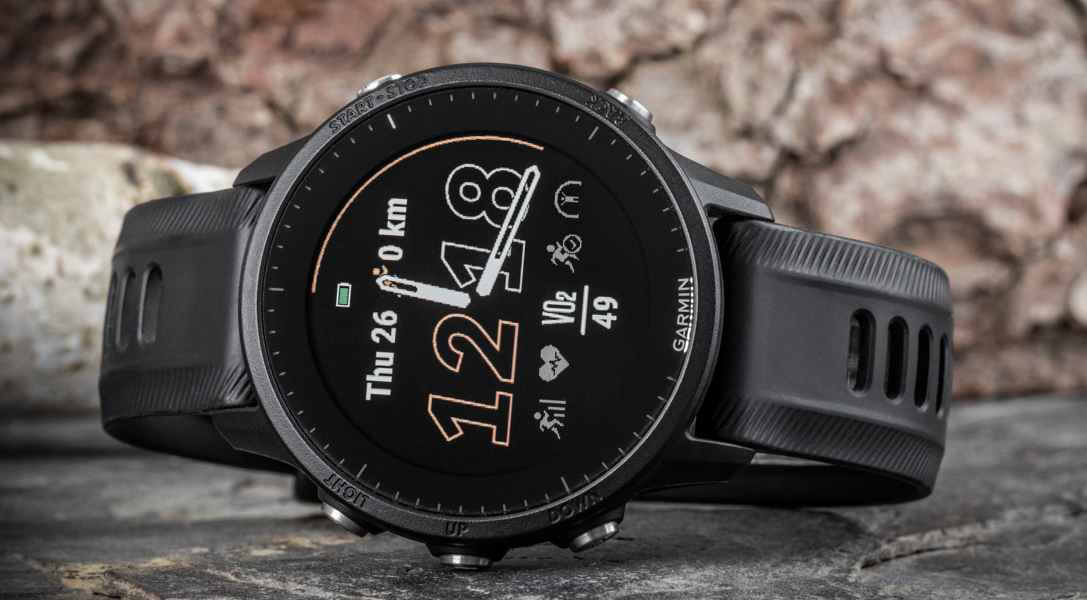 Pros:
Dual frequency GPS.
Contactless payment.
Mp3 player.
Autonomy 42h.
Solar model.
Route generator (cycling, walking, running).
Bicycle paths and skiing, golf.
Assistance in case of fall and SOS call.
Follow-up on the Internet.
Lightweight and Ultra-Complete Color Mapping.
Cons:
The Garmin Forerunner 955 is arguably the best watch available for triathletes.
Like the Forerunner 255, the 955 is primarily designed for running enthusiasts. It also performs well in cycling and swimming. The watch is also brilliant for triathletes, and in terms of performances and features, it is almost at the level as the Fenix 7 we talked about earlier.
It has all the features available on the previous version with an altimeter, a SpO2 sensor or a sleep sensor. But is stands out especially in the analysis of the data provided. For example, the Body Battery levels gives you an estimate of the amount of energy you have left on a scale of 100 and advises you either to do sports or to rest. And when it comes to GPS accuracy, the Forerunner 955 is as brilliant as its competitor, aka, the Garmin Fenix 7.
The Forerunner 955 performs well in terms of battery life, because, it can last up to 36 hours in GPS mode and up to 7 days in standard mode, making it a reliable option for long workouts.
It also benefits from the multiband, for a satellite tracking as close to reality. Heart tracking is also close to the measurements made by the lap belt. It is one of the best available for several sports, without the extra cost of Fenix.
Amazfit GTR 4
Best Mid-Range Fitness Tracker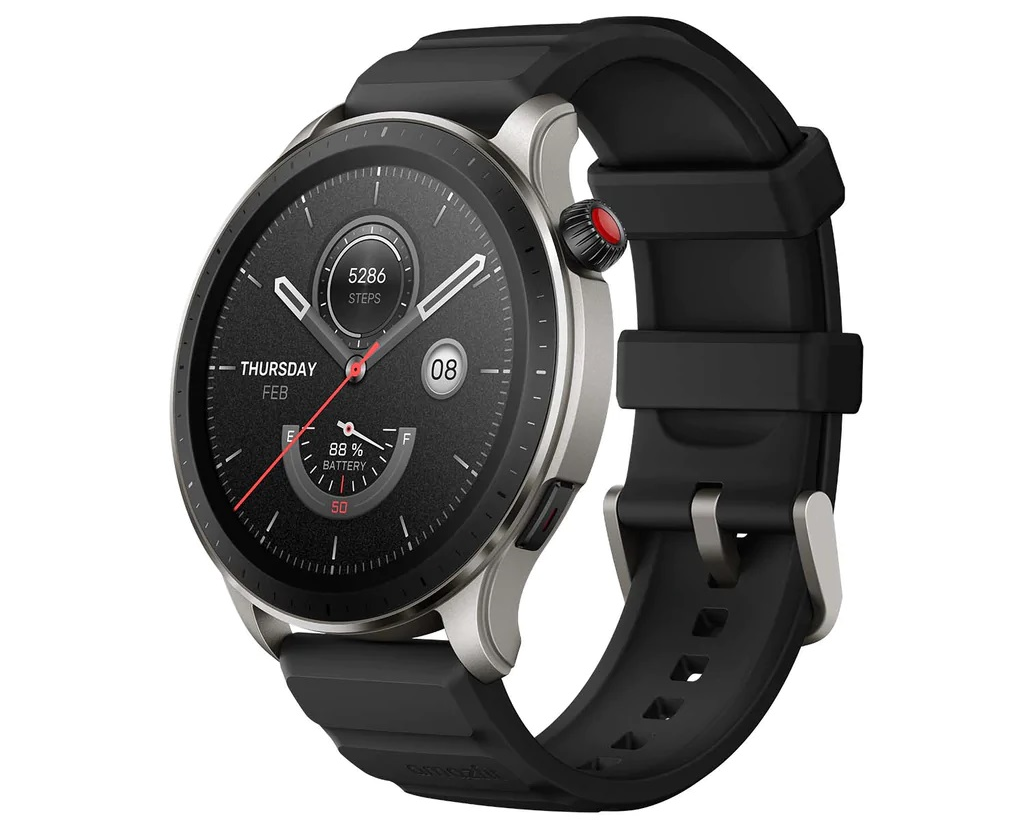 Pros:
Good Battery life.
AMOLED screen.
Fast GPS chip due to unique antenna design.
Numerous health and fitness tracking features.
A very good value for money.
Precise sensors.
Cons:
The plastic crowns.
No streaming music.
No contactless payment.
The Amazfit GTR 4 is packed with both fitness and smartwatch features and is more than competitive at this price point. It offers solid fitness and sports tracking, enhanced smartwatch features and great battery life. The watch itself is quite light and thin. It weighs 34 grams and is 10.6 millimeters thick. All physical controls are located on the right side of the case and his AMOLED display, with a diagonal of 1.43 inches and a resolution of 466 × 466 pixels looks great even outdoors.
On the fitness side, there are over 150 sports modes including running, cycling, swimming and indoor workouts, such as the elliptical and rowing machine, and even e-sports games using motion sensors or a swing. You can swim with the watch, because, it can withstand pressure up to 5 atm. Moreover, Amazfit equips the GTR 4 with features such as dual-band GPS, heart rate monitors, and route import, giving it strong credentials as a smartwatch for tracking outdoor and high-intensity workouts. The watch also features automatic exercise recognition for up to eight activities, including pool swimming and outdoor cycling.
To make the GTR 4 more suitable for outdoor exercise as well, Amazfit has integrated features such as a dual-band mode to improve tracking accuracy in areas where the satellite signal is problematic, such as in the middle of a city with tall buildings or when surrounded by tall trees. Finally, it has an exceptional battery life of up to 14 days in normal mode and up to 48 hours in continuous GPS mode.
Garmin Vivoactive 4
Best fitness smartwatch for women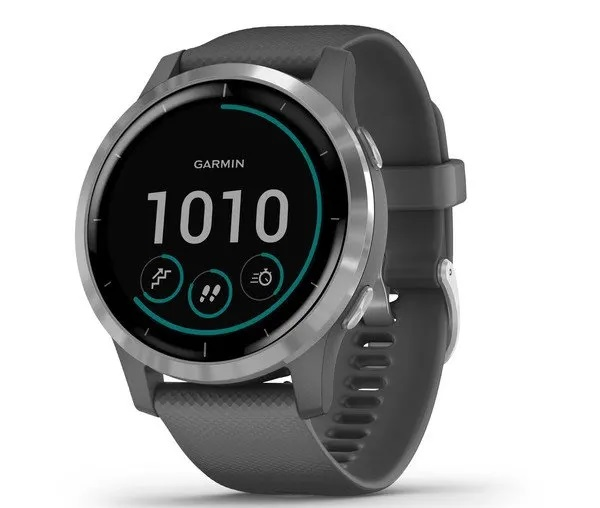 Pros:
Excellent exercise tracking, with full GPS.
Streaming music.
Lots of statistics.
Cons:
No tracking of performance conditions.
Without a doubt, the Garmin Vivoactive 4 is a stylish and very affordable fitness smartwatch for men and women, and, good alternative to the Venu 2S. Like the previous models, this watch offers an AMOLED touch screen made of AMOLED. It is ultra-resistant and very effective against scratches. It's neat and allows you to read the data easily, even under the hot sun. It is also very responsive and the navigation is quite fluid.
When it comes to fitness features, the Vivoactive 4 features more 30 functions to measure your performance, track your sleep, monitor your blood oxygen level or even your hydration. Like the Venu 2S, this stylish watch for women also features Garmin Coach, a popular application for tracking workouts directly on your watch. With its latest generation of highly accurate optical sensors, the tracking of heart rate or breathing rate is very powerful through reliable measurements.
It also benefits from a very powerful GPS navigation system like Fenix 7. Indeed, it is equipped with a complete cartography for your routes thanks to his Galileo which adds precision. However, a small drawback on this model is that the initial loading of the GPS for a route can take a little longer than on the competition. As far as autonomy is concerned, in connected mode, it offers you up to 7 days of battery life, and 15 hours if you activate the continuous GPS mode.
Coros pace 2
Best for professional runners or triathletes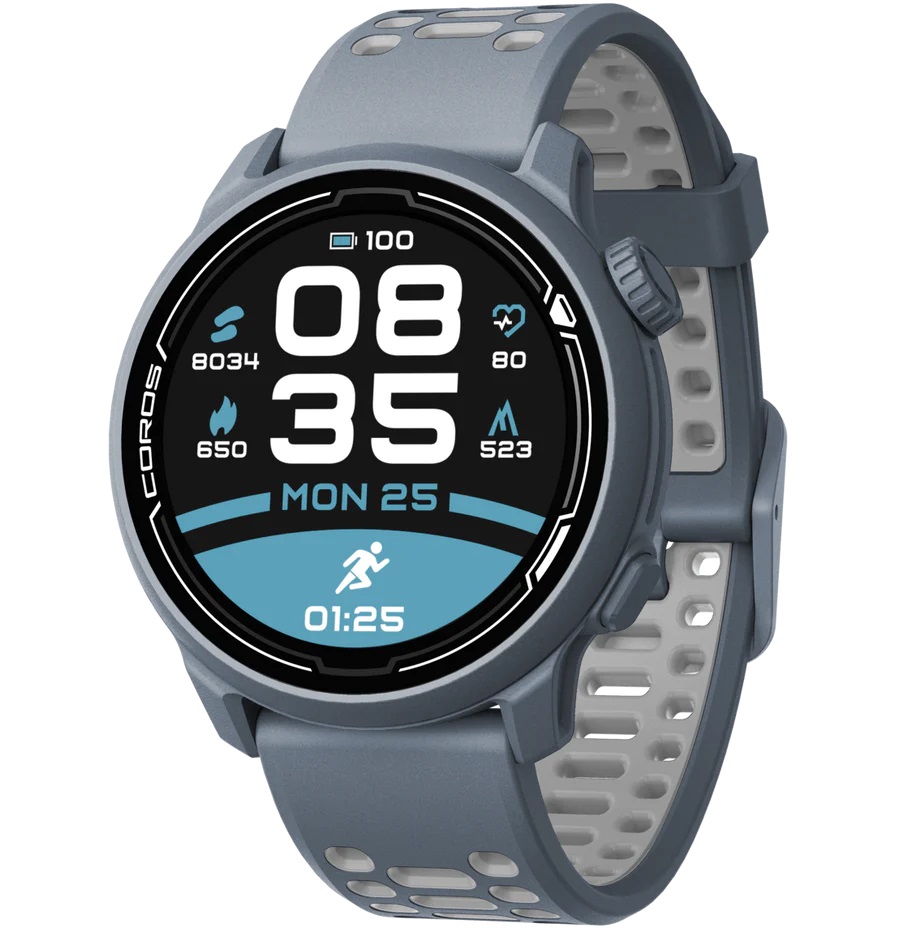 Pros:
Impressive strength.
High Quality materials.
The accuracy of the sensors.
Remarkable autonomy.
Complete and intuitive applications.
Cons:
The weight.
old Notification manager.
The Coros pace 2 offers more than 200 exercises already integrated to complement and help you improve your training sessions. And additional new features like a heat map of muscle groups to measure their activation, VO2 max estimation and many others. Compact and functional, it will seduce the demanding sport enthusiasts who seek precision and performance. It has an excellent backlighting mode and its touch screen can be consulted at any time, whether in the dark or under a blazing sun. The icing on the cake is that the Pace 2 has an amazing battery life: 30 hours with GPS and up to 20 days with basic activity tracking. Impressive figures for an entry-level cardio watch.
This activity tracker from the Coros brand really checks all the boxes. It's also equipped with a high-performance GPS for your outdoor cardio workouts, an added bonus to this piece of jewelry that didn't even need it to outperform the competition. Finally, it is the design of its home screen that really impressed us. You have access to several themes and hundreds of widgets. If you are looking for a fitness smartwatch at reasonably priced to track your cardio during your workouts, stop hesitating and trust the Coros pace 2, you won't be disappointed!
Garmin Forerunner 245
Best running smartwatch for women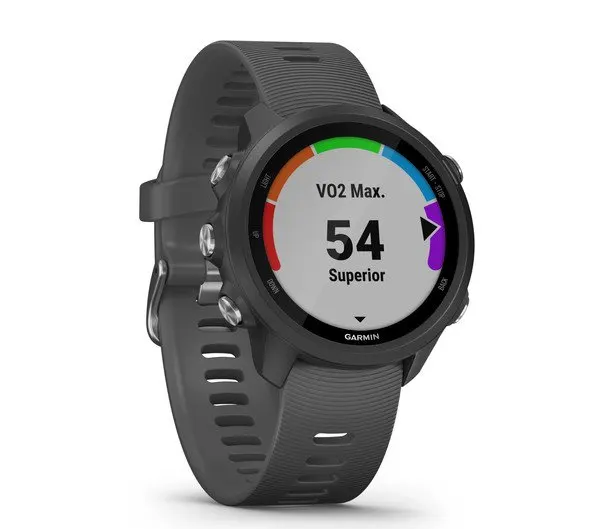 Pros:
Slim design.
Comfortable screen.
Many different sports profile.
Reliable heart rate sensor.
Light weight.
Cons:
The Garmin Forerunner 245 is a fitness watch that is perfectly compatible with women. With its minimalist design, featherweight and different sports profiles, the watch can be perfectly matched to slim wrists and ensure flawless tracking.
This watch combines practicality and elegance, it is a mix between a smartwatch and a sports watch. His screen is made of Corning Gorilla 3 glass and the bezel is made of fiber reinforced polymer. The screen is touch-sensitive and anti-glare, it is 240 x 240 pixel, which is really comfortable for the readability of data and notifications. The display is 1.2 inches, the watch has anti-reflective function and is waterproof to 5 ATM.
As far as fitness features are concerned, this watch has a GPS on board, an accelerometer, a barometric altimeter, an optical heart rate sensor, a pedometer and a compass, so that you can take advanced measurements when running and view your performance, compare them, and set up programs to improve. It is great for triathlon, running, cycling and swimming. In terms of functionality, the Garmin Forerunner 245 takes the best of the 235 with a few more functions, such as the age indicator, energy monitor, stress indicator and a new sleep tracking mode. Regarding battery life, the manufacture has announced a battery life of up to 7 days with intense use and nearly 24 hours with continuous use of the GPS.
Withings ScanWatch
Most stylish fitness tracker.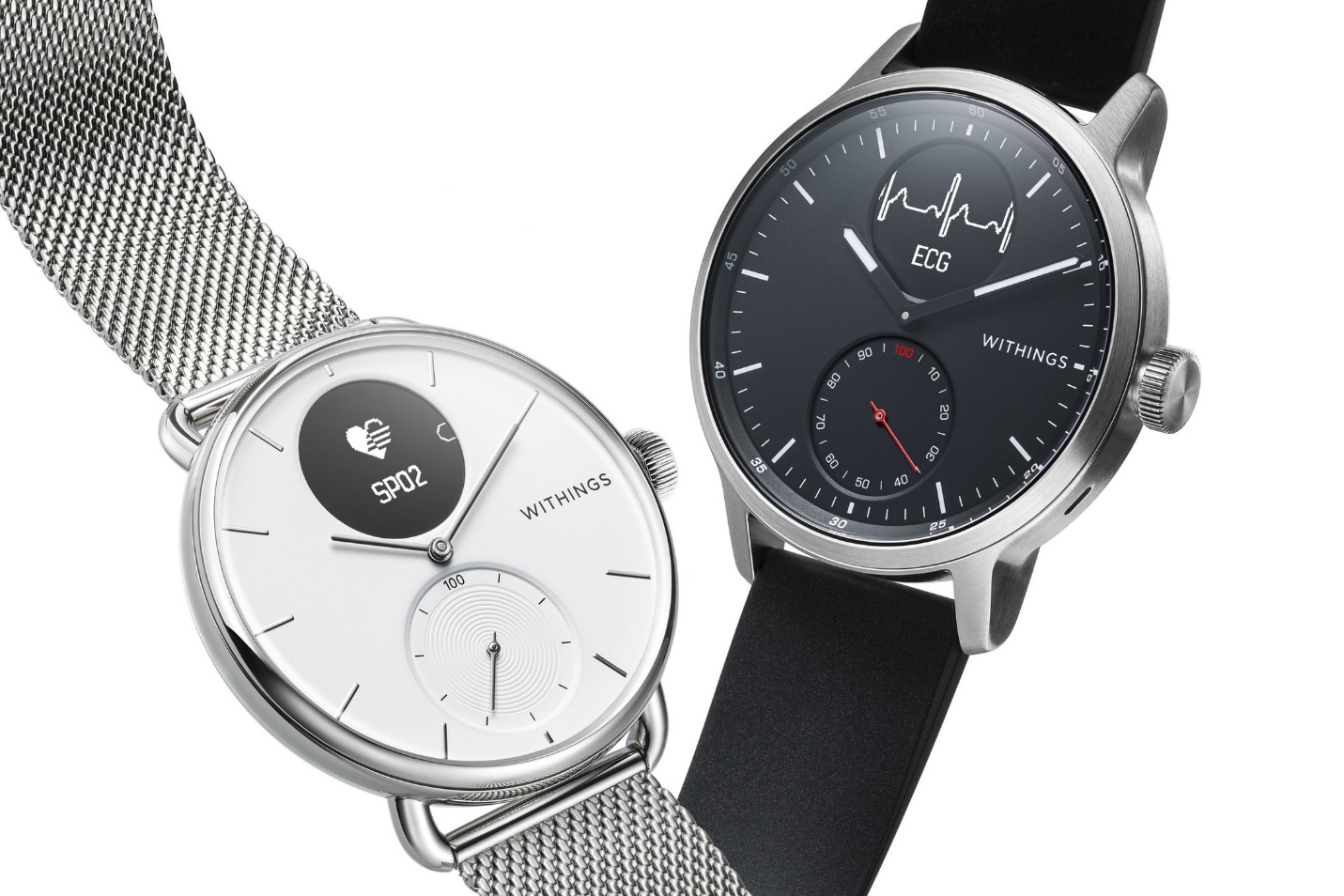 Pros:
Intuitive sleep tracking.
Accurate and high quantity of sensors.
The remarkable design.
Health Mate application for advanced analysis.
The silent alarm clock, very effective.
Cons:
The lack of a music player.
Lack of an integrated GPS.
Withings ScanWatch intends to combine a neat design, precise sports metrics and advanced health data, and from our point of view, the gamble is quite successful. The Scanwatch from Withings is one of the most beautiful smartwatches we have ever used. It has a simple and pure design, and we particularly like the white version with the white nylon straps. And his stainless-steel case makes it incredibly durable and completely waterproof.
In terms of fitness features, the Withings watch does not directly integrate GPS. However, it can use the GPS of your smartphone, associated with Bluetooth, when you start a workout. Six activities are supported when you press and hold the button on the crown: swimming, cycling, running, walking, indoor running and more. For workouts, the watch will measure the number of steps taken, heart rate, VO2max, distance traveled based on the smartphone's GPS, as well as the elevation gain or average pace. All this information can be found in its Health Mate application on smartphone.
In terms of health features, the Scanwatch is equipped with rare health monitoring systems. The watch manufacturer Withings goes very far with this model, since it has made it a real medical device. In addition to classic measurements of heart rate and oxygen saturation in the blood, it can alert you to atrial fibrillation or sleep apnea and can perform an electrocardiogram with the possibility of detecting a possible heart attack. With a battery life of about 30 days, this minimalist cardio watch will allow you to accurately track your workouts.
Fitbit Charge 5
Most Advanced Fitness Tracker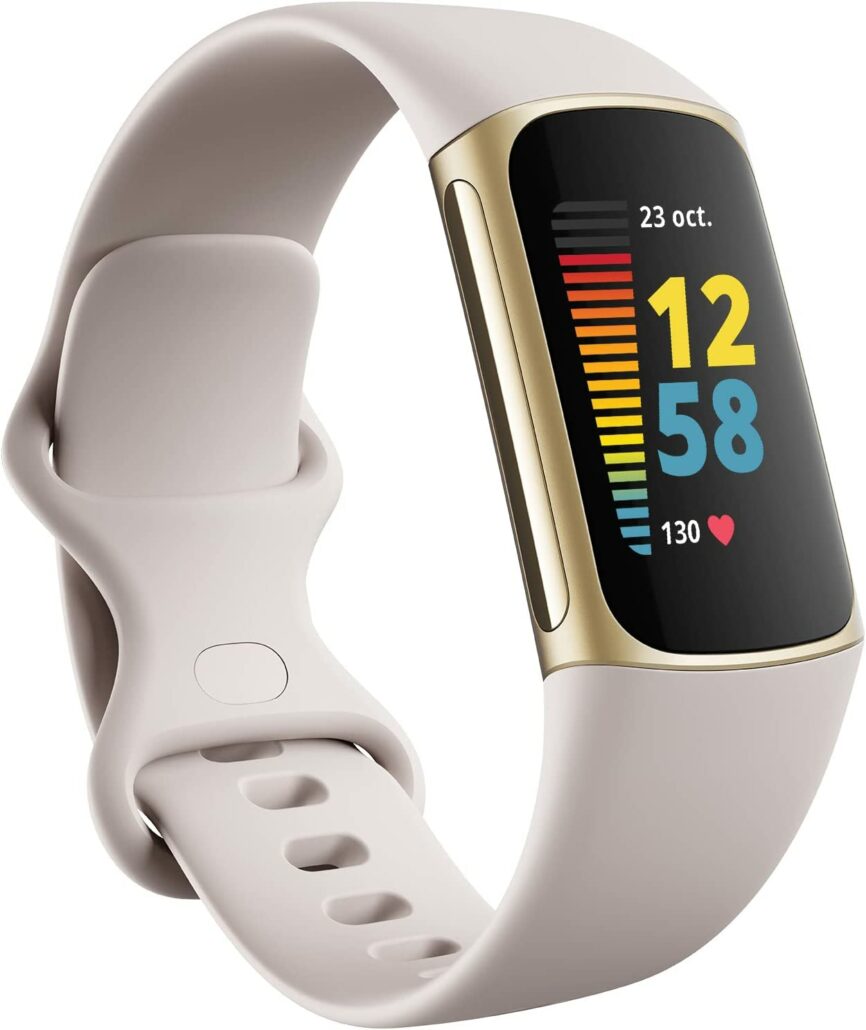 Pros:
More elegant design than the previous Charges.
Smaller charger.
Autonomy of 5 to 7 days.
Numerous health sensors.
Heart rate monitor and GPS rather accurate.
Cons:
No real musical control.
Limited number of sports measured.
In Fitbit's line of activity wristbands, the Charge 5 is the most advanced model. So, if you're looking for the best fitness tracker of the brand (and potentially of the market), you have it with the Fitbit Charge 5.
As far as the design is concerned, this watch features a high-quality OLED screen that displays bright and vibrant colors. It has a sleek and stylish design that goes perfectly with any style of clothing.
When it comes to fitness, you will like the fact that despite his compact and sleek appearance, it is a complete device that can track your workouts, sleep, stress level with its AED sensor but also perform an ECG (electrocardiogram). The screen is twice as bright as the Charge 4 and has an always on display mode.
In terms of sensors, it is simply over-equipped: 3-axis accelerometer, optical heart rate monitor, GPS + GLONASS, red and infrared sensors for monitoring oxygen saturation, temperature, and more. it also allows you to improve your nights by studying your sleep phases and offering an intelligent alarm clock.
His battery can last up to one week, and it is one of the few fitness wristbands to have built-in GPS. Indeed, thanks to its built-in GPS and advanced motion sensors, the charge 5 allows you to track your physical activities, such as walking, running, cycling and swimming.
With it, you will see your speed, distance, the calorie burns and heart rate in real time to reach your fitness goals. You can also use this feature to detect stressful moments and relax with guided breathing exercises. Finally, the Fitbit Charge 5 is waterproof and can be worn in the shower or during your water activities.