Asus Unwrapped its Much Awaited ZenWatch 3 at IFA 2016
Smartwatches in the market are facing a dormant phase. The much celebrated launches by many big shot companies seemed to be flop. The major problems faced by Smartwatches in the market are its high price and limited battery back-up. But the present year seems to bring certain changes. Even in this stagnant period Asus is live with the launch of its 3rd Generation ZenWatch series.
Round Design
Apart from ZenWatch 2, ZenWatch 3 is having a round shape. The outer case is carved out of 316L stainless steel making it durable. It is having three new buttons. These buttons perform a lot of functions like launching ZenFit fitness app, altering the display modes and so on. With its bulgier design ZenWatch 3 suits men but the Rose Gold colour variant suits women also. The IP67 certification ensures that the device could survive few splashes of water but cannot survive when submerged.
Display
ZenWatch 3 is having a display that extends up to 1.39 inches edge to edge. The AMOLED display screen is having a resolution of 400 pixels. The display is well protected by Corning Gorilla Glass and provides a visual of 360 degrees.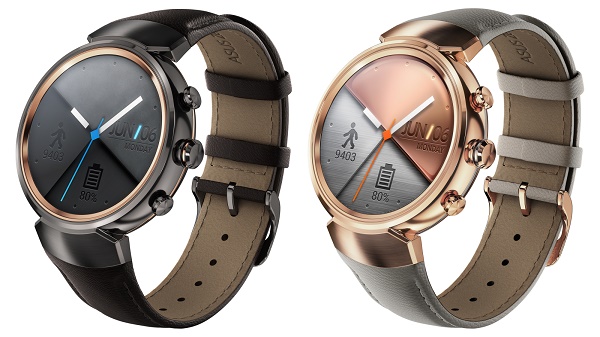 Processor
ZenWatch 3 from Asus functions on Qualcomm Snapdragon Wear 2100 processor. This processor is supported by a RAM of 512MB along with an internal storage of 4GB. ZenWatch 3 runs on Android Wear OS of v2.0.
Tracking System
The tracking system of ZenWatch 3 functions nearly 95% accurately. It will definitely help you out while running, taking push-ups etc., by correctly measuring the calories burnt and your vital records.
Battery
ZenWatch 3 is having a battery back-up of 341mAh. This will keep the device alive for 3-4 days. This battery is enhanced with HyperCharge Technology. It ensures quick charging which means the ZenWatch 3 battery will be charged up to 60% within 15 minutes.
Availability
ZenWatch 3 will make its way to commercial availability may be by the end of the year. The device is priced at $250. It will be available in colour variants like Gunmetal, Silver and Rose Gold.
By

Jinnia Gupta Roy

In Technology
— 4 Sep, 2016