Apple Watch new wearable from Apple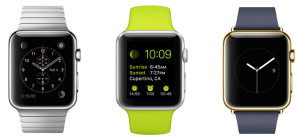 Apple unveiled its highly anticipated watch, Apple Watch, the first completely new product category from Apple, since the iPad. Apple Watch has to be connected with iPhone. Apple has not explicitly announced the watches as a "men's watch" or "women's watch". It is unique in that all models have the same technical version. All sport the same memory capacity, processor speed, display resolutions, sensors. Apple has developed a brand new S1 chip to power the Watch. There are different non-technical versions of the product. There are two device sizes which differ solely by their screen sizes, 1.5 and 1.7 inches. With each size there are three models: Watch, Sport and Edition.
The Apple Watch is clearly more than just a wrist computer; it is meant to be pretty and it looks pretty. Watch is made to look like a watch with a knob on the side and a small face, which makes it look sleeker than some of its bulkier competitors.
Apple Watch is made of 316L stainless steel body. 316L is a particular jewelry grade steel with high resistance to corrosion. The back is of a standard "space black" stainless finish.
On the software side, Apple uses an interface that lets you use the watch without manually touching the screen with your fingers. The crown on the side serves the purpose. You can use it to navigate, zoom, and scroll up and down. However, if you are comfortable with using your fingers you can still use it as a touch screen; you can swipe or scroll with your fingers.
Apple also offers a variety of bands; neon-colored polymer bands, stainless-steel mesh bands and various leather bands. Also available are a variety of watch faces which will make the watch infinitely customizable.  The watch features animated images; you can actually see a flapping butterfly, swaying jellyfish, dancing Mickey Mouse, blooming flowers, and the world will turn.
Watch allows you an exciting new way of communication. You can actually send your heartbeat to your lover who wears a Watch. This is not the end of the story; you can also draw pictures and send it to friends via the new digital touch system.  Using the walkie-talkie a person can communicate with another Watch wearer. It also includes its own system of animated emojis. Watch can take care of your health. It can calculate your heartbeat and the calories burned when climbing steps, tracks your activity level and more. The Watch studies its owner and suggests a fitness goal that can make you fit. With the new Apple Pay functionality, with just a tap your phone you can pay your bills. Apple Watch can run outside apps like Facebook updates, viewing your baseball scores, tracing the exact location of your BMW car and more.  Apple has invented its own system of Morse Code signal via vibrations. The user will learn a new vibration language; so instead of listening to Siri's voice or stare at your watch screen you just need to feel your vibration and act accordingly. Each vibration indicates to the user one particular action. The Watch works with Siri, so you can talk to your Watch.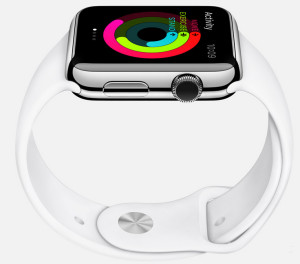 You will be able to charge an Apple Watch by connecting a cord magnetically to the back of the body. There are many features that are unclear yet. Apple claims a full day use of battery on charge, but has not mentioned the exact numbers on battery life. Apple has said nothing about the watch being water proof. The screen resolution specifications, the screen technology, RAM details, transistors it uses and other details are not mentioned. The Apple Watch can only be used by iPhone owners in the sense that the device does not incorporate its own Wi-Fi, GPS, and other apps, which have to be borrowed from the iPhone it is paired with. A major complaint about existing smartwatch is that since it is paired with your iphone all alerts from your iphone will generate notification vibrations to your wrist which is rather annoying.
The Watch will be available in early 2015, starting at US$349. Google's Android Wear, even though priced at just $200, is a less demanded smartwatch. Apple Watch will cost even more than Samsung Electronics Co.'s Gear 2 smartwatch at US$299.99, which also has a camera, music player, and responds to a user's voice.  Apple has kept its price at the high end as it is clearly not aiming at everyone owning a Watch. In fact, it is aiming at fashion-conscious young people and persons who are price insensitive.
By

Vishakh U N

In Technology
— 12 Sep, 2014