Acer presents First ever Touchscreen Desktop PC on Chrome
Acer is a giant tech company that has been launching various series and models of gadgets all across the world markets. Over these years they try to satisfy customers all across the world. They are the first tech company to unveil a laptop that works on the operating system of Google Chrome. Recently they have again come into limelight with the launch of new series of desktop personal computers that work on Chrome Operating System softwares.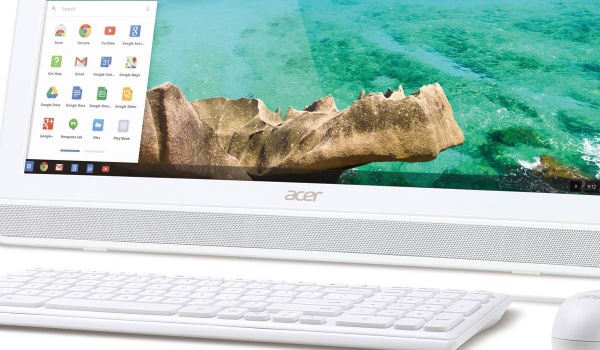 Now as a variety Acer again strikes the market with its all-in-one Chrome OS desktop PC named Chromebase.
Specific Features of Acer Chromebase
The new Chromebase has a screen size of 21.5 inches. The screen is coupled with touchscreen facility along with a resolution of 1920*1080 pixel IPS display. Along with these features it supports 178 degree angle viewing and also provides 10 multi touch points. The system is powered by NVIDIA Tegra K1 processor. The system also has stereo 3W speakers. For external connectivity the system has one HDMI port and one USB 3.0, USB 2.0 ports each. It also has inbuilt WiFi supporting mechanism with the help of 802.11 a/b/g/n and also supports Bluetooth 4.0. Another notable is that the system is also accompanied with an HD webcam which enables video chatting.
The Chromebase has 4 GB RAM and 16 GB internal storage. The 4 GB internal storage always provides uninterrupted functioning of the system. The price of the new desktop PC is not announced by the company till now. But it is expected to be fair enough inorder to withstand in the competitive market. But one thing is certain that it will vary according to the markets.
Technically speaking Acer is not the pioneer in the market to come out with the idea of using Chrome Operating System. LG started selling its desktop with all-in-one Chrome OS almost an year before. Acer's Chromebase thus accounts to be the second desktop PC with Chrome OS. What makes Acer pioneer is its screen. Because Acer is the first ever company to introduce a desktop PC with Chrome OS along with the distinctive feature Touchscreen. Thus the Chromebase becomes first ever model in desktop PC sector coupled with the feature of touchscreen facility along with it.
Initially company has decided to launch the new PC in North America and in Asia Pacific markets by the second quarter of 2015. Later the company will release the model all across the world. It will be as part of new strategy of the company. Acer is planning to withstand in the markets of Asia and America. This is because these markets hold the largest share of world's gadgets sales over many years. Anyway customers all across the world are waiting for this desktop PC.
By

Nivin JS

In Technology
— 3 Apr, 2015