Xperia Z3 Tablet Compact unveiled by Sony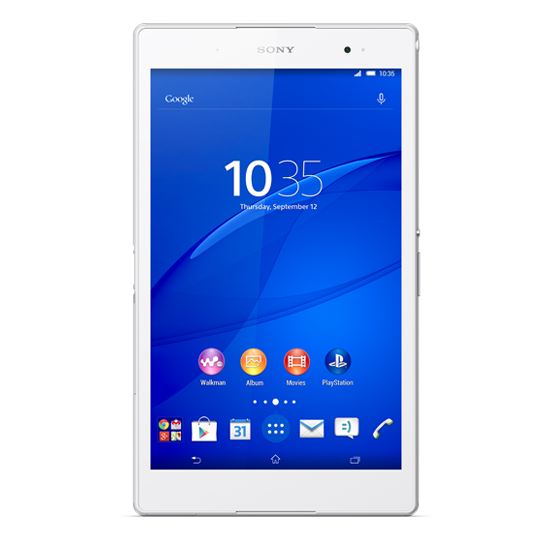 Sony announced the Xperia Z3 Tablet Compact on Wednesday at its pre-IFA 2014 event. Sony Xperia Z3 Tablet Compact is incredibly slim and light in the sense that you'll forget you're holding it! It is the world's slimmest and lightest waterproof tablet. It is 6.4 mm slim and less than 260 g in weight. The tablet has a highly impressive ingress protection rating, IP65/68, which means that it is highly resistant to both dust and water and these do not prove a hindrance to the device's performance. Provided that all ports are closed and covers in place, the tablet is dust tight and protected against low-pressure jets of water, compliance with IP65. It can be kept less than 1.5 m of fresh water for up to 30 minutes, in compliance with IP68. It comes with PS4 Remote Play, so it lets you play a game while you soak in your bath. It has a high resolution audio, noise-cancelling technology and front stereo speakers.
With its incredibly slim, astonishingly light features, Xperia Z3 Tablet Compact is a design sensation. Its hardware is with the highest quality materials. It has stainless steel corners, slim rounded frame and a tempered glass front giving it an elegant and durable finish.
Upgrading to Xperia from your existing Android tab is rather easy. With the Xperia Transfer app you can simply transfer all of your existing content, contacts, and all other data easily.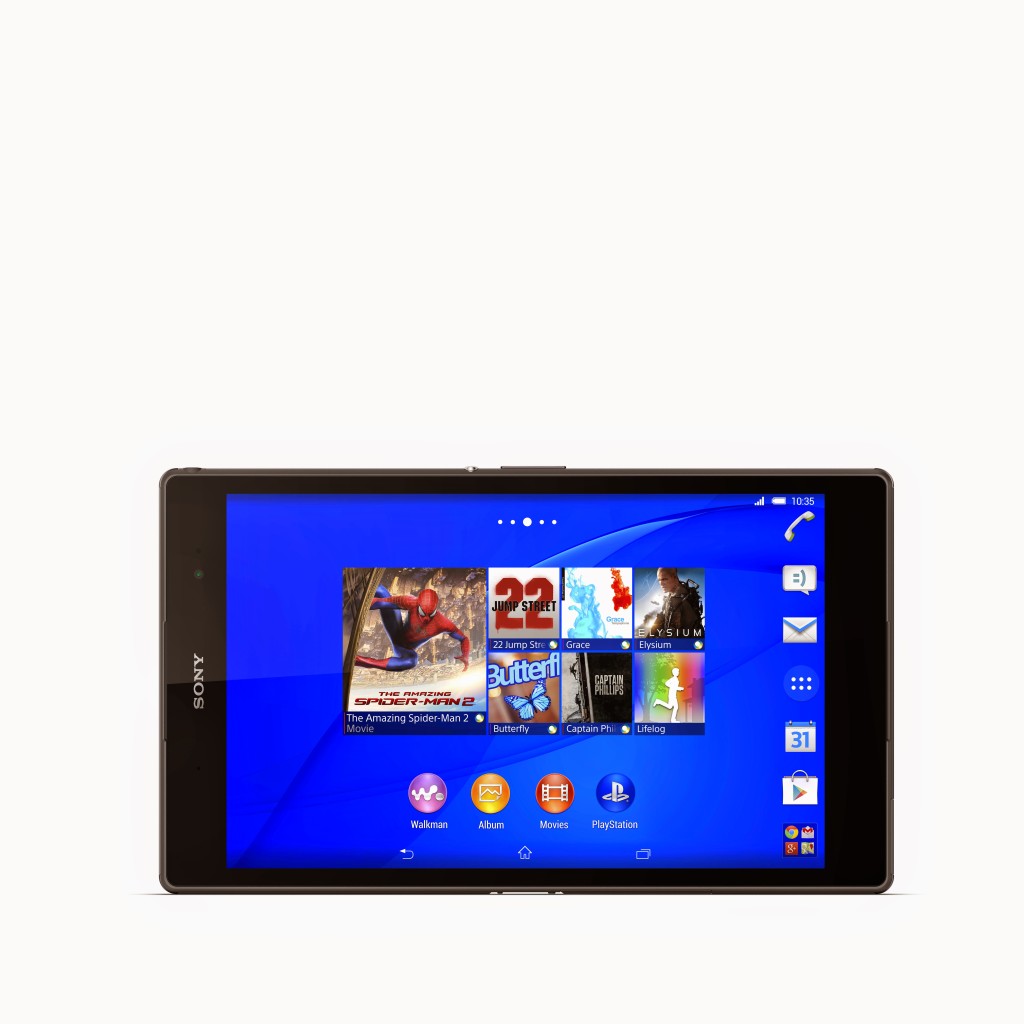 With the advanced Xperia Email, Calendar and Contacts apps, you can work from anywhere and with Microsoft Exchange ActiveSync (EAS) you can access your own business apps from the Android community. With the NFC compatibility it's even easier to connect with devices and share with over 160 one-touch devices. With the PS4 Remote Play, you can now use your tablet as a remote screen to connect to and control your games on PS4. You can use the DUALSHOCK 4 Wireless Controller with the GCM10 Game Control Mount to continue playing games anywhere at home if you have a Wi-Fi. Also, the PlayStation App lets you use your tab as a second screen to remotely watch the games played by your friends, communicate with PlayStation friends, purchase games and download to PS4, or simply to control your PS4. Sony has put into focus entertainment, ensuring that the user enjoys to the maximum, whether it be watching movies, playing a game, or listening to music, by incorporating the latest audio and video technologies. For the audio, the key feature here is the DSEE HX technology and PS4 Remote Play, exclusive to the Xperia devices. You can upgrade a sound of low resolution to near high-resolution sound quality, block out distortions and noise and can reproduce the original sound quality. DSEE HX technology is available for the first time in Z3 devices. This technology ensures the quality of your MP3, playlists on Sony's cloud-based digital music service to near High-Resolution audio quality. Sony ensures that you enjoy your favorite music without interruption Sony's Digital Noise Cancelling technology. It has a built-in battery power saver feature, Stamina Mode, which increases battery life by disabling most apps when the phone's screen goes off. This device has the latest and most powerful processor which facilitates lightning fast web browsing, super fluid UI and impressive multi-tasking.  This device has the 3rd generation LTE/4G modem which enables Internet connections with fiery download and upload speeds, a smoother data transfer and media streaming. It has a speed-enhanced, fully integrated Qualcomm Adreno 330 GPU, which enhances performance. Coming to the video feature, you have 13 hours of high quality video playback. It has a built-in battery power saver feature, Stamina Mode, which increases battery life by disabling most apps when the phone's screen goes off. The tab has an 8.1MP camera with innovative new Xperia camera apps. The Exmor RS sensor can capture stunning images even in dim light conditions. The 2.2MP front-facing HD chat camera is ideal for video calls. Sony has brought forth four new camera apps for the Xperia Z3 series. This includes Multi camera, AR fun, Face in and Sound Photo. Snap shots can be taken from multiple angles at the same time with Multi camera. With the help of a Movie Creator you can create a movie automatically from your photos and videos and upload your videos live on YouTube. With AR fun app you can add scribbles and animations to pictures, or add sound to a photo with Sound Photo.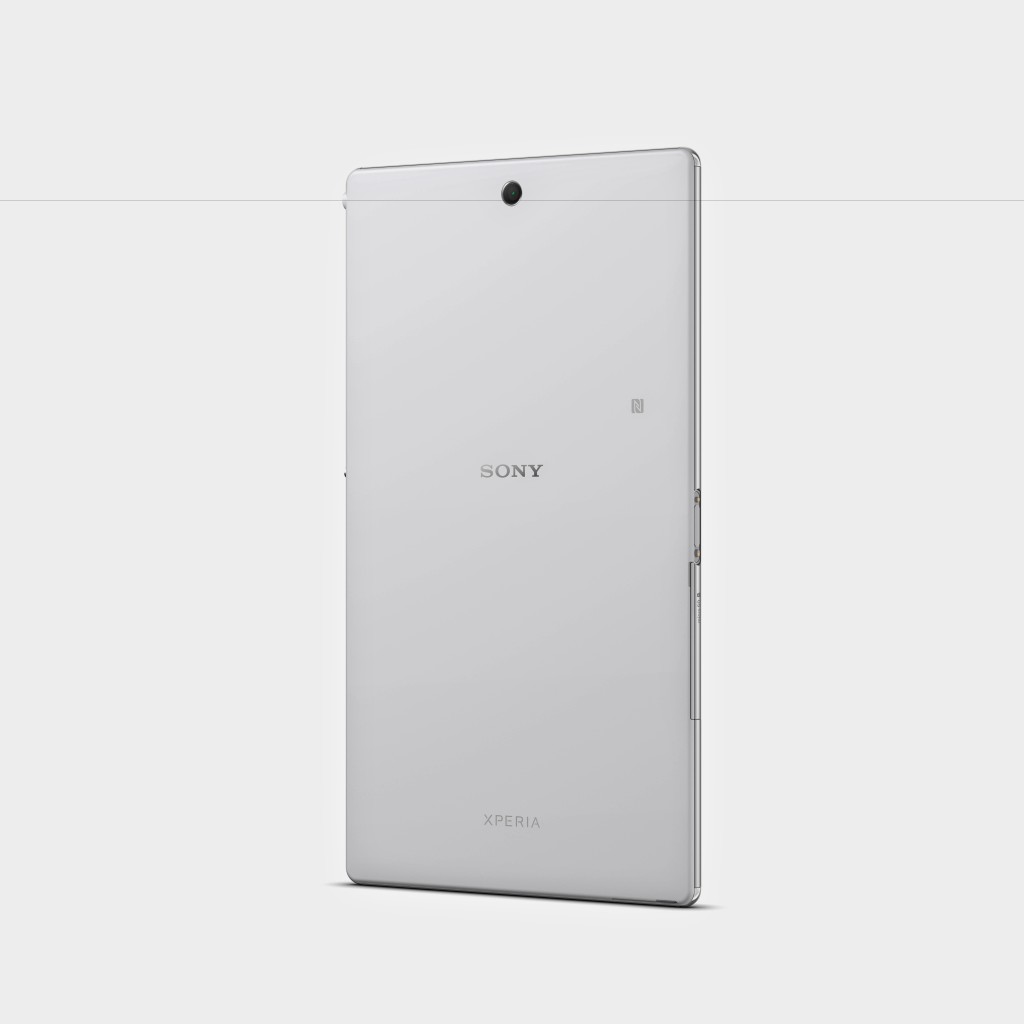 The Xperia Z3 Tablet Compact runs Android 4.4 KitKat, sports an 8-inch WUXGA (1920×1200 pixels) TRILUMINOS display powered by X-Reality, a quad-core Qualcomm Snapdragon processor at 2.5GHz, 3GB RAM. Though the tablet has a unique waterproof and dustproof feature, better front camera, better sound quality, the 1920 x 1080 display is not quite as stunning as Samsung's Super AMOLED display and Apple's iPad Mini with Retina Display. Performance wise, it is just as powerful as the iPad Mini and the Galaxy Tab S.
The device has been listed for pre-order with pricing details on the company's websites at UK, France, Germany, Italy, and Spain. Xperia Z3 Tablet Compact is available in either white or black. Sony says it will launch globally in both LTE and Wi-Fi variants in autumn 2014.
Xperia Z3 Tablet Compact is available at £329 in UK, EUR 379 in Germany, France, and Spain. Prices are not yet known for the Wi-Fi plus 4G version, but probably an added price of £100 will be charged for this functionality. The tablet is available to pre-order from its websites, but the shipping details are yet to be confirmed. Third party retailers are likely to sell the tablet at a much lower price than that mentioned on the company's websites.
By

Vishakh U N

In Tablets
— 10 Sep, 2014