Verizon's Moto G hits the market earlier than expected at a bargain $100
Anyone who was looking forward to buying Verizon's Moto G can end their wait because best buy is selling them for just hundred dollars, making it one of the best bargains deals for mobiles this year.Verizon's version of Motorola phone Moto G, was expected to become available in the markets by January 9 but somehow from last week onwards it has become available at all the Best Buy stores and the sales has been slowly picking up.
But what makes is more interesting is the fact that they are selling them off –contract. This means that you completely own the phone and there will be no hidden costs or added expenditure in the future.
Hoverer, this phone does not have 4 G LTE, which means any prospective buyer will have to make use of Verizon's CDMA 3g network. Though it is not that bad, it is still something that one needs to keep in mind. But for the price that this phone is being offered, it seems very reasonable. In addition, a customer can get unlimited talk time and text and also 2GB worth of data usage for $60 per month. And for another additional $10 one can double that limit from 2GB to 4GB.
Moto G is almost done with its Android 4.4 KitKat upgrade, which is something that not many companies can boost. For $100 this off –contract mid range phone seems like a mouth watering deal. Given below are some of the things that one can expect from this phone: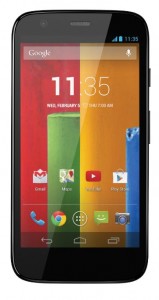 1.2GHz quad-core processor (Qualcomm Snapdragon 400)
4.5-inch 1,280 x 720 display
8GB of internal storage
1GB of RAM
1.3MP front camera
5MP rear camera
2,070mAh battery
 Weight: 143 g
If you got a spare hundred bucks to spend try hitting the Best Buy stores and check it out yourself.
By

Steffen Viktor

In Smartphones
— 6 Jan, 2014