RoBoHon from Sharp is a Robot Shaped Smartphone
When we hear about smartphones, the usual figure that comes to our mind is that rectangular cuboid. But Sharp's RoBoHon will outplace that usual concept. As the name suggests, Sharp's new handset actually resembles the shape of a toy robot. Sharp is a famous Television and electronics company established in Japan. Robot shaped smartphone may be an odd thing, but it brings some curiosity among the people. Through this article I would like to acquaint you with the specific features of RoBoHon.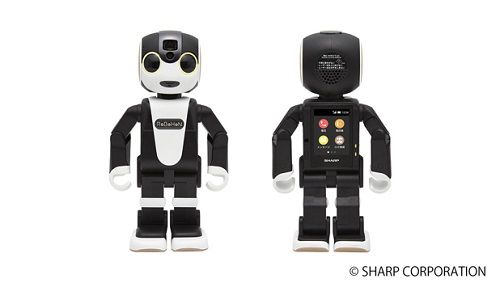 Design
As I mentioned earlier it looks just like a toy robot. It has nearly the height of about 7.7 inches and is having a weight of about 14 ounces. This smartphone is having 13 servo motors along with a series of motion sensors which would enable it to move along. A projector is also attached to the back of its head. Its body portion serves the purpose of display.
Display
The display screen of RoBoHonis to the back side of its body. The display screen extends upto 2 inches edge to edge. The display is having a resolution of 320*240 pixels. This screen is included inorder to handle complex tasks. It has a projector that shows you photos, videos and else on your request with a resolution of 1280*720 pixels.
Processor
RoBoHon functions with the help of Qualcomm Snapdragon 400 processor. This processor is supported by a RAM of 2GB. The new RoBoHon has an internal storage of 16GB. The Android version that makes RoBoHon functions is Android 5.0 Lollipop.
Camera
RoBoHon features only one camera. This camera is loaded with a lens with 8MP. This is fairly good camera which could capture quality snaps.
Connectivity
RoBoHon supports 4G LTE connectivity. It also supports WiFi with a bandwidth of 802.11n. The device also supports Bluetooth connectivity with a version of 4.0.
Battery
RoBoHon is equipped with a battery of capacity of 1700mAh. When compared to other smartphones this may be less. But when it come a low end processor and low sized display, this battery will be enough to hold the device for the day long.
Functions of RoBoHon
The main idea behind RoBoHon is to make it function like your virtual assistant.RoBoHon can be operated with the Voice Commands. This feature can be made use to make RoBoHon to make calls, receive calls, type messages and sent them, view emails, view photos and videos and so many similar functions.
Pricing and Availability
RoBoHon is tagged with a price of $1816 or 198,800 Yen.Unfortunately the cost doesn't end there. You may have to pay a sum of $6 per month to make use Voice Recognition features of RoBoHon. RoBoHon will be available only in Japan initially and no news is available regarding its world-wide launch. You can pre-order RoBoHon from AT&T. Sharp will bring RoBoHon to shelves from May 26th onwards.