The Resurgence: Nokia DC1 with Android Nougat Transpires on Geekbench
Nokia DC1 is launching with Android Nougat 7. version. Yes you have heard it right. The Finnish behemoth Nokia is coming back to the arena of smartphones. After a setback, and the Microsoft deal to which they have to succumb, a comeback is something that grabs your attention.
With an expected release of about three or four Android devices including smartphones and tablets in Q4, they are trying to be in the competitive realm once again. It has been suggested by a series of Geekbench tests that the Nokia branded smartphones are on cards sooner than anticipated. According to the reports, a brand new "Nokia D1C" will soon be made available and launched in the budget segment. On specification base it shares similarities with the current Redmi 3S Prime by XioMi but Nokia D1C will run on the new Android Nougat 7.0.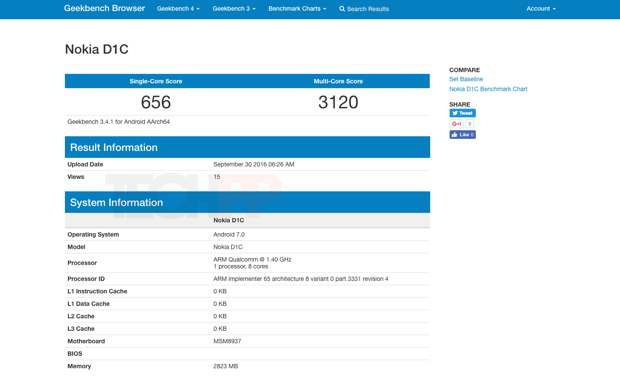 For starters the device will run on Qualcomm Snapdragon 430, carrying model number MSM8937 and clocked at 1.4GHz. It will be accompanied by Adreno 505 GPU and 3 GB RAM. In the single core Geekbench test the phone has been rated at around 682 and for multi core, 2745. Snapdragon 430 at its maximum supports full HD resolutions, and thus the reports that a 5.5 inch 1080p panel will feature Nokia DC1 might be true. Sadly no other information on specs are released or known as for now.
Earlier it has been rumoured that there will be two models and the one which spotted in the dawn of this month, if true, might be the bigger. Any details on launch dates are not known yet. Will it be a comeback worth off? Will they restore their old glory? Can they get back their credibility and trust from their customers? Time will reveal the future of much loved smartphone brand and await for further updates
By

Jinnia Gupta Roy

In Smartphones
— 3 Oct, 2016