Motorola Moto X Style Review: This Dual SIM Flagship Smartphone performs better than Moto X Play
Moto X Style
Motorola added another product to its X-series by launching Moto X Style. They have come up with Moto X Play during the initial weeks of last month. When compared with Moto X Play, the new gadget delivers faster processing and also loaded with advanced features and parameters. When reviewed Moto X Play proved to be one of the best smartphones among that price range. So we can have a foresight that Moto X Style will be a better gadget than the previous one. But everything can be confirmed only deeply analyzing the features that are offered by Moto X Style.
Built and Design
The designing of Moto X Style is similar to that of Moto X Play.They are so similar that it would be difficult to differentiate between the handsets if they are placed together. But there are visible differences between these gadgets. Moto X Style is bigger than Moto X Play with dimensions of 153.9*76.2*11.1mm. This latest gadget houses a bigger display screen that measures upto 5.7 inches edge to edge when compared to the 5.5 inched display of Moto X Play. The display of new smartphone nearly covers 75% of the total body. Even though it is thicker than the predecessor, the curved edge design disperses the thickness equally, making an impression that it is sneakier than Moto X Play.

Moto X Play has a detachable back case designed in diamond pattern with leather making. But when it comes to Moto X Style, back panel cannot be removed. Adding to it the back case has got a rubberized finish with striped design. This makes grip of Moto X Style quite strong in your palm than the slippery predecessor. The rubberized finish makes the back panel of the gadget resistant to fingerprints also. Above the display, you can find the front cam with LED flash along with light and proximity sensors. The secondary speaker is placed to the bottom of the screen.
On the right side, you can find the volume rockers along with the power cum lock key. Both these keys can be differentiated easily with the help of its chrome finishing. The left side is left empty without any controllers and to the top, there is a 3.5mm audio jack along with the SIM slot. The micro USB port is placed at the lower part of the gadget. The primary camera with 21MP is placed on the back panel along with its LED flash. The secondary microphone can be found on the top right edge whereas the primary one is placed at the lower part. The handset is resistant to water and is holding IP52 rating for this feature. However it is advisable not to use it under water, but can resist water in accidental dropping or even light rainfalls.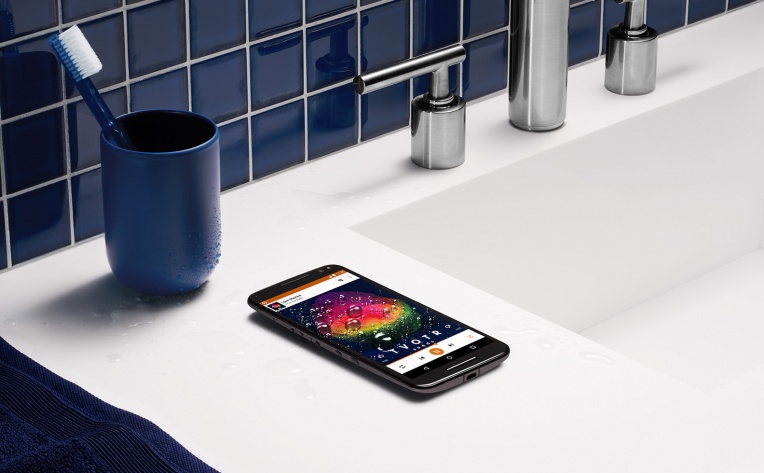 Display
Moto X Style is an excellent mold with 5.7 inched TFT LCD display with 1440 pixel screen resolution. It is quite high in quality when compared to its predecessor. The display comes with 2.5D curvature and fine glass finish. Display functions well even in bright sunlight, thanks to anti-reflective feature of its display. The display is guarded from external shocks and cracks with the help of Corning Gorilla Glass 3. Users are allowed to customize the colour mode for their handset's display. This helps those users who want stronger colour to select such colour for their display.
Processor, Memory and Storage
Moto X Style is powered by Snapdragon 808 processor with hexa-core capability, which is same as in case of LG G4 and Google Nexus 5X. This gadget is loaded with a RAM of 3GB, whereas the earlier one was loaded with only 2GB. 1.4GB from this 3GB is available when the handset remains unused. Moto X Style is launched in two variants. One is loaded with a storage capacity of 16GB and the other one loaded with 32GB storage. Company also launched a 64GB version, but it is available only at limited markets around the world. Apart from internal storage, all these variants can enhance their storage with the help of external memory card. The micro SD card slot of Moto X Style supports memory card of storage upto 128GB. Another thing to note is that this microSD card slot is placed perfectly below the SIM slots.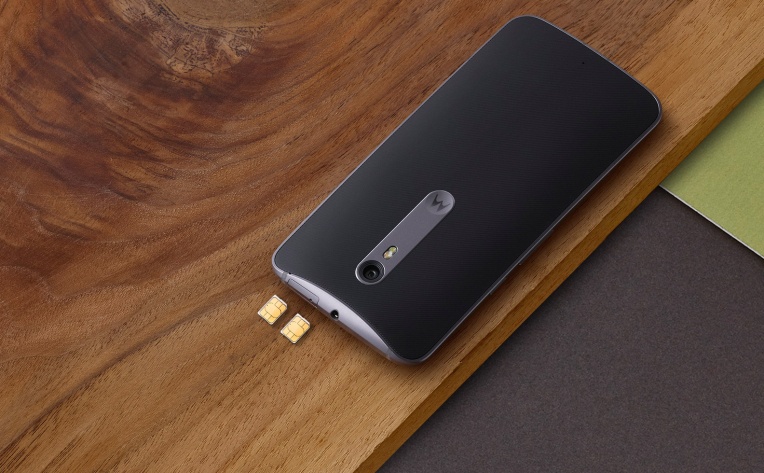 Software and UI
Moto X Style is loaded with Android 5.1.1 Lollipop out of the box. This may the main cause behind its quick functioning and that's why Motorola is able to launch updates to their handsets within no time. Motorola ID allows you to track down your usage patterns in a particular device and helps you to get the same on your smartphone also. The inbuilt application named Migrate allows you to transfer data to and from the device. iOS, Android and other devices can be synced. But in case of iOS, only contacts and calendar can be shared, whereas in Android, images, videos, text messages can be shared.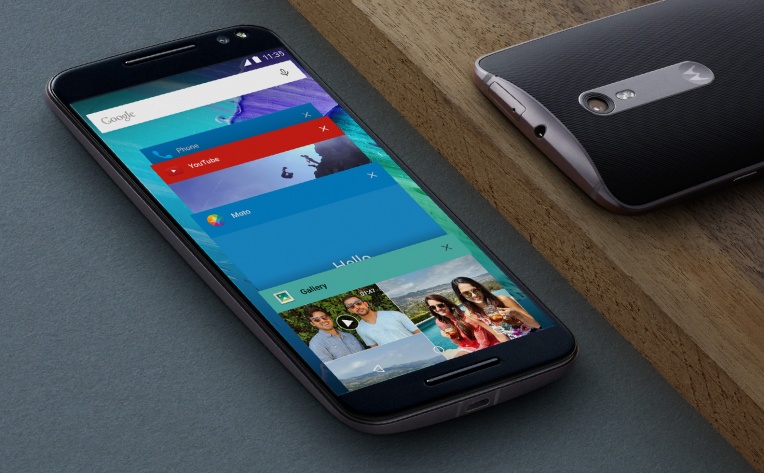 Apart from this Motorola on its end integrated many features in the handset. Moto Display screen permits you to have a clock along with an easy way to unlock the gadget. Twist to Capture is another tweak, where you can launch the snapper of the device by spinning your wrist twice by holding the gadget. Another feature available is the Wave feature, with the help of which you can silence your smartphone by simply waving your hand over it. This feature will help you while you are in a meeting or when you are driving. Another notable feature that is integrated with Moto X Style is that, this smartphone can be managed with the help of voice commands even from a distance of 3 feet. Using the above add-on feature will definitely drain your battery, but Motorola promises that it won't affect your power source much.
Performance and Benchmark
While testing the handset performed without much lags. But this doesn't mean that the device is cent percent flawless. The performance level of the handset can be understood by going through the below displayed table.
| | | | | | |
| --- | --- | --- | --- | --- | --- |
|   | LG G4 | OnePlus 2 | Moto X Style | HTC One M9 | Samsung Galaxy Note5 |
| Antutu Benchmark 5 | 48947 | 54929 | 51951 | 56495 | 67769 |
| Vellamo 3.1 Browser Chrome | 3935 | 3108 | 4463 | 3356 | 4719 |
| Vellamo 3.1 Multicore | 2317 | 2375 | 2083 | 2176 | 3158 |
| 3DMark Ice Storm Unlimited | 18554 | 22301 | 19456 | 22256 | 24321 |
| Quandrant Benchmark | 25736 | 26459 | 25666 | 33042 | 37029 |
| Antutu Benchmark 5 | 48947 | 54929 | 51951 | 56495 | 67769 |
| Vellamo 3.1 Browser Web | 3300 | 4250 | 3777 | 3691 | 4154 |
| Vellamo 3.1 Metal | 2252 | 2226 | 2307 | 2294 | 2526 |
| Geekbench 3 Single-Core | 1134 | 1062 | 1263 | 960 | 1436 |
| Geekbench 3 Multi-Core | 3542 | 4253 | 3443 | 3855 | 4884 |
| NenaMark 2 | 60.3 | 59.7 | 60.7 | 59.9 | 59.8 |
| GFXBench 2.7 T-Rex (On Screen) | 1382 | 2311 | 1355 | 2494 | 2092 |
| GFXBench 3.0 Manhattan (On Screen) | 578.2 | 1239 | 574.5 | 1403 | 932 |
| Basemark X 1.0 HD (On Screen) | 11.788 | 26.454 | 11.744 | 27.964 | 16.427 |
| Basemark OS II | 1848 | 1802 | 2027 | 1526 | 1771 |
Certain parameters like Basemark OS II, Vellamo 3.1 Metal, NenaMark 2 showed a better score than its competitors. But when it comes to certain other parameters like GFXBench 3.0, Basemark X 1.0 HD, Quandrant Benchmark, and so on, it showed much less score than its competitors. But the overall performance of the smartphone is satisfactory compared to its competitors when the price element and other features are concerned.
Camera Performance
Moto X Style is loaded with identical camera as that of Moto X Play. The gadget is having a primary camera of 21MP lens with dual-tone LED flash light. This high powered lens can be used to capture images with great sharpness and variety colours. The autofocus feature and shutter speed, both are incredibly appreciable in this smartphone. The above mentioned Twisting feature could initiate the camera within seconds. The annoying thing is that the images are being captured accompanied with much noise, especially in cases of high megapixel images in low light. This can be solved to an extend with the help of dual-tone LED flash. The camera can be used to capture videos at 4K quality with 2160 pixel at 30 fps. This proves that the video recording quality of Moto X Style is excellent. Adding to it the camera is designed in such a way that it could capture videos with better sharpness and colour balance.
The front cam of Moto X Style also delivers images with sharpness and colour identity.The front cam is loaded with a lens of 5MP. The camera coupled with LED flash at the front promises for brightened up selfies while having night parties. The camera application of Moto X Style depends mainly upon the gestures. There are enough shortcuts for loading the video recording and switching the camera mode to either portrait or landscape. Taping from left to right brings out a panel where you can adjust the image resolution, video resolution, allow or disallow HD recording, flash, and many other settings.
Battery Performance
Every other features of Moto X Style got elevated when compared Moto X Play. But when the battery is considered, the capacity just got reduced to 3000mAh when compared to 3630mAh of Moto X Play. But it is integrated with Turbo Charging, which enables the gadget to get charged upto 34% in 15 minutes time. The tests showed that the charge lasted for nearly 12 hours on its full even with 3G browsing. But it couldn't last more. So it is definite that you may either have to carry a powerbank or additional USB charging cable along with you to keep the smartphone alive for the day long.
Pros
Improved Display
Better audio quality with loud speakers
Dual SIM with nano cut
Front camera coupled with LED flash
Video Recording at 4K quality
Better camera UI
Cons
Battery Performance is not appreciable
Back Panel cannot be removed
Noisy camera when used with high resolution in low light
Summary of Features
| | |
| --- | --- |
| Body | 153.9*76.2*11.1mm179 grams weight |
| SIM | NanoDual SIM |
| Display | 5.7 inched IPS LCD Capacitive Touchscreen with 16 Multi-colours1440*2560 pixel resolution with 520 PPIProtected by Corning Gorilla Glass 3 |
| OS |  Android v5.1.1 Lollipop |
| Processor | Qualcomm MSM 8992 Snapdragon 808Dual Core Cortex A57 with 1.8GHz & Quad Core Cortex A53 with 1.44 GHz |
| Graphics | Adreno 418 |
| Storage | Internal: 16/32 GBExterna: upto 128 GB |
| Camera | Primary: 21 MP with 5248*3936 Resolution coupled with Dual-Tone LED FlashFront: 5MP with LED Flash |
| Speakers | Loud Stereo enabled Speakers |
| Communication | WiFi : 802.11 a/b/g/ac dual bandBluetooth: v4.1GPS: A-GPS, GLONASSUSB: microUSB v2.0 |
| Battery | Non-Removable 3000mAh |
| Miscellaneous Features | Fast Charging upto 34% in15 minutesMP3/AAC+/WAV/WMA playersMP4/H.264/WMV playerDocument ViewerImage/ Video Editor |