Lumia 430 to costs just $70
Lumia 430 officially launched and this marks as establishing a firm grip by Nokia over its smartphone business. The new handset features dual sim and will be introduced in tech markets and stores in India, Asia Pacific, Kazakhstan, Russia, Middle East, Belarus and Africa. It is expected to floor the markets by April. The price of $70 keeps this handset in the budget category smartphones introduced from Microsoft. Earlier Lumia range handsets were owned by Nokia, now it looks like Microsoft keeps the same pace as Nokia did. They always try to keep themselves alive in tech market by timely launch of new handsets.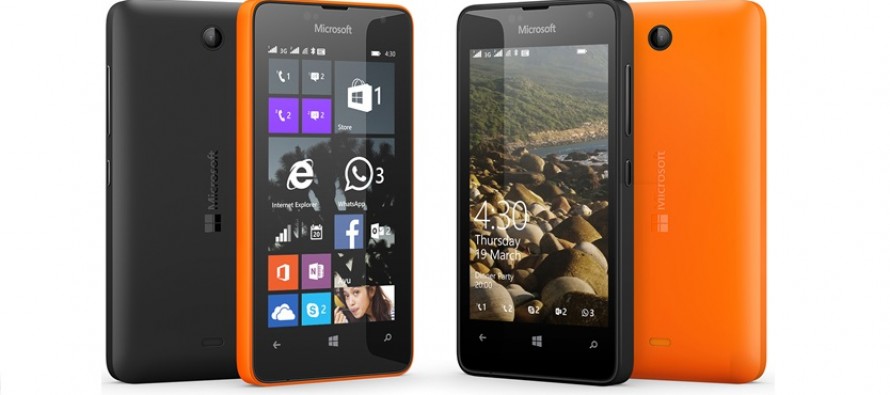 Colour options available are black and orange. The technical experts who inspected the phone has already declared that the specifications of the new handsets is not upto the mark considering it with 2015 standards. But when considering the costs at which these gadgets are expected to hit the markets, Microsoft had tried to inculcate almost all features that worth its price.
The most important part of any smartphone is its processor. It must be latest inorder to have better performance and customer attention. But unfortunately Lumia 430 comes out with outdated Qualcomm Snapdragon 200 chipset along with 1.2 GHZ dual core processor with just 1 GB RAM. But when its price is considered nothing can be expected more than this.
As far as the physical designs are considered it just looks like an upgradation to Lumia 530. It features a 4 inch LCD screen with 800*480 pixel resolution. The internal storage of the set mark up to 8 GB. This can be expanded to 128 GB with the help of microSD memory card. The rear cam is just 2 MP. This is going to be a greatest drawback as far as seen from customer point of view. Also the front cam shoots only 0.3 MP VGA. It seems Lumia features to have a front cam for namesake.
But from the point of view of a Budget phone, Lumia 430 has everything in it at the rate it provides. We can't expect a 12 or 15 MP camera in a $70 handset. The Dual SIM feature will be like by most of the buyers across the market. Since the phone is expected to sell over markets to budget phone buyers and not premium buyers, these features are enough to satisfy the budget buyers. The company also promises to have Windows 10 to all Lumia series handsets. So this is going to be good buy for $70. However even the budget buyers too look for premium features the success of Lumia 430 with almost no premium feature except availability of Windows 10 is a much anticipated question over the tech markets.