Kodak IM5 for Better Pics and Easier Use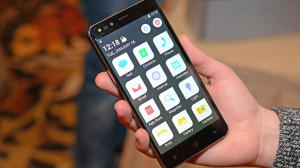 These days you cannot predict the name of the next smart phone manufacturer going to hit the stores. It is only recently that the computer original equipment manufacturing giant Asus entered the game with their Zenfone range of smart phone. And this time it is the oldies camera giant Kodak who tries their luck in this expanding and competition rich market. When it is the camera giant on the lead, are we only supposed to expect stunning pictures or something more?
The Kodak IM5 is a midrange smart phone with a high end imaging device. It comes with a 13 MP rear camera with LED flash and a 5MP selfie snapper. Now that is really something to create some expectations for photo freaks and selfie maniacs. The IM5 also has a 5 inch720p display with 5 point multi touch. Also behind the scenes is a 1.7 GHz octa-core Mediatec processor (not specified), a decent 1 GB of RAM, internal storage of 8GB and a micro SD card slot. The phone runs on Android 4.4 Kitkat, and it will be updated to android 5.0 Lollipop.
Another striking feature of the Kodak IM5 is the large icons on the custom user interface which makes it easier for the older generation who are reluctant to buy smart phones owing to their small icons and harder to understand locking pattern and controls.
The hardware of the phone is built in collaboration with British firm Bullitt who are famous for their rugged smart phones approved by CAT. The dual sim phone will be available first in Europe followed by a global launch. It will be priced at EUR 299 or $249 which will be roughly around 15,800 INR.