HTC One M9 Review : HTC's New Flagship Phone Promises an Average Deal
One M9
The Taiwanese firm has announced HTC One M9, its flagship phone in the MWC summit held in the first week of March 2015.  During the last week of March, the phone arrived the market. This phone has healthy competition with some of the premium handsets like Samsung Galaxy S6, LG G3, Apple iPhone 6 etc.
Here we present a hands on review of HTC One M9 from our experts.
HTC One M9 Unboxing:

The phone comes in a white box with HTC logo on the front side and you can see the phone specifications on the rear side of the pack. When you open the pack, you will find the sealed phone on the left side and the UH-OH protection guide on the right side along with the warranty information. You can also find the user manual and accessories like USB charger, headset etc. below the upper case within the pack.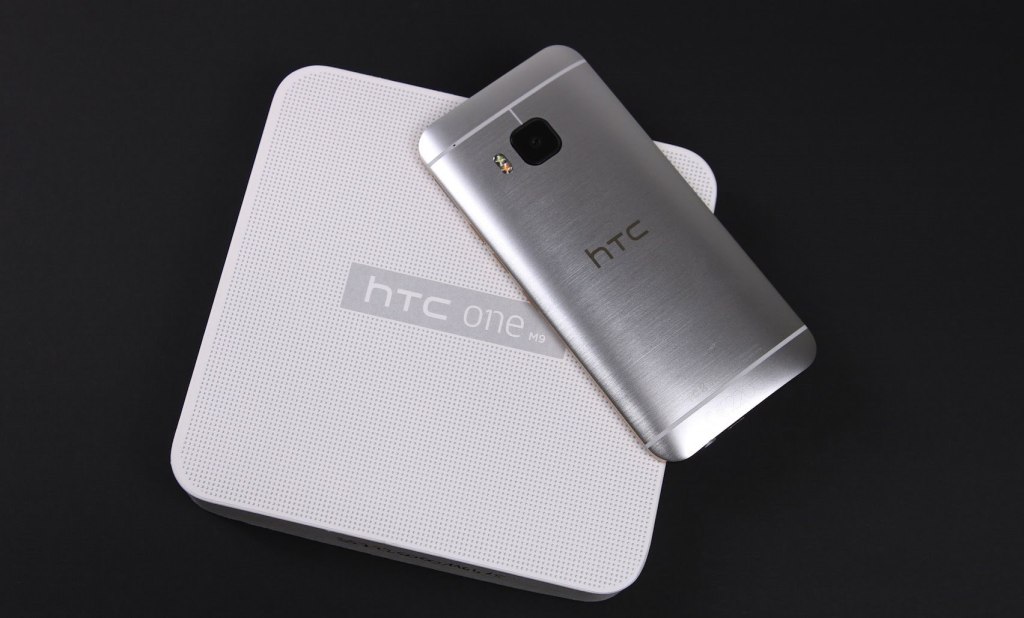 HTC One M9 Design:

There is not much alteration as compared to the basic HTC One design or with that of HTC One M8. While Apple and Samsung implement some changes in their flagships. HTC has stuck to the same design for past three years. The One M9 is slightly smaller in size than One M8 (about 1mm) and comes with the same aluminum case with gold edges and large front speakers. The power button has been relocated from the top of the body to the right-hand side, just below the volume control buttons. One M9 has a dimension of 144.6 x 69.7 x 9.6 mm and weighs 157 gram(5.5 ounces). It is heavier than Samsung Galaxy S6 and iPhone 6.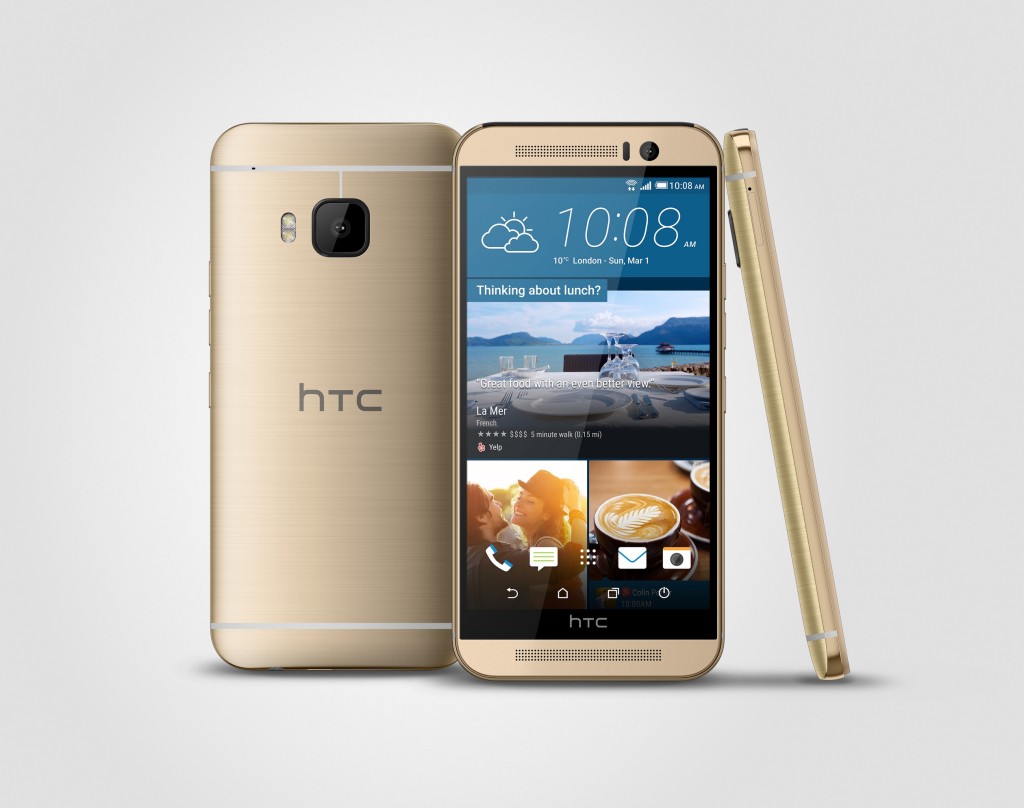 HTC One M9 Display:

The phone has 5 inches super LCD3 display and supports full HD. The resolution is 1080p. The display is absolutely sharp at normal viewing angles and distances. It is quite bright  and has intensity of 462cd/m2 at maximum brightness, so readable in bright sunshine. Contrast ratio is 1310:1.The color looks fade out when compared to other smartphones using QHD display.  When we performed tests, One M9's  display was able to reproduce 87% of the standard RGB color gamut. This is fine but not as good as the AMOLED displays. Color accuracy was also less than ideal, with the M9 recording an average Delta E of 3.17 and a maximum of 7.6. Scoring 472 nits, the HTC One M9 outshines the smartphone average (366 nits) by a wide margin but is dimmer than the iPhone 6 (504 nits) and the Samsung Galaxy S6 (521 nits).We tested some movies and videos and it looked great but if we tilt the phone, the color appears to be greyish sort.
 HTC One M9 Audio:

The sound is quite loud and the front-facing BoomSound speakers above and below the screen provide good audibility. We tested the speakerphone, ringtone etc. and found it to be perfect with little distortion. In Audio Settings, you can switch between Music and Theater mode. Theater mode spreads the sound in a large area.
HTC One M9 Hardware:

The smartphone is packed with Octa-Core Snapdragon 810 processor which comprises two Quad-Core CPU's operating at a frequency of 2GHz and 1.5GHz respectively. Graphics capability are handled by an Adreno 430 GPU and there is  3GB of RAM and 32GB of storage which can be extended up to 128 GB via a MicroSD card. In terms of connectivity support  3G, 4G LTE, 802.11ac Wi-Fi, GPS, A-GPS with GLONASS, Infrared, Bluetooth 4 and NFC. There is no wireless charging option.
HTC One M9 Performance:

The HTC One M9 runs on Qualcomm's newest mobile processor, the Snapdragon 810 with 3GB of RAM. The phone generally performed well and playing games such as Modern Combat 5 was a smooth experience. It was easy to swipe from BlinkFeed to the home screen. However, opening Recent Apps took a beat too long and the thumbnails faded into view.Also, launching the camera app from the home screen was a bit slow.
On Geekbench 3, the One M9's score of 3,818 was about 1,700 points higher than average score (2,184), and the iPhone 6 (2,931). However, the Samsung Galaxy scored a much higher 5,120. Similarly on Peacekeeper, the One M9's score of 726 was almost half that of the S6 (1,374).In our real-world VidTrim tests, the differences were equally apparent. The M9 took 4 minutes and 44 seconds to transcode a 1080p 204MB video file to 480p — essentially the same time as the HTC One M8. In comparison, the Galaxy S6 took just 2 minutes and 25 seconds.
Performance  Test
Basemark OS II: 1526 / Basemark OS II 2.0: 1365
Basemark X: 19848
Display Test
Contrast ratio: 1221:1 (nominal), 2.334 (sunlight)
Camera Test
Photo  and Video Samples
Loudspeaker Test
Voice 65dB / Noise 64dB / Ring 76dB
Audio Test
Noise -94.8dB / Crosstalk -93.7dB
Battery Life Test
3G talk time  20:44hWeb browsing  7:31hVideo playback  8:21h
 HTC One M9 Camera:
HTC One M9 has 20 MP auto focus rear Camera with dual LED flash.  The rear camera  is 4 MP The camera supports Automatic simultaneous image and video recording, geo-tagging, face/smile detection, HDR, panorama modes. The Camera app is easy to use. The camera is good but its performance in low light is not as good as its predecessors. There is a software feature called One Gallery which will bring all your photos together from the likes of Dropbox, Flickr, Google Drive and Facebook into one place.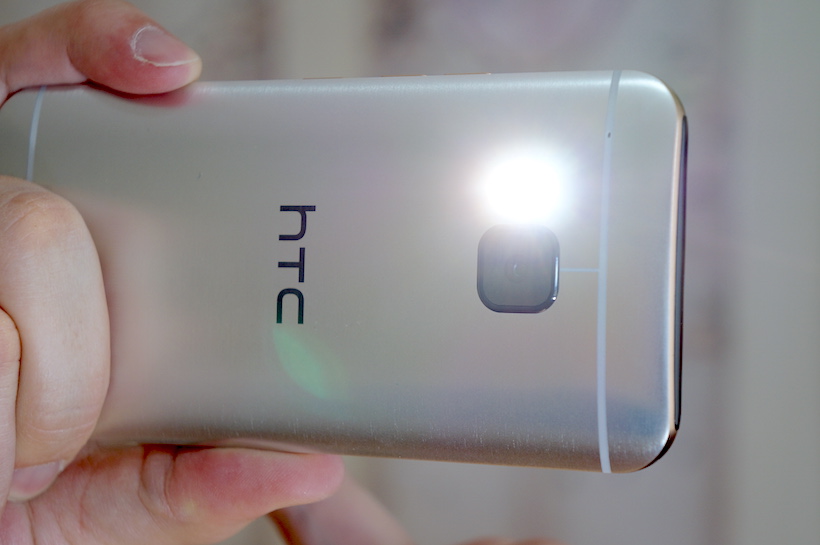 HTC One M9 Battery life and Power:
HTC has been constantly increasing the battery size. HTC One M9 has 2840 mAh compared to 2600 mAh  in HTC One M8. This is non-removable battery type. Despite the larger capacity, we have found the battery life to be similar to the HTC One M8. With an average usage pattern, the M9 lasted us a couple of days before needing to be charged. That is still a good effort with most phones only managing just a day. There is no wireless charging option included but HTC offers some power saving modes.
HTC One M9 Software and Apps:

HTC One M9 runs on the latest Android 5.o Lollipop.The M9 introduces Sense 7.0 which means you get HTC's style including icons and apps but there are also some additional features. HTC has provided a  BlinkFeed  to the left of the main homescreen, a grid view of recent apps menu and a vertically scrolling app menu. The notification bar is available in the dropdown menu.More customization of Sense 7.0 includes a new Themes app where you can download various user interface themes. However, you can edit details yourself such as icon styles and fonts. The software will also generate a theme for you based on a photo which is pretty cool. Motion Launch Gestures allows to  double tap the screen to turn it on and off. Moving the phone Up, down, left and right swipes will unlock, turn on voice dialing, launch the widget panel and open BlinkFeed respectively – all with the screen off. There is a launcher called HTC Sense Home which can be used to apply custom home screens. Some preloaded Apps include Zoe, Polaris Office 5 and Scribble.
 HTC One M9 Pricing and Availability:
HTC One M9 is available on market from 31st March. The unlocked version of the phone costs $649( £580 ).Regardless of the carrier, HTC is offering "UH- OH" protection free for one year. If the phone gets damaged by water or the screen cracks, the company has a provision to replace it free of charge. If you don't use this service, HTC will offer $100 for the purchase of a future One smartphone. It is available in Grey, Silver, Amber Gold and Pink colors.
HTC One M9 Verdict:

HTC One M9 is has a average build quality and decent performance while the price is on a little higher end.
By

Steffen Viktor

In Smartphones
— 6 Apr, 2015