Blackberry eyeing a comeback with its new Smartphone Passport
After years of struggling hard to get back its fame, the Canadian company BlackBerry has come out with its new smartphone, Passport. The company's CEO presumes that this smartphone will make a hit in the markets and will earn back its once-lost fame.
True to its name the Passport looks like a US passport with an American cheese size touchscreen.  It is only slightly thicker than your travel document with a smooth resin back.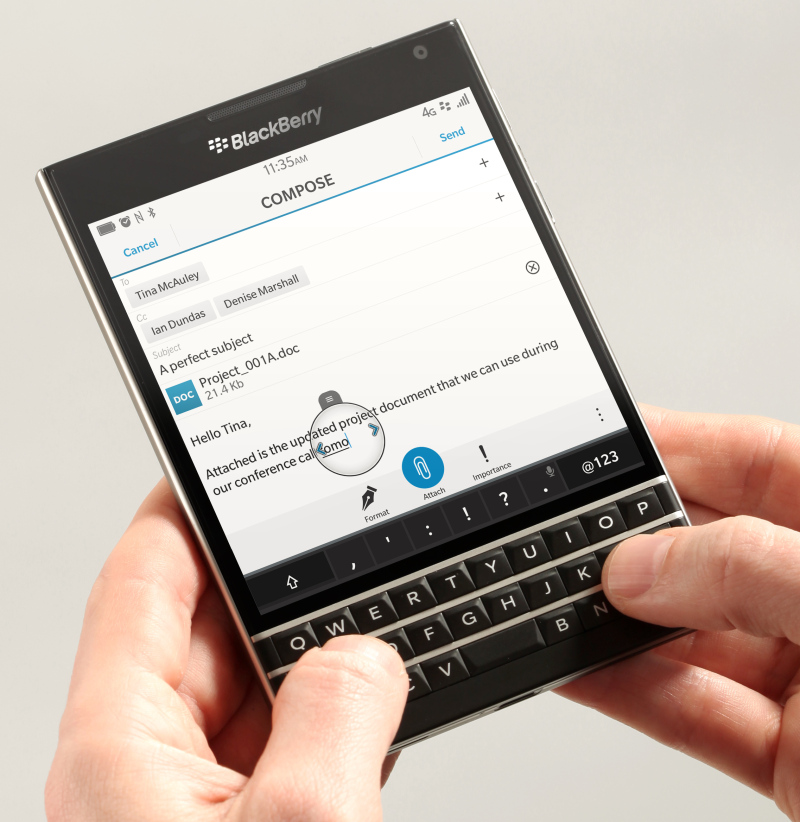 The craziest thing about the Passport is that when you are carrying it around you tend to hear curious whispers as to their doubts about it being a phone or a tab or a laptop! They are not able to figure out that it is a smartphone due to its strange design. While other smartphone designers focused on designing large rectangular screens, Blackberry focused on making the largest hand-held or pocket-fit squares.
While every other smartphone maker was figuring out how to make larger rectangular screens, BlackBerry focused on making the largest square that humans can fit in their hand or pocket.
Unique Square Shape Advantages
Passport smartphone has been in the news for its unusual design. Blackberry has designed the Passport keeping in mind the working professional (for architects to view blueprints, for doctors to view X-ray reports, for writers to get both a large display and a Qwerty keyboard). It says that the uniqueness of its design is better for work as well as media consumption. It has been designed specifically for the enterprise. The secret behind its square shape is that because of its wider screen you get a better viewing experience than with the usual 5-inch rectangle smartphone. Passport also offers a better reading than does the current rectangular shaped smartphone in terms of characters. Passport will show 60 characters across its screen unlike the 40 shown by the usual smartphones thus making BlackBerry Passport an ideal device for reading e-books, viewing documents, and browsing the web. Passport users don't have to worry anymore on the portrait or landscape modes, and the vertical or horizontal screen real estate. The wider resolution surface displays more horizontal text of websites, emails and Excel cells than the other phones.  Passport users don't have to zoom in or rotate the display the way an iPhone user does.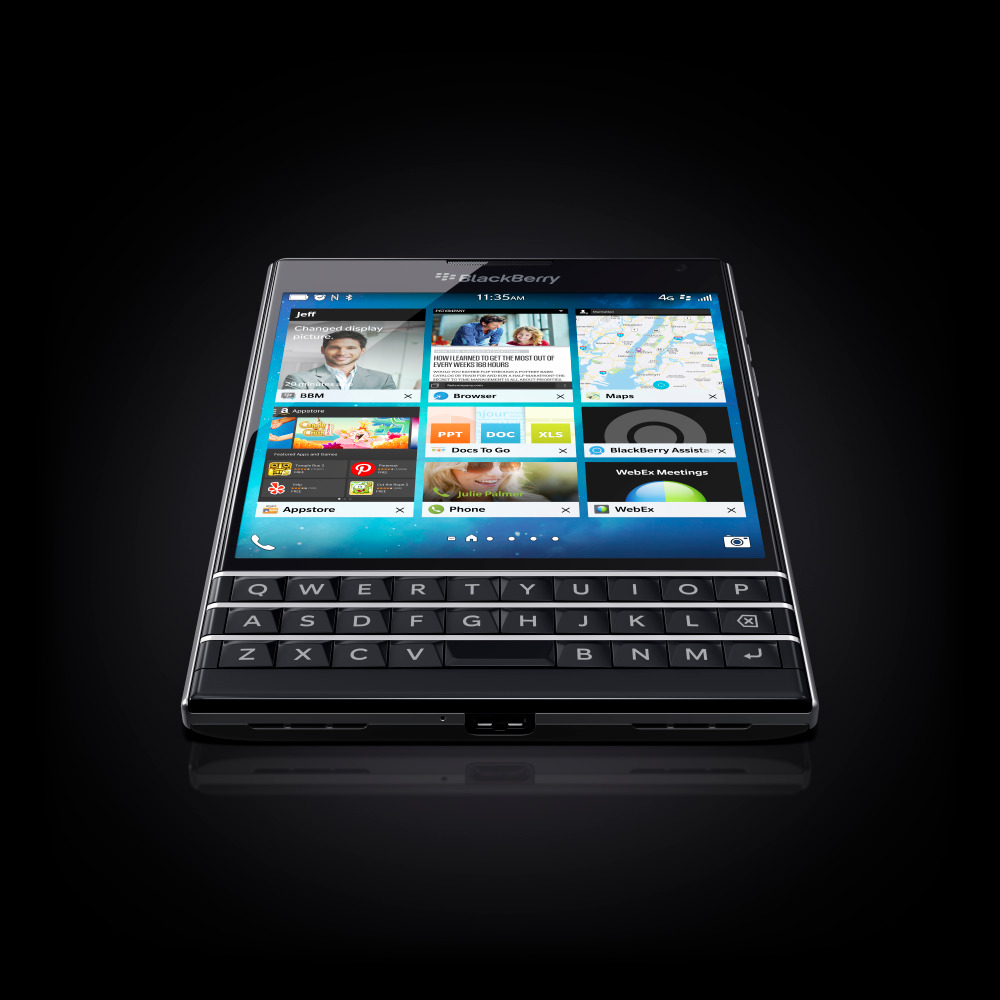 Passport comes preloaded with the new BlackBerry 10.3 operating system sporting new features such as a large square touch display, a touch-enabled keyboard, BlackBerry Assistant, BlackBerry Blend and the Amazon Appstore, the latest 10.3 software update, a new personal assistant and improved audio experience.
BlackBerry has one of the best mobile email clients. You can encrypt business calls and data, and store them away from your personal content with BlackBerry Balance. BlackBerry's maps app which is powered by TomTom is unpardonably slow and not that accurate. Despite the unique square display and two app stores there is no Instagram.
BlackBerry Keyboard
Passport comes with a keyboard that is touted as revolutionary. It lets you scroll web pages, flick to type, or slide along the keys to move the cursor. On opening a document on your iPhone almost two third of the screen is occupied by the virtual keyboard, where as with the Passport you will enjoy a full screen space for viewing. With the Passport keyboard you can perform On-Key Scrolling – brush your fingers over the QWERTY keyboard and scroll your messages or website; flick to Type –flick up on the QWERTY BlackBerry keyboard to use next-word suggestions which allows you to quickly and accurately compose messages; swipe to Delete – to delete you just have to swipe from right to left on the keyboard; fine Cursor Control –cut, copy and paste can be done easily.
The number keys on the Passport appear on the screen. Also, the shift, number and punctuation keys are not physically on the keyboard, instead they pop up on the screen. It's harder to get used to typing on a keyboard with many of the keys on the screen. The Blackberry keyboard is not at all like a traditional one.
BlackBerry Assistant let you use it both verbally and in a written form.  Also, if you are in the car and connected to Bluetooth it will reply verbally as it knows you can't look at the screen. Passport comes with a huge battery of 3450 mAh which can provide up to 30 hours of life.
The smartphone isn't exactly slim at at 9.3mm. The physical keyboard, the huge battery and the 13MP camera are the reasons for its increased thickness. It comes with a stainless steel frame and rounded edges.

BlackBerry Audio
Passport has powerful speakers and a quad microphone system that delivers a high-quality audio. It has the Natural Sound Technology built in and proves a great device for multimedia purposes and a high quality call.
The Passport has not been tested yet, but as of now it is rated as pretty good.
Specifications
BlackBerry Passport features a 4.5-inch square display with a 1:1 aspect ratio, a resolution of 1440×1440 pixels with a pixel density of 453DPI, latest Corning Gorilla Glass 3 for added strength powered by a 2.2GHz quad core Snapdragon 800 processor, Adreno 330 GPU, 3GB of RAM, 32GB of inbuilt storage, expandable up to 64GB via microSD card, a 13-megapixel rear-end camera with BSI sensor, a 2-megapixel front-end camera, and a 3450mAh battery. It measures 128×90.3×9.3mm and weighs 194.4 grams. It supports Nano-SIM, Wi-Fi, Bluetooth, Micro-USB, NFC, GPS, Glonass, GPRS/ EDGE, 3G, and 4G LTE connectivity options.
Pricing and Availability
Passport is all set to be announced at events in Dubai, London and Toronto and will be priced at US $599 for the unlocked version. However, the prices may vary in different markets due to local taxes. He confirmed that the Passport will be available in many markets, including markets in Asia, in two weeks. Chen also stated that the Passport is cheaper than the high-end flagships offered by other companies Pre-registrations have started and a dedicated pre-registration page is still live.
By

Vishakh U N

In Smartphones
— 25 Sep, 2014