Best Health Monitoring Apps from Apple
An Apple a Day keeps the Doctor way is still true in the tech world also. With the help of Apple iPhone's some of the best medical and health monitoring applications, you can simply keep the doctor as well as hospital beds away from you. Earlier these things were possible only in science fictions. But with the advancement of technology, nowadays everything is possible at your fingertips. But remember that these apps have its own limitations when compared to live doctors. So don't rely completely on these apps. Here I introduce you to certain health monitoring apps available in iPhone.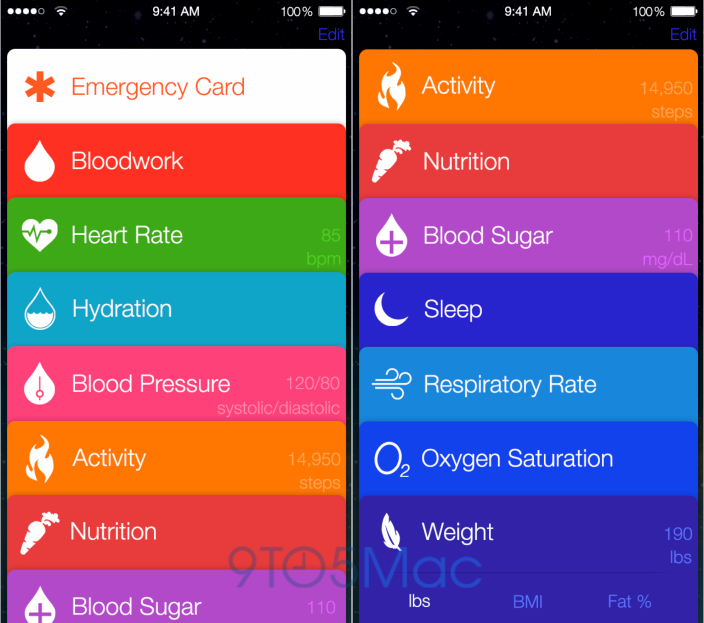 Patient I/O
Patient I/O is an app from iOS which is available without any location barrier or cost barrier. Even though it works available around the globe, the only language supporting the app is English. This application can be used to establish a one to one communication line with your physician with the help of messaging to his contact number. This application can be successfully used to follow-up appointments, give personalized contacts with your personal physician and can remind you about certain time bound instructions. Currently this particular application doesn't charge you.
Amwell
This app actually revolutionalizes the concept of consulting with a physician. This app could allow you to consult a doctor without visiting him in person. This app simply provides you a list of available doctors along with their area of specialization. When you select a particular doctor then, you will be allowed to view his personal profile which would give you more information like his experience, languages known by him, educational qualifications and so on. This app can be used to connect particular person's health details like his cholesterol level, blood pressure etc, with the doctor. Another specific feature offered by the app is the face to face consultation with the doctor with the help of FaceTime.But the app charges you $49 per doctor consultation as fees. With the companies offering insurance for tele-consultations you could reduce the cost of consultation to some extent.
AskMD
AskMD uses an interactive method and uses speech recognition technology. The app works by asking you a number of questions regarding your current issue and cross check it with symptoms, the medicines that you are taking and your family's medical history. At the end and after analyzing the data that you gave given, if it needs immediate medical attention then the app recommends for it. If it doesn't need immediate medical attention then, it presents you the necessary treatment methods and even get you in touch with doctors in your area. This app is reliable and authentic and has won certain awards like Appy and Webby in healthcare category.
MySkinPal
Nowadays the numbers of Skin Cancer patients are increasing. As per the latest data, every one among the five will suffer from skin cancer. Most commonly seen thing is that, the diagnosis for the disease start from skin blemishes. Most commonly those that alter colour, their structure, with uneven symmetry or that grows unevenly at certain point of time. Provided, if we are able to monitor these changes then, we may be able to prevent skin cancer to some extent.
Here comes the importance of MySkinPal. MySkinPal provides a medium in which it keeps a record of these moles or blemishes and also keeps images of them incase if you want to refer them again. Now they are trying to create a network of doctors who has expertise in this area. This also made it easy for the users interact with experts and professionals for further treatment.
Health
Health seems to be a common app of this class. Those who use it, rely upon it mainly for monitoring the amount of calorie intake, to know about the heart rate and so on. This app can be used to store certain medical records of yours like physical measurements of your body, nutritional intake, contacts for immediate purpose, sleeping patterns and even get you connected with a physician. The app can be used to keep a track of your footsteps to conclude your activity levels, which would help to diagnose the issues.
There are indefinite numbers of apps that are being used to find out even fertility and blood sugar. Along with these, it also includes certain apps for day-to-day wellness.
Exercise
The exercise apps includes motivation apps like 30 Day Fitness Challenges and Carrot Fit, and running tracking apps like C25K, MapMyRun. It also has certain other apps likeDaily Yoga, and the one that monitors your daya to day workout at gym namely Fitocracy and so on. Another app namely Nike+ Training Club, Which is actually a collection of workouts extending upto 30-45 minutes, which focuses upon personal goals and current fitness level.
Food and Nutrition
This segment includes apps like Lose It and MyFitnessPal. They actually has strong user interaction and has strong tracking tools which help in measuring calorie level, weight loss and macro nutrient information. They also provide certain advices on nutrition also. Another app that comes handy in this segment is FitMenCook. They provide information about a small group of nutritional food that provide you a wide amount of nutrition required by your body. They provide information about the meals that provides you healthy food stuff with almost all natural ingredients and depend mostly on healthy fats and proteins.
Sleep
There are many sleep apps in the app store. Most of them rely on motion sensors which are seen in your iOS smartphones. These sensors can be used to trace the quality of sleep, average time of sleep in nights and also the time of sleep and awakening. Most of these apps have the ability to wake you up at the best time based on a scheduled alarm. For instance these apps try to wake you up at non-REM sleep which gives you a cool awakening from sleep instead of waking you up at 9o'clock every morning. Such a sleep tracking app is Sleepbot. It can track your sleep and also helps in handling certain features like recording this to a chart as well. In addition to the above it can be used to record the audio to figure out whether you snore or talk while you sleep. These things are really great indicators of sleep related problems like Sleep Apnea or UARS which means Upper Airway Respiratory Syndrome and these are very common in the case of heavy snorers during the sleep.
By

Steven Joseph

In Smartphones
— Jul 27, 2015