The New Windows 10 OS From Microsoft Seems To Be Exciting
Windows 10
When Microsoft introduced Windows 8, it was a daring attempt. The OS was designed to provide a fresh Start Screen that concentrated on touch and live tiles in place of the old mouse and keyboard input forms and old shortcuts. This was suitable for the touch enabled screens like smartphones and tablets. But the same annoyed the users of desktop systems. They remained unhappy with the forced alteration. They continued to complain regarding the new alteration of Windows 8. On hearing their pleas finally Microsoft decided to launch Windows 8.1 by solving most of the bugs.
Still the company wasn't ready to bring back the old Start Menu. This made the platform an alien experience to its users. But when they introduced they tried to cope up and tried to solve almost all bugs that existed in Windows 10. The users feels that the Windows 10 had been introduced two years earlier in place of Windows 8. Windows 8 was the result when company tried to make a single platform for the desktop systems as well as touch enabled systems. Now they understood their fault and introduced Windows 10 by solving all those flaws that existed in Windows 8.
Say Hello to Start Menu
For your information, the new platform has been designed in such a way that they managed to bring back the old Start Menu. In Windows 10, the designers managed to combine together the old Start Menu that used to seen in Windows 7 and the latest Start Menu from Windows 8. But they managed to make it more attractive and operative. They retained the live tiles in Windows 10 also. But they are not so irritating.
In the latest version the settings can be customized by the users. They can get into various apps and programs right by selecting All Apps under Start Menu. Users are free from scrolling down the entire screen for searching for the particular program. Infact, among the changes that happened in Windows 10, the Start Menu is the one that stands apart. But this alteration is not a new one or too old one. The users who liked the Start Screen, they are allowed to expand the Start Menu to whatever size they want. You are allowed to either make it large or make it small. Microsoft really did a fine job by including those features that they tried to impart in Windows 8 along with some old features that were liked by the OS users.
Digital Assistant Cortana to Serve you
Windows 10 is being launched with a digital assistant to help the user. It is placed next to the Start Button on your screen. Once you install the OS in your system, Cortana will start to respond to your words Hey Cortana and start to give you the required information. It's a great new feature in Windows 10.  For instance when you ask Cortana the list of currently playing movies, it will come up with the list of movies along with the name of theatres where they are playing. This digital assistant can even play games and tell certain jokes and also sing your favourite songs for you.
The option of Cortana has been expanded with certain other features like Events, Finance, Meetings and Reminders and so on. The Eat and Drink option is loaded with information of available restaurants along with cuisines offered there. Another exciting feature of Cortana is that they functions fine with Windows 10's Edge browser. If you asked Cortana regarding the latest movies playing details, it will come up with relevant details. If you click on any of these movies and this will prompt Cortana to open Edge browser. In turn if you happened to stress on something in Edge Browser, right clicking on it will deliver you message asking you to Ask Cortana. Isn't that cool?
But unluckily Cortana is not so perfect digital assistant as it designed to be. Many things that you say may not be understood by Cortana so perfectly. Sometimes it may ask you to continue to say the phrases more and more times. Sometimes it may tell you that the microphone isn't intended for her. It is clear that Microsoft still need its time to perfect Cortana in long run. Sometimes Cortana proves to be slower than the old way of using the keyboard and mouse. Microsoft actually developed Cortana as a next generation Digital Assistant. Since Cortana is included everywhere in by Microsoft, it seems that they are making Cortana to be comfortably used by its users and get comfortable with it in future.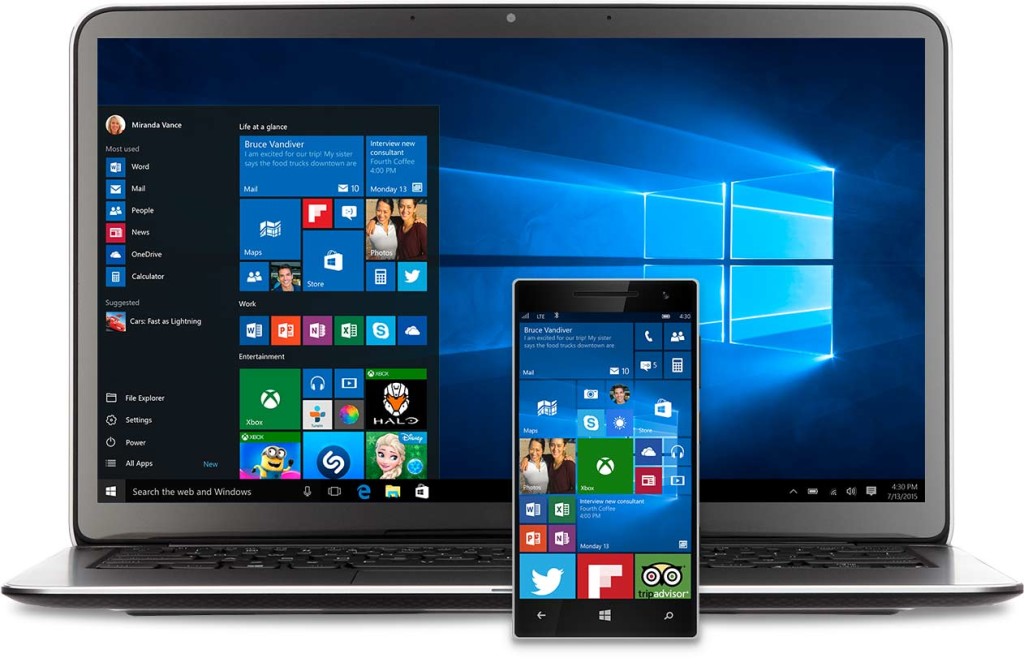 Now its Time to Acquaint with Edge Browser
Microsoft has done much with Edge to make it swifter and advanced. Internet Explorer is supposed to show certain flaws when it tries to load certain old websites. But Edge is perfect with those websites. Edge with a rank of 3917 from Futuremark's Peacekeeper browser benchmark, performs much better to contemporary browsers. Edge can be used to draw and save any webpage to be used either by the user or by his friend. It can also be used to highlight errors on the webpage and can be used to type notes. This browser is loaded with Reading Mode, which frees the browser from loading all unwanted ads and other images and help the user to concentrate only on the main topic of his search. Eventhough Edge stays to be one of the great advantages of Microsoft making it superior to existing Internet Explorer, the new browser has certain flaws related to certain extensions and alterations.
Windows 10 Cares PC Users and Xbox Gamers
Microsoft initiated to form a social network which can be accessed by Windows 10 users and Xbox 360/One gamers only. The advantage is that gamers are able to get into their achievements, interact with their friends and enjoy the games. Windows 10 is loaded with Xbox App. The exciting feature of this app is that it can search for Xbox games on your system straight away and when Windows 10 is introduced in tablets, you can do the same in those gadgets also. Now Xbox can be used to play Xbox 360 games, users are allowed to play them too. The DVR mode enables the users to record the clips and screenshots while playing and share them with others playing the same game. The gamers are now allowed to search for their liked titles over Xbox One Console to Windows 10 Xbox App.
All New Windows Store
The Windows Store got renovated in Windows 10. Users are now allowed to purchase not only games and apps but also music, movies, TV episodes and so on, the same way as you do in Xbox. The present sections in Windows Store include Picks for you, Top free apps, Top free game, Top paid apps, Top paid games and Collections. The latest Windows Store doesn't come with a toolbar. Also al the categories are placed to the bottom of the page. If you want to search certain games based on their genre then you have scroll down to the bottom to do so.
Settings Packed in One Place
Windows 10 is packed with certain programs and apps are placed a one place for the easiness of selection and operation. The Settings App is categorized into nine sections namely System, Devices, Network & Internet, Personalization, Accounts, Time & Language, Ease of Access, Privacy and Update & Security. Every settings that an average user find handy us placed in the Settings App. In the earlier version of Windows 8 and 8.1 they are tend to be scattered over the OS and was difficult to spot one when it is needed. Users can get into the Settings App by selecting Start Button and then tap between File Explorer and Power. If you want to have more programs and apps, then you have to tap on All Apps link which can be seen just above the Start Button. The settings can be found in their alphabetic order.
Windows 10 Action Center
Windows 10 luckily doesn't have the annoying Charms Bar. Instead they are loaded with Action Center which is paced to the right side of the screen. It will remain invisible until the user taps on Notifications Icon which is placed near to the Clock. It is where the Action Center in which the user is able to see Facebook notifications and many other similar things. The users can perform certain other things like monitor connection settings, take a note, start a VPN and enable the setting to search for locations. When tested Windows 10 felt more stable and functional than the earlier version of Windows 8 and 8.1. Windows 10 seems to be more close to the user and tend to be user friendly.
Final Verdict
Microsoft's Windows 10 is not the best but it is far better when compared to Windows 8, but can be improved also. Cortana, the Digital Assistant can be made more functional. Edge the browser seems to be better than Internet Explorer, but lacks certain features that Chrome used to hold. Windows 10 is said to be suitable with Intel processors, but it is not so in case of AMD and Nvidia. The highlighting feature is the Start Menu. Microsoft integrated those of Windows 7 and Windows 8 together to form Windows 10 Start Menu. Its designing is good when compared to Windows 8. Still it suffers from certain bugs and Microsoft is expected to solve them with their updates in the near future.
Microsoft promises the users of Windows 10 that they will be maintaining the new version's stability even though they come up with certain updates. For your information if you are still running on the older version of Windows, you can have the free upgrade for Windows 7 SP1 and Windows 8.1 from July 29, for not more than one year. After that if you prefer to continue with Windows 10, then you may have to pay subscription fee. Anyway the user is assured about one thing that Windows 10 is much durable, stable, operative and bug-free compared to Windows 8 and 8.1.
By

Rinoy

In OS
— 6 Sep, 2015