Purism Unveils Librem 10 and Librem 11 – Both Runs on Linux Based OS
Purism has launched Librem 10 and Librem 11. These 2-in-1 tablets functions on Linux based operating system. Even though they launched two devices with open source software, they have tried their best in making these tablets safe and secure ensuring privacy of its contents. Librem 10 as the name suggests is a 10 inched tablet while Librem 11 comes with a better and larger display.
Exquisite Features of Librem 10 and 11
Purism Librem 10 comes with a display that expands upto 10.1 inches edge to edge. Librem 11 holds quite larger display. The touch enabled display expands upto 11.6 inches. The officials make it sure that both devices are loaded with extra security and privacy inorder to protect your digital contents. With accurate Touch Interface it is ensured that you can interact with the device with much ease.
Librem 10 runs on 5th Generation Intel Atom x5-Z8300 Processor with a processing speed of 1.84GHz. Memory of a device matters everything regarding its capability to undertake functions. Luckily Librem 10 is having a RAM of 4GB DDR3L. Graphics in Librem 10 is chosen with a view of having better media experience along with avoiding battery drain. So the designers opted for 5th Generation Intel HD Graphics. Librem 10 has got a storage capacity of 64GB.
Librem 11 functions on 5th Generation Intel Core M-5Y10c Processor with a processing speed of 2.0GHz. The basic device of Librem 11 is having a RAM of 8GB DDR3L. It can be enhanced to upto 16GB as well. Like Librem 10, Librem 11 also holds 5th Generation Intel HD Graphics for better media, gaming and other extensive functions. Librem 11 has got a better storage capacity of 256GB to upto 512GB.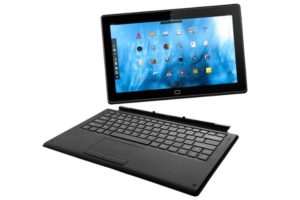 The OS that makes Librem 10 and 11 functions comes from Purism itself. The PureOS 3.0 makes these devices function smoothly. This OS is based on Debian while users are allowed to install QubesOS, which is an open source OS meant for meeting the security related issues of these devices.
Most enchanting feature which I found interesting in both Librem 10 and 11 are the Privacy Kill Switches. The first switch will disable Microphone and Webcam. The second one is for cutting down the signals of both Wireless and Bluetooth. The third one is meant for Cellular port, while the fourth one is for GPS data circuit.
Purism Key is just like Windows Key in Laptop. It would allow to search in your tablet for applications with a single keypress. Both devices have this Purism Key.
Librem 11 has got 4 USB ports of which one is Type-C port. It also holds one HDMI port connecting to media. The device also holds Kensington Lock along with RJ45. The docking station allows you to attach your device to a keyboard and use it like a desktop computer.
Librem 10 is comparatively cheaper than Librem 11. You can have one in your hand if you are ready to pay $599. Librem 11 comes with a price tag of $999 for early bookers. But when the crowd funding campaign of Indiegogo ends it will be available for $1299. It is expected that Librem 10 and 11 will make its way towards shelves by the end of September this year.
By

Jinnia Gupta Roy

In OS
— 23 May, 2016