Microsoft announce Windows 10 in Seven Versions supporting various Platforms
Microsoft always cares to give something new to its customers. This followed this time also when they announced the release of their new OS of Windows 10. They on their blog post declared that there will be seven different variants for the new Windows 10 OS. The seven editions are Windows 10 Home, Windows 10 Mobile, Windows 10 Pro, Windows 10 Education, Windows 10 Enterprise, Windows 10 IoT Core and Windows 10 Mobile Enterprise. These 7 versions are to support various gadgets starting from desktop, mobile, Xbox, IoT etc. The new OS will be released during the month of July-August across 190 countries with 111 language support.
The Microsoft also declared in the blog post that the new Windows 10 will juice up all devices like PCs, phones, Microsoft HoloLens, tablets, Xbox One and Surface Hub. The company promises that the customers will feel ease and comfort in using Windows 10 irrespective of the device. Also the customers are provided with an advantage of finding, buying and installing new applications from a single and universal Windows Application irrespective of the version using. Let us have a look on each versions of Windows 10.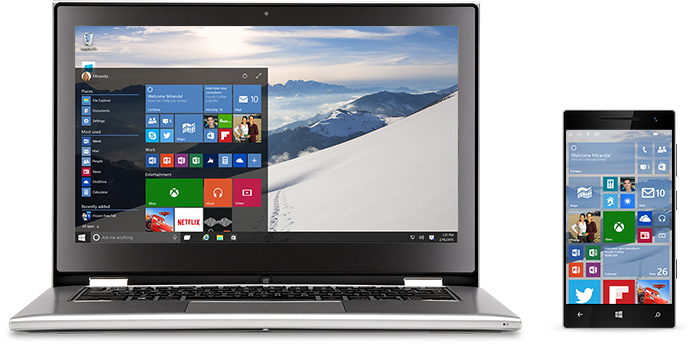 Windows 10 Home
Windows 10 Home is purely a consumer oriented version. It will be compatible with desktop PCs as well as with laptop PCs and also with tablets. It is packed with personal assistance service provided by Microsoft with the name Cortana. It also provides a new web browser named Microsoft Edge and a new Face identification feature called Windows Hello. This version also has a Continuum tablet mode for touch enabled gadgets. Apart from this it also includes the usual applications like Photos, Video, Calendar, Maps, Music and Mail. It also provides Xbox gaming feature also.
Windows 10 Mobile
This version is compatible with smartphones as well as with tablets. It features almost all the same applications as Windows 10 Home. In addition to those usual applications there are certain other applications are also present in Windows 10 Mobile which makes the mobile as well as tablet handling easy. They are designed in such way that it may provide maximum comfort to mobile handset users.
Windows 10 Pro
This version is designed to support business enterprises that are using PCs, tablets and 2-in-1 devices. The features are almost similar to that of Windows 10 Home. In addition to it, they also have certain extra features like certain applications that help in managing the device and for protecting the data related to business. This version also features certain apps that will enable access to other PCs. One such application is Windows Update for Business which will enable the users to have a faster access to security updates along reducing the costs of management.
Windows 10 Enterprise
Enterprise version is focused on medium and large organizations. Microsoft promises that this version is designed in such a way to provide security against modern threats that are aimed at the devices and gadgets.  This version is also made available to Microsoft's Volume licensing consumers who are free to decide the time frame within which they want the update.
Windows 10 Education
As the name suggests, this version is made for teachers, students, school administers and management. This version is accessible by way of Academic Volume Licensing. It also provides an extra feature of getting updated to Windows 10 education from Windows 10 Home and Windows 10 Pro.
Windows 10 Mobile Enterprise
This particular version is aimed at mobile business customers. Microsoft declared that this particular version will be made available to Volume Licensing consumers of OS. By using this version, they are able to grab latest updates with in a fraction of seconds.
Microsoft 10 IoT
This is focused on small device users like Raspberry Pi 2 users and likewise. The company expects a high growth prospects in this section. This is because, there is an increasing trend in sales of this kind of credit card sized mini computers that runs on self-limited platforms which cannot satisfy customer needs. In this scenario the introduction of Windows 10 IoT gains importance, since it is designed to satisfy those users.
The customers have to wait for the release. The company hasn't declared any date for the official launch of these versions. Among those versions, Windows 10 Mobile won't be made available this year to the users. All other versions are expected to release. Windows 10 will be made available at free of cost for those customers having licensed versions of Windows 7, Windows 8 and Windows 8.1. The company said they will be releasing a subscription model of this OS afterwards.
By

Rinoy

In OS
— 23 May, 2015