How to transfer contacts from iPhone to Android
You used to have an Apple iPhone, and now you are switching to an Android device? Of course, you want all your contacts, photos, and videos, as well as WhatsApp, to be available directly on your new smartphone. This article explains how to transfer data from iPhone to Android and what you need to consider.
When you buy a new cell phone, nothing is more annoying than having to save all the numbers of friends and family members again. If you have an iPhone and are now using an Android smartphone, there are a few things to consider when making the switch, because after all, the phones have different operating systems.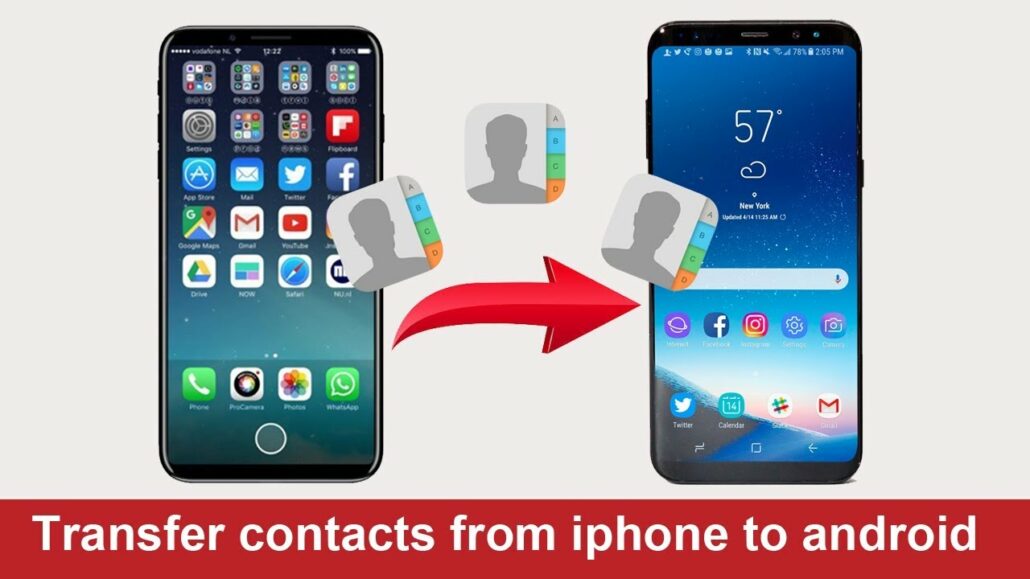 Chapters of this article:
6 Simple Methods to transfer contacts from iPhone to Android;
Comparison of the two operating systems (Android vs. iOS);
6 Methods to transfer contacts from your iPhone to your Android smartphone.
In this section, you will learn how to move all your contacts from your iPhone to Android.
Synchronize Google contacts
The easiest way to transfer contacts from an iPhone to an Android device is to use a Google account. You need it anyway in Android if you don't want to miss most of the system's features.
With this method, all contacts on your Android smartphone are automatically synchronized with the default Google account. All you have to do is set up the account on the iPhone.
How to do it:
Open the settings on your iPhone;
Go to the Passwords and Accounts section.
Press "Add Account," and in the next step, select the "Google" account type.
Sign in to your iPhone with your Google Account credentials.
In the last step, make sure the "Contacts" option is enabled.
Apply the settings by pressing "Save"; and log out of your Google account.
Sign in to a Google account on your iPhone to sync contacts with Android.
In the future, your iPhone contacts will be automatically synchronized with the Google account you just set up. If you now sign in with the same Google account on your new Android smartphone, the contacts between iPhone and Android will be synchronized.
Manually export contacts from iCloud (Export vCard)
If the method presented above doesn't work – for example, because you may no longer have access to your iPhone – you can also export the contacts to the Android world manually.
The prerequisite for this is that you have synced your iOS contact information with Apple's iCloud using an Apple ID. Via iCloud.com, you can export the synced contact information with a few clicks and then transfer it to the Google account of your choice.
Here are the steps to follow:
Visit icloud.com and sign in with your Apple account information.
To do this, you must first upload the contacts to iCloud.
Now go to iCloud.com and log in with your login details.
Click on the "Contacts" item.
Check off all your contacts that you want to export.
Click on the small gear icon at the bottom left and select "Export vCard."
You can now download the file to your PC, then transfer it to your Android smartphone and import it via the Contacts application.
Transferring contacts with Smart Switch
With the Smart Switch application, Samsung also offers the possibility to transfer contacts from the iPhone to your Android smartphone via cable. The application can be used on all smartphones with Android 4.0 or higher.
The prerequisite for this is usually a USB OTG adapter so that you can connect the two smartphones to each other. This isn't necessary with newer devices such as the iPhone 12, as a cable with a Lightning to USB-C adapter is included as standard.
Then install the application on your Android phone and connect the two smartphones together with a cable.
Open Smart Switch and tap on "Receive Data" and "Cable." A security question may now appear on your iPhone. Confirm here that you trust the device. Then your iPhone will be scanned for data that can be transferred.
Select the contacts and press "Transfer."
Soon after, iPhone contacts will also be available on your Android smartphone.
Transfer all data between two devices with PhoneTrans
PhoneTrans is a data transfer software between iOS and Android, Android and Android, iOS and iOS. It can transfer all types of data, including contacts. This tool is designed for people who want to switch phones and thus transfer data from their old phone to the new one.
Here's how to perform an iPhone to Android contact transfer with PhoneTrans:
To get started, install PhoneTrans on your computer, launch it and connect your iPhone and Android phone.
Once both devices are connected, click on "Phone to Phone," then set the iPhone as the source device and click on "Transfer."
Use iTunes to transfer your contacts.
You can also use iTunes if you want to transfer contacts from your iPhone to an Android smartphone.
Here are the steps to follow :
If you don't have a Google Account yet, create a Google Account.
Connect your apple Phone to the PC and open iTunes.
Click on your device and then on the "Info" tab.
Under the "Sync contacts" item, you can select Google.
Now sign in with your Google Account to automatically sync your iPhone contacts with it.
Sign in to your Android smartphone with the same Google account. You will then also have the contacts available on your Android device.
Turn on automatic synchronization so that contacts are transferred.
Transfer iPhone contacts to Android by email
You can also transfer individual contacts by e-mail. However, since you must synchronize each contact individually, this method is only recommended if you have saved a few contacts.
To do this, open your contacts on your iPhone and select the desired contact.
Then press "Share contact" and select the "Mail" item.
The contact is saved as a vcf file and sent by e-mail.
Open the email on your Android device and download the file. The contact can then be imported into the Contacts application.
Android vs. iOS: Comparison of the two operating systems
Which operating system is better: Android or iOS? This question polarizes smartphone users around the world. We compare Android and iOS and explain the pros and cons of the systems.
The price
Apple's mobile operating system, iOS, only runs on its own devices, and these are not exactly cheap. You can buy an iPhone in the Apple Store from 600usd; for an iPad, you have to pay at least 449 USD. You can get Android phones and tablets for less than 200 dollars. In addition, there are virtually no paid applications on Google Play; these are more common in the App Store. A clear advantage for Android.
The Features
In terms of features, iOS users are limited compared to their Android colleagues. For example, Apple prohibits file sharing via Bluetooth, and the use of NFC is also limited on the iPhone.
Personalization
If you like to customize your cell phone down to the last detail, you'd better use Android. While Apple only allows minimal adjustments on iOS, such as installing an alternative keyboard, with Android, you can completely flip the system and possibly replace the entire user interface with another one.
Security
Apple only allows the installation of applications via the App Store. Every application that is to be available for download here is strictly controlled. Sometimes too strict.
With Android, on the other hand, you can catch malware even without a rooted smartphone. A multitude of fake applications appears again and again on Google Play. There is also a risk of catching a virus on the cell phone by loading an application from the network. Above all, its widespread use makes Android attractive to cyber criminals.
User experience
Many cell phone manufacturers also use the ability to customize Android extensively. Whether it's Samsung, Motorola, or Huawei, almost all companies cover the Google operating system with their own user interface and sometimes make massive changes. Huawei's EMUI works like an iOS clone. In addition, some companies are equipping their smartphones with additional features that Google has not yet integrated into the system. One example is Samsung's Smart Stay feature or Huawei's EMUI desktop mode.
This is good, but it also means there is no uniform user experience on Android. A Samsung device offers different features and works differently than a Huawei smartphone. It's also annoying that some manufacturers offer their own version on top of the apps provided by Google. It's not uncommon for Android devices to have two email clients or two calendar apps. Apple's iOS, on the other hand, offers a uniform user experience across all devices.
Applications
Without a wide and diverse selection of applications, a cell phone operating system doesn't stand a chance in the marketplace. BlackBerry and Windows Phone can tell you a thing or two. In terms of the number of apps available, Android is clearly ahead. According to statista, there are currently about four million apps worldwide on Google Play. In Apple's App Store, by contrast, only about half are available for download.
Most of the time, new apps and games are initially released for iOS. For example, iPhone users were recently able to play Fortnite, or Super Mario Run several months before Android device owners. The Sky Go live TV app was initially available only for iOS. We don't see either system having an advantage in this regard.
Data protection
Much of our lives now take place on smartphones. Our phone book and messaging such as WhatsApp reveal who we are in contact with; our whereabouts can be determined via the cellular network or GPS, and, thanks to fitness trackers paired via Bluetooth, health data is now also sent to the devices. In view of the variety of data that accumulates on the smartphone, you should definitely think about the subject of "data protection" when choosing the operating system.
There is a tendency to assume that Google is more interested in Android users' data; after all, many of its services are data-driven. Apple, on the other hand, primarily sells hardware. A glance at the cover of your favorite technology magazine would seem to confirm this impression. However, while Apple even refused to let the FBI, for example, unlock the iPhone of one of the San Bernardino killers, Android often makes headlines in this regard.
A 2018 study found that Android devices communicate ten times more often with the Google server than iOS devices with Apple servers (when they are in standby mode). On the other hand, there are also reports of security breaches on Apple devices in the network. This shows that our feelings can be misleading. Therefore, we do not want to give any data protection ratings for either system.