Top 10 Gaming Headsets – Wired and Wireless
A great gaming headset is an essential companion for any gamer. Indeed, it gives you the power to fully immerse yourself in the game and to capture the smallest sound details, which is crucial in competition and casual gaming.
But, with so many gaming headsets available on the market, it can be a pain, to find the one that will be perfect for your needs. Well, in this article, we break down the top 10 gaming headset on the market this year based on price, performance, and the situations they'll be used in.
Astro A50 Gen 4 Wireless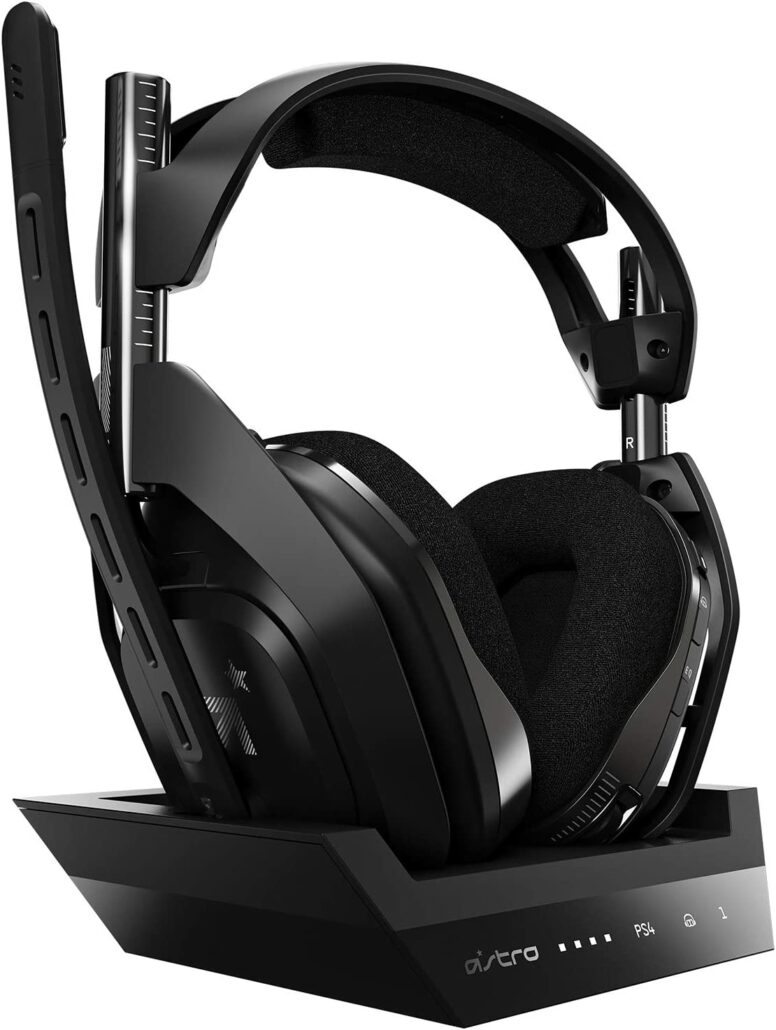 the best high-end gaming headset for streamers, gamers and audio enthusiasts.
Pros
Wide and balanced sound reproduction
Very beautiful restitution of the basses.
Very good quality voice capture, very low sensitivity to surrounding noise.
Good feelings of comfort.
Robust and careful manufacture.
Many possibilities of connection with the docking station.
Easy to use, complete controls and application.
Cons
No possibility to use it in wired mode
Non-detachable microphone
The Astro A50 gen 4 wireless headset offers outstanding sound quality, a comfortable and durable design, and an Impressive high-precision microphone. The headset's audio clarity is excellent across all frequencies, with noticeable and distinct bass, smooth and clear mediums, and powerful highs. It features a high-quality plastics and fabrics design that are both strong and lightweight and Its microphone also captures your voice clearly and transmits it without interruption.
Indeed, Thanks to its 5.0 Gigahertz wireless technology, you won't have to worry about lag issues during intense competitions. The headset also features Dolby 7.1 surround sound technology, with speakers designed for special positioning to deliver a more realistic gaming or movie-watching experience. You also get variety of EQ presets to choose from via its companion software. Unlike other headsets, Dolby 7.1 Surround Sound works quite well with a variety of games, including many first-person shooters for a more accurate and immersive experience.
Moreover, it comes with useful accessories like a base that features optical, auxiliary and USB connections. This magnetic charging station keeps the level of the battery high when you are not using the headset, and its 15-hour battery autonomy means you won't have to recharge it often. Additionally, it can serve as a streaming headset for your PlayStation 4 or Xbox One.
Razer BlackShark V2
The best wired gaming headset.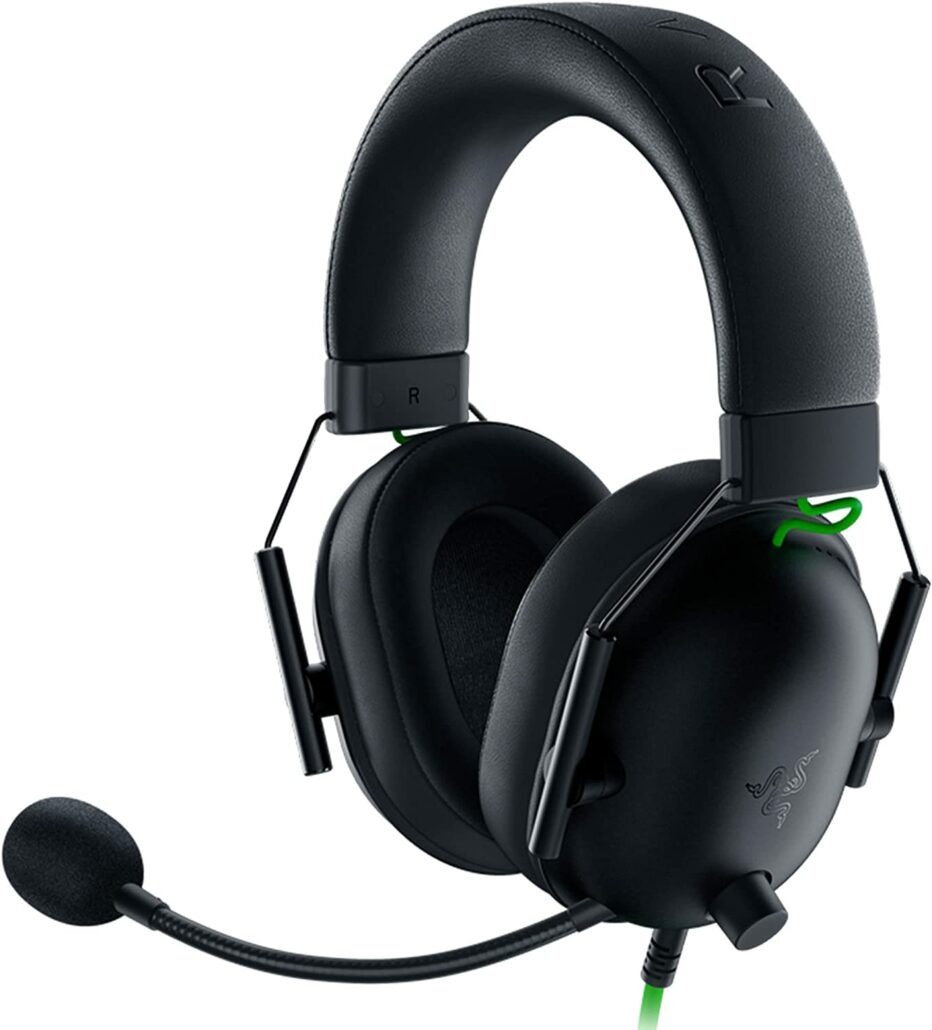 Pros
Good overall sound performance (especially after equalization).
Particularly comfortable.
Generous battery life of about 24 hours.
Cons
Average audio performance for music and movies
It may not offer wireless connectivity, but the Razer Black Shark V2 is unique because it supports THX technology. THX Spatial Audio provides surround sound, so you can accurately locate the direction and origin of enemy fire, footsteps, voices, and more. You'll have a much more immersive gaming experience than what most entry-level headsets can't offer. This is made possible by the all-new 50mm Titanium TriForce drivers. They are equipped with diaphragms for better sound separation and clarity of voices, just to name these few.
The BlackShark also features a detachable microphone and a lightweight design. It's a HyperClear cardioid with USB sound card to improve your voice and features ambient noise pickup and reduction, among other things.
The jack plug makes it compatible with PS4, Xbox One and other consoles, but you won't get the advanced audio tuning capabilities.
And, as is the case with most Razer headsets, it's very comfortable to wear during long gaming sessions. Moreover, its full-ear closed capsule provides unparalleled comfort, complemented by soft-touch memory foam and a leatherette finish. It will keep your ears cool during the most intense gaming sessions, and many gamers will appreciate that.
HyperX Cloud Alpha Wireless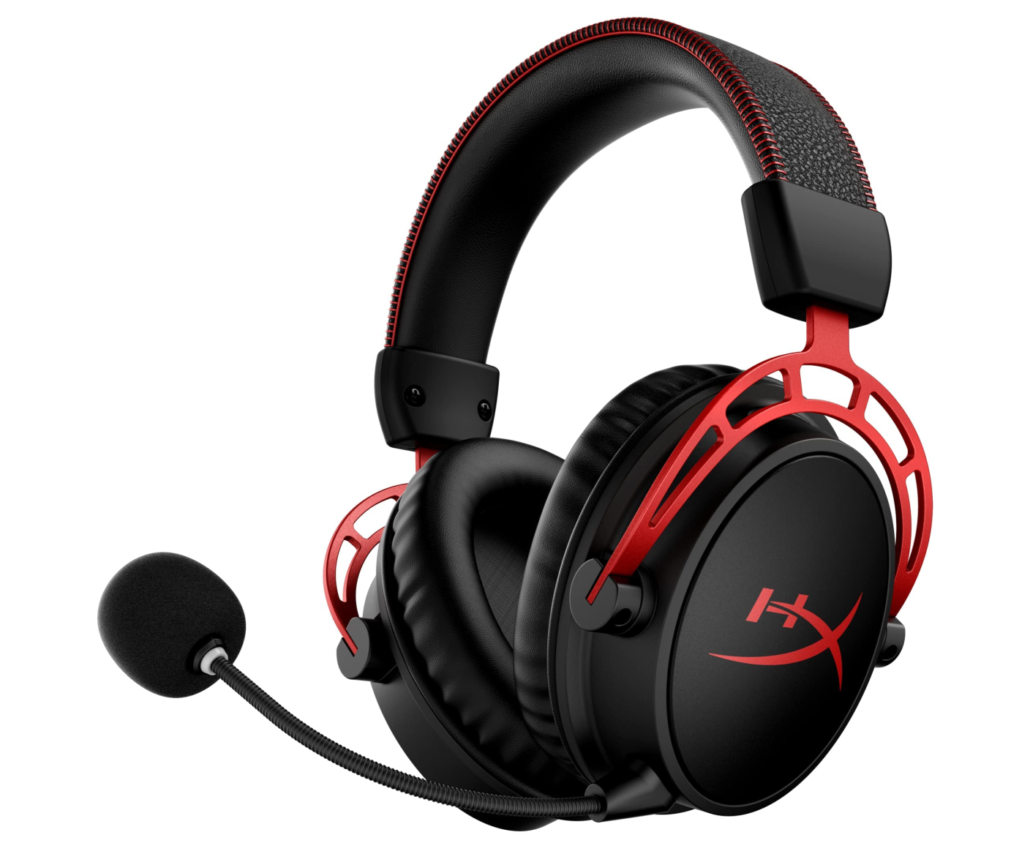 Pros
Excellent sound performance.
Exceptional autonomy.
Excellent comfort.
The microphone is very good.
Cons
No storage case provided.
No wired connection.
Behind its aggressive look, the HyperX Cloud Alpha Wireless headset hides two large 50mm drivers that deliver a clear and powerful sound. The bass is deep without compromising the entire spectrum by preserving the mediums and highs in order to deliver a perfect signal over the entire frequency range from 15 Hz to 21 kilohertz. For an increased comfort even after several hours of intense gaming, the earpieces are padded and adapt to the shape of your ears. As for the microphone, it is removable if you want to use the HyperX Cloud Alpha Wireless in addition to an external microphone, in streaming for example.
Because it is Totally wireless, the connection to the PC is made via a dongle that you plug into a USB port. Once connected, it is a powerful wireless link that is established for a perfect sound without distortion. As for autonomy, it's perfect: you get up to 300 hours of battery life with a full recharge time of only 4.5 hours! It means You won't run out of power in the middle of a game! Lightweight, reliable and comfortable, with the HyperX Cloud Alpha Wireless, you've definitely found the ultimate gaming audio companion!
SteelSeries Arctis 9X Wireless
Pros
Pleasant sound when corrected in the equalizer.
Comfortable and airy headphones.
Beautifully finished and aesthetically pleasing.
Bluetooth that expands compatibility.
A surprising but usable mini-jack port.
Bluetooth and 2.4 GHz simultaneous
Cons
No carrying cases
Non-removable battery
The SteelSeries Arctis 9X Wireless Gaming Headset was designed with console gaming in mind, and you can tell it by the design and the overall aesthetic of this gaming headset.
It features a sleek design in combination with the green color of the Xbox lines, this wireless gaming headset will certainly turn the head of many, whether at an eSports event or during a gaming session with your friends. In addition to the high-end design of the 9X wireless gamer headset, you'll get a rich, balanced audio experience whether you use them for gaming or just for listening to music on your Xbox. The bass are deep, but not too loud, which is perfect for both game music and action.
The SteelSeries Arctis 9X Wireless Gamer Headset also offers the unique dual-band wireless connectivity you see in all of the company's high-end bluetooth headsets. This means you get superior lossless audio, and you won't hear audio from your games when it's too late to respond.
The audio frequency response ranges from 20 to 22,000 Hertz, while the microphone frequency response goes down to 10,000 Hertz. The battery is also a plus for these wireless headphones, with an estimated life time of over 20 hours.
Corsair HS80 RGB
The best gaming headset for spatial audio.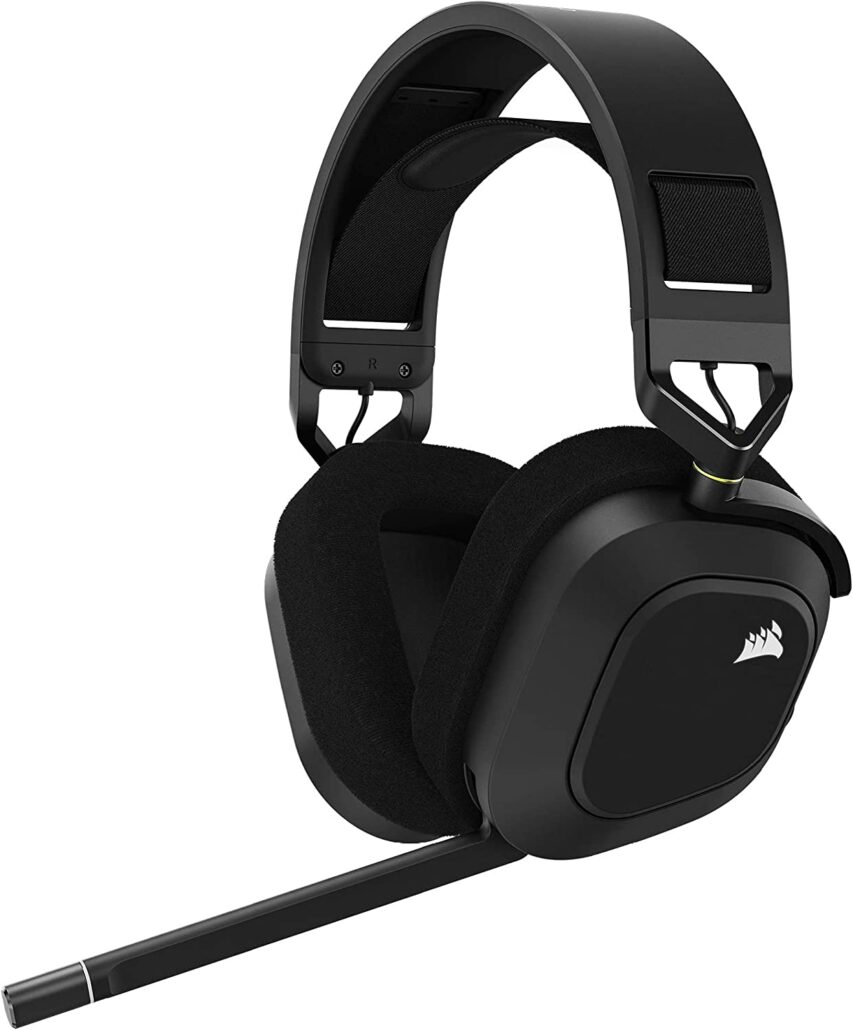 Pros
Very powerful microphone.
Good feeling of comfort.
Easy to handle.
Very comfortable earpieces and structure.
High quality audio, precise, homogeneous.
Dobly Atmos
Cons.
Limited autonomy.
Weak wireless connectivity.
Like the previous headsets, the Corsair HS80's sound has the ability to reach over 40000 hertz which is an excellent score. This allows the player to hear all the details of an explosion, people walking by or even whispers.
As for the ear cushions, they are very thick and are not placed on the ear but around it. No part of the ear touches the cushion. Moreover, it is made of fabric and thus allows the ear to breathe. Thus, the player will no longer have the sensation of intense heat, which is very helpful during long gaming sessions.
The audio output is Dolby Atmos which gives a feeling of spatial audio all around you to Guarantee effect for games that don't require much bass!
The headset is wireless and is equipped with a long-lasting battery that can last up to 20 hours. The headset's detection range is up to 18 meters, allowing you to go to the bathroom or do the dishes while continuing to chat with your squad in the lobby! The headset's microphone is of course foldable towards the user's mouth making it a perfect fit for anybody.
Razer Barracuda Pro Wireless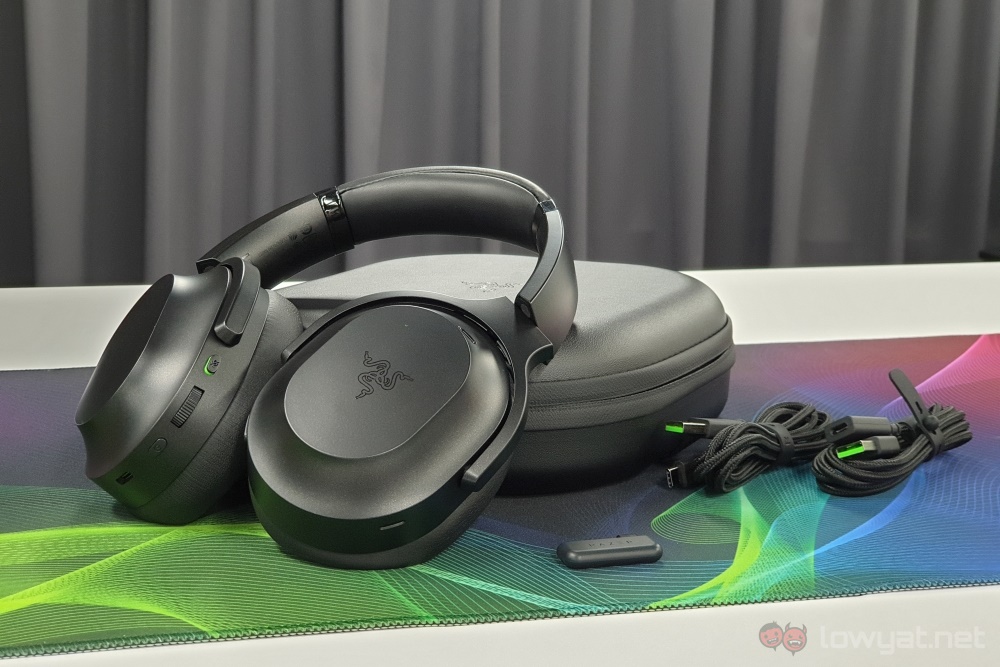 Pros
A headset that sounds right out of the box.
The finish, although plastic, is impeccable.
The dual wireless connection and ergonomics of the buttons is good.
Full software support for Windows, iOS and Android and included cover that really protects.
Cons
The Razer Barracuda Pro Wireless headset features the Razer TriForce 50 mm speakers that deliver a crystal-clear and natural sound, so you'll be able to perfectly capture the atmosphere of your favorite game to Immerse yourself into in-game actions and lead your teammates to victory! Thanks to its circum-aural design and memory foam, you'll enjoy passive noise reduction, absolute comfort, and no distraction by the noise around you during your gaming sessions! Indeed, it is equipped with an active noise cancellation with 10 levels to define precisely the level of isolation you want.
Moreover, you can connect the Razer Barracuda Pro to your PC, consoles and smartphones via the USB-C connection, and it comes with a USB-A adapter. Once connected, you fully enjoy the surround sound 7.1 on your PC or other platforms like a PlayStation, Smartphone, Nintendo Switch for a total immersion in the action! And you can also use Bluetooth connection!
The Razer Barracuda Pro also feature two integrated beamforming microphones for crystal-clear voice capture even with ambient noise! This will allow you to communicate clearly because it will only pick up your voice while reducing background noise to a minimum! The controls (volume and mute) are directly accessible via the left earpiece. Moreover, this gaming headset will also give you the ultimate gaming comfort, with a battery that can last over 40 hours.
Logitech G Pro X Wireless Lightspeed
The best gaming headset for most people.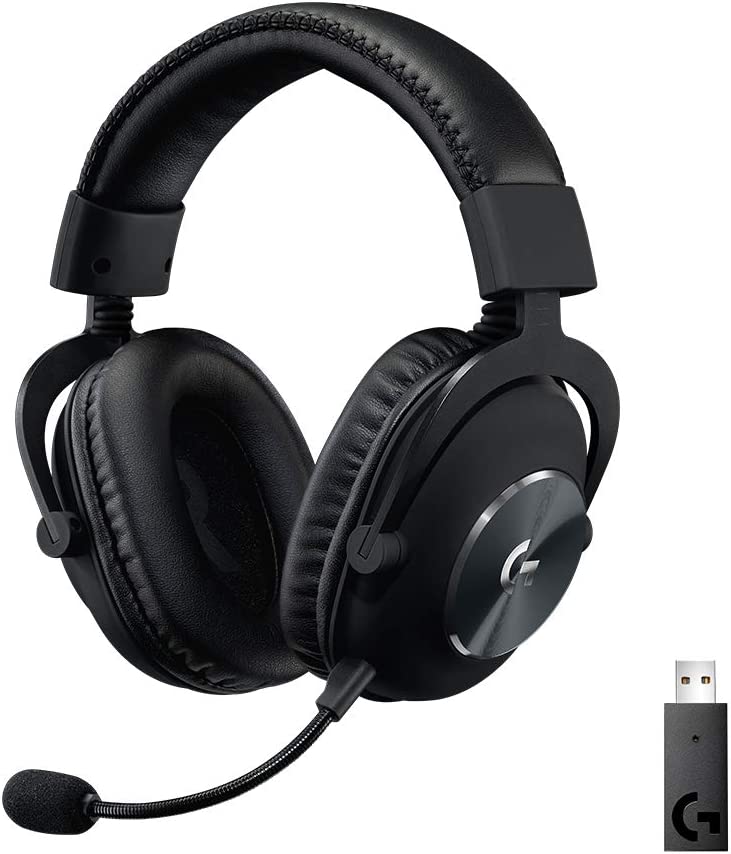 Pros
Audio and surround sound experience
Complete and advanced customization with G Hub
Great design, build quality and finish
Plenty of analog connections in addition to USB: usable on PC, mobile, game console…
Cons
Comfortable, but heavy during long sessions
The Logitech G Pro X Wireless Lightspeed headset features a wrap-around design that surrounds the ear to provide passive isolation from outside noise and enhanced comfort compared to conventional headsets. They contain two 50mm Pro-G drivers that delivers rich and clear sound to your ears. The integration of DTS HEADPHONE X 2.0 technology results in surround sound virtualization for even more immersion and accuracy in the sound delivered by the Pro-G drivers! With this headset, you can easily Pinpoint an opponent's location at a distance without getting confused, from now on, nothing and nobody can hide from you!!
The G Pro X microphone is the result of a collaboration between Blue Microphones and Logitech to create an accurate, high-performance gaming headset microphone! Thanks to its cardioid pattern, this microphone is ideal for gaming and streaming. And thanks to its Logitech G hub companion software, you have the freedom to adjust your voice settings as you see fit- noise reduction, compression, and more.
Finally, The G Pro X headset is stamped Lightspeed, which means it deliver a stable and reliable connection while maintaining the signal quality. Simply plug the receiver into a USB port to use your headset with a battery life of 20 hours and a range of up to 15 meters!
Roccat Elo 7.1 Air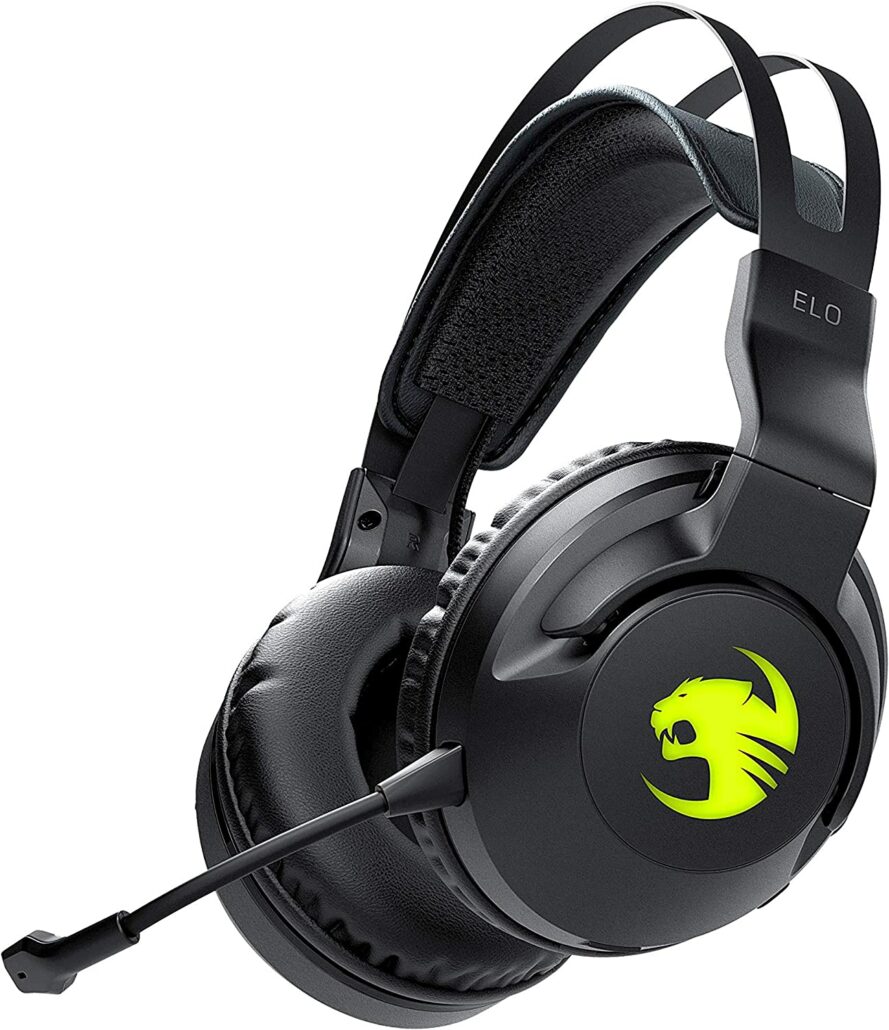 The Best budget Wireless Gamer Headset
Pros
Double headband for a "one size fits all" headset
Solid construction and flawless assembly
Foldable earpieces, Ergonomics and comfort
Stable connectivity / Battery life
Feature-rich software
Warm bass
Cons
Sometimes uncomfortable with glasses
Wireless operation required
The Elo 7.1 Air features a beautiful a self-adjusting metallic headband with rotating cushion hinges for comfort and flexibility at all times! Its 50mm diameter neodymium drivers deliver 7.1 spatial sound, speakers offer excellent sound quality, it is perfect for pinpointing your opponents in space or for immersing yourself in your gaming and movies sessions!
Thanks to its unique TruSpeak removable microphone, your voice will be crystal clear, making this a great headset for team games where chatting is essential. Moreover, the A mic control wheel allows you to control the strength of your own voice, which you can hear, so you don't have to shout because of the headset's sound isolation.
Even more, this headset is very comfortable, and the dual-foam ear cups (also known as the ProSpecs Glasses Relief System) are convenient when you wear eye glasses. This is somewhat compensated by the USB-C charging compatibility and a long 24-hour battery life. In addition to PC support, you can use the Elo 7.1 Air with the PlayStation 4/5 and the Nintendo Switch when the system is in docking mode.
It true that it doesn't have Bluetooth, but if you combine its sound quality with its 2.4 gigahertz connection via the USB-A transmitter whose rage is up to 10 meters, its light weight design of 345 grams that features memory foam ear cushions, a battery that can last up to 24 hours without failing, you have a headset that will never leave your side and won't cause you any pain!
Razer Kraken X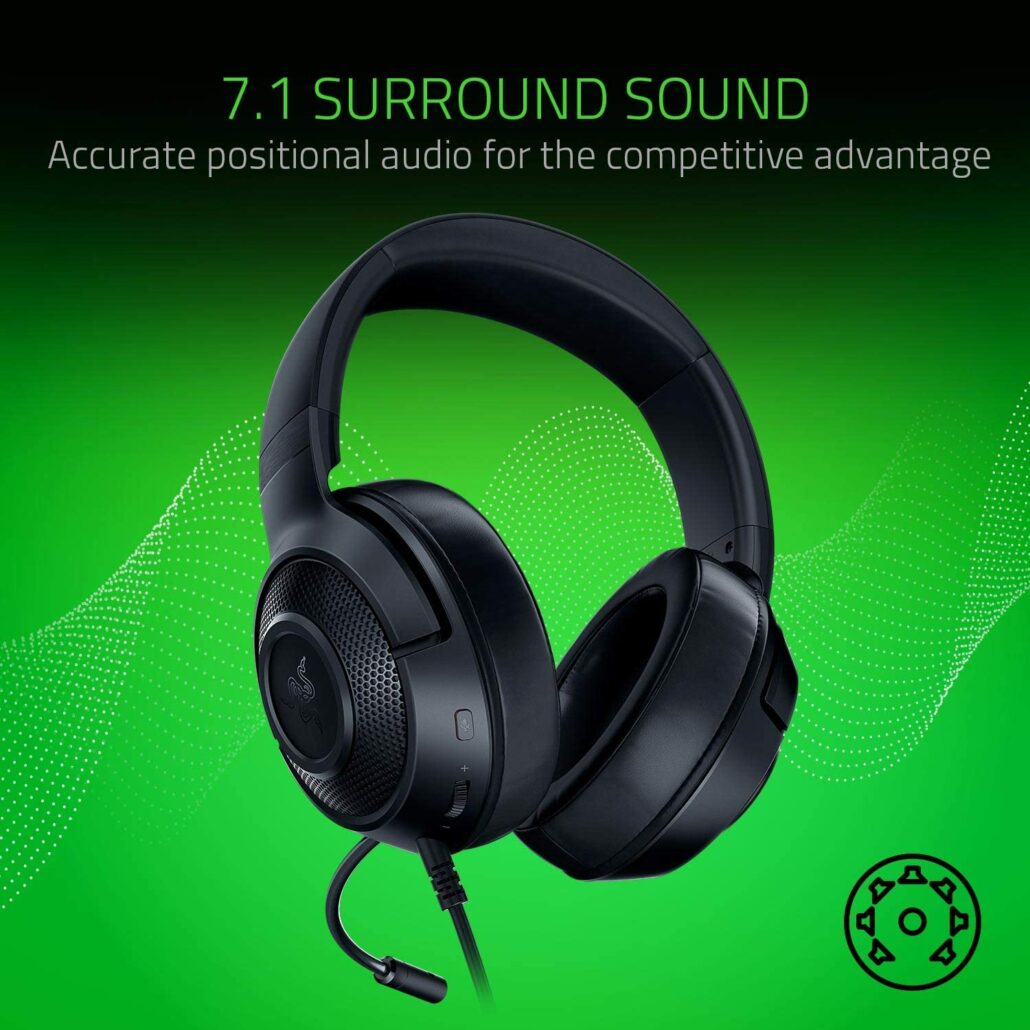 What we like
Lightweight and comfortable to wear.
Good thickness of cushions.
Jack connectivity, but complete.
A decent sound quality with a total immersion.
What we don't like
Position of the mute and volume buttons.
The Kraken X features a high-quality sound, indeed, thanks to its 7.1 surround sound (PC only) the sound rendered is clear, precise and crispy, you will be completely immersed in the game.
In the car, on the track, or in the battlefields, you'll hear other players coming from miles away and anticipate their strategies and thus increase your overall performance. It is not because the sound is ultra-qualitative that the price is high, on the contrary, and as usual, Razer has chosen to offer it at an affordable price that remains well below the market.
Designed for gamers, by gamers, the Kraken X adapts to any gaming or sound platform, indeed, whether you are on PC, Mac, Xbox One, PS4, Nintendo Switch or even on mobile thanks to its 3.5-millimeter jack, the Kraken X adapts to you and your style. Available in many colors, and padded at the earphones, you will be in the most optimum comfort, however, we note a lack of ventilation due to the strong padding, which can cause overheating in the ears. To compensate for this heat, Razer has used bauxite aluminum, making the Kraken X light, flexible and durable.
Corsair Virtuoso RGB Wireless XT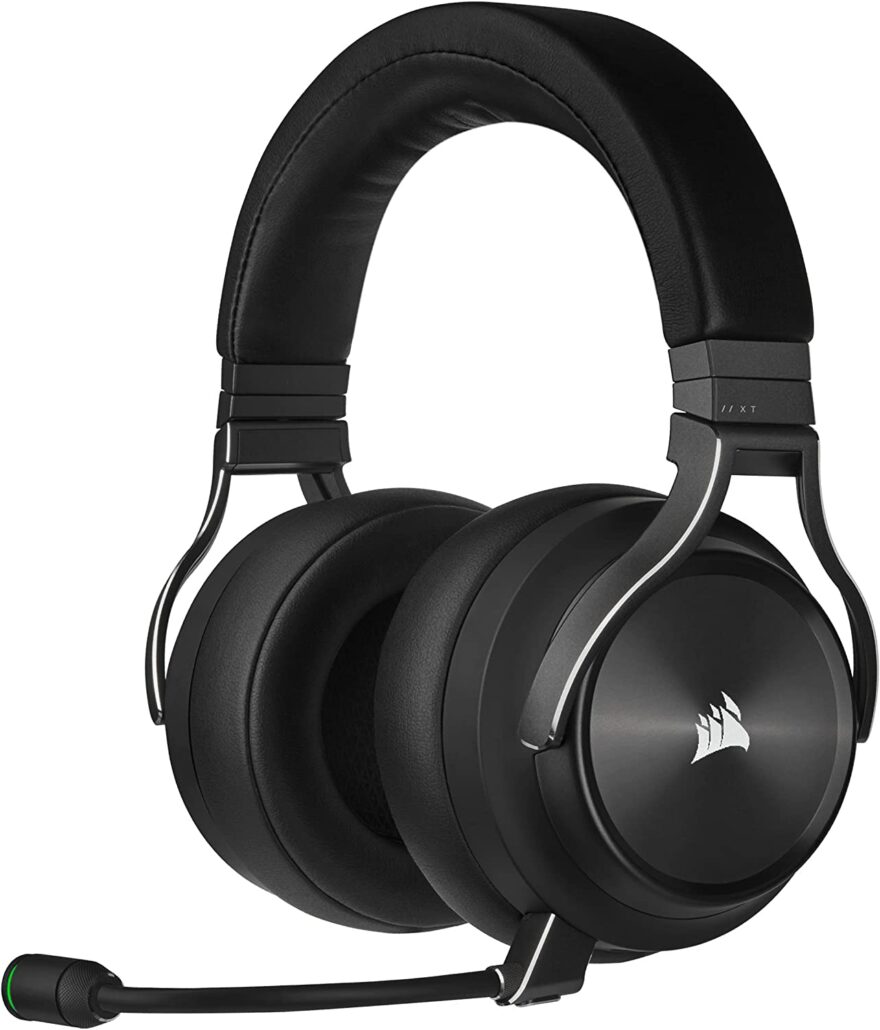 What we like
A very elegant and comfortable headset.
Bluetooth connectivity and RF .
The mini-jack for use on all current consoles.
Great detachable and efficient microphone.
Dolby Atmos and iCUE
What we don't like
Autonomy perhaps a little weak.
The Corsair Virtuoso RGB Wireless XT headset faithfully reproduces the sound of your game, all wirelessly with minimal latency, a range of 18 meters and a battery life of up to 15 hours! Its dual RF 2.4 GHz or Bluetooth connectivity and Dolby Atmos compatibility make it a powerful and versatile headset. Enjoy rich, faithful sound, flawless comfort and a breathtaking design!
With its large 50mm diameter neodymium drivers, the Virtuoso XT stands out as a gaming headset with an emphasis on audio fidelity. Its frequency response is a testament to this, with a range of 20 to 40,000 Hz! You can hear your environment perfectly without having a distorted audio spectrum. Its 7.1 virtualization is also a great asset too.
Thanks to its dual connectivity, you can choose your connection method with care! The radio frequency available via receiver connected in your pc's usb port, while the Bluetooth brings an incredible versability of compatible devices!
Made of aluminum, we find a combination of robustness, design and lightness! The memory foam earpieces complete the copy with a quality passive isolation and an omnipresent comfort. Like any good Corsair device, these headphones are compatible with iCue software that offers customization options for audio (equalizer)!