The All Powerful Refreshingly New Lenovo X1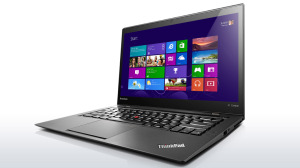 It is only normal that people expected a bundle of announcements from Lenovo in the CES 2015, and Lenovo also kept true to these expectations. They did come up with a line of products and the refresh of the all popular Lenovo X1 is something to de commented about.
The Lenovo X1 was already among one of the most powerful windows machines in the marked, and now by stepping another generation further, it has got even better. The newly released Lenovo X1 is powered by the Fifth generation of Intel core processors which may go up toCore i7. These are the new Broadwell U line of CPUs which means that you can expect up to 10 % hike in performance compared to the previous models. It also comes with a PCIe solid-state drive which according to Lenovo is 80% faster than normal solid state drives. These solid state drives also boast capacities up to 512GB. The X1 also comes with 8GB of RAM and will also offer a 1600 x 900 pixel or 2560 x 1440 pixel IPS touchscreen display.
Other features of the Lenovo X1 include an 802.11ac WiFi, Bluetooth 4.0, 2 USB 3.0 ports, a USB 2.0 port, and a 5-button touchpad and pointing stick solution. The laptop also features a 50Wh battery which offers screen on time up to 10.9 hours.
The carbon fibre body and the sleek design makes it one of the lightest 14 inch laptops in the market weighing just around 2.9 pounds. The machine measures 331mm x 226.5mm x 17.7mm. Lenovo also ships a bundle of accessories with the X1 which they call the "ThinkPad Stack". This package consists of a 1TB USB hard drive, a wireless data access point, a Bluetooth speaker, and a 10,000-mAh power brick for charging your mobile. All these will be available on stores in mid-April.
By

Dileep L J

In Laptops
— 6 Jan, 2015