New HP EliteBook 1030 Comes Up With Metallic Fanless Design
HP expanded its EliteBook product line by introducing EliteBook 1030. This is a laptop especially crafted for business class and enterprise users. The company itself has come up with clarification that the new device will stand in between EliteBook Folio and EliteBook 1040 in terms of features.
Design
The new EliteBook 1030 measures to be 12.2*8.3*0.62 inches with a weight of 2.6 pounds. The EliteBook 1030 looks elegant with its diamond cut design along with its metallic finish. This new laptop is encased in aluminium which ensures perfect protection and also durability for the device.
Display
EliteBook 1030 holds a 13.3 inch edge to edge display. The company launched the new product in two variants. One supports full HD display without touch feature but the other one is equipped with Quad HD touch display. The screen resolution comes to be 1920*1080 pixels for the former one and the latter one features a resolution of 3200*1800 pixels. The edge to edge screen provides a better visibility experience for the users. The screen is well protected by Corning Gorilla Glass.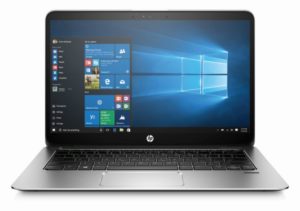 Processor
EliteBook 1030 is powered by Intel Core M Skylake processors. The basic model of EliteBook 1030 is powered by Core M5-6Y54 along with a storage capacity of 128GB. The company also offers another variant that is powered by Core M7-6Y75 with a storage capacity of 512GB. Both these variants runs with a RAM of 16GB avoiding all processing lags while functioning.
Keyboard and Touchpad
HP introduced a comfortable keyboard for the device. This keyboard could be used even at nights. This has been made possible with the spill-proof back lit keys. The design team of new EliteBook 1030 has cared for giving the Touchpad maximum area for scrolling, pointing and navigating through various options available. This Touchpad comes along with a Click Pad which delivers maximum ease and intuitive feel for the users.
Fanless Design and Noise Reduction Software
The new EliteBook 1030 holds no fans or spinning drives. This makes the new device to function fastly and that too by staying cool. Also the new Noise Reduction Software from HP helps in keeping your device silent. The software tend to reduce any function related noise thus helps in concentrating on what you are working.
Connectivity
EliteBook 1030 provides better connectivity options and its offers WiFi connectivity along with WLAN, Miracast and Bluetooth of v4.2. In addition to this the device also holds two USB ports of v3.0 along with one USB-C charging port which provides fast charging facility. Also it got HDMI port for providing video output.
Audio
The speakers of new EliteBook 1030 are made by Bang & Olufsen. This itself makes it clear that you can enjoy better sound with audio clarity than before. When these speakers are combined with HP Clear Sound Amp provides you a better audio feast while watching videos and movies.
Battery
HP promises that EliteBook 1030 batteries can last long enough upto 13 hours with its 14Wh capacity. This will be quite amazing when compared to other competitors in the market and is almost 40% more when compared to previous EliteBook 1020 from HP.
Availability
New EliteBook 1030 is available at a price of $1249. You can make the purchase directly from the HP's official website if you prefer to. Otherwise the devices can be purchased directly from the shops.
By

Mathews Benny

In Laptops
— 19 May, 2016