HP Unveils Chromebook 11 G5 with 12.5 Hours Backup, Optional Touch Display Costing from $189
HP is a well-known brand both in tablet section as well as in laptop section. The company is keen in giving its users something new with premium features. Now they have been limelight with affordable range of laptop under the name Chromebook 11 G5. They have introduced this laptop with thinner case with skimmed display panel. Chromebook 11 G5 is also light weight when compared to the previous devices. Let's have a deep look into the specifics of Chromebook 11 G5.
Display
With 11.6 inched, the display panel looks just awesome. The thinner bezels and compact size makes it user friendly. HP also provides an optional Touch screen. This optional screen comes with HD IPS touch display panel which is well protected by Corning Gorilla Glass NBT. The touch enabled device weighs 1.878 kg and non-touch device comes with 1.1418 kg.
Processor
Chromebook 11 G5 is powered by Intel Celeron N3060 processor. This processor is too swift in launching applications that you use daily. This processor also helps you in faster web browsing and also helps you managing the battery back-up. With the Intel processor Chromebook 11 G5, user could operate spreadsheets, Hangouts, Videos and Music Files with ease. As you all know Chromebooks have Google Chrome as its OS. Chromebook 11 G5 is also having Google Chrome as its OS and uses Cloud Storage system.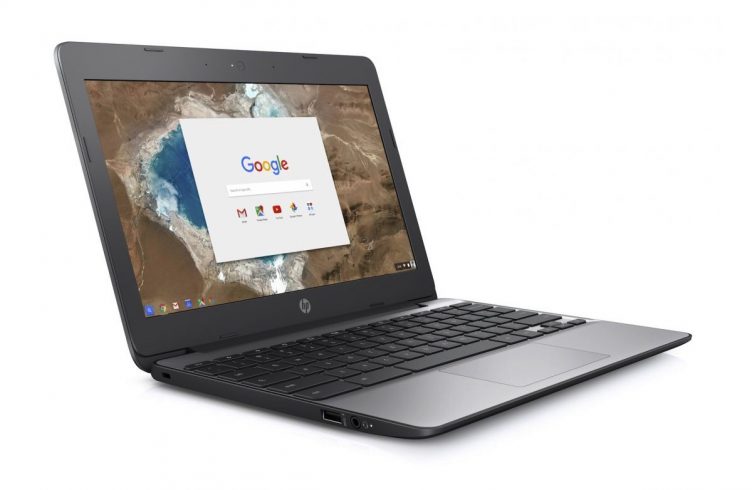 Keyboard
HP offers a sleek edged keyboard for Chromebook 11 G5. This will help you easy typing as well as in keeping dust away. The keys appear to be smooth.
Connecting Ports
Chromebook 11 G5 supports one port of v3.1. This will help you in faster date transfer to and fro. Other connectivity options include one AC plug for LED, HDMI enabled port and Micro SD Card Reader. Chromebook 11 G5 is also having Webcam which will help you to have video chatting.
Battery
Battery back-up of Chromebook 11 G5 is quite enormous. The battery provides a back-up of nearly 12.5 hours for the non-touch version. When it comes to touch version, the battery back-up is 11 hours as promised by HP.
Extras
You can straight away expect Play Store and Android apps for Touch enabled Chromebooks soon. The developer team of HP is trying their best to make Chromebooks that is compatible with Play Store and Android. Soon we can expect laptops that support Android just like smartphones.
Availability
HP set out Chromebook 11 G5 to the market for $189. The marketing wing of HP made it clear that Chromebook 11 G5 will be available on shelves by October. At the same time the channel partners can deliver the devices by July.
By

Jinnia Gupta Roy

In Laptops
— 29 Jun, 2016