Grab your Intel Compute Stick now by Pre-ordering through Newegg
Users all around the world are well aware about the Compute Stick from Intel.This device is specialized in providing the properties of a PC or desktop when it is attached to a Television or any kind of Monitor. It is made available across world market with pre-installed Linux or Windows 8.1. For you information you may find many devices of this in the market. But what makes this particular device from rest of the others is that it is manufactured by Intel. Also it is sold out in the market for an affordable cost.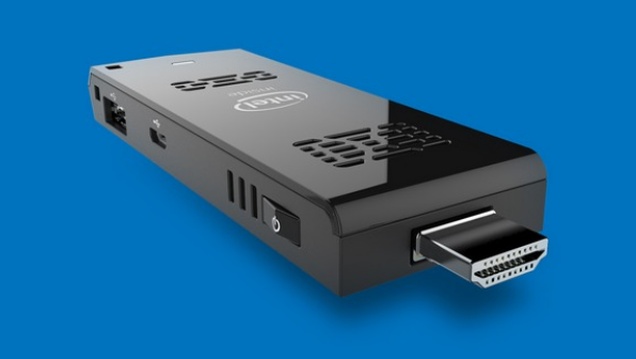 Intel's new Compute Stick can bring down Windows or Linux to any monitor including Television. Thus it functions itself as a mini computer. The device comes out with a HDMI port in it which enables the device to get connected with your TV or available monitor. Thus with the help of this gadget you can just convert either a TV or monitor in your house to a full-fledged computer that works on Windows 8.1 or Linux. Intel announced that the device will be made available in the electronic market by the end of this month. But certain retailers like Newegg are set out to take pre-orders from now itself.
When checking out Newegg, we are able to notice two listings or two different versions. One is named as Intel Ultra-slim PC Compute Stick Intel Atom Windows 8.1, which runs on Windows 8.1. This model can be pre-ordered at a cost of $150. The next version runs on Linux, which can be pre-ordered at $110. Customers all across the world may be disappointed to see that these gadgets are now out of stock. Sadly no information is available regarding its availability in the electronic market.
Users may be thinking about the difference between Linux version and Windows version and also about the reason for high pricing of Windows version. The reason is just simple. Linux version comes out with a RAM of 1 GB and 8 GB storage only. But the Windows 8.1 has an internal storage capacity of 2 GB and also accompanies 32 GB SSD. The difference in these specific features of the Stick is seen only on websites such as Amazon as well as with Zones retailer. But when it comes to Newegg retailer, the specifications of the two models seem to be same, without any difference between each other.
No one has come till now with exact details regarding the specifications of the Intel Compute Stick. Customers across the world expect that someone would come with precise specifications of the device.
By

Vineesh Nair

In Laptops
— 8 Apr, 2015