DynaPad from Toshiba to Compete iPad Pro and Surface Pro 4
The gadget arena of tablets is ruled by the usual players like Apple, Microsoft and Samsung. But with the launch of DynaPad, Toshiba also joined this league. This device was first showcased at IFA 2015. Now Toshiba has announced its world- wide by introducing DynaPad at CES 2016. The device has been made available for pre-order for the time being and will be available with Microsoft stores by the end of January. Let us check out the gadget and find out what it has got to compete with iPad and Surface Pro 4.
Design and Display
DynaPad sports a 12-inched display screen. The screen resolution measures to be 1920*1280 pixels, which the Toshiba has designed in such a way to enable the user to physically write on it. This is possible by merging two glass sheets together along with a sensor made of metal mesh. This display is protected by Gorilla Glass 3 loaded with fingerprint resistant covering. It makes it an ideal gadget suitable for artists, doodlers and hand writers. With all these features inside, this gadget weighs just 1.27 pounds and weight is evenly distributed on the whole body. The thickness comes to be just 0.27 inches. This device is lighter than iPad which weighs nearly 1.59 pounds and Surface Pro 4, which weighs 1.69 – 1.73 pounds.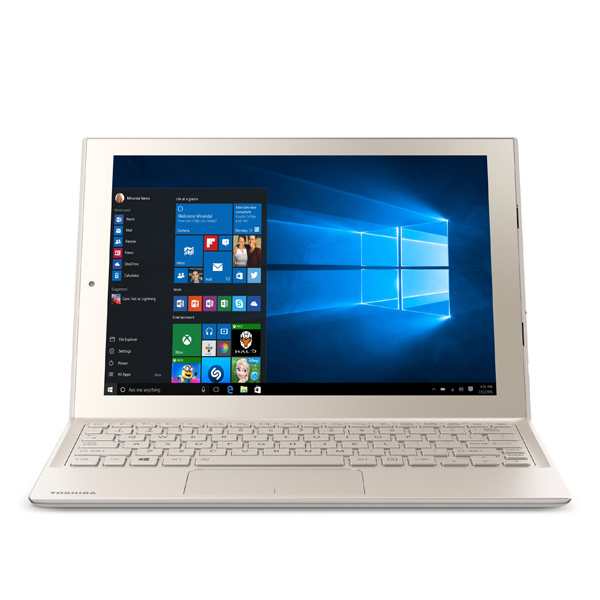 DynaPad TruPen
DynaPad also features a Wacom backed metal stylus in champagne gold colour which they call as TruPen. This stylus offers 2048 levels of pressure sensitivity which is almost twice the level of sensitivity offered in Surface Pro Pen. Toshiba declares that it is a professional class digital inking technology developed by Wacom. It has the ability to sense the pressure that we apply while writing. For instance if you press hard and write, this will appear in bold letters and when we apply minimum pressure in writing, it appears in thinner fonts. This pen can be easily placed on the slot to the side of the tablet.
Processor, Storage and Camera
DynaPad is powered by Atom x5 Z8300 processor from Intel. This processor is featured by a RAM which extends upto 4GB. The storage of 64GB is provided by flash storage system. This storage can be expanded to 128GB with the help of an external microSD memory card. This tablet functions on Windows 10 OS. DynaPad is loaded with two microUSB ports of v2.0 and one micro HDMI port. Inorder to enhance video and imaging capability, this gadget is loaded with a front cam which is loaded with 2MP lens and rear cam which is loaded with 8MP lens. You are allowed to attach a keyboard with the help of magnets, to this gadget to get a feel of laptop.
Pricing and Availability
DynaPad is tagged with a price of $570. By an additional payment of $99, you can get a keyboard which can be attached to this tablet. As I mentioned earlier, this device is already made available for pre-orders. Company promised that they are all set to release this gadget world-wide by the end of this January.
By

Sajin M S

In Laptops
— 20 Jan, 2016