Best Chromebooks in 2022 a Guide for Buyers
Whether we like it or not, today's reality revolves around the internet and artificial intelligence(AI) devices. And whether you want to browse the web, view images and movies or process text in typewritten form, there is nothing better than a Chromebook that allows you to do all of this for less than the price of a traditional computer.
Indeed, in the laptop market, there are already many competitors, and it is not easy to stand out of the crowd, but Google dares to do so. Its main argument: high-performance laptops, with an Apple-like design, running a new operating system: Chrome OS.
Add to that an undeniable price-quality ratio on several ranges, and the choice offered to users is therefore abundant. Check out the best Chromebooks below, and then head to the Buying Guide to find the model that's right for you.
What is a Chromebook?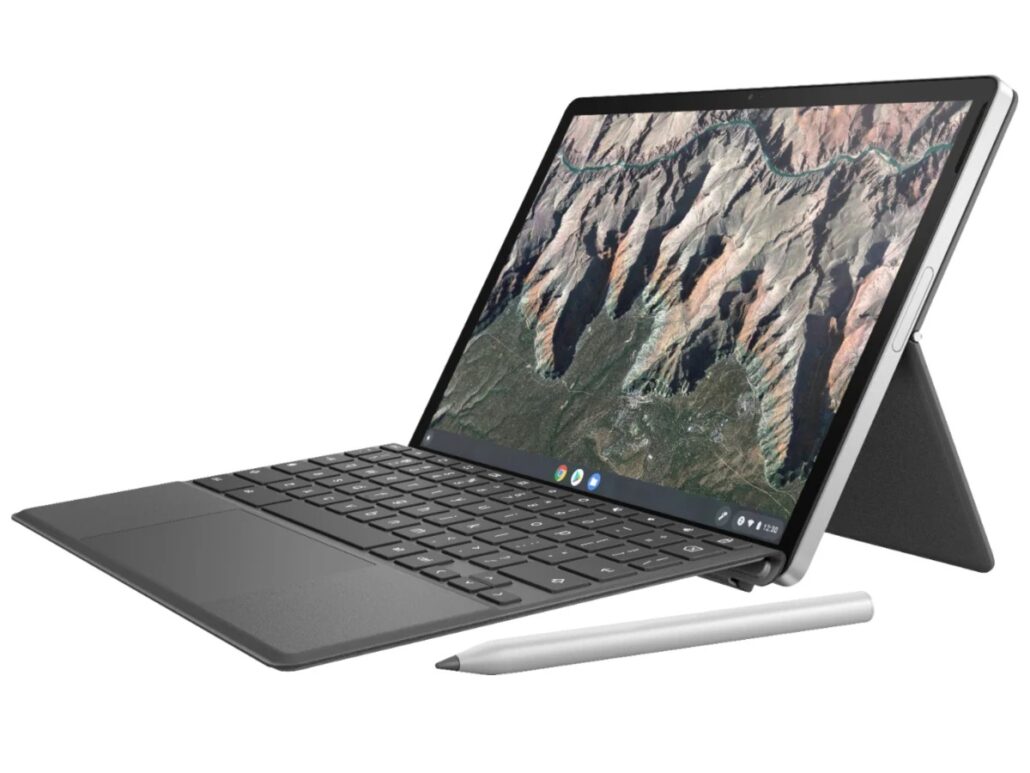 A Chromebook is a small, inexpensive laptop with three basic characteristics.
The first is its low cost, as most variants are sold for less than $500.
Its second feature is its speed. Since they are optimized for web browsing, they load quickly. Due to its light operating system and efficient processor, even if the user opens many tabs at once, there is almost no chance of crashing.
The third distinctive feature of this laptop is the high quality of its components despite its low price. On the other hand, it is not the best instrument for intensive daily work.
BUYING GUIDE: How to choose a Chromebook?
When you buy a Chromebook, you will notice less variety in hardware than with Windows laptops. So here are the most important specifications and factors to know when choosing a Chromebook.
The processor and RAM
Depending on the tasks you intend to undertake, you will need to choose a more or less powerful processor to ensure the device runs fast. A low-end processor such as a Celeron or Pentium will suffice if you only want to browse the Internet with two or three tabs open. If you want to multitask, a Chromebook with an Intel Core i3 or i5 processor is best.
The RAM is also necessary because it helps the processor in processing data. So, a model with 4GB of RAM would suffice, but for increased performance, models with at least 8GB are required.
Screen size and resolution
When buying a Chromebook, be sure to look at the screen size and especially the resolution. For optimal comfort, choose a model with a screen size of at least 13 inches and a resolution of 1920 x 1080 pixels (1080p) or higher.
The keyboard, touchscreen and storage
Since the primary market for Chromebooks is people who use them for work, the keyboard is essential. It should be sturdy and provide enough space for users to be comfortable. Choose a 256 GB model for office use, but you can be satisfied with 128 GB.
Connectivity
A cheap Chromebook typically lacks Ethernet, HDMI, or USB Type-C ports. So if you're going to be presenting on an external display or connecting a USB device, be sure to choose a model with a video output and one or two USB ports, it can come in handy.
Battery life
Chromebooks have an average battery life of 8 to 12 hours, depending on the model and how you use it. By maximizing their battery life, they can also run for days without needing to be recharged.
Design
Chromebooks are defined by three keywords: small, light and thin. They weigh between 1 and 2 kilos on average, which makes them easy to carry around. To keep the price as low as possible, most cases are made of plastic. Most of the time, the quality is decent, but some go beyond that. Consider your priorities, so you can choose the design that suits you best.
Best Chromebook to buy this year
Looking to buy the best Chromebook available in 2022? These simple computers are significantly cheaper, faster and more durable than traditional laptops. We bring you a selection of the best cheapest and newest models to buy.
Lenovo Chromebook Duet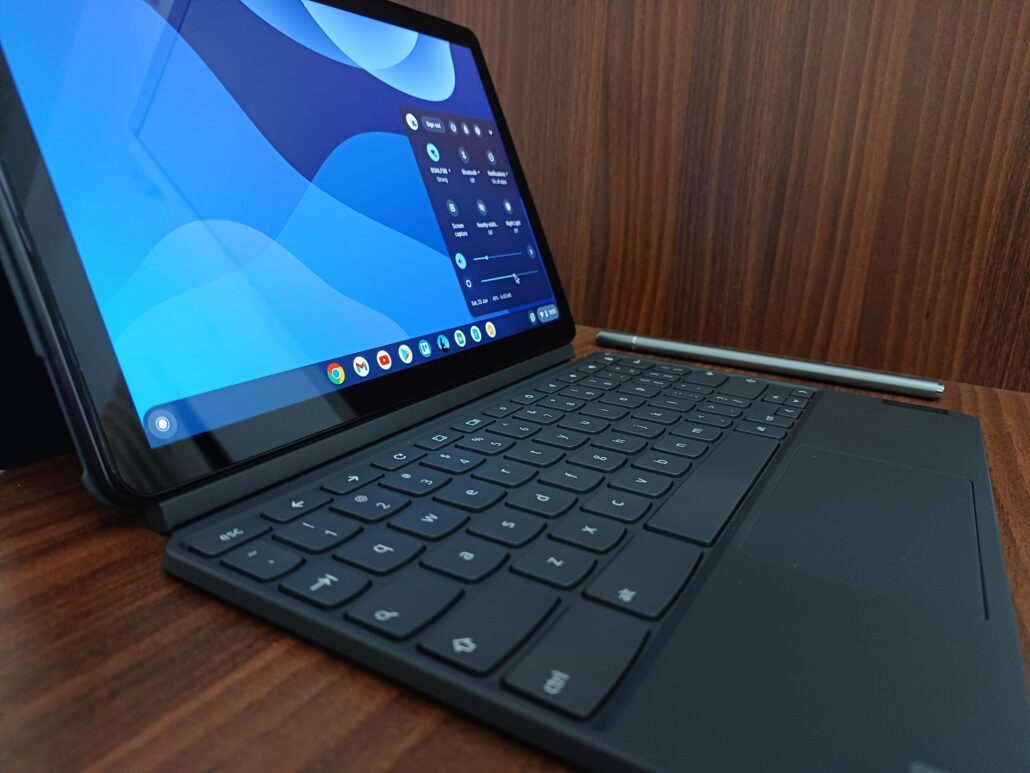 The Lenovo IdeaPad Duet Chromebook has one of the most modest specifications (and price) of this comparison. And yet it deserves its place in the top spot, thanks to its incredible battery life, and its performance that makes it quite responsive and therefore will suit most users perfectly.
The device boots in less than nine seconds, and can do almost anything that other top Chromebooks can do, despite its Mediatek P60T chip in place of an Intel or AMD processor. We get a compact form factor – the screen is only 10.1″. But also detachable: the screen can indeed separate from the keyboard to turn it into a touch tablet.
It weighs only 450g in tablet mode and 920g in laptop mode. Which, when you add its strong autonomy (more than 12h30 according to independent tests) makes it the best possible ally to beat the roads. All this for a price that does not even reach, at this moment, the 400 dollars.
Acer Chromebook Spin 713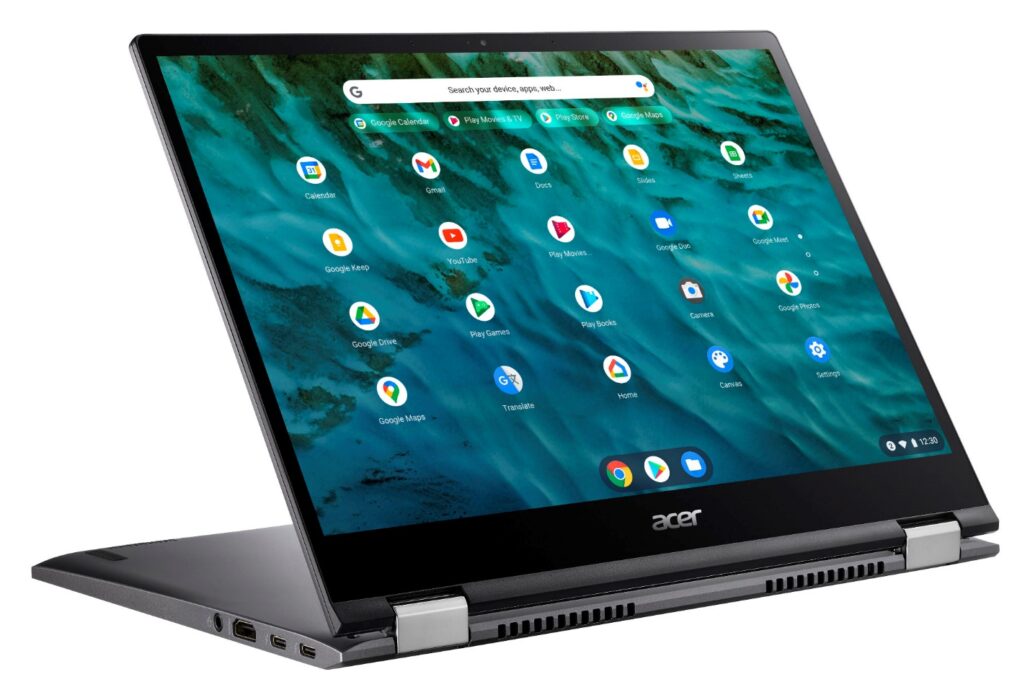 If you're looking for a featherweight Chromebook with a fairly comprehensive specification sheet and a futuristic stylus, the Acer Chromebook Spin 713 is most likely on of the best choice to make.
The Processing performance is provided by the Intel Core i5-10210U processor, which is capable of turbo clock speeds of up to 4.2GHz. Acer also makes room for the integrated Intel UHD graphics card, capable of handling visuals and gaming pleasures with unmatched precision.
It features an 8GB of RAM, 128GB SSD module, which is quite hard to find on Chrome OS devices. As for the display, the 13.5-inch 2K panel is captivating and sharp enough. The prickly IPS display further features a cumulative resolution of 2256×1504 pixels. It features a backlit keyboard, a responsive trackpad and a set of powerful speakers. The 3-in-1 digital stylus, pre-packaged with the gadget, also deserves a special mention, thanks to the ballpoint features, and 16GB of built-in memory, thanks to a built-in USB drive.
This Chromebook weighs just 3.02 pounds, has USB 3.2 Type-C slots and DisplayPort support, Bluetooth 5.0 and Wi-Fi AX. The battery last up to 10 hours, before needing a recharge.
HP Chromebook x360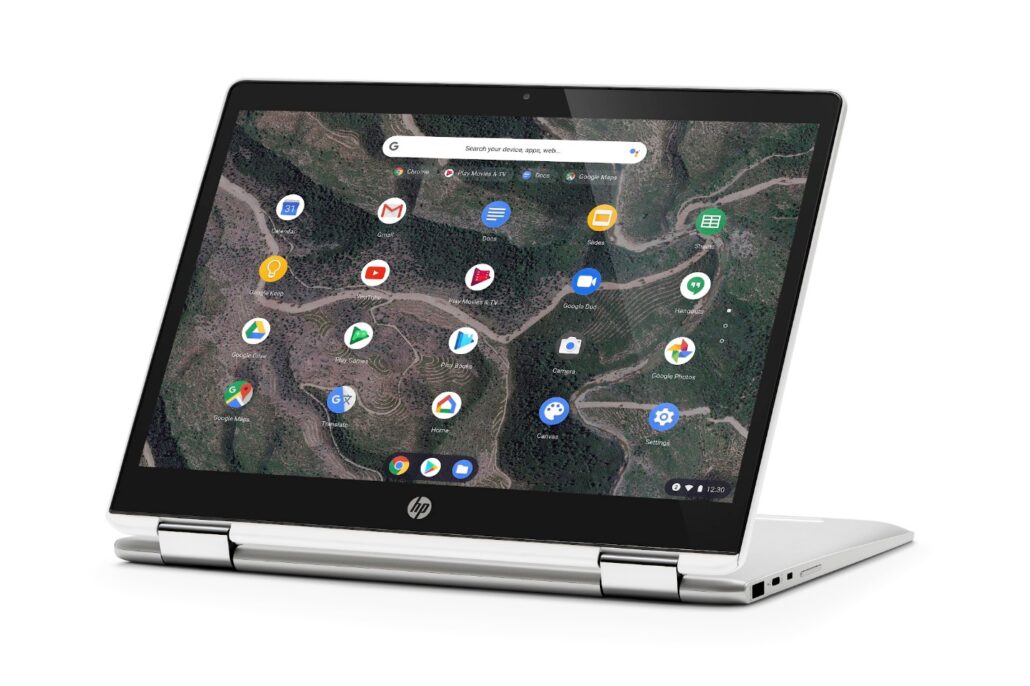 If you need an undeniably powerful device to take full advantage of the Google ecosystem, you couldn't be happier to have the HP Chromebook x360 in your hands. With its sophisticated configuration, this model has quickly established itself as one of the best Chromebooks of 2022.
Powered by an 8th generation Intel Core i5 processor backed by 8GB of DDR4 RAM, this Chromebook runs almost any application with extreme smoothness. You'll already get a taste of its capabilities with its record boot time. In tests, users say they have never had as much fun working or playing their games as with this model.
This Chromebook also has one of the best displays on the market. Its 14-inch screen displays Full HD images that will make your movies look more real than life. Ergonomics and practicality are clearly part of its register since it can be used both as a laptop with its keyboard and as a touch tablet by turning the latter 360°. Watching videos is also very practical with this chromebook as you can put it upright in tent mode.
Finally, you can only appreciate its long autonomy of 14 hours, enough to ensure its use during a whole day.
Lenovo ThinkPad C13 Yoga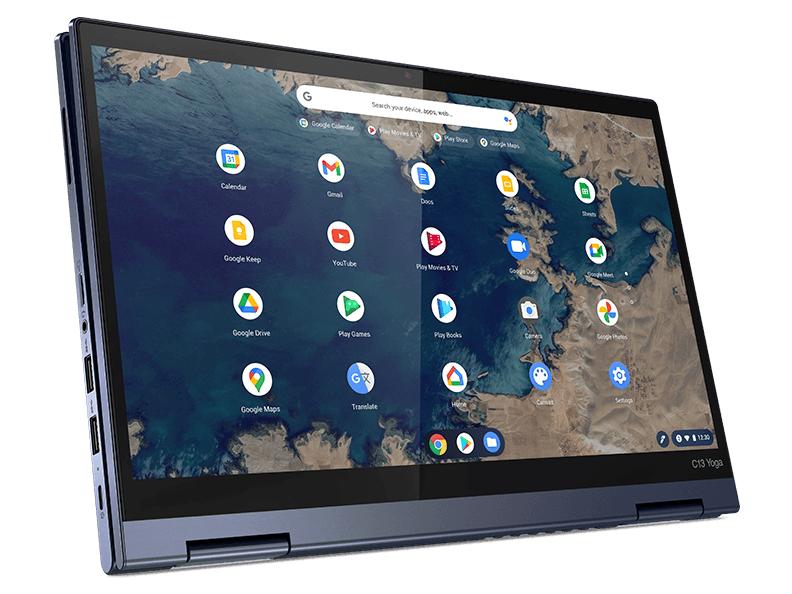 Undeniably the tested configurations are premium. Indeed, equipped with AMD's Ryzen 5 processor, this ThinkPad Chromebook offers a constant fluidity. Equipped with 8GB of RAM and a very comfortable 256GB SSD, no task made this Chromebook shudder. Constructed in a very nice shade of aluminum, the feel of this Chromebook is also premium. The 13-inch display, meanwhile, is full HD (with a 1920-by-1080 resolution) in a widescreen format that's perfect for movie sessions or presentations.
The keyboard is exceptional in the ThinkPad tradition. It's a pleasure to tap on the soft-touch, low-noise keys. Another professional feature is the presence of a rechargeable USI stylus that fits inside the Chromebook's shell. Always within reach, this stylus is very well made.
Convertible, this Yoga C13 also has two cameras, one in the classic position, above the screen, another on the keyboard. These cameras offer HD quality and will be very useful, as much for the visios, as for scanning documents. Two other elements complete the eminently professional character of this C13. First, the presence of a fingerprint sensor. Particularly effective, this sensor offers the possibility of unlocking and securing your Chromebook. Then there's the presence of an HDMI port, which means you don't need a USB C to HDMI adapter.
Asus Chromebook Detachable CM3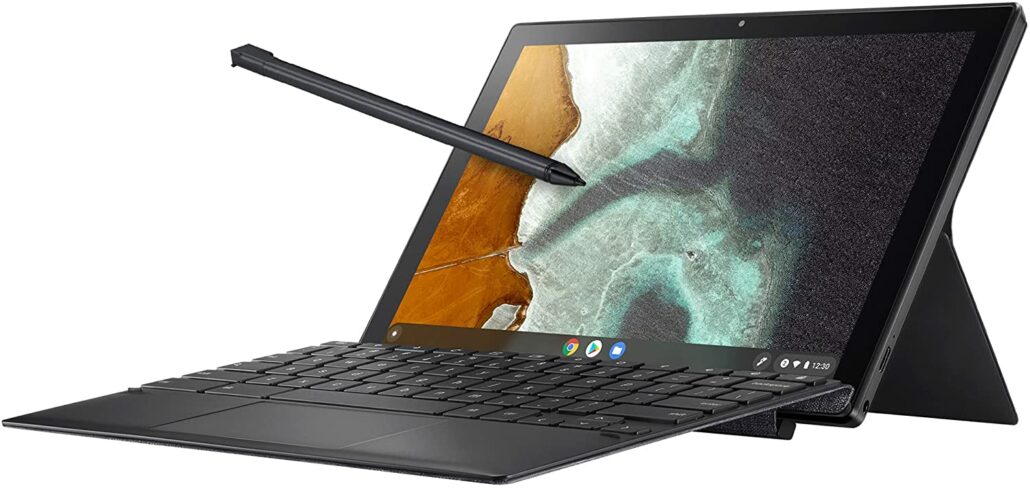 The ASUS Chromebook CM3 detachable combines mobility, productivity and versatility. The CM3 will easily compare to an iPad or a Duet. Obviously, this detachable device solution is perfect for mobility. Simply attach the full-size ergonomic keyboard and the Asus Chromebook CM3 detachable turns into a laptop with an ErgoLift design and 1.5mm key travel for improved productivity.
The ASUS CM3 features a sturdy mineral gray aluminum unibody chassis with a diamond-cut matte black edge. The ultra-thin 7.9mm design makes the device invisible in a bag. Its light weight of 0.51 kg and dimensions of only 25.54 x 16.72 x 0.79 amplify the quality aspect of the device.
The CM3 is one of the devices that can follow us all day long. Asus has made the power-autonomy compromise with a MediaTek ™ 8183 2.0 GHz processor (1 MB cache, up to 2.0 GHz, 8 cores). This is paired with 4G of Ram and 64 or 128 GB of eMMC storage. Naturally, in order to be able to use it in tablet mode, Asus has chosen a 10.5-inch touchscreen, LCD, WUXGA (1920 x 1200) 16:10 like the Lenovo IdeaPad Duet. The CM3 has received two cameras, one of 2.0 M in front for video conferencing and one on the back, of 8.0 Mpx for taking pictures.
Lenovo Flex 5 Chromebook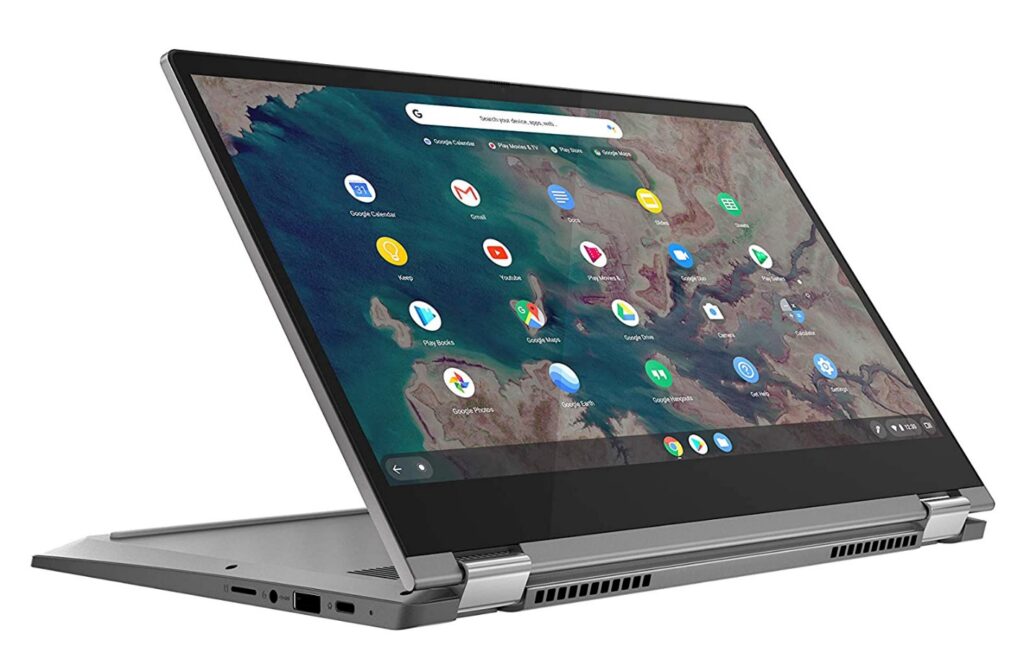 The Lenovo Flex 5 CB 13IML05-265 is what we call a high-end Chromebook. With its neat design and the ability to flip the screen completely over to enjoy it like a tablet, this Lenovo Flex 5 boasts a very interesting spec sheet: an i5-10210U processor (quad core that can go up to 4.2Ghz), 8GB of RAM, a 13-inch full HD (1920×1080) screen and, to finish off with a real 128GB SSD. Most of the time, Chromebooks are limited to eMMC storage, which is lower-end but also less expensive. Here, it's a real SSD (M.2 NVME in PCIe 3.0 for the experts) that is screwed under the hood, allowing you to enjoy increased performance.
The computer also offers the possibility of hiding the keyboard at the back and put the screen right in front of you. By connecting a bluetooth controller, the whole thing becomes perfect for playing an Android game or even taking advantage of the Stadia streaming system from Google, for example. You should also know that the screen supports the digital stylus (which is sold separately) allowing you to draw directly on the screen, for the artists. Such a pen can also be used to comfortably use the Chromebook in tablet mode.
Asus Chromebook Flip Cx5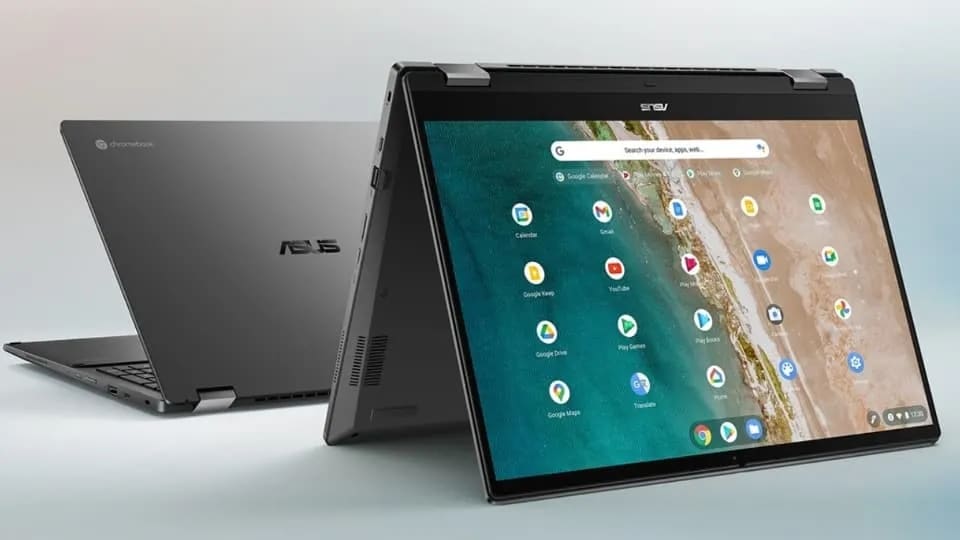 This Chromebook Flip designed by Asus has more than one trick in it' s sleeve. First of all, its 15.4″ format that will please a lot those who don't like small screens that might reduce their productivity. By the way, this screen is compatible with any Universal Stylus Initiative (USI) certified stylus to allow you to increase your creative talents tenfold.
The machine is equipped with one of the new 11th generation Intel processors and an Iris Xe graphics chip, up to 16GB of memory and ultra-fast SSD storage. The model is convertible: simply fold the screen back to convert the device into a kind of tablet running ChromeOS. In addition, its battery lasts up to 12 hours on a single charge, which is close to what Apple delivers on its MacBook Air M1.
Very robust, the device is certified MIL-STD-810H which ensures a very long life. It is WiFi 6 compatible with Asus's signal stabilization technology, and comes with a 3-year warranty.
Google Pixelbook Go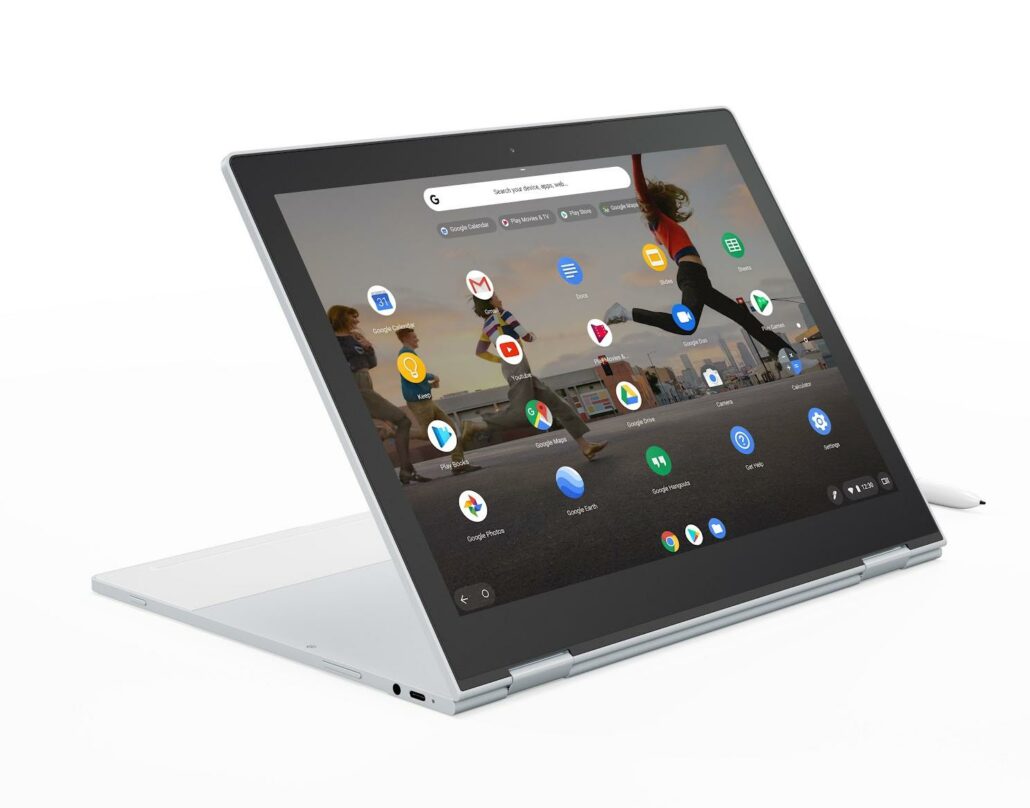 The Google Pixelbook Go is very practical to watch movies during your vacations or during your flight, very practical also to read your emails during your travels and allows you to stay very productive especially for your professional collaborations.
Now let's move on to its features, the most important in all of this is its availability in 3 different 8th generation Intel® Core? processors, the m3, i5 and i7 and this is a guarantee for faster browsing and gaming as well as smooth 4K output on external monitors. And for smooth multitasking without too much crashing during use, the Google Pixelbook Go comes with a 8GB or 16GB of RAM with a choice of 64GB, 128GB or 256GB of storage as well.
Another element that may be useful to know before any decision is the autonomy of this Chromebook. We are talking about an exceptional autonomy exceeding 11 hours on a single charge. And in the end, we can say that the Pixelbook Go brings additional premium features compared to the old (original) Pixelbook such as the keyboard that is totally silent with a nice typing feel, a Full HD webcam that records videos at 60 frames per second (2 MP Duo Cam, 1080p HD video at 60 fps).
Acer Chromebook 715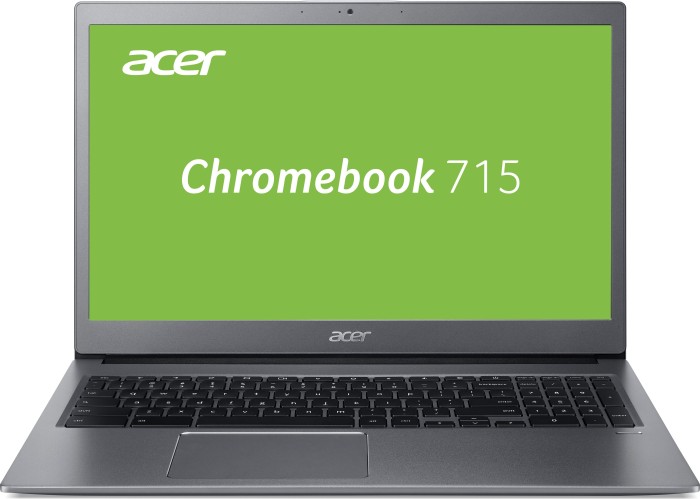 There's no need to open the Chromebook to realize how bulky the device is. It fits easily on your desk and in a carry-on bag. With its 1.8 kg and its 15-inch screen, the Acer 715 is still a transportable computer.
The display of this Chromebook is impressive with a 15.6″ FHD screen defined in 1920 x 1080 with a 16:9 Acer ComfyView ™LED backlit ratio, we are in the presence of a product that is pleasant to use throughout the day. As with the display, the keyboard is impressive.
The performance is at a premium level, with an Intel Pentium Gold DC 4417U 2.3 GHz processor all powered with 8 GB, DDR4 of RAM. This processor is clearly above average thanks to its robust technical characteristics, although it is below the level of a Core i5. It offers almost all the existing connectivity on the market: USB 3.1 Gen 1, USB 3-C ports, 3.5 mm audio jack, 2 built-in stereo speakers and a Micro SD card reader. The Acer Chromebook 715 is equipped with 128 GB of SSD and as always Google offers 100 GB of storage. And its battery lasts almost 12 hours.
HP Chromebook 14 G3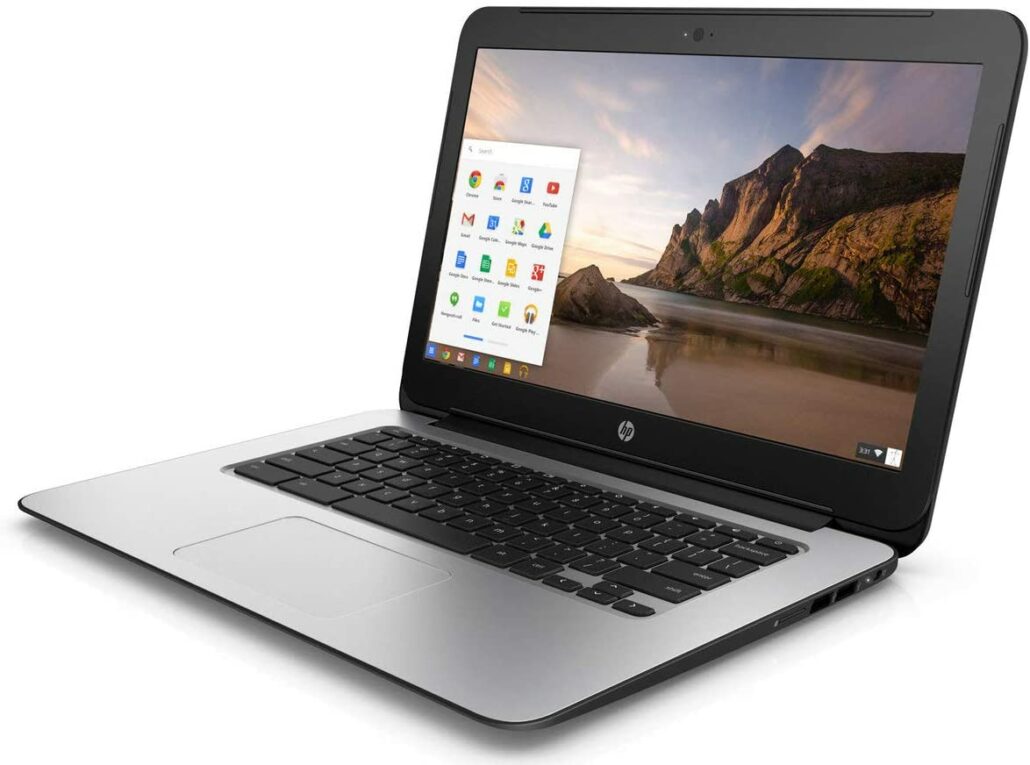 Another Chromebook that attracts our attention. This is the HP Chromebook 14 G3, a 14-inch laptop that works like all Chromebooks running Google's Chrome OS.
The HP Chromebook 14 is equipped with an NVIDIA Tegra K1 microprocessor that is faster and more powerful than the ARM Cortex-157. The processor is clock is 2.1 Ghz and supported by a RAM of 2GB and an internal storage space of 16 GB in SSD eMMC.
The PC features a 14-inch FHD touchscreen display with WLED backlight technology and an HD display resolution of 1366 x 768, that will allow you to see things in vivid colors for a very impressive web and multimedia experience. And with the purchase of HP Chromebook 14 G3, as mentioned in the product specification sheet, you will be entitled to 100GB of cloud storage thanks to Google Drive and for 2 years.