Acer Joins the Super Slim League by Launching Swift 7 under 10mm and Spin 7 Convertible
IFA 2016 cleared the prevailing doubt regarding world's slimmest laptop. Asus claimed that their 11.9mm thick Zenbook 3 is the thinnest while Apple claimed that their MacBook is the thinnest and HP come out with their Spectre 13. Now throwing all these devices Acer unveiled Swift 7 – the world's known thinnest laptop ever with just 9.98mm thickness. Acer succeeded in making the device to measure below 1 cm with all the essential ports and charge points as well. IFA 2016 also saw Spin 7 from Acer, which is a convertible laptop.
Acer Swift 7
The shell of Swift 7 is carved out from Aluminium making it durable. The 13-inched laptop weighs less than 2.5 pounds with a thickness of just 9.98mm. The super slim Swift 7 looks elegant in its Black and Gold design.
The display comes to be 13 inches edge to edge with 1920*1080 pixels. You can conveniently enjoy HD videos on the full HD IPS display screen.
Swift 7 functions on 7th Generation Intel Core i5 processor with latest Kaby Lake chipset. Most striking feature of this processor is that they operate without fans. With a RAM of 8GB and in-built storage of 256GB, Swift 7 will definitely function swiftly.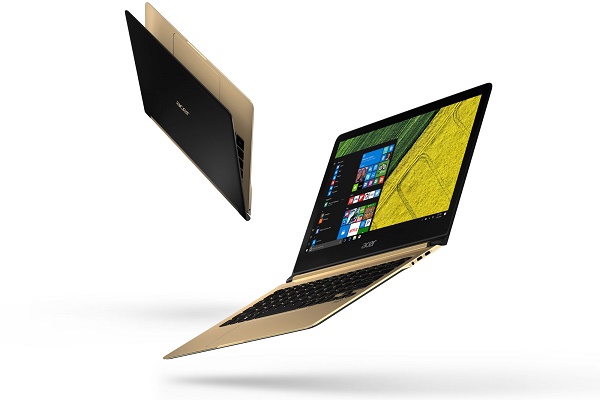 Swift 7 supports 2 USB ports of v3.1. It also has a headphone jack to which headphones can be connected. The trackpad provides you enough space to spread your fingers wide enough. Acer promises that Swift 7 is having a battery back-up of nearly 9 hours.
Acer Spin 7
Spin 7 also comes under the super slim league with a thickness that is slightly more than Swift 7. Spin 7 weighs nearly 2.6 pounds. Spin 7 as the name suggests can be rotated 360 degrees. This gives us an advantage of using Spin 7 like a tablet.
The display of Spin 7 comes to be 14 inches edge to edge. The Full HD screen is touch enabled giving you the complete satisfaction of using it like a full-fledged tablet.
Spin 7 functions with Intel Core i7 processor under the hoods. The RAM comes to be 8GB coupled with in-built storage of 256 GB with the Solid State Disk.
Spin 7 also features 2 USB ports of v3.1 along with one headphone jack. The officials made it clear that the battery of Spin 7 will last for 8 hours.
Availability
Swift 7 will be launched initially in China for a price of ¥6,999, later in Europe for €1,299 and in US for $999. Spin 7 will be launched to Europe and North America by the end of next month for a price of €1,299 and $1,199 respectively.
By

Jinnia Gupta Roy

In Laptops
— 5 Sep, 2016