Top 10 Gaming Mouse – Wired and Wireless
Finding the best gaming mouse for your needs can be a pain, there are so many options on the market right now, which makes it hard to tell which one will be perfect for you.
Well, in this article, we break down the top 10 gaming mouse on the market this year based on price, performance, and the situations they'll be used in.
So, if you are looking for a wired or wireless mouse, with high precision optical sensor, programmable buttons, RGB backlight, and more terrific features for casual or competition gaming, we'll have the perfect option for you. so, if you're interested in finding out which gaming mouse will be best for you, stay tuned till the end so you don't miss anything.
1

Razer Basilisk V3
The best gaming mouse overall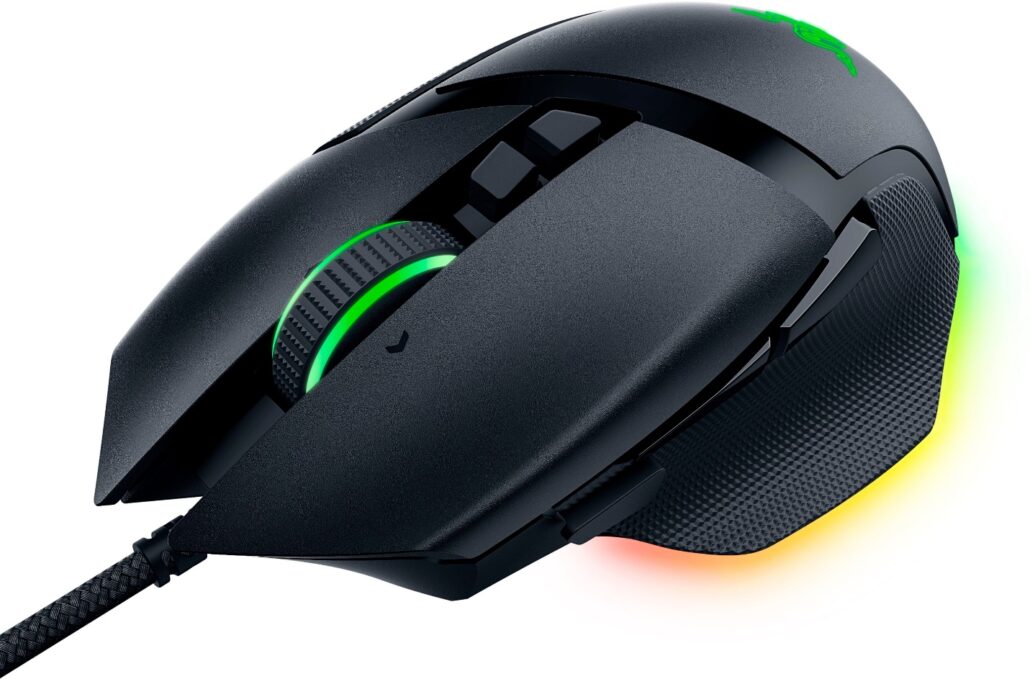 Pros
Excellent optical sensor.
Comfortable grip.
High quality finish.
New convenient thumbwheel.
Extended RGB customization.
Very flexible cable that is easy to forget.
Cons
Optional Qi wireless charging dock is expensive
The Razer Basilisk V3 offers a Focus+ optical sensor with up to 26,000 dpi and 99.6% resolution accuracy. Thanks to its intelligent functions and features, you will have the power to always outperform your opponents and run towards victory.
Designed for gamer, its cable is more flexible and generates minimal drag for smoother and faster movements without any discomfort. And its 100% PTFE feet will allow you to use it on any surface with optimal glide.
We all know that During a gaming session, every second counts, which is why this mouse has high-performance optical switches.
Its activation is done at the speed of light, with a response time of only 0.2 milliseconds. With this mouse, you can easily change the way you play with a click of a button thanks to Razer Hypershift technology. This technology gives you the power to program its 11 buttons by activating a secondary profile with the click of a single button.
With the Razer Basilisk V3 gaming, you can adjust your mouse down to the smallest detail. Indeed, this mouse features a button that will allow you to change the scroll resistance of the wheel. You can therefore obtain a smooth or tactile resistance according to your wishes.
Finally, the backlighting of the Basilisk V3 mouse is equipped with the Razer Chroma system and 16.8 million colors! You will also have the power to synchronize your different Razer devices with the Razer Synapse software, and adapt your gaming setup to your tastes.
2

Logitech G Pro X Superlight
The best wireless & lightweight gaming mouse on the market.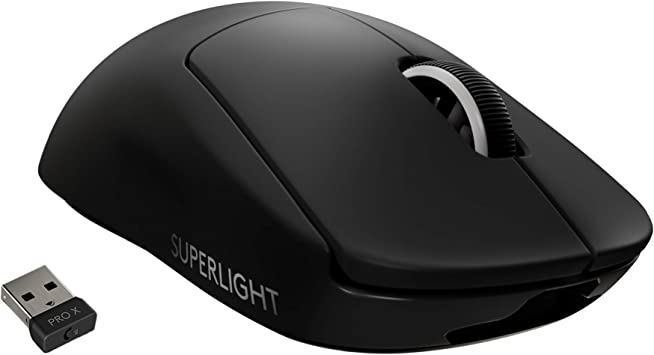 Pros
Extremely appreciable record lightness.
Fast and accurate optical sensor.
Wireless link is perfect.
Good autonomy.
Compatibility with Powerplay wireless charging.
Cons
No dpi adjustment on the mouse
The Logitech G Pro X Superlight is not only an excellent mouse for gaming, but also for office use! Despite its non-honeycomb design, you'll be surprised by how its lightweight despite the fact that it's a wireless mouse.
The build quality is excellent, the plastic is light but sturdy, and although it's not ergonomically shaped, the grip will fit most hands. However, small hands will have trouble reaching the button on the front side with their fingertips.
Its PTFE feet offer a particularly smooth ride, and the non-slip rubber grips that come with the mouse will keep the mouse in your hand. From the name of this model, you can already tell that this is one of the lightest mouse on the market. Indeed, it weighs only 63 grams which is combined with an impressive optical sensor, as well as responsive buttons that allow it to still rank high among the reference brands in terms of performance.
The mouse has 5 programmable buttons with Omron's renowned responsive switches and a nice notched scroll wheel. With the G-Shift mode, you'll be able to assign a second layer of controls to get 9 programmable buttons, which is a big plus for MMO players.
In terms of performance, its Hero sensor is flawless and can handle 40G acceleration without any problem. Its accuracy is also impeccable, although you may experience stalling on shiny surfaces like glass. But, as with most mouse, using a mouse pad is always preferable for optimal glide and accuracy.
Finally, this gaming mouse has an ultra-fast wireless connection with no latency, and its battery will last up to 70 hours without failing.
3

Corsair Ironclaw RGB
The best budget friendly gaming mouse.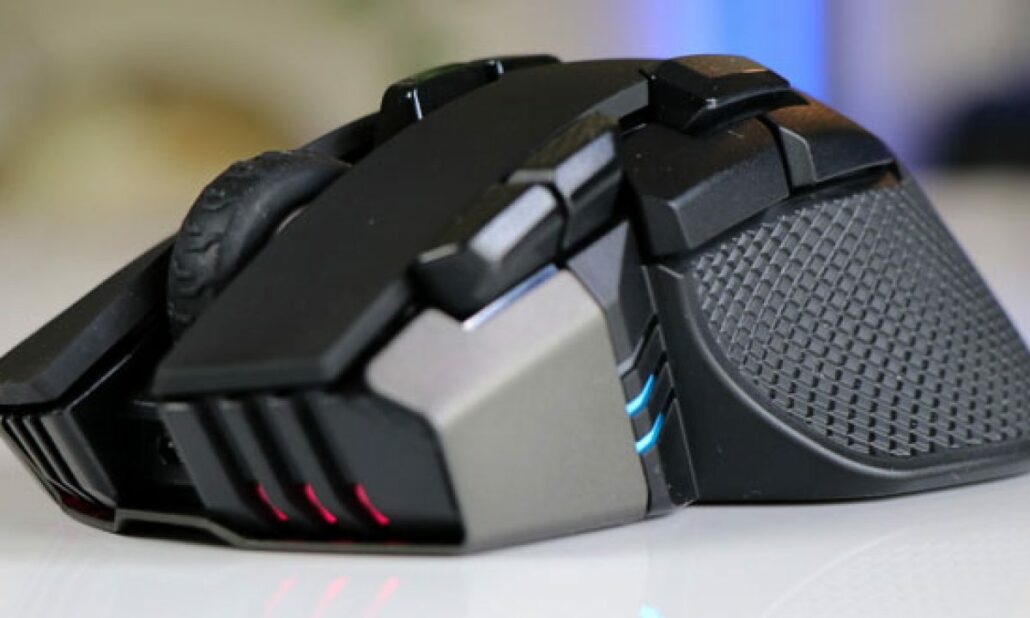 Pros
Ergonomics designed for large hands
Lightweight despite its imposing size
Ultra-precise sensor
Light and handy despite its size
Cons
The knob could have been better notched.
Braided cord too rigid.
The Corsair Ironclaw RGB wired mouse is dedicated to performance, as demonstrated by its 18,000-dpi resolution optical sensor, packed into a mouse that weighs only 105 grams! It also features 7 programmable buttons and a customizable backlight to triumph on the battlefield!
This gaming mouse, designed for big hands, its sexy and its curved design will fit the shape of the gamers palm and it is quite pleasant to handle.
It is mainly intended for MOBA or FPS enthusiasts, who will appreciate its high resistance Omron switches, capable of withstanding up to 50 million clicks, as well as the responsiveness of the mouse with up to 18,000 DPI offered by the high precision optical sensor that equips it.
It has 7 macro buttons that allow you to remap the keys, which can be decisive in some games, and a dynamic RGB backlight system in two zones that you can set.
With a solid cable provided, a light weight of 108 grams and a built-in profile storage system, this is a cheap wired mouse that lacks a bit of resistance due to plastic finishes but will do its job for the average gamer, who plays in moderation.
4

Razer Naga Trinity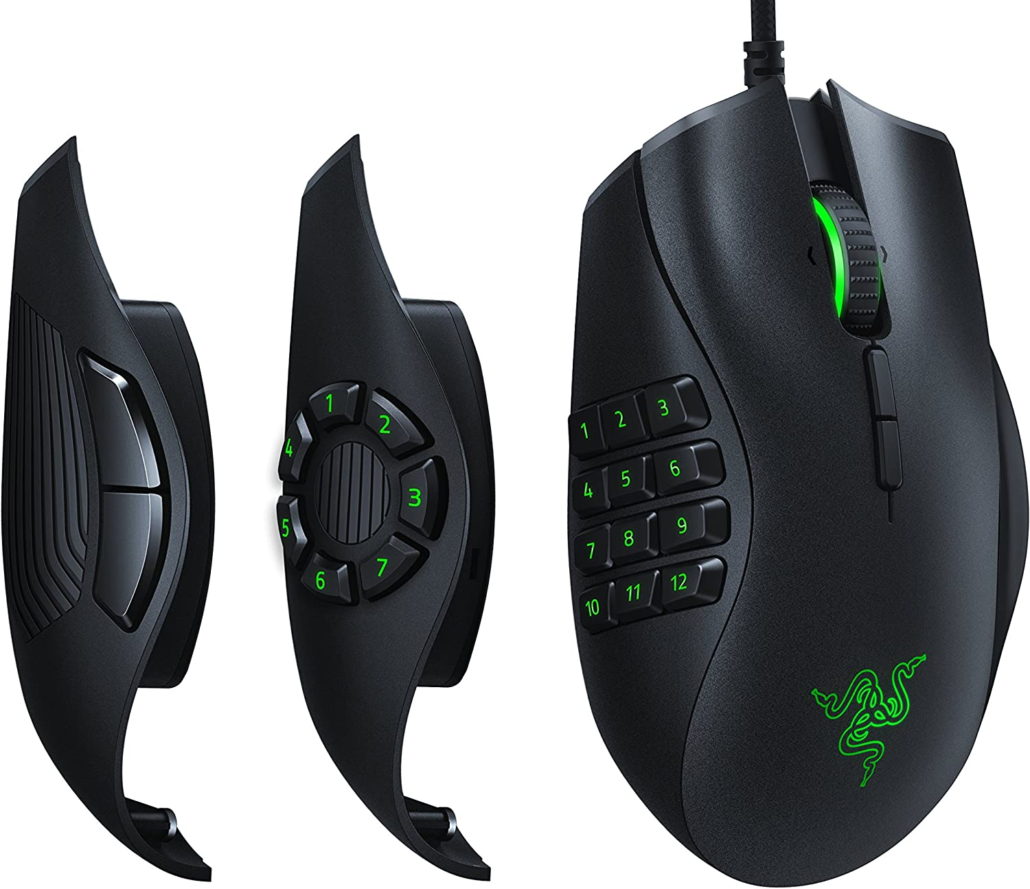 Pros
Three interchangeable slices quickly.
Comfortable grip.
Excellent optical sensor.
Well-notched thumbwheel with side clicks.
Good manufacturing quality.
Cons
There is no adjustment possible regarding the weight of the mouse
It is slightly more expensive
The Razer Naga Trinity gaming mouse is the Holy Grail for MOBA and MMO players who also play other more conventional games. Thanks to this mouse, there' s no need to change your gaming mouse depending on the number of macros needed, it has everything you need!
This gamer mouse from Razer offers precision and performance above all others. It features a sleek, elegant design with the brand's logo visible, a scroll wheel and most importantly 3 interchangeable button plates.
You can choose between a 12-button side configuration, 7-button circle configuration, or a 2-button side configuration to suit your gaming style and titles. With its more comprehensive layout, it's especially suited for MMO enthusiasts or MOBA players.
You can create macros with its 19 programmable buttons, and customize the colors with up to 16 million possible combinations to add style to your gaming room.
This Naga Trinity mouse from Razer is a wired model, for right-handed users, with a 16,000 DPI optical sensor for a very appreciable speed of movement on the screen. Its keys are mechanical and its ergonomic shape guarantees a long-lasting game comfort.
Lightweight at just 118 grams, it will be perfect for the vast majority of PC gamers. So, if you are looking for the best mouse for competitive or casual gaming, you won't be disappointed with this gorgeous model from Razer!
5

ASUS ROG Spatha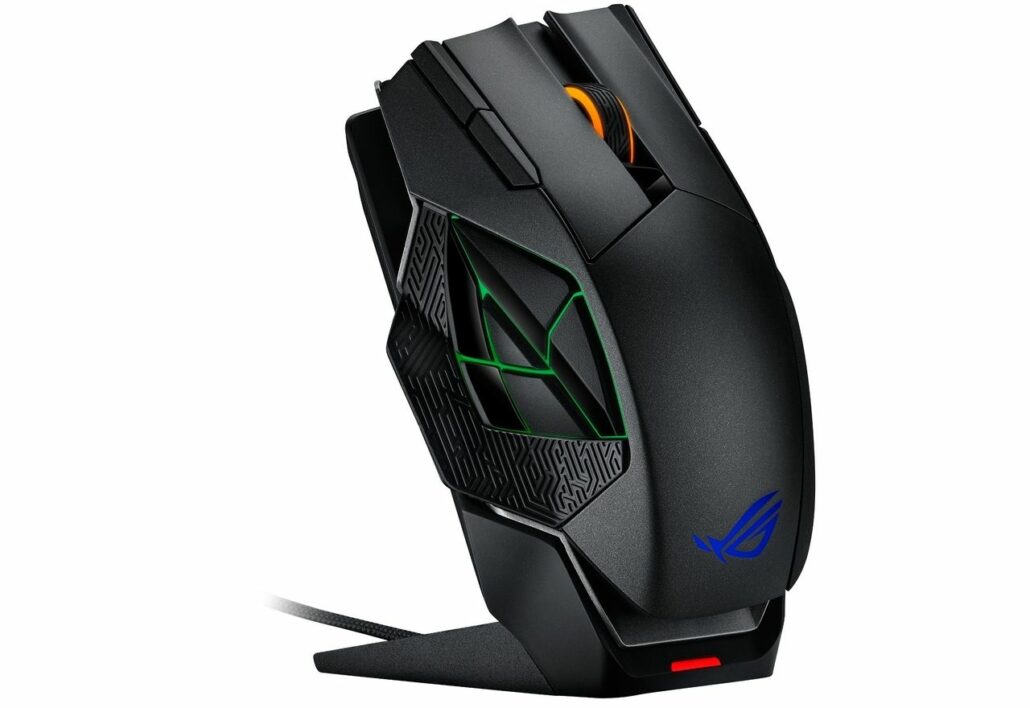 Pros
Precision and reactivity.
Comfortable grip.
6 easily buttons.
Wired or wireless operation.
Original design.
Convenient magnetic charging base.
Cons
The Asus ROG Spatha is a very versatile and ultra-precise gaming mouse, and with its 12 programmable buttons will definitely blow the mind of most gamers!
It is massive gaming mouse packed with all kinds of features, extra buttons, RGB effects that even sync with your other ROG branded products such as motherboards, graphics cards, and even the Asus keyboards.
The Spatha is more than just a gaming mouse, from the point of view of construction, it is actually a marvel, it features a magnesium alloy body. The finish is neat, the grip pleasant and comfortable, in short, there is nothing to complain about the quality of manufacture of the Asus Spatha mouse.
Moreover, this mouse is quite heavy compared to the competition, and it is perfect for hardcore gamers. That said, if you're wondering about the technical details, you should know that the ROG Spatha gamer mouse comes with an impressive number of programmable buttons, and that's not all, you also get a loading badge that looks sleek as hell.
ASUS ROG Spatha is also wireless, and there's a catch, you can go wireless without any input lag, and you can use it with the wire as well. You also get RGB lights, and just about every other feature you'd expect from a flagship mouse.
The mouse comes with 12 programmable buttons that can be programmed to your needs using the Asus Armoury companion software, you also get up to 8,200 DPI, amazing ergonomics and comfort for long gaming sessions, the main buttons use Omron switches that are rated for their very high click cycle, and even if they wear out, you can always replace them.
6

Logitech G203 Lightsync
The best budget gaming mouse on the market.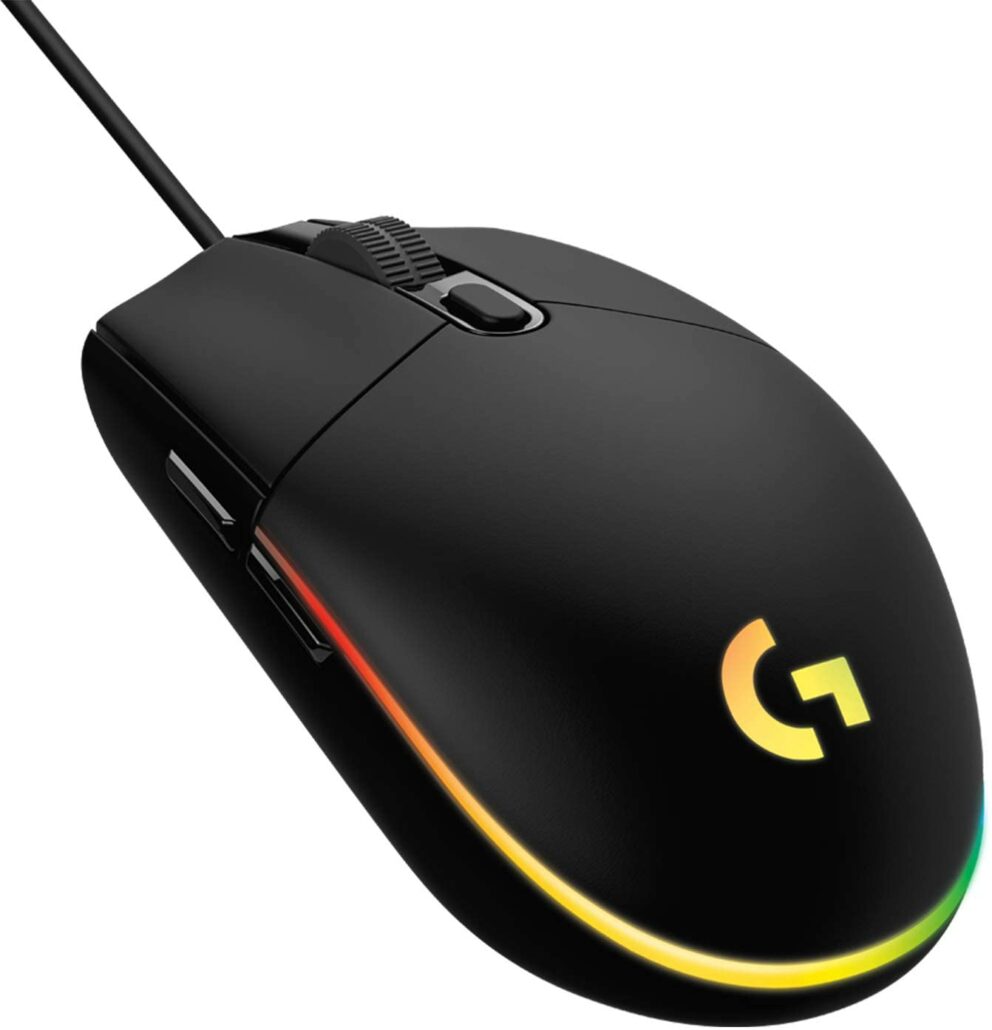 Pros
Compact and comfortable mouse;
Good value for money;
Sensor without frills that provides the essentials;
Sleek design, pleasant lighting;
Integrated memory for storing profiles.
Cons
Scroll wheel without side buttons.
Slippery coating.
The Logitech G203 LightSync wired gaming mouse boasts a precise optical sensor of up to 8,000 dpi and 6 fully programmable buttons. Light and handy, it will become an extension of your arm instantly! Equipped with LightSync technology, you can customize the mouse's backlighting as you see fit.
It is true, that You can find a lot of decent unbranded gaming mice on Amazon for less than $20, but it's worth spending a little more for the Logitech G203 Prodigy. With this mouse, you get Logitech's fantastic and reliable build quality, good driver software, and proven mouse design.
Since its popular G100, Logitech has released several mouses with an almost identical, small and almost ambidextrous body, and it remains a very comfortable mouse, ideal for the active grip of FPS or MOBA players. And the G203 is pretty damn cheap.
The G203 doesn't use Logitech's high-end sensor, but tests have shown that the Logitech's Mercury sensor in this mouse is so good that you probably won't notice the difference. It supports up to 8,000 DPI and has no problems with jitter or acceleration. Unless you need extremely high DPI settings, the G203 is a killer mouse at an affordable price. And if you decide you really like the shape and can spend a little more, consider an upgrade to the Logitech G Pro, which includes the high-end sensor.
7

Roccat Kone Pro
Pros
High quality manufacturing and finishing
A very good grip
Bluetooth and 2.4 GHz for the Air model
The mouse is very light
The software is very complete
The storage of the dongle under the mouse
Cons
If you're a gamer and you've never used or came across a Roccat Kone pro mouse, well, we are sorry for you. Indeed, this brand is one of the references in the market and many gamers appreciate it.
The Roccat Kone Pro mouse has an exceptional precision thanks to its in-house optical sensor, up to 19,000 DPI, 2-year warranty, as well as 5 programmable buttons, so that your actions are always within reach. Additionally, the two main buttons are made of optical technology for a reactivity as good as ever, and a resistance to 100 million clicks!
Maneuverability is also a positive point of this Roccat mouse with a particularly flexible cable, the PhantomFlex, and a light weight design! Indeed, with only 66 grams on the scale, the result is an extremely handy mouse! The perfect glide is also ensured by large PTFE pads for minimal friction. In addition to that, you can also enjoy the compatibility with the old Roccat Swarm model which offers you a multiplicity of customization possibilities.
Finally, to illuminate your gaming setup, you can count on the AIMO backlight that can be synchronized with the rest of your Roccat gaming devices.
8

Logitech G305 LightSpeed
The best cheap wireless gaming mouse.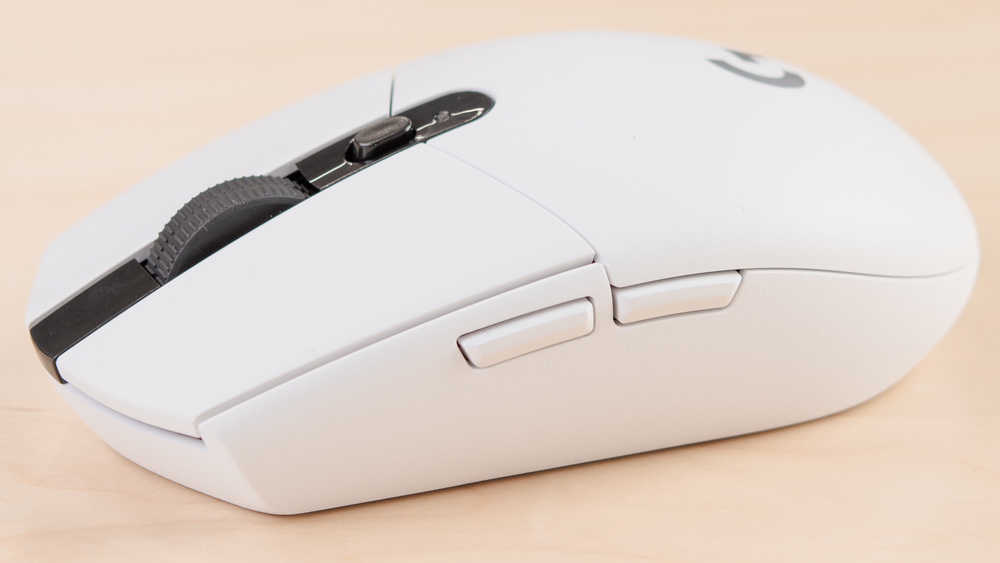 Pros
Compact and lightweight for a wireless mouse.
Serious construction and robust appearance.
Comfortable grip, well placed buttons.
Energy-efficient and high-performance optical sensor.
Extremely Responsive buttons.
Cons
If you're looking for a cheap wireless gaming mouse, the Logitech G305 LightSpeed offers excellent value for money.
With a sturdy and smooth chassis, the build quality of the Logitech mouse is more than decent, the plastic is solid and no parts move. Its grip is comfortable and although its side buttons are on the left, it has an ambidextrous profile that works well for both left- and right-handed users.
On the other hand, it's a small mouse and large hands may find its grip uncomfortable. As for its glide, the feet are a bit rough, so it's best to use a gamer mat.
The mouse is equipped with 6 programmable buttons with the possibility of defining a second layer thanks to the G-Shift function. Its notched wheel is pleasant, but modify the scrolling speed.
In terms of performance, its Hero sensor is once again impeccable and its 12,000 DPI is more than enough for all your games, especially since the mouse supports accelerations up to 40G, which is very decent.
Finally, the click latency is excellent for a mouse of this price. The only unfortunate thing is that it is not rechargeable, but this is also what explains its low price. However, Logitech guarantees up to 250 hours of use on a single battery.
9

SteelSeries Rival 3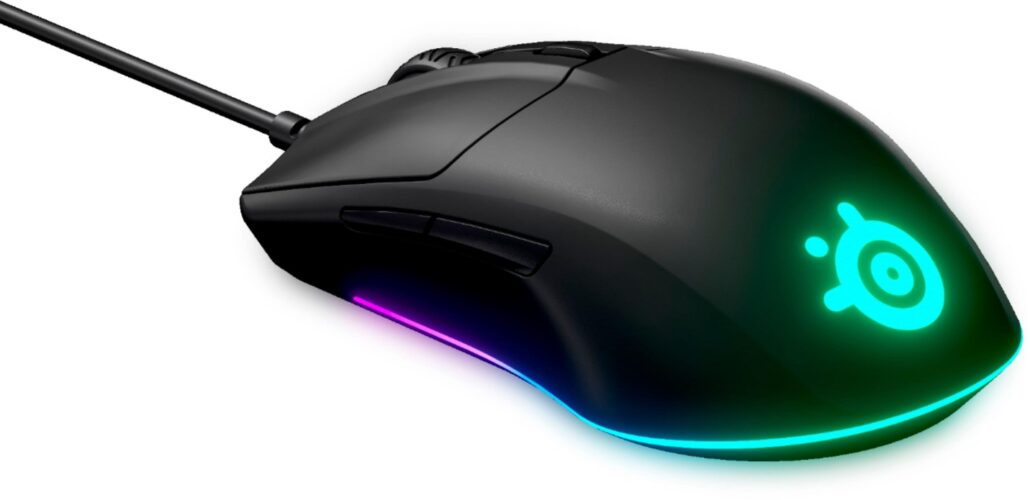 Pros
The controlled price for such a level of performance
A light model that glides easily on all surfaces
An agile and comfortable grip
The software support is exemplary
5 precision and lighting memories
Less than 80 grams only
Cons
A little heavy
Too small for some
SteelSeries Rival 3 is one of the cheapest wireless gaming mouse on the market and is considered a great value for gaming enthusiasts without a big budget. It's perfectly engineered and has a nice symmetrical shape that's very solid.
As a result, it will fit any grip since it weighs only 77 grams. Its lightness makes it easy to hold. Sold at a reasonable price, you should not expect to get mind-blowing performance. So you'll have to settle for the entry-level optical sensor.
Another complaint is that this mouse suffers from a much higher than average stall distance, but this will probably be ideal for most gaming enthusiasts.
This model doesn't cut corners and gets straight to the point. It's sure to please RGB fans, and you'll certainly be able to customize it with the SteelSeries Engine driver, which is identical to all of the brand's other peripherals.
As far as the grey areas are concerned, we deplore the fact that the non-braided cable and small sizes do not suit all users.
With reasonable performance and features and a solid and neat design, this mouse is offered on the market at a good price to allow you to be totally immersed in your gaming games.
10

Corsair Sabre RGB Pro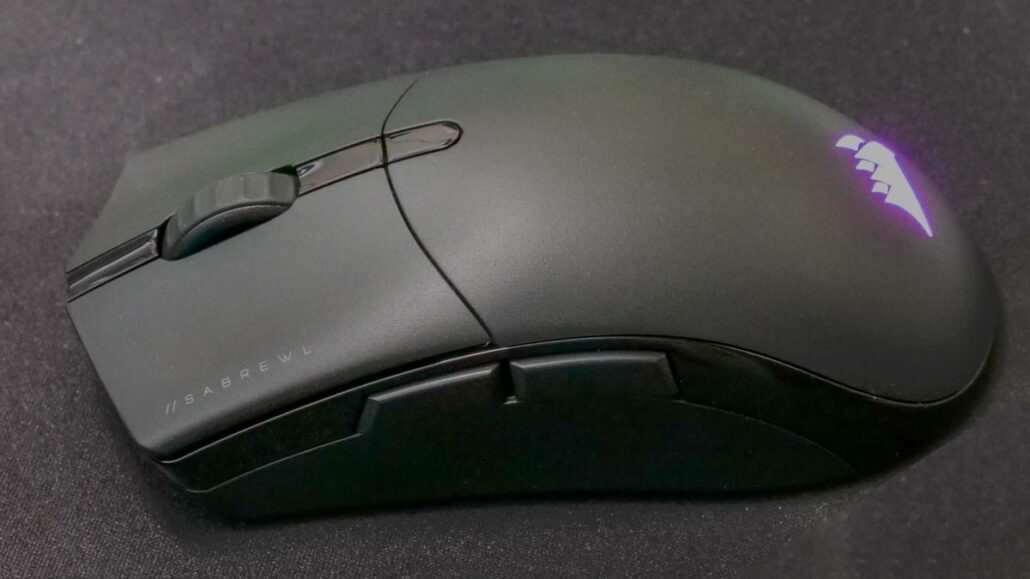 Pros
Suitable for all morphologies and hand holds
Complete and intuitive software
Convincing quality
Cons
Designed for right-handed users only
If you are looking for a gamer mouse that combines comfort, performance and value for money with a lot of features, the Corsair Sabre RGB Pro is the perfect choice for you. With a style that's the complete opposite of what's on the market today, Corsair offers a mouse that's very well designed and delivers impresibe raw performance.
It has an ergonomic shape and is aimed at palm grip enthusiasts and FPS gamers. This mouse has a high-performance optical sensor and several options that are made available to you by the Corsair iCue driver.
As far as weight is concerned, we are in the presence of 69 grams gaming mouse. Apart from that, its price positioning is quite interesting and the only grey area that we can highlight is the quality of the cable which could have been much more flexible.
However, this does not devalue the value of the mouse that much since it is a well-designed mouse at a good price and with incredible performance.
So, if you are gamers who want performance and only performance, the Corsair Sabre RGB Pro will be your perfect gaming partner because it has a precise optical sensor, a great grip, and a light weight design.